As we're wrapping up our January 5 seed sale, we've been receiving a flood of messages from excited gardeners all over the world. We've also been getting a lot of specific questions about this year's seed offering. 
To answer all of these questions and more, we decided to put together this post dedicated to the seed sale so you can find all of the information you'll need. 
When you sell out, where else can I get seeds? 
Although we've increased the quantity of seed packets we're offering this year, we do expect to sell out quickly. For a full list of our favorite domestic and international seed companies, be sure to read our blog post Floret's Favorite Specialty Seed Sources. 
If a variety says "Sold Out" what does that mean?
Products marked as "Sold Out" will likely not be restocked this spring/summer season. Be sure to use the "Email When Available" button within the product description to be notified when the variety you're interested in is restocked.
What does it mean when a product says "Discontinued"? 
We are no longer offering dahlia tubers, bulbs and corms, and some seed varieties. Because so many gardeners reference our photos and descriptions, we have chosen to keep these varieties on our site but have added "Discontinued" to indicate they are no longer available.
When will my order ship?
We will fulfill your order as quickly as possible, but we cannot guarantee delivery times from the shipping carriers. Any current shipping delays will be communicated at the top of the cart page.
Can I combine separately placed orders or remove an item from my order?
Once an order is placed, it is printed immediately and then put into our order packing queue. Unfortunately, because of our small team and the volume of orders we are processing in a short time, we are unable to combine separately placed orders or modify an order once it's been placed.  
Can I add items to my order?
Because we cannot access your credit card information, we are unable to modify your order after it has been placed.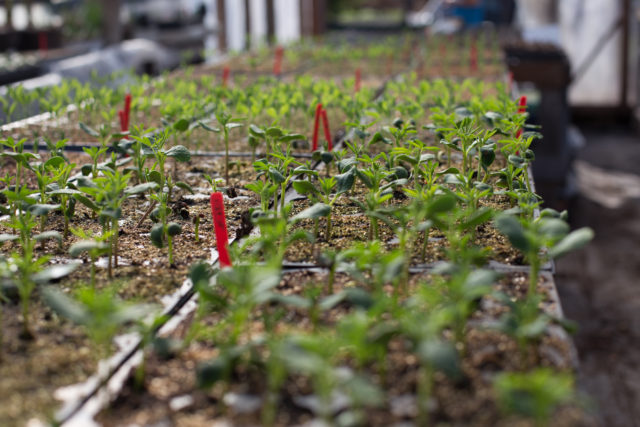 Will you have Golden Hour, Little Flower Girl, Precious Metals, and your other breeding seeds available this year?
Our seed crops loved the heat this summer and we had one of our best harvests to date. While we had a great harvest and I'm so pleased with our results, our Floret original varieties still need more time before they are ready to share with the world. 
We were hoping to be able to release some of the Floret originals seed this season, but after carefully considering the best way forward, we've decided to hold them back for another year until we have enough inventory for everyone to get some. We know so many of you have had your hearts set on growing Golden Hour, Precious Metals, and Little Flower Girl in your gardens this coming season, but we promise the wait will be worth it. There are so many magical things in the works that we'll share more about in the new year.
Will you be selling Sunflower Steve's seeds this year? 
While we won't have any of Sunflower Steve's beautiful creations this year, he is going to be releasing a limited supply from his breeding stock. If you want more information, be sure to sign up for his newsletter.
I'm trying to figure out how to make my wish list. Where did it go? 
Despite our very best efforts, the wish list feature on our site has never functioned properly during busy sale days. We decided to remove this feature until we can find a better solution. We suggest making your wish list on paper this year. Thank you so much for understanding.
Can you ship seeds internationally?
We wish we could send our seeds all over the world, but unfortunately due to new import/export restrictions beyond our control, we are only able to ship them to the U.S. and Canada. For detailed international shipping information, please visit our Shipping page. For a list of international seed sources that have come highly recommended to us, be sure to check out our blog post Floret's Favorite Specialty Seed Sources. 
When will your seed collections be available?
While we are not currently offering our seed collections, we hope to offer something similar in the future. Make sure you're signed up for our newsletter to be the first to hear!
I'm new to gardening. What varieties should I start with?
If you're feeling a little overwhelmed with all of the choices available, we've put together a list of the best flower types by category depending on your growing needs. This list includes the best varieties for hot climates, cold climates, foolproof bouquets, attracting pollinators, edible flowers, those suitable for containers, and even a few recommendations for shade. 
I am new to growing flowers from seed. How can I have success? 
Please see the Resources section of our site, including this helpful post on How to Start Flowers From Seed. In Cut Flower Garden, you'll find easy-to-follow steps for planting, cultivating, and harvesting more than 175 varieties of flowers.
Do you have a seed-starting schedule? 
The Essential Techniques section starting on page 31 of Cut Flower Garden covers important seed sowing timing information. All of our seed packets and product descriptions include recommended sowing times that should be adjusted based on your climate and last spring frost (if you have one).
Will you be offering dahlia tubers for sale this year?
We are not currently offering dahlia tubers for sale. For a list of our favorite sources, be sure to check out our Recommended Dahlia Sources blog post. However, we will be offering dahlia seeds with every signed copy of Discovering Dahlias. For detailed instruction on how to grow dahlias from seed, check out page 85.  
How many seeds come in each packet?
The number of seeds per packet will vary based on the specific variety. You'll find the quantity listed within each product description at the bottom.  
I noticed you had a price increase. Why is that? 
This past year we have seen significant price increases across the board for all of the supplies that we use, both on the farm and in the shop. With the increased cost of seed, farm supplies, fuel, labor, shipping supplies, and even seed packets, unfortunately raising our prices is something we can't avoid.
Will items in my cart be held for me? 
Items are removed from inventory as purchases are completed, which is unfortunately beyond our control. Because of this, items in your cart will not be held. For the best shopping experience, we recommend having your list ready and checking out as soon as possible. 
How much will it cost to ship my seeds?
Seed packages will be going out via USPS and shipping prices vary depending on your location and the size of your order. Our shipping prices are based on what USPS charges us to ship packages. 
I have a gift card, how can I redeem it?
We love that so many people have recently received a gift card as a present from a friend or family member! Gift cards purchased from the Floret Shop can be redeemed in the "Gift card or discount code" field at checkout. 
How should I store my seeds until it's time to plant them?
Seeds can be stored in a cool, dry place where pests and rodents can't get to them. A plastic tub or a mason jar (with a lid) placed in a garage or basement works great.
If you want to learn more about growing cut flowers, be sure to check out the Resources section of our site. It's filled with dozens of helpful step-by-step tutorials and growing essays. We hope this post helped answer some of your questions about our seed sale.
If you have a seed sale question that wasn't answered here, please feel free to reach out to [email protected]