Over the years, I have ordered plants and bulbs from hundreds of different sources across the country. The majority of the places that I buy from are only available to the trade (nursery, farm, landscape design), but there are a number of really wonderful family-owned companies that serve the home garden market that I highly recommend. You can find more information about each one of them below, plus a few wholesale-only businesses that we love.
BULBS
Adelman Peony Gardens
Over the years, I've ordered hundreds of roots from this family-run operation in Oregon and have been thrilled with the quality and selection. I've had the pleasure of visiting their farm in Salem, and if you get the chance to visit during peak flower (mid-May through June), it's well worth making the trip. If you want to learn how to grow peonies from the very best, be sure to get a copy of Carol Adelman's book Peony: The Best Varieties for Your Garden. While you're there, be sure to visit Schreiner's Iris Gardens, which is in bloom at the same time and just right down the road.
Brent & Becky's Bulbs
This family-owned company in Gloucester, Virginia offers a great selection of fall- and spring-planted bulbs as well as a selection of perennial plants. Brent and Becky wrote a comprehensive book all about daffodils and one about tulips, which are my all-time favorite books on the subject. 
B&D Lilies
This family-owned and operated farm in Port Townsend, Washington offers an incredible selection of specialty lilies, ones that you can't find anywhere else. I have been ordering from them for well over a decade and have never been disappointed. In addition to only offering bulbs that have been grown on their farm, they also only sell varieties that have stood the test of time in their trial gardens. You know that whatever you get from them is going to be fantastic.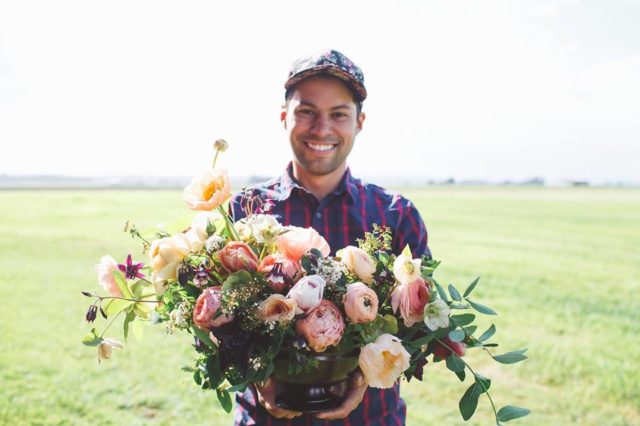 The Flower Hat
Our friend Julio at The Flower Hat in Bozeman, Montana offers a nice selection of anemone and ranunculus corms specifically for cut flowers in quantities perfect for home gardeners. He also carries tulip bulbs and dahlia tubers. You can sign up for his newsletter to be the first to know when they become available. 
John Scheepers
One of the oldest bulb producers in the country, John Scheepers has a great selection of all types of bulbs, from tulips and narcissus to hard-to-find treasures. They also have great bulb collections grouped by color and their paper catalog is such a treat. 
Leo Berbee Bulb Company
This long-standing company in Ohio offers a nice collection of all types of bulbs for fall and spring planting. Bulbs are sold in larger quantities and are wholesale only, so you'll need to have an account to shop with them. If you're wanting larger quantities, they are a great place to go.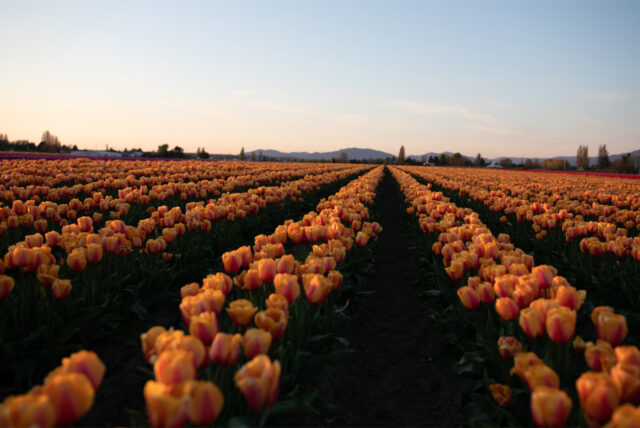 Roozengaarde
This long-standing family-run operation is the largest tulip producer in the Skagit Valley with over 1,000 acres in production. During the Skagit Valley Tulip Festival, you can visit their beautiful 3-acre display garden. They offer a nice selection of standard and novelty varieties in their mail-order shop.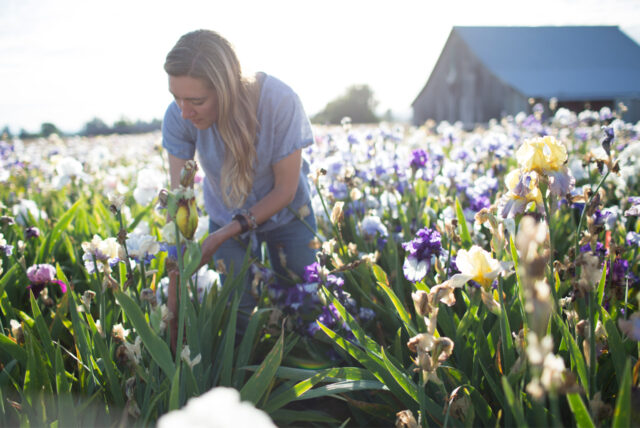 Schreiner's Iris Gardens
One of the oldest iris farms in the country, the Schreiner family has been cultivating 100 acres of irises for four generations. They are known for their vast section, personable customer service, and amazing quality. Their 10-acre display garden is one of the best I've seen, chock full of the most stunning bearded irises and glorious perennials you can imagine. It's a true bucket list experience, one of those things you just need to see in your lifetime. If you get the chance, I highly recommend going—May is their peak flowering month and the perfect time to visit. While you're there, be sure to visit Adelman Peony Gardens, which is in bloom at the same time and just down the road. 
PLANTS
Perennials
Bluebird Nursery
I have been a loyal fan and customer of this wonderful mail-order wholesale nursery since my early days of flower farming. Located in Nebraska, Bluebird offers a massive selection (nearly 1,500 varieties!) of specialty perennials, native plants, herbs, and vines along with vernalized (cold-treated) biennials. One thing to note is that they only sell to the trade (you must have a business license to order), but if you're looking for amazing plants in volume, they are worth reaching out to. They also have an awesome full-color print catalog that is filled with loads of helpful information. We sourced nearly all of the plants for our pollinator strip project from them.
Brushwood Nursery
I only recently discovered this delightful family-owned mail-order nursery that specializes in clematis and other flowering vines. Located in Georgia, Brushwood has a fantastic selection of specialty varieties that I haven't seen elsewhere, including many newer introductions from Europe. I've added a number of their cultivars to the cutting garden and I'm excited to see how they do.
 Chrysanthemums 
3 Porch Farm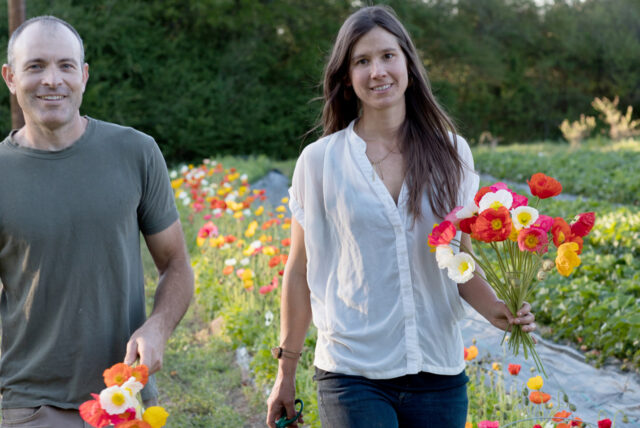 This Georgia-based flower farm owned by Mandy and Steve O'Shea does it all. They offer fresh-cut flowers grown on their farm and shipped nationwide during the spring and autumn months, they have a lovely offering of seeds, and have started selling chrysanthemum plants from their collection of heirloom varieties. 
Harmony Harvest Farm
Alongside their families, sisters Stephanie and Jessica run two fantastic businesses. Floral Genius, the only U.S. manufacturer of high-quality flower frogs and hairpin holders, has allowed countless floral designers to leave floral foam behind and embrace sustainable floral design. In addition to growing cut flowers on their farm, which they ship nationwide, these hysterical ladies are embarking on their next big adventure, offering hundreds of heirloom chrysanthemum cultivars to gardeners around the country. Be sure to sign up for their newsletter to learn more.   
King's Mums
Located in Sand Springs, Oklahoma, King's Mums specializes in heirloom chrysanthemums. Due to unprecedented demand for their offerings, you have to get on a waitlist to become a customer. Visit their website for more information. 
Roses
The Antique Rose Emporium
This long-standing Texas-based nursery has some of the best customer service around. They have a very unique offering that features more than 350 rare and hard-to-find antique varieties, including their Texas Pioneer rose series, which is a line of carefree, repeat-blooming varieties with an old-world quality.  
Angel Gardens
I have found some really special varieties from this Florida-based mail-order nursery and love visiting their website for the pictures alone. Angel Gardens offers more than 1,000 antique and modern roses and uses organic growing practices in their production.
Burlington Rose Nursery
Owner Burling Leong maintains a large collection of rare and hard-to-find roses and has been one of my go-to sources when trying to track down rare, coveted varieties. To get a list of her most current availability list, email [email protected].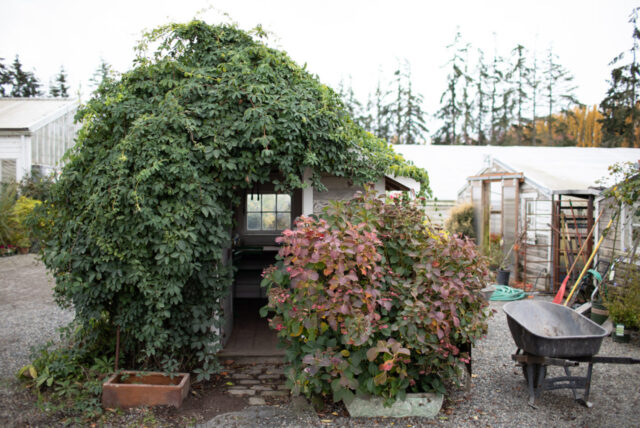 Christianson's Nursery
If you live in western Washington, this family-run nursery has a tremendous selection of potted roses (including many heirloom and hard-to-find treasures) that go on sale in January. While they don't ship their plants, if you're within driving distance it's well worth the trip, and be sure to visit in June to see their English-style rose garden in full bloom—it's a sight to behold!  
David Austin Roses
If you've grown roses for any length of time, chances are that you've fallen in love with the David Austin varieties, which are known for their old-fashioned-looking blooms that come in a wide range of soft colors and are generally repeat-blooming. I have been collecting David Austin roses for years and if you ever come across some of his older varieties, be sure to snatch them up because they are no longer being commercially propagated. 
The Friends of Vintage Roses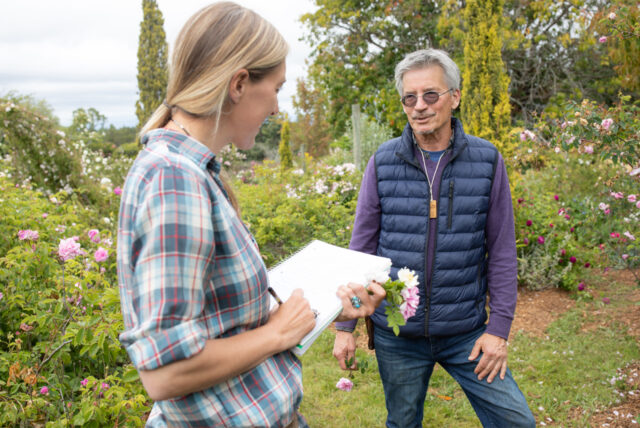 This Sebastopol, California-based nonprofit maintains one of the largest private collections of roses in the world and was originally started by Gregg Lowery and Philip Robinson. Each year, they propagate thousands of cuttings that are sent to curators, collectors, and public gardens devoted to preserving these special plants. Twice yearly they offer the extra plants from their propagation efforts for sale to the public (local pickup only). You can find the availability list on their website.
Greenmantle Nursery
This California-based nursery has assembled a comprehensive collection of own root rare and old rose varieties that they have gathered from around the world. If you're looking for something special, be sure to check their Rose Master List, which includes so many rare treasures. Roses from Greenmantle Nursery must be reserved with a deposit made in advance and their shipping season is January through May. It's important to note that they only communicate through the mail or by telephone. 
Heirloom Roses
This rose nursery in Oregon has a tremendous selection of varieties grown on their own roots, including more than 60 David Austin varieties (many of the older ones), a huge range of historic roses, hybrid musks, and everything in between. 
High Country Roses
This Colorado-based nursery has an amazing selection of own root roses. Their collection features old garden roses, cold-tolerant varieties, and modern varieties, including some of the older David Austin treasures. 
Menagerie Farm & Flower
Our flower-farming friend Felicia Alvarez offers a beautiful collection of bare root roses that she has trialed over the years and are known to make excellent cut flowers. Her inventory typically sells fast, so be sure to sign up for her newsletter. Felicia also sells fresh-cut garden roses shipped to floral designers nationwide from late spring through early autumn. 
A Reverence for Roses
This Florida-based nursery specializes in own root roses and has a huge selection of heritage and old garden varieties, plus so many beautiful modern roses and a large selection of hybrid musks—my favorite group!
Rogue Valley Roses
This Oregon-based nursery offers more than 1,500 unique varieties and has one of the largest selections of rare, historic, and exceptional modern roses grown on their own roots. They ship live plants to U.S. and Canadian customers year-round, and can also ship bare root plants internationally in December and January. Be sure to use their "Join wait list" feature, since many of the plants sell out fast and it's the only way to know when they come back in stock.
Rose Petal Nursery
This Florida-based mail-order nursery offers a large selection of rare heritage roses which they are constantly expanding each year. If you find something special that isn't available, be sure to use the "be notified" button and you'll receive an email when it's back in stock. I've found some real treasures here!
Trees & Shrubs
Biringer Nursery
Located here in the Skagit Valley, Biringer Nursery has been growing flowering ornamental trees and shrubs, along with a wide selection of fruit trees for the wholesale trade, since the early 1970s. They specialize in wholesale bare root plants which are available during the winter months. Getting them on the phone can sometimes be tricky, but be persistent. They offer one the best selections of French lilac cultivars and crabapples I've found.
Blue Hill Wildlife Nursery
I've been collecting crabapple trees to plant here on the farm for a number of years now, both because they put on a floral show in the spring and also because their fruit is attractive to wildlife. I'm curious to see which varieties will work in floral arrangements, too. During my hunt for new cultivars, I stumbled onto this unique mail-order nursery located in Pennsylvania that specializes in varieties of fruit that attract whitetail deer for hunters. I'd never heard of anyone wanting to attract deer to their property! Owner Ryan Haines has been working on a collection of fruit varieties for more than 20 years that produce abundantly from a young age, are disease resistant, cold tolerant, flavorful, and are very easy to grow. While he offers many different types of standard-size fruit and nut trees, his crabapples and applecrabs (large-fruited crabs) look amazing. If you aren't easily offended and want a good chuckle, the names of some of the trees are pretty funny, including 'Deer Candy', 'Road Kill', and 'Lockdown'. One thing to note is that trees only go on sale once per year in the fall, so be sure to use the "get alert feature" and put the sale date on your calendar because he sells out very fast.
Burnt Ridge Nursery & Orchards
This long-standing family-owned farm located in Onalaska, Washington specializes in northwest native plants, fruit and nut trees, and a wide selection of ornamental trees and shrubs that are both fruiting and flowering. I've been ordering from this wonderful company for two decades now and I'm always thrilled with my order. 
Christianson's Nursery
If you're within driving distance of the Skagit Valley this family-owned nursery is a must-visit. Of all the plant nurseries I have gone to, Christianson's is hands down the best. In addition to having an amazing selection of specialty perennials, annuals, shrubs, and trees, they also have the largest selection of garden roses in the state. Bring your checkbook and plan to stay for a couple of hours! 
Clark's Native Trees
This Arlington, Washington-based nursery specializes in trees and shrubs native to western Washington. Plants must either be picked up at their nursery or if you have a large enough order, they will deliver. We planted a huge native hedge along the back property line of our farm using plants from Clark's and have been very pleased with how well they established and took off.
Fedco Seeds
This longstanding Maine-based nursery specializes in varieties that perform well in cold climates. In addition to offering seeds, potatoes, onions, bulbs, and growing supplies they also have a great selection of fruiting plants and trees. I've gotten a number of really special heritage varieties from them, including almost a dozen different crabapples. Their bare root trees are tiny when they arrive but will take off quickly once in the ground.
Instant Hedge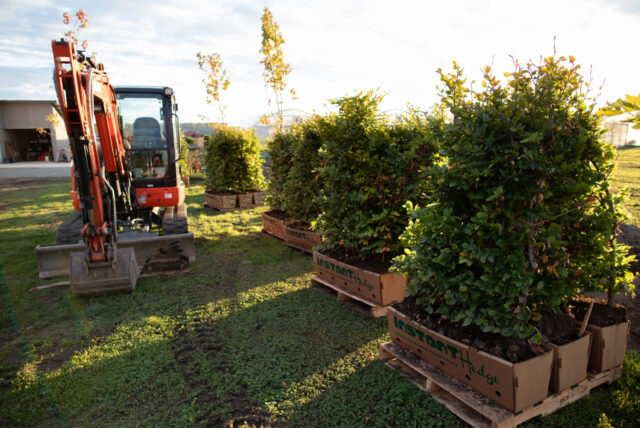 I first discovered this Oregon-based company when we were searching for hedging plants for a garden design project here on the farm. At first, I was skeptical that you could actually order hedging that was already established and it wouldn't be stressed during the process of transporting and transplanting. We have since planted nearly half a mile of hedging from them and have been incredibly pleased with how quickly everything has established and thrived. One note is that some heavy equipment is needed for installation (a forklift and backhoe) but if you have access to it, plus a few strong friends, the hedges can be planted quickly and relatively easily. For retail customers, they have a sister company called Conifer Kingdom.
Orange Pippin Fruit Trees
I have been collecting crabapple trees for the past few years because of their beautiful spring floral display, which is followed by small ornamental fruit in the fall. Finding trees has proven to be a bit tricky, but Orange Pippin offers more than a dozen great crabapple cultivars including the rare (here in the states) 'Golden Hornet' variety. I've been very pleased with the quality of their trees.
Raintree Nursery
This specialty nursery located in Morton, Washington has an incredible selection of fruit trees, nut trees, unusual edibles, and berries, all of which have been carefully selected to thrive in the Pacific Northwest. They also offer native plants, ornamental trees, shrubs, and vines. 
Trees of Antiquity
This treasured mail-order nursery has been growing and shipping heirloom fruit trees around the country for more than 40 years. Their collection is unmatched, with 200 different historical apples available this season alone. In addition to their incredible preservation efforts, Trees of Antiquity is also certified organic. I've been very impressed with their quality and selection and am excited to continue adding more of their varieties to our farm in the future.
Wiggin's Nursery Co.
We discovered this gem of a nursery when hunting for some special specimen plants for a big landscaping project here on the farm. Owner Terry Wiggin and his incredibly knowledgeable crew have been perfecting the art of growing and transplanting mature trees and shrubs for decades now. This family-owned nursery covers 65 overflowing acres and it's easy to get lost when looking around. They ship their plants all over the country to nurseries and landscapers, but here locally the general public is welcome to shop too. I can't recommend these guys highly enough, their plants, their service, and their passion for the craft are unmatched.
If you have a favorite source for bulbs and plants please share it in the comments below.
---
Please note: If your comment doesn't show up right away, sit tight; we have a spam filter that requires us to approve comments before they are published.
Floret only lists companies and products that we love, use, and recommend. All opinions expressed here are our own and Floret does not offer sponsored content or accept money for editorial reviews. If you buy something using the retail links in this post, Floret may receive a small commission. Thank you for your support!