2020 Floret Online Workshop
Grow, Harvest and Sell flowers on a small scale
Whether you want to:
grow flowers in your backyard to share with your family, friends and community…
build a flower business from a hobby that you love…
or simply bring more joy and beauty into your life through flowers…
You're in the right place.
In the Floret Online Workshop, award-winning author and instructor Erin Benzakein pulls back the curtain of her flower-filled world to show you step-by-step how to grow, harvest and sell beautiful cut flowers in your backyard or on a small plot. Filmed over an entire growing season, Erin shares key strategies, systems and time-tested techniques used to build Floret's thriving, profitable flower business on a tiny two-acre property.
Join flower lovers from around the world who have created abundant cutting gardens, launched successful flower businesses and discovered the joy of growing and sharing seasonal blooms through the Floret Online Workshop. This comprehensive 6-week workshop includes 120+ instructional videos, a beautiful 250+ page printed course book, Q&A sessions with Erin and the Floret Team, support from fellow flower growers around the globe via the Floret Learning Community and so much more. Enrollment in the Floret Online Workshop is offered just once per year. 
Registration for the 2020 Floret Online Workshop is now closed. Sign up for our waitlist to be notified about future Floret workshops. 
Small Space
Big Impact
No farm required
Learn to grow an abundance of flowers on a tiny plot
In the Floret Online Workshop, you'll learn that you don't need a big farm or expansive lot to grow an abundance of blooms. Many students grow flowers in beds in their backyard. Plots are often ¼ acre (.10 hectare) or less.
Floret students grow their flowers on:
Backyards
Farm fields
Side yards
Allotments
Easements
Rural homesteads
Urban lots
Rented fields
Parking strips/verges
Churchyards
Pastures
Former sports fields
Benefits Beyond the Blooms
Gain the confidence, clarity and training you need to live a flower-filled life
CONFIDENCE

Break through self doubt and uncertainty by building your skills and following Floret's time-tested techniques to grow an abundant garden and fill you life with flowers.

CLARITY

Outline your vision, identify your strengths and create actionable goals for your garden, farm or business.

TRAINING

Gain skills to grow an abundance of flowers on a small plot, no matter where you live.

SUPPORT

Get guidance, encouragement, and support, plus answers to your questions from Team Floret.

COMMUNITY

Make new connections, build relationships and make lifelong friends with fellow flower growers.
Course Outline
Six comprehensive modules dive deep into small-scale flower production
Module 1
Getting Clear
Take a behind the scenes tour of Floret. Discover potential sales outlets and learn about various seasonal flower business models for inspiration. Learn key steps to successful goal setting and how to build a business around your strengths. Get expert tips from successful farmer-florists in various climate regions.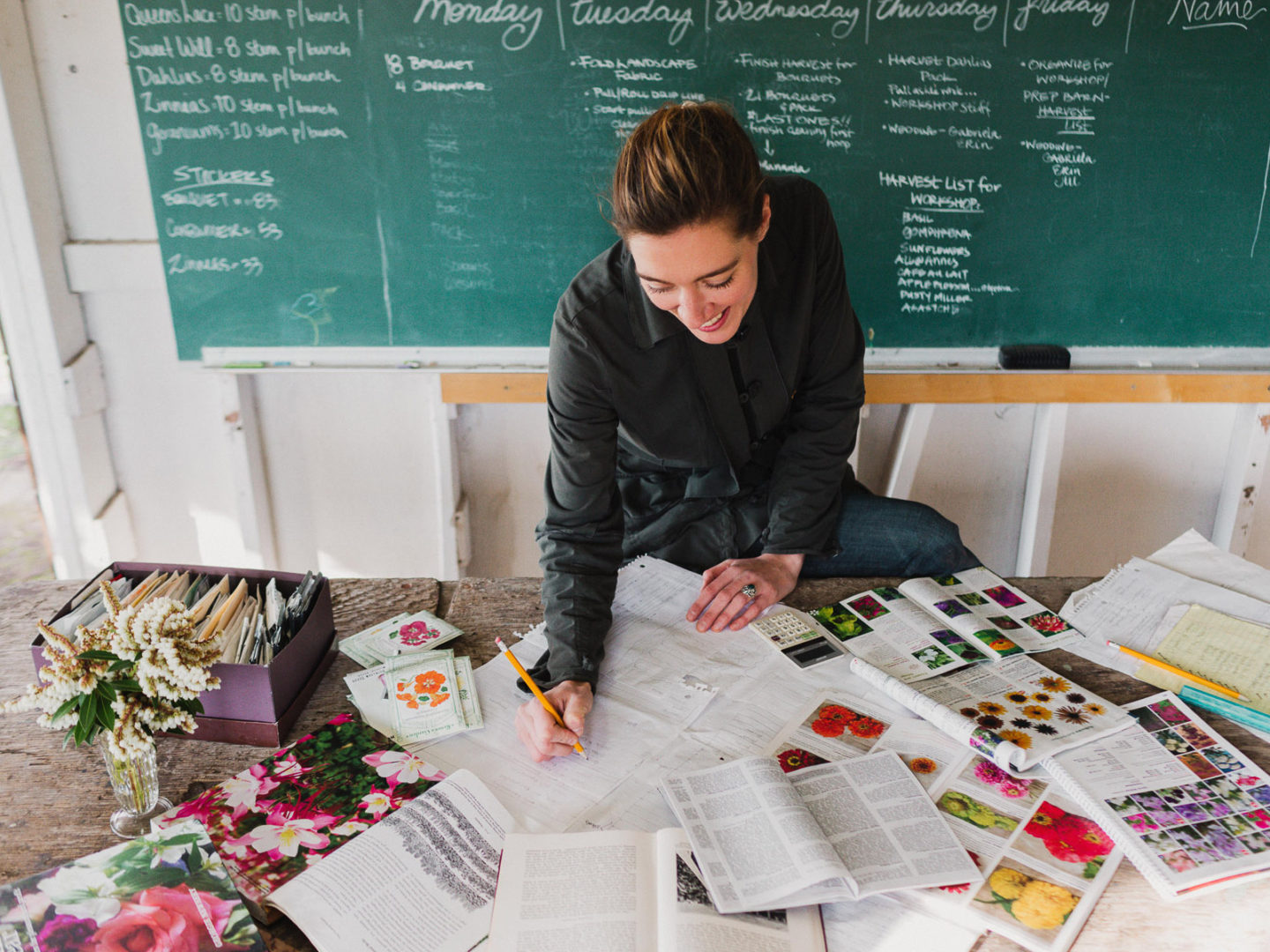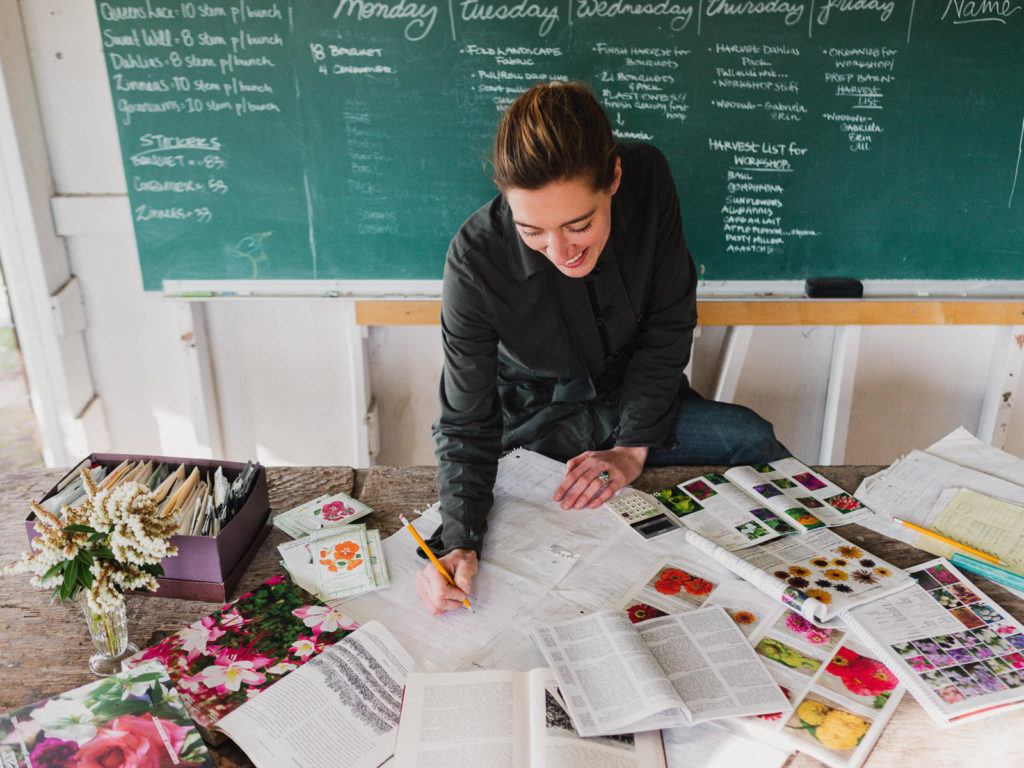 Module 2
Planning the Farm
Learn key strategies to design a productive and profitable cut flower garden or small-scale flower farm. Learn to plan and manage annual tasks without overwhelm. Learn the secrets to succession planting and variety selection in order to have a continuous harvest of blooms throughout the growing season.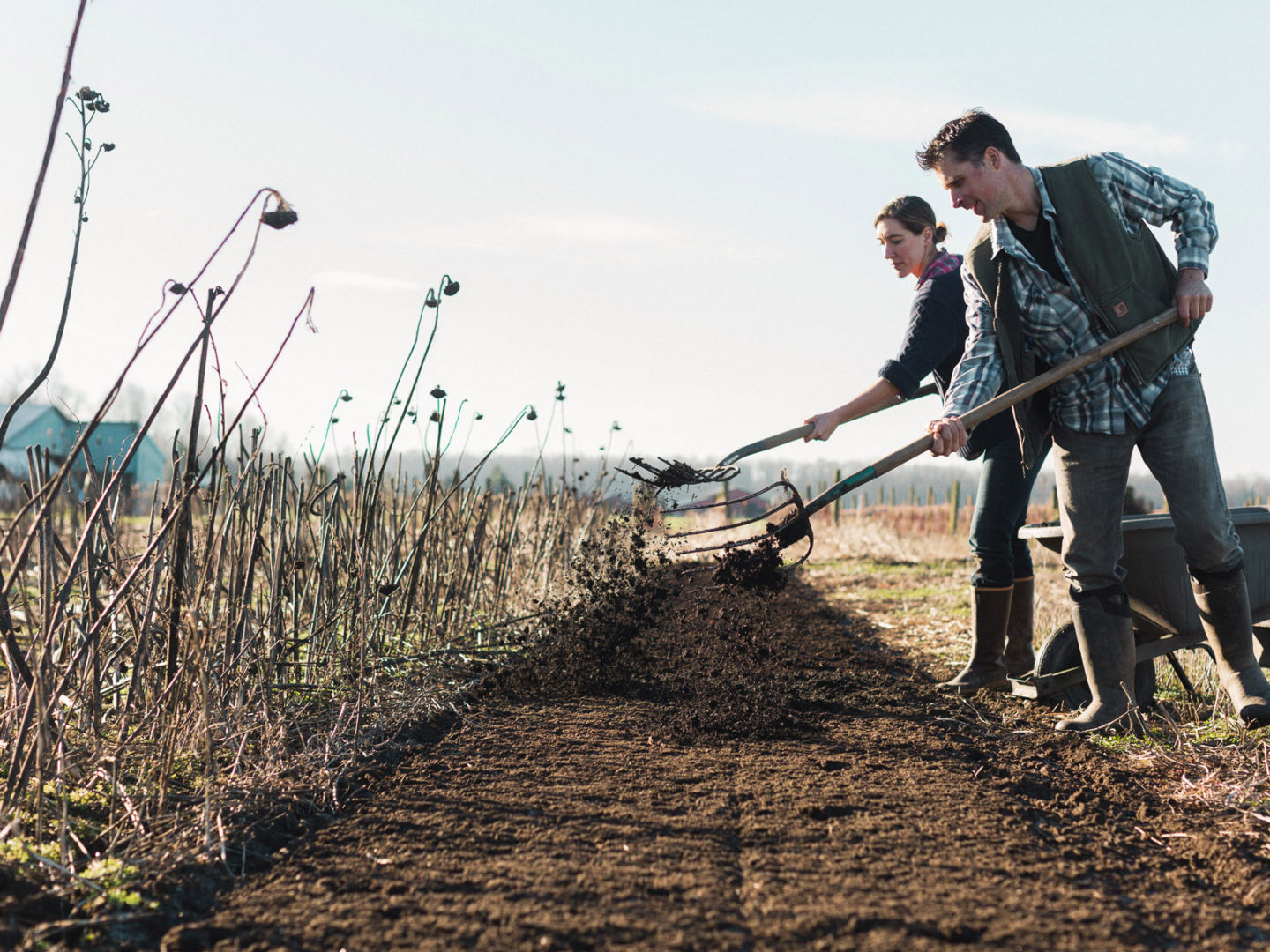 Module 3
Getting a Good Start
Learn the essentials of producing top quality cut flowers using time-tested, organic growing techniques. Dig deep into seed starting, soil preparation, fertility, plant propagation, high dollar crops and specialty bulbs. Discover growing techniques to increase production and efficiency in small-scale systems.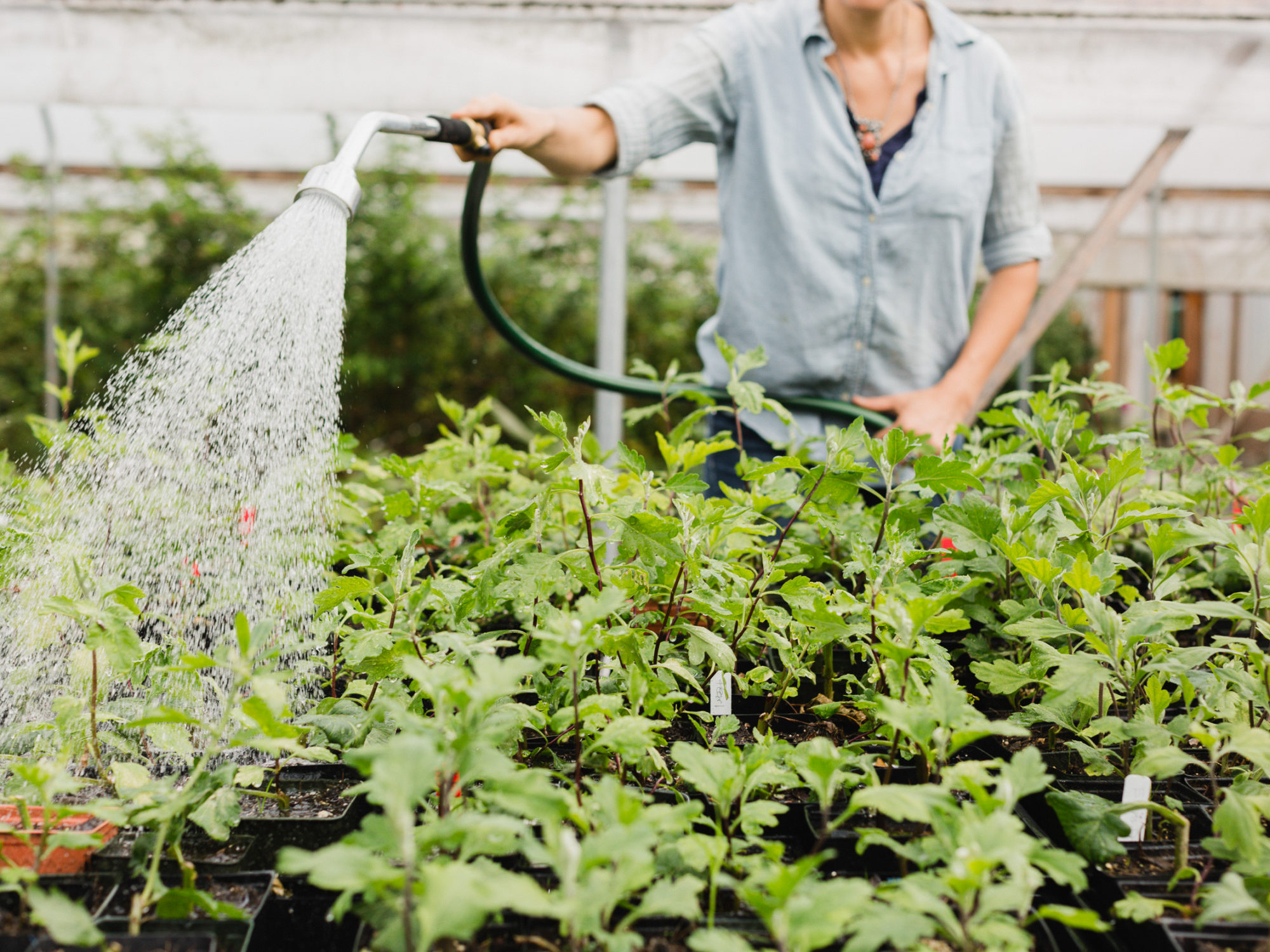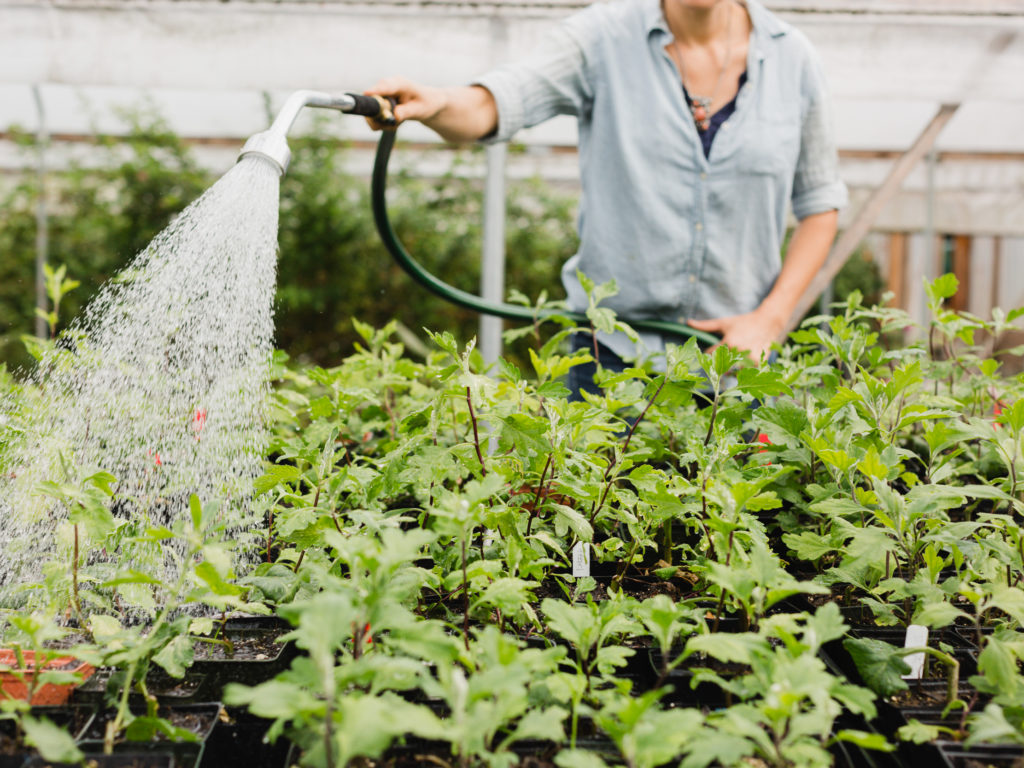 Module 4
Get Growing
Learn essential strategies for efficient transplanting, weed prevention and flower support systems. Get step-by-step tutorials on everything from a basic irrigation set up to season extension through the use of low tunnels. Get Floret's list of recommended supplies, tools and gear needed to grow and harvest beautiful blooms.
Module 5
Sales & Marketing
Learn how to effectively price, market and sell your flowers with confidence. Understand and evaluate the various sales channels and value added opportunities for your flowers to decide which is the right fit for you. Learn essential techniques to attract and retain customers on your website and using social media.
Module 6
Caring for Cut Flowers
Discover how to get the longest vase life out of your farm flowers. Utilize Floret's time-saving techniques to harvest, assemble and package bouquets and bunches beautifully and efficiently. Learn key concepts related to proper stage of harvest and post harvest handling and care.
Every bit of the class is like gold. I have greatly increased my sales because of the Floret Online Workshop. I also saved a ton of work by using the resources, advice on specific seeds and the excel spreadsheet on seed sowing and succession planting. The list goes on and on. The Floret Online Workshop has helped me get my feet under me to grow more flowers for profit in my floral design business. I can grow the exact varieties I want for my design work and also spread the beauty of flowers all around my valley where not many people can easily grow flowers because of our climate.
Brooke Seitz, Barefoot Brook, Saratoga, WY
Floret Online Workshop class of 2019
How Participants Describe the Floret Online Workshop
Inspiring
Informative
Great
Good
Empowering
Inspirational
Enlightening
Exciting
Comprehensive
Brilliant
Encouraging
Amazing
Educational
Awesome
Life Changing
Helpful
Wonderful
Game Changer
Motivating
Invaluable
Student Profiles
Click a photo below to read Floret alumni success stories
Cassandra Kubik

Pine Hill Farm, Walker, Iowa

In rural Iowa, traditional row crop agriculture dominates the landscape. And while most of Cassandra and Jacob Kubik's 43-acre farm is dedicated to corn and soybeans, a small but productive segment is set aside for growing specialty cut flowers. In 2017, the couple tilled up a small plot and constructed a high tunnel with a grant from the Natural Resources Conservation Service. As Cassandra recalls, "I just started planting. I had no idea what I was doing and went completely off of intuition. The first year was rough. I somehow made a profit, but I decided I needed to invest in education if I were to survive. I took the Floret Online Workshop and my business is off and running." Using what she learned in the course, Cassandra started selling to florists, landed several large accounts and booked numerous wedding clients. She also has regular customers ordering weekly bouquets. 

Now, I'm just trying to keep up with demand. The seed sowing schedule and marketing module in the Floret Online Workshop was a total game-changer for me. Before I ran on intuition. Now I run on education. Most of all, Floret helped me find my passion, and myself. I found my purpose in life and what I was called to do.

Linda Bradley

Purple Tuteur Farm, Blythewood, South Carolina

The sweet smell of garden roses always brings back warm childhood memories and reminds Linda Bradley of her grandmother and the flowers that overflowed from her garden. Linda grew up growing flowers and vegetables alongside her father and that experience fostered a lifelong love of gardening and learning. In 2006, Linda completed the Master Gardener program and relished being part of a new community of avid growers. It was also the year when her dear mother passed away. It was during this time that she first began planning a much bigger flower journey. "As I watched my mother fade away from Alzheimer's, I wanted to find a way to hold her and other family members in my heart."

So, while still working full time in the technology industry, Linda spent weekends preparing land and growing flowers for friends and family. In 2017, Linda left her job to focus on growing flowers and building a new flower business. In her first season, she sold at a single farmers market. After enrolling in the Floret Online Workshop, she began offering bouquet subscriptions and added a second farmers market. Her subscriptions were a big hit and sold out almost immediately, even after doubling the number she offered from the previous year. She has since added a third farmers market to her schedule and has begun hosting special events, such as bridal showers, that include a flower arranging activity. "The course helped me focus in on what I wanted to do next and it helped me to understand how I could expand without adding significant staff." 

Growing flowers keeps me connected to my parents and grandparents who have passed and taught me much about gardening. Honoring the memory of my family through this mission gives me great joy. It also connects me with nature and keeps me fit as I share the beauty of fresh flowers in our community.

Brandie Orchard

Mae Orchard Blooms, Jackson, Wyoming

Brandie Orchard left her corporate finance job in order to spend more time with her two sons. During this time of transition, she realized she also needed to find a "passion project" for herself. 

Brandie began looking into opportunities that she described as "having the potential to bring in some money for the family, while feeding my desire to be close and kind to nature and doing something great for my community that was seasonal and not full time."

"Flowers checked all of these boxes for me." 

Brandie's passion project has turned into a small home-based business growing specialty tulips and other cut flowers alongside her large peony field that is coming into maturity. 

"Peonies are perfect for this wild and beautiful place. This area is home to Grand Teton National Park and Yellowstone National Park where the landscape can be harsh, extreme and filled with wildlife. Peonies are hardy and one of the few flowers that the wildlife will not normally eat."

I am both beautifying my land and also responsibly taking care of this awesome earth of ours.

Karin Smith

Covington Bloomery, Covington, Louisiana

For some, retirement means relaxing. For others, retirement means new adventures, hobbies or even new careers. Karin and Philip Smith are clearly in the latter camp. In 2017, the couple purchased a five acre horse farm in Covington, Louisiana as Philip was winding down from his career as a pilot in the U.S. Marine Corps and Karin was finishing her career as a real estate broker. 

"We were eager to get out of our 'subdivison' style living and get a few horses," Karin explains. They settled into their country home, brought in the horses and built a greenhouse to grow vegetables. "My loving husband is a bit of a hobby jumper and had moved on to something else just after the completion of our greenhouse." After several months of it sitting vacant, Karin suggested growing flowers after reading Cut Flower Garden. The couple dove in without looking back. 

"My first year was full of failures, excitement, tears, joy, but most of all learning. I grew entirely too many zinnias and not enough foliage. I declared 2019 was going to be different."  

2019 has been totally different. After implementing what she learned during the workshop, Karin's flowers can now be found in cafes, a historic hotel and her weekly deliveries sold out. She has booked five weddings, including one at the iconic St. Louis Cathedral in New Orleans and opened a new farmstand that has been a huge hit with the community.  

I am selling everything each week, with very little, if any, waste this year. I am swimming in flowers and everything seems so perfect it's almost eerie. I owe it all to this course for providing me with a jump start that catapulted my flower business to where it is today.
Learn from Floret founder Erin Benzakein
Internationally renowned flower farmer, designer, author and instructor
Considered to be the country's most influential farmer-florist, Erin Benzakein has shaped floral design trends, redefined micro-farming and inspired thousands to grow and share seasonal flowers.
Erin and Floret's original two-acre flower farm have been featured widely in the press and garnered prestigious awards including the Martha Stewart American Made award for Floral & Event Design and Better Homes and Gardens' blogger award. 
Her first book, Floret Farm's Cut Flower Garden: Grow, Harvest & Arrange Stunning Seasonal Blooms won the American Horticultural Society's 2018 Book Award, set sales records at Chronicle Books and continues to inform, inspire and delight flower lovers around the world.
Erin's passion is cultivating beauty in the world by helping others discover the joy of growing and sharing seasonal flowers. A gifted writer, photographer and teacher, Erin's popular blog, books, workshops, social media channels and specialty seeds have influenced the flower industry in big ways and small. Thousands of aspiring and established flower growers and florists, including virtually all the emerging leaders in the field, have honed their craft at one of Floret's workshops. Floret's training has helped growers from more than 46 countries build thriving flower-based based businesses and fuel a global seasonal flower movement. 
Press
Floret workshops have been featured in
Because of my participation in the workshop I am now in a position to offer my seasonal market style bouquets not only to independent high end stores but also mainstream stores in Ireland. This is life changing for me personally but having the opportunity to connect with Irish consumers at this level would have been unimaginable two years ago. The thoughtful presentation, down to earth practical advice and instruction will help change the face of flower consumption in Ireland for the better.
Mags Riordan, Bumblebee Flower Farm, West Cork, Ireland
Floret Online Workshop class of 2018
MORE THAN A COURSE: A COMMUNITY
.
Connect.
Ask.
Share.
Support.
Celebrate.
with fellow students & Team Floret
The Floret Online Workshop is not just a course, it is also a vibrant, supportive community.
When you enroll, you'll be invited to join an incredibly talented and unbelievably kind group of fellow flower growers from all over the world.
Connect with other students and Team Floret inside the Floret Learning Community forum where you can ask questions, share ideas, get encouragement and access valuable resources.
The Floret Online Workshop Support Team will be here to share what they've learned with you, lift you up, answer your questions, cheer you on and support you in big ways and small.
"Flower Friends for Life"
Make connections and build relationships
Check out this lovely group of Floret gals from Tennessee! We all met today for the first time to talk the magical language of Floret and discuss all the wonderful things Erin has taught us. We came from all over the state. I drove three hours! It was all worth it. We all come from different backgrounds, but share the same passion and desire to become successful flower farmers. We talked for hours, and probably could have gone late into the night. It was so nice to go gang busters and talk as much about flowers as we wanted with people who wanted to listen. Watch out Tennessee! Here we come! Thank you Erin for changing lives, equipping us with knowledge, and encouraging even the smallest and most timid of beginners, like me. You are growing a lot more than beautiful flowers. You are growing an entire new community that has discovered the joy that can come from creativity and hard work.
Floret Online Workshop Support Team
Our amazing team of experienced growers will answer your questions and support you throughout the six-week workshop
Julio Freitas
The Flower Hat
Montana
Stephanie Hall
Sassafras Fork Farm
North Carolina
Jenn Henry
Field Day Creative
Virginia
Mimo Davis
Urban Buds
Missouri
Marina Michahelles
Shoving Leopard Farm
New York
Shanti Rade
Whipstone Farm
Arizona
Angie Tomey
Little Boy Flowers
California
Gretchen O'Neill
Petals, Ink.
Texas
Workshop Features
Learn more about what's included in this comprehensive course
Expert Instruction
Learn Floret's small-scale growing techniques
Erin Benzakein, founder of Floret and author of the award-winning book, Floret Farm's Cut Flower Garden pulls back the curtain and shows you step-by-step how to grow an abundance of cut flowers on a small scale, no matter where you live. 
Course Book
Access essential resources
This comprehensive 250+ page printed book contains a decade's worth of information and resources we developed to grow a thriving flower business. We've poured all of our favorite plant lists, planning tools and marketing tips into this valuable book. We mail you this book plus other goodies from the farm as part of your workshop registration. 
Video Tutorials
Learn from Floret season by season
Organized into six modules, the Floret Online Workshop includes 120+ video tutorials filmed over the course of an entire year, capturing life on the farm during each season. Each lesson is broken down into bite-sized pieces, which make it easy for you to go back and watch over and over.
Q&A Sessions
Get support from Erin & Team Floret
Every week during the course, Erin is available to answer flower growing questions and discuss course content. During these popular Q&A sessions, Erin and Jill share additional tips, stories and insights so you can gain a deeper understanding of that week's workshop topics.
Community
Connect with classmates & flower friends
As a workshop participant, you'll be invited to join the Floret Learning Community, a private online forum where you can ask questions, discuss the workshop content, share your successes and connect with classmates from around the globe.
Planning Tools
Create a plan with customizable tools
Packed with handy reference guides and customizable spreadsheets, our downloadable planning workbook includes plant spacing tools and seed sowing plans that can save you dozens of hours of research and help you avoid several seasons of costly trial and error.
Lifetime Access
Learn at your own pace
The Floret Online Workshop videos are viewable on any device, so you can go at your own pace and watch the training videos whenever you want. Lifetime access to the course also includes any new videos and resources added to the curriculum in the future.
Wedding Guide
Add revenue without the added stress
Floret's wedding flower pricing and planning guide is tailor-made for growers ready to expand their wedding offerings. Whether you offer buckets of flowers for DIY weddings or full floral design services, Floret's pricing and planning guide takes the pain out of the process so you can add revenue without the added stress.
The Floret Online Workshop is the reason my farm has succeeded this year. It is the MOST inspiring, MOST comprehensive course on cut flowers you could ask for. The material is clear, extremely accessible, and they hook you up with awesome moderators who are available to answer all your questions! I'm a single mom of two, and I needed all the help I could get to ensure my business didn't sink. This course saved me years of muddling and thousands of dollars worth of mistakes. In my first year, I was able to charge straight ahead, with 40 CSA members, a season of super fun workshops, and week after week of sold out markets. If you really want to dig deep into growing cut flowers, take this course.
Sarah Adams, Alberta Girl Acres, Vulcan, AB, Canada
Floret Online Workshop class of 2018
Beautiful Printed Course Book
As a registrant, we'll mail you a 250+ page printed course book which contains more than a decade's worth of information and resources including:
Business Model Profiles: Gain insights on top flower varieties and sales outlets from other experienced flower growers across a range of climates and regions.
Sales & Marketing Primer: Growing beautiful cut flowers is only half the battle. Learn key techniques to sell your blooms, get premium prices and grow a waiting list of eager customers.  
Wedding Flower Guide: Wedding flowers are a great added income source, but they can be stressful. We've taken the pain out of the process by including our step-by-step planning and pricing guide.
Planning Tools: Save valuable time and avoid frustration by using our planning tools and worksheets to grow flowers efficiently.
Flower Pricing Guide: This invaluable guide includes pricing from across the United States, organized by region. 
Production & Earnings: Flowers are one of the most profitable specialty crops that you can grow. We'll show you all the techniques we use to maximize production and earnings growing flowers on two small acres.
Learn creative ways to sell your homegrown flowers, including: 
Florists 

Roadside stands

Build your own bouquet events

Weddings & special events

Bouquet subscriptions

Chefs & restaurants 

Flower trucks

Farmers markets

Pick your own flower patch

Charitable organizations

Agritourism

Flower workshops
Unknowns aren't the only thing on the other side of fear; there are also rewards beyond anything you can imagine. Do it scared. Lean into the discomfort and see what successes await you.
Kate Lindhorst, Bluhen Acres, Nichols, New York
Floret Online Workshop class of 2019
COMPREHENSIVE. CONVENIENT.
LIFETIME ACCESS.
We Bring Floret's Beloved Training to You
Over the years we welcomed hundreds of aspiring flower farmers and established floral designers to our on-farm training workshops. Attracting flower lovers from around the world, these 3-day events consistently sold out within minutes of going on sale. Unable to support the demand for the live events, we created an easier, more accessible way to help other flower lovers: a video-based course. All of Floret's renowned training is now available at your online; no airfare, hotels or time away required.
As a participant, we'll take you behind the scenes and show you how we grow so much beauty on so little land. From the first seeds we plant in the spring to the abundant summer harvest, we'll show you step-by-step how we do it all.
We filmed the Floret Online Workshop over the course of an entire year, which now allows you to see farm tasks unique to each season. Concepts that were impossible to demonstrate in person due to time constraints and seasonality are now covered in depth in this comprehensive six-week course.
The Floret Online Workshop videos are viewable on any device, so you can go at your own pace and watch our training videos whenever you want and as many times as you want. As a registrant, you'll have lifetime access to the course content, including any new videos or resources added in the future.
Follow your dreams…you don't have to become a full time farmer, but you can bring joy into your life and a stranger's life by creating a small space to grow flowers and create beauty. You will be amazed by what you can grow in a small little area. Someone said to me when I started this adventure 'never die not knowing.'
Carolyn Thompson, Willow & Mabel Garden Co., Poulsbo, Washington
Floret Online Workshop class of 2018
Frequently Asked Questions
What is the registration period for the Floret Online Workshop?

Registration for the 2020 Floret Online Workshop opens on November 4th at 9 a.m. PST and closes November 8th at 5 p.m. PST.

When does the 2020 Floret Online Workshop begin?

The 2020 Floret Online Workshop begins on January 10th.

Why is there a gap between when registration ends and when the workshop begins?

The gap between when registration ends and when the course begins allows us time to print and mail the course books to attendees around the world. Unlike other online courses, we will be sending out physical copies of the material, plus other goodies. We promise it will be worth the wait!

I live in a very different climate than Skagit Valley. Will the workshop materials be relevant to me?

Absolutely! Flower growers from more than 40 countries ranging from cool, temperate climates to very arid areas and everywhere in between have successfully completed our course and gone on to build vibrant flower businesses. The workshop covers the fundamentals of growing flowers on a small scale and includes core principles such as seed starting, plant propagation, and use of season extension structures that are applicable or easily adaptable to other climates. Plus, Floret's marketing tutorials are relevant no matter where you live and grow flowers.

What is the cost to enroll in the Floret Online Workshop?

Tuition for the Floret Online Workshop is $1,997 USD. We also offer a payment plan option of $379/month for six months. You can choose the option that works best for you at registration.

Is the cost of the Floret Online Workshop in U.S. dollars?

Yes, the cost of the course is in U.S. dollars.

How do I register using the payment plan option?

Once registration is open, you can choose either the "Pay in Full" or "Pay Monthly" option at checkout.

What is the format of the workshop?

The course includes 120+ videos (approximately 12 hours of video content) on a password protected site, plus a 250+ page printed course book. For each of the six modules in the workshop you'll watch multiple video lessons which are broken down into bite sized pieces which make it easy for you to go back and re-watch particular segments. Participants are invited to submit questions to weekly Q&A sessions with Erin and Jill and also access the Floret Learning Community, a private discussion group.

My schedule is complicated. Will I need to log-in at a specific time each week? What if I fall behind?

Because all the content is online, you can go at your own pace to get through the material. It's no problem to take a break during your busy times and resume the course once things quiet down. There is no specific time you need to log-in to access the workshop content. Once the workshop begins and each weekly module is released, you can watch the video lessons whenever it is most convenient for you. You can always revisit a lesson when questions arise about a specific topic, as you have lifetime access to the course materials.

Will there be an extra charge to ship the workshop materials to me?

No, there is no extra fee for shipping the course book to you. The cost of the workshop materials is included in the registration fees.

Does the Floret Online Workshop include floral design tutorials?

The Online Workshop provides detailed instruction on making and packaging mixed bouquets, but the course does not include wedding-type design tutorials.

How many video tutorials are included in the Floret Online Workshop?

There are more than 120 videos (totaling approximately 12 hours of content) included in the course that cover everything from planning your growing area, to efficient harvesting and social media marketing. We've created detailed tutorials on plant propagation, seed starting, irrigation, season extension and so much more!

Will you be limiting the number of registrants?

With the new online format, we are now be able to accommodate everyone who wants to participate as long as you register during the enrollment period, November 4-8, 2019.

Will you be hosting any on-farm workshops in 2020?

With a new book coming out and a new farm property to tend, we do not currently have plans to offer any on-farm workshops in 2020.

Will you offer the Floret Online Workshop more than once in 2020?

No. We plan to offer the Floret Online Workshop just once per year. We will not re-open registration again until the autumn of 2020 for our 2021 Floret Online Workshop.

Will you offer additional or "standalone" Floret Online Workshops in 2020?

No, the course is offered as a complete flower growing workshop experience just once per year. As part of the Online Workshop, Erin and the Floret Team will go through the course modules with you. We'll also have a team of experienced farmer-florists who will be able to answer questions and provide support throughout the six-week course.

Can I purchase the learning modules individually?

The Floret Online Workshop is only available as a complete course. Individual modules are not available a la carte.

Will I need to download any special software for the workshop?

No. The workshop is a web-based platform, so all you need is an internet connection. You can access the content on your computer, smartphone, tablet or other mobile device; no special applications or software downloads necessary.

Does access to the Floret Online Workshop expire?

No. Unlike other online courses that restrict access to the content after a year, or only allow you to view it on one device, you will have lifetime access to all of the content and any updates we make to the course.
Floret Online Workshop
Join the waitlist.
Sign up to be notified about future Floret workshops.
Join Us
Join the Floret newsletter and stay in the loop on all the exciting happenings here on the farm
Close