BRING YOUR FLOWER DREAMS TO LIFE
MASTER THE SKILLS TO GROW AN ABUNDANT CUT FLOWER GARDEN OR BUILD A FLOWER BUSINESS IN YOUR BACKYARD
Whether you want to:
Grow flowers in your backyard to share with your family, friends, and community …
Build a flower business from a hobby that you love …
Or simply bring more joy and beauty into your life through flowers …
You're in the right place.
In the Floret Online Workshop, New York Times bestselling author Erin Benzakein pulls back the curtain of her flower-filled world to show you step by step how to grow, harvest, and sell beautiful cut flowers in your backyard or on a small plot. In the workshop, filmed over an entire growing season, Erin shares key strategies, systems, and time-tested techniques used to build Floret's thriving, profitable flower business on a tiny 2-acre property.
Join flower lovers from around the world who have created abundant cutting gardens, launched successful flower businesses, and discovered the joy of growing and sharing seasonal blooms through the Floret Online Workshop. This comprehensive workshop includes more than 150 instructional videos, a beautiful 280-page printed course book, Q&A sessions with Erin and Team Floret, support from fellow flower growers around the globe via the Floret Learning Community, and so much more.
Enrollment for the Floret Online Workshop is open now through October 22.
SMALL SPACE: BIG IMPACT
NO FARM REQUIRED
Learn to grow an abundance of flowers on a tiny plot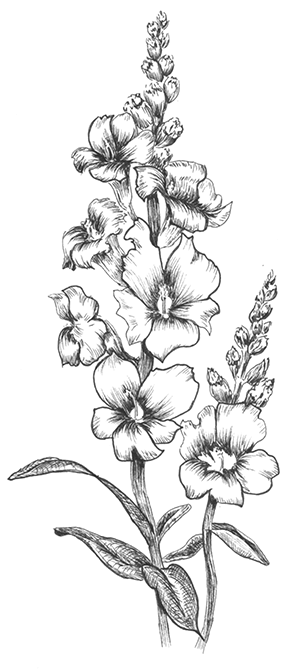 Backyards
Farm fields
Side yards
Allotments
Easements
Rural homesteads
Urban lots
Rented fields
Parking strips/verges
Churchyards
Pastures
Former sports fields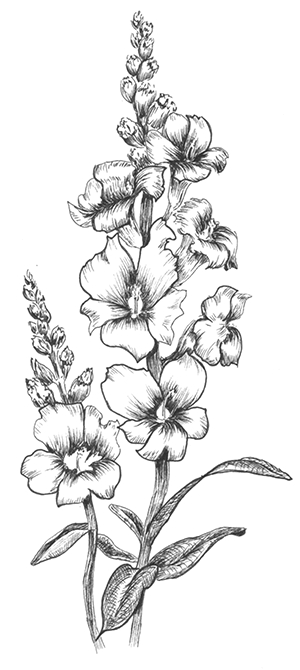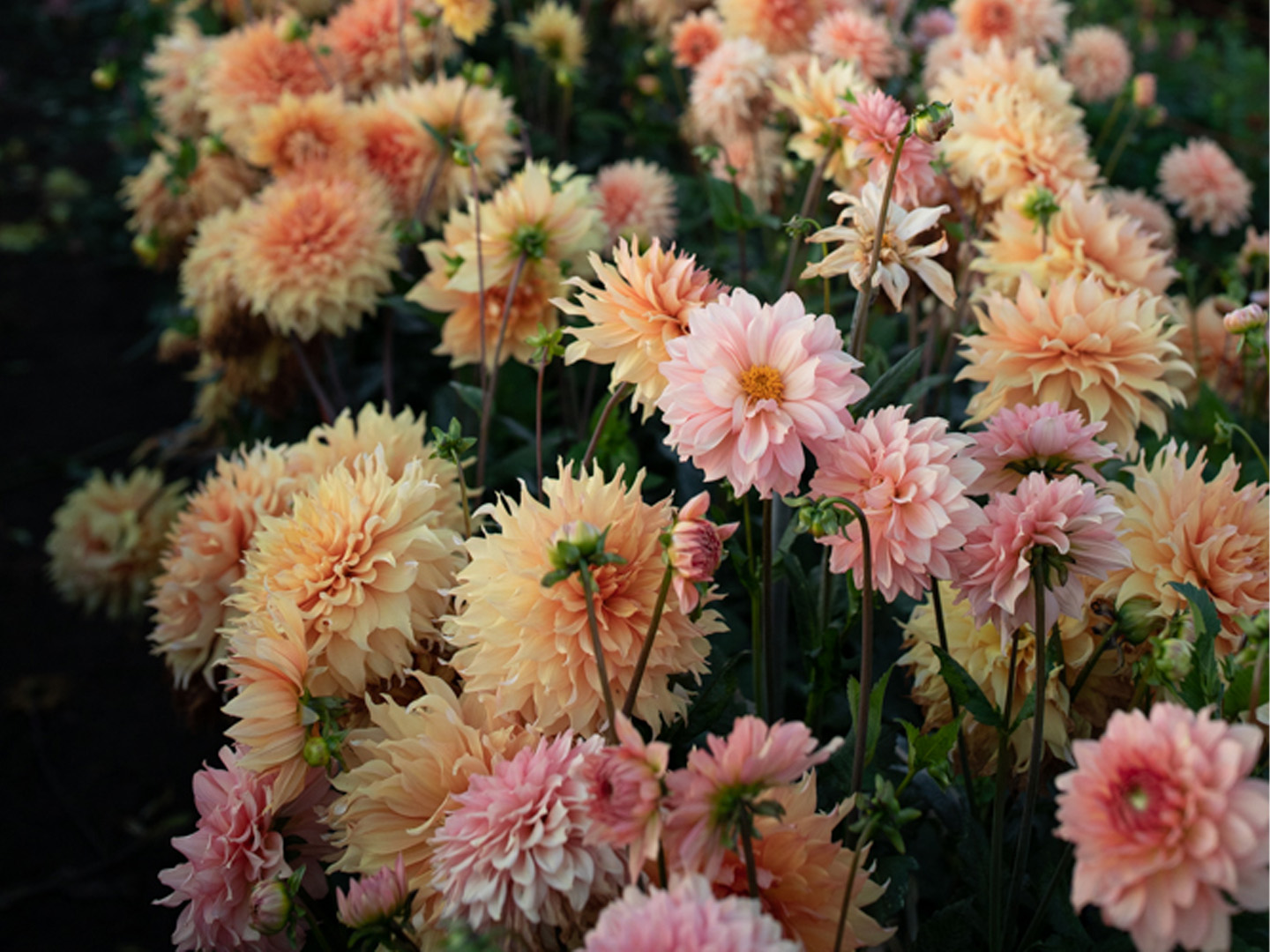 BENEFITS BEYOND THE BLOOMS
GAIN THE CONFIDENCE & BUILD THE SKILLS YOU NEED TO LIVE A FLOWER-FILLED LIFE
CONFIDENCE
Break through self doubt by building your skills and using Floret's time-tested techniques to grow an abundant garden.
CLARITY
Outline your vision, identify your strengths, and create actionable goals for your garden, farm, or business.
TRAINING
Master the specific skills needed to grow an abundance of flowers on a small plot, no matter where you live.
SUPPORT
Get guidance, encouragement, and support, plus answers to your questions from Team Floret.
COMMUNITY
Create connections, build relationships, and make lifelong friends with fellow flower growers through our learning community.
Workshop Features
Learn more about what's included in this comprehensive course
Expert instruction
Learn Floret's small-scale growing techniques
See New York Times bestselling author and Floret founder, Erin Benzakein, pull back the curtain and show you step by step how to grow an abundance of cut flowers on a small scale, no matter where you live.
Comprehensive course book
Access exclusive resources
Receive this comprehensive 280-page printed book in the mail when you register for the workshop. Available exclusively to Floret Online Workshop students, the course book contains invaluable planning tools, marketing tips, plant lists, and other resources we've developed over the past decade.
Video tutorials
Learn from Floret season by season
Go behind the scenes at Floret to see step by step how to grow, harvest, and sell flowers on a tiny plot. The workshop curriculum includes more than 150 video tutorials filmed over the course of an entire year, capturing life on the farm each season.
Q&A sessions
Get support from Erin & Team Floret
Ask questions and discuss course content with Erin each week of the workshop. During these popular Q&A sessions, Erin shares additional tips, stories, and insights so you can gain a deeper understanding of the workshop content.
Valuable coupons
Get great discounts on seeds & supplies
Enjoy great coupons on garden tools, supplies, and plants. We've teamed up with some of our favorite suppliers to create special discounts exclusively for Floret Online Workshop students.
Bonus materials
Receive Floret's exclusive ¼-acre cutting garden plan
Save time and avoid guesswork by using our comprehensive 1/4-acre cutting garden plan, complete with a seed starting schedule, bed layout, and our favorite cut flower varieties chosen to provide a season's worth of flowers and foliage.
Community
Connect with classmates & flower friends
Join the Floret Learning Community, a private online forum where you can ask questions, discuss the workshop content, share your successes, and connect with classmates from around the globe.
Planning tools
Create a plan with customizable tools
Save dozens of hours of research and avoid several seasons of costly trial and error using our east-to-use plant spacing tools, seed sowing reference guides, and customizable planning spreadsheets.
Lifetime access
Learn at your own pace
Watch the tutorial videos whenever it fits your schedule, and review as many times as you need. With lifetime access to the workshop content, you'll also get any new videos and resources added to the curriculum in the future.
Wedding guide
Add revenue without the added stress
Generate seasonal revenue via wedding florals. Whether you sell to designers, offer buckets of flowers for DIY weddings, or provide full floral design services, Floret's pricing and planning guide takes the pain out of the process.
WORKSHOP TIMELINE
Important dates to keep in mind
OCTOBER
Workshop registration
NOVEMBER
Course materials
mailed
DECEMBER
Course orientation
JANUARY
Modules 1–4 released;
weekly Q&A sessions
FEBRUARY
Modules 5 & 6 released;
weekly Q&A sessions
MARCH & BEYOND
Updates & seasonal
check-ins
"I have taken other workshops and learned from other farmer-florists that I admire and love, but Erin is an open heart—and that is priceless. This workshop speaks to the heart more than anything else. Thank you for sharing your human struggle with us, for teaching us—not only how to grow flowers and the technical side of business—but for sharing your fears and your weaknesses and your strengths."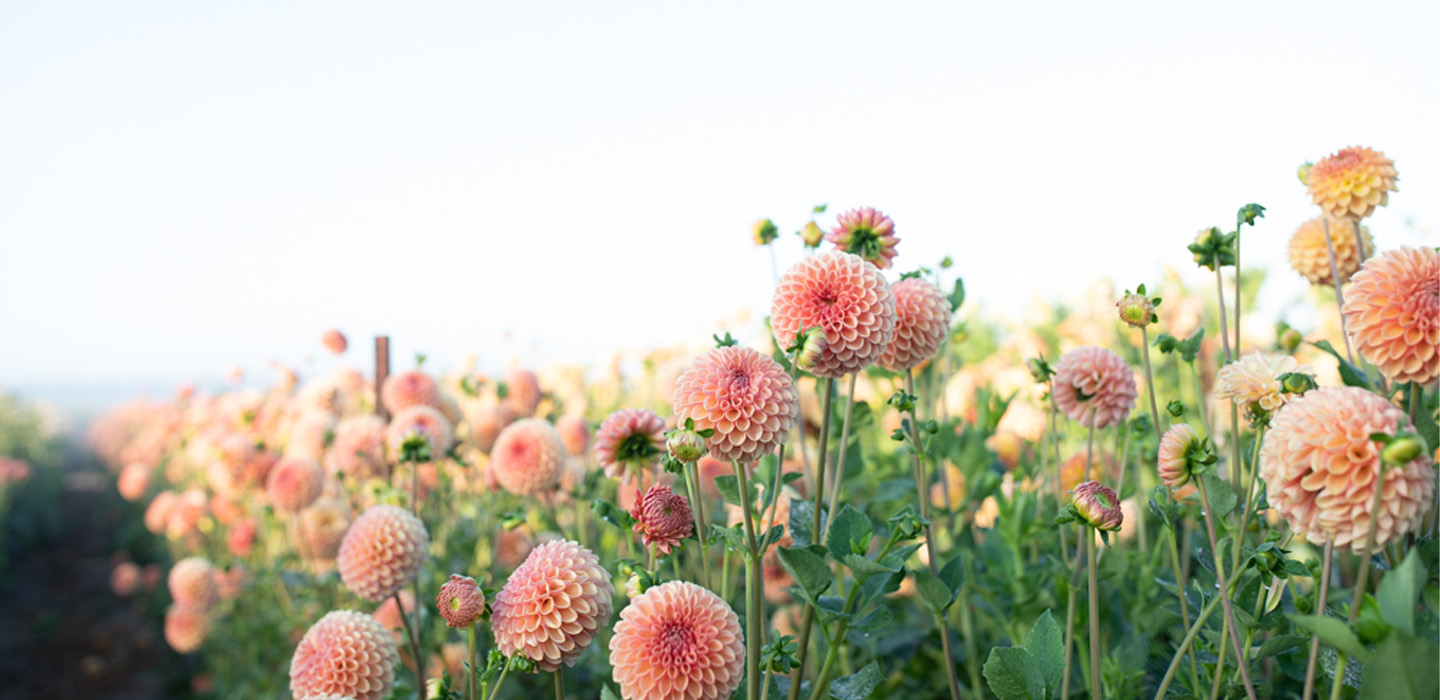 BEAUTIFUL BUSINESS IDEAS
CONVERT YOUR HOBBY INTO A SEASONAL BUSINESS OR NEW CAREER
Learn creative ways to sell your homegrown flowers, including: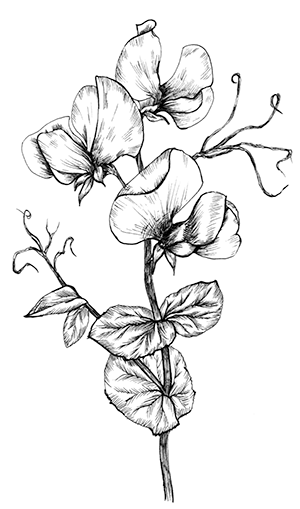 Florists
Roadside stands
Bouquet parties
Weddings & special events
Bouquet subscriptions
Chefs & restaurants
Flower trucks
Farmers' markets
U-pick flower patch
Charitable organizations
Agritourism
Flower workshops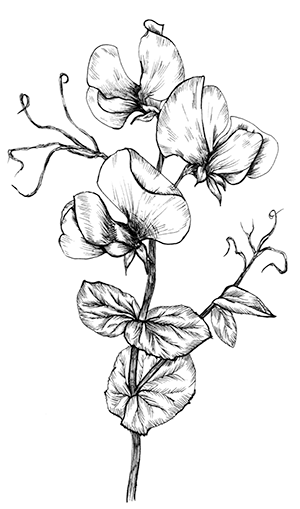 COURSE OUTLINE
SIX COMPREHENSIVE MODULES DIG DEEP INTO SMALL-SCALE FLOWER PRODUCTION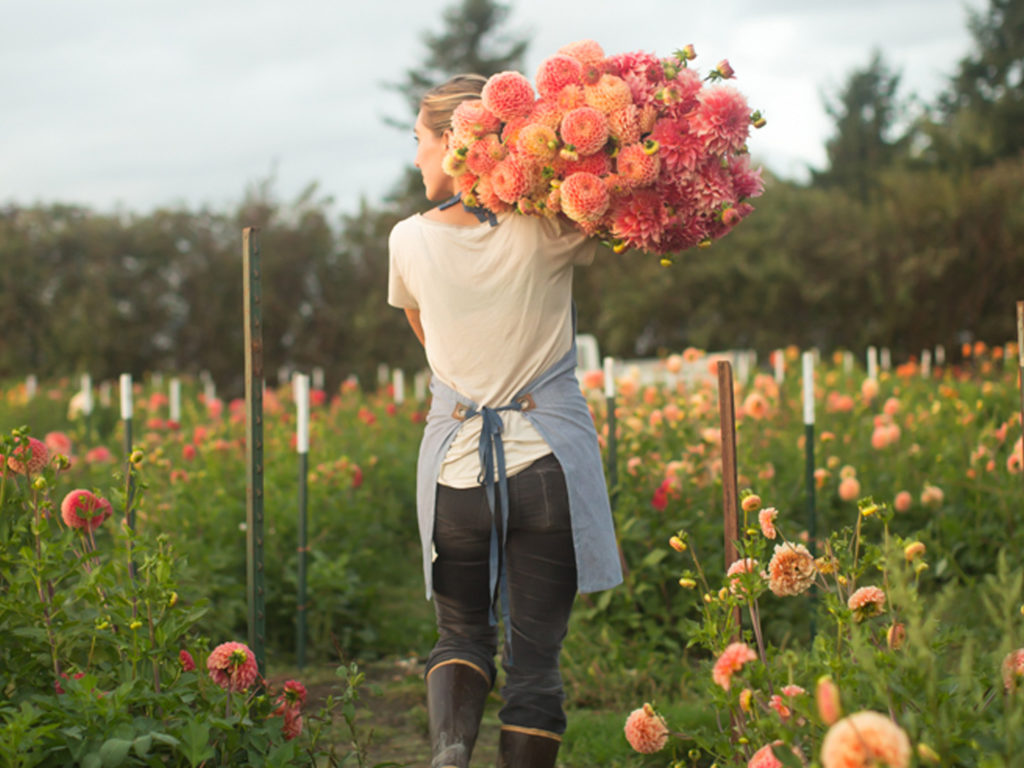 Module 1
Getting clear
Take a behind-the-scenes tour of Floret. Discover potential sales outlets and learn about various seasonal flower business models for inspiration. Learn key steps to successful goal setting and how to build a business around your strengths. Get expert tips from successful farmer-florists in various climate regions.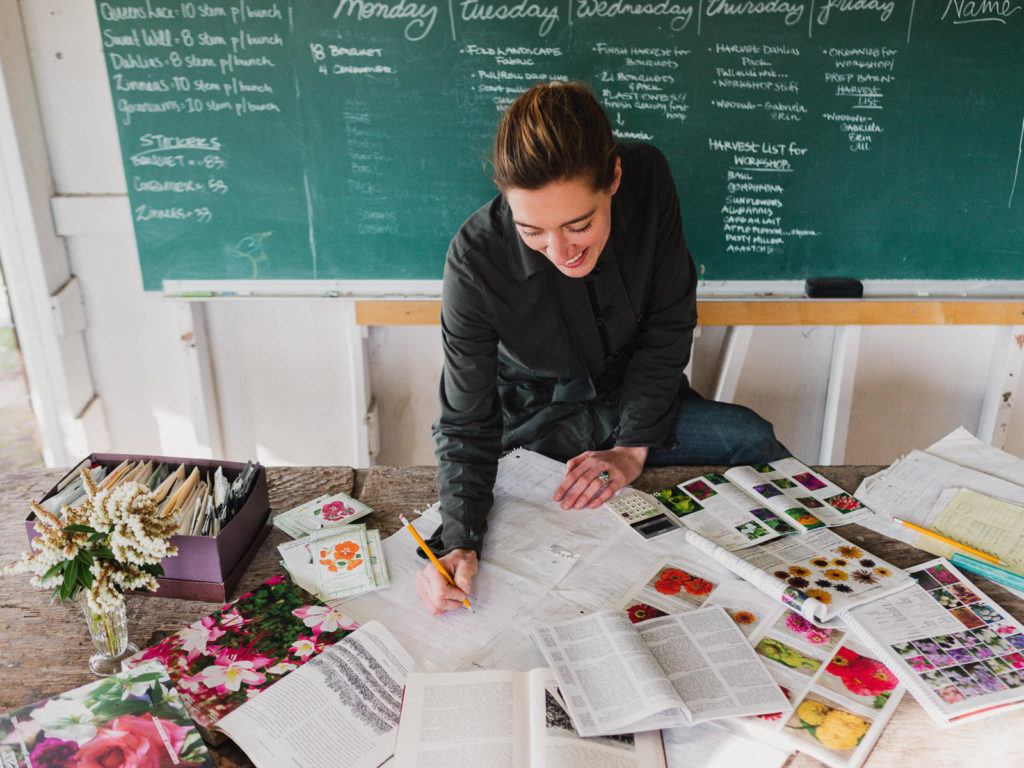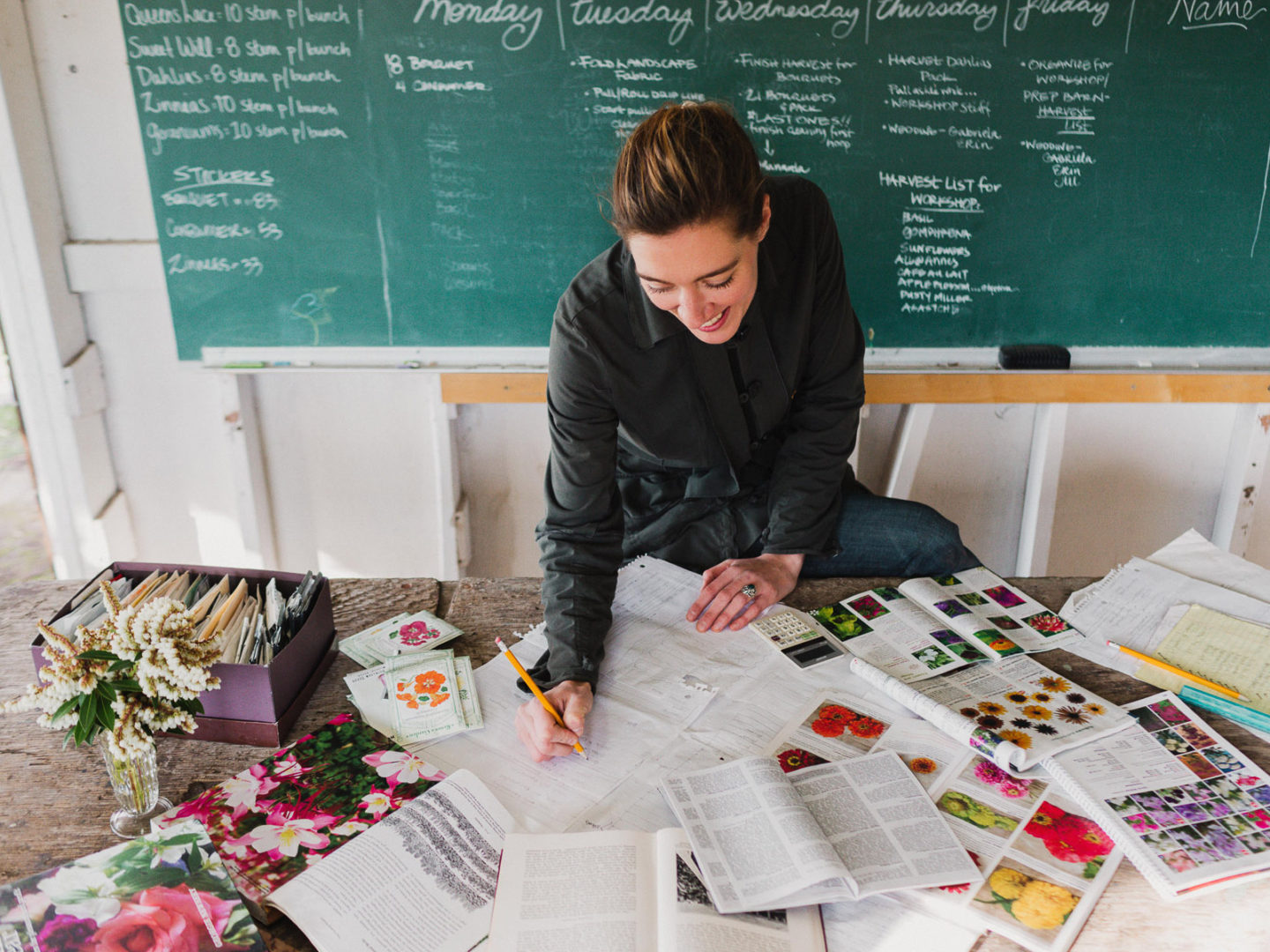 Module 2
Planning the farm
Learn key strategies to design a productive and profitable cut flower garden or small-scale flower farm. Learn to plan and manage annual tasks without overwhelm. Learn the secrets to succession planting and variety selection in order to have a continuous harvest of blooms throughout the growing season.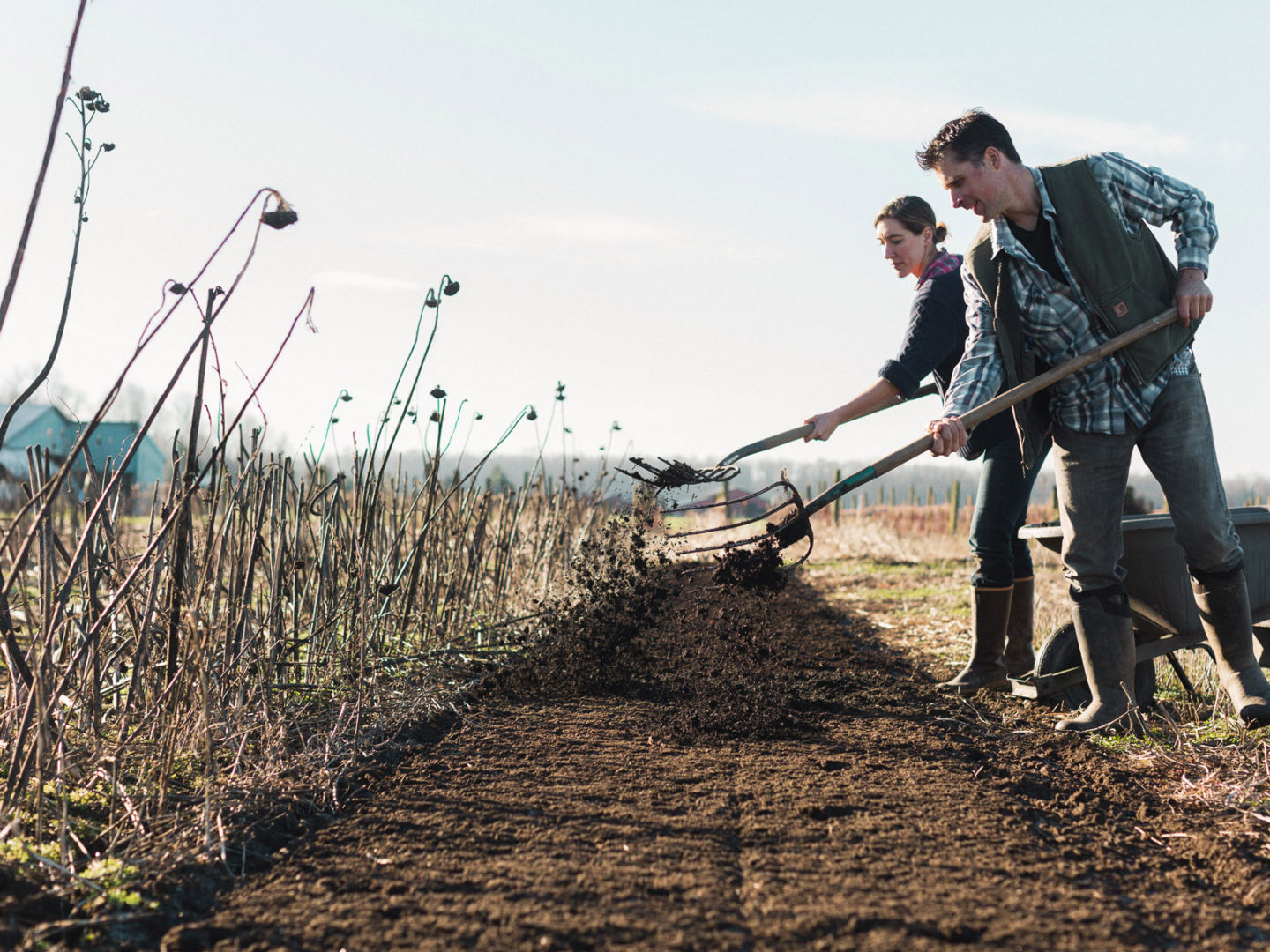 Module 3
Getting a good start
Learn the essentials of producing top-quality cut flowers using time-tested, organic growing techniques. Dig deep into seed starting, soil preparation, fertility, plant propagation, high-dollar crops, and specialty bulbs. Discover growing techniques to increase production and efficiency in small-scale systems.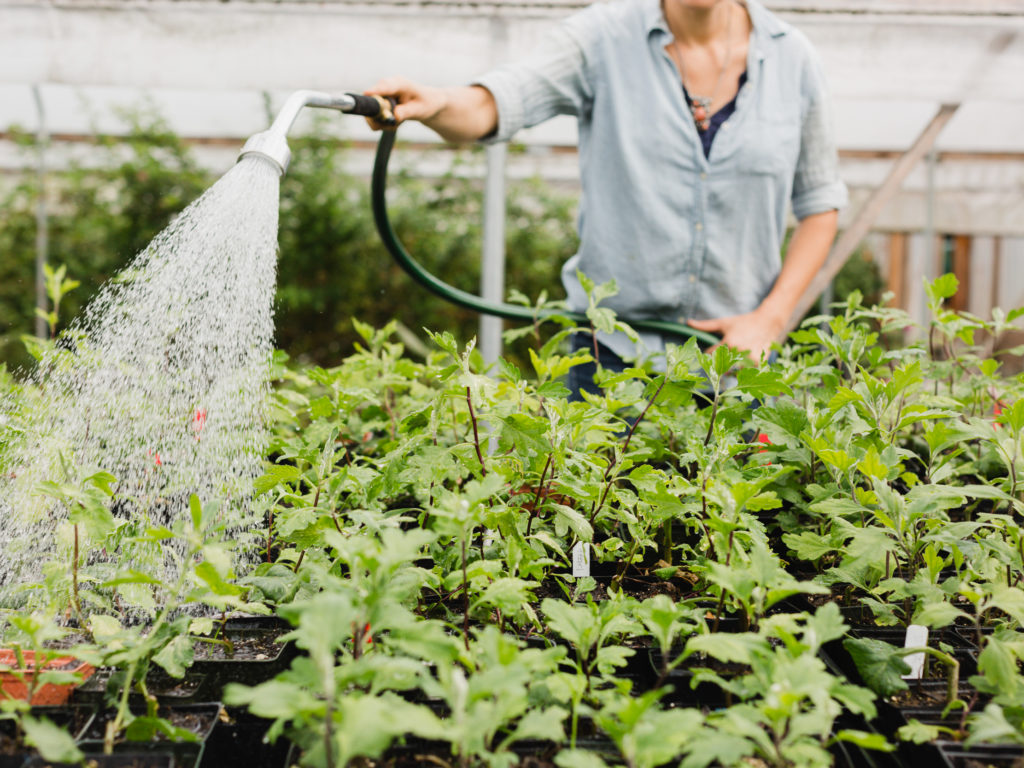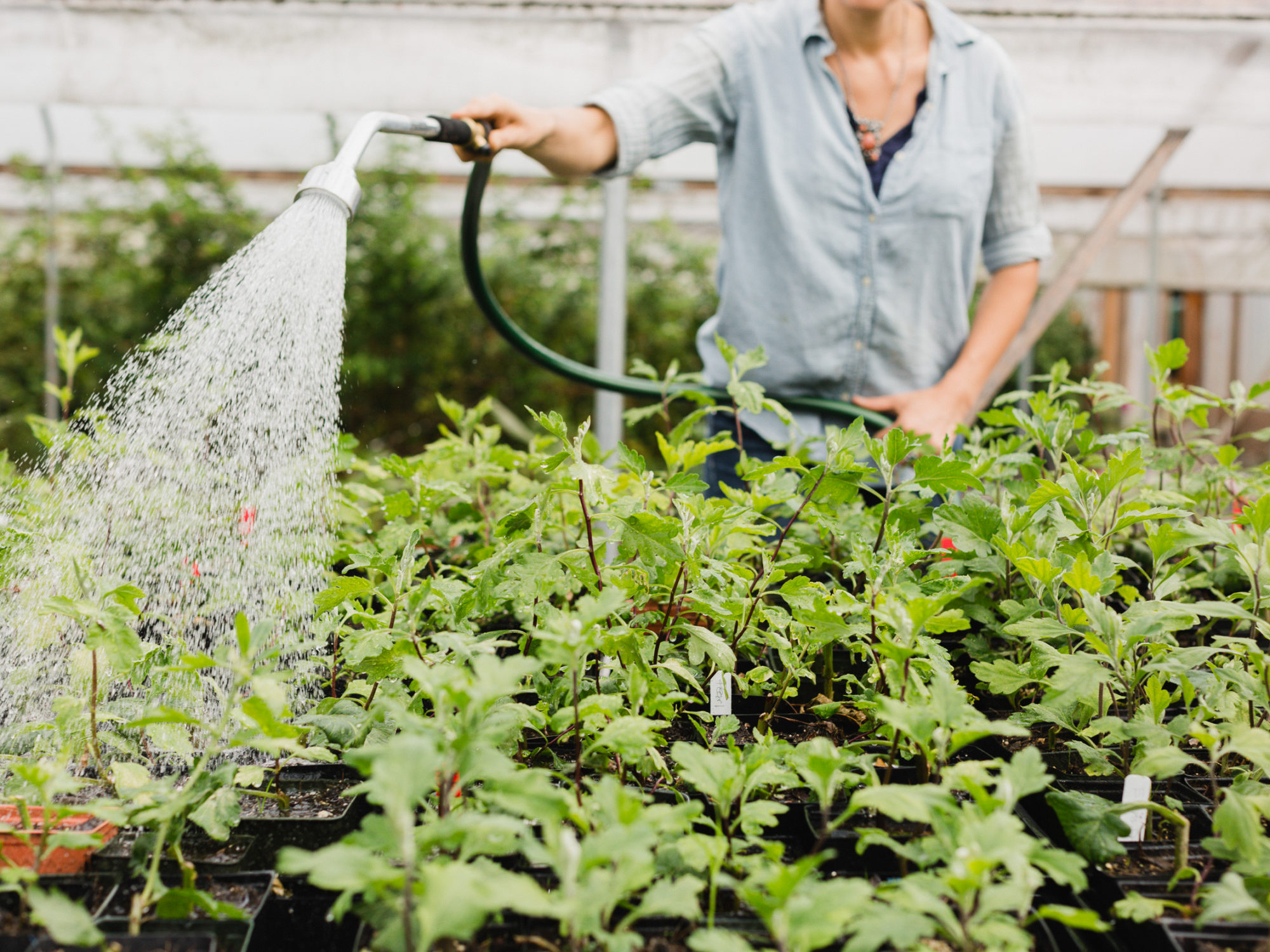 Module 4
Get growing
Learn essential strategies for efficient transplanting, weed prevention, and flower support systems. Get step-by-step tutorials on everything from a basic irrigation set-up to season extension through the use of low tunnels. Get Floret's list of recommended supplies, tools, and gear needed to grow and harvest beautiful blooms.
Module 5
Sales & marketing
Learn how to effectively price, market, and sell your flowers with confidence. Understand and evaluate the various sales channels and value-added opportunities for your flowers to decide which is the right fit for you. Learn essential techniques to attract and retain customers on your website and using social media.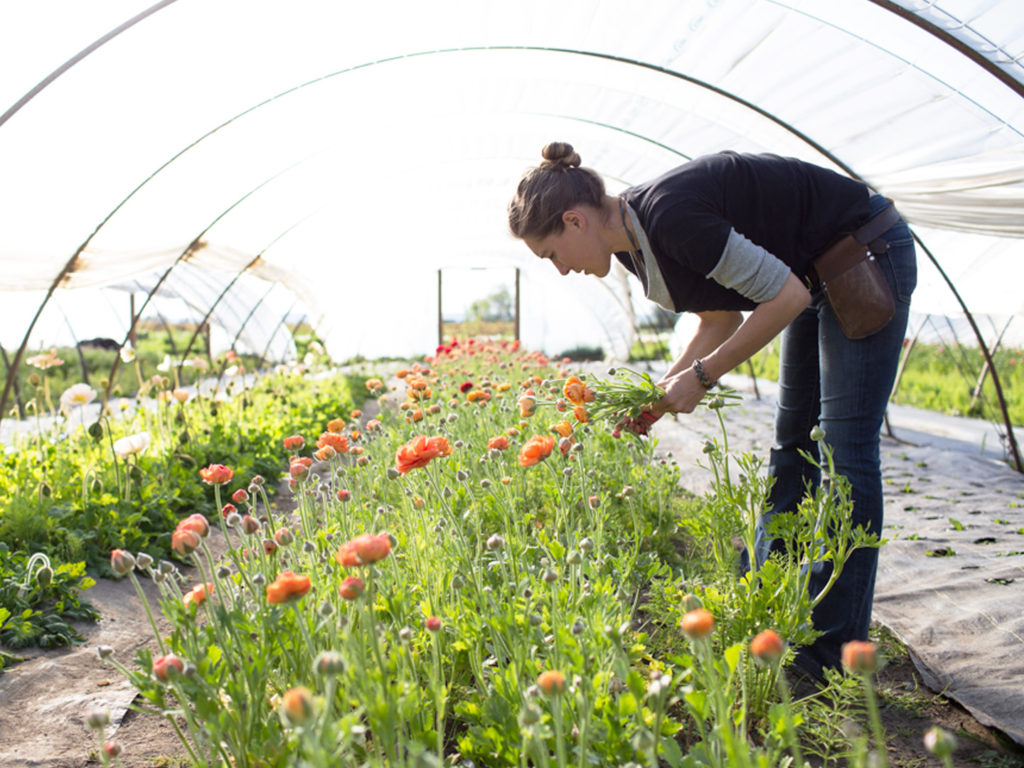 Module 6
Caring for cut flowers
Discover how to get the longest vase life out of your farm flowers. Utilize Floret's time-saving techniques to harvest, assemble, and package bouquets and bunches beautifully and efficiently. Learn key concepts related to proper stage of harvest and postharvest handling and care.
How Participants Describe the Floret Online Workshop
Inspiring
Informative
Great
Good
Empowering
Inspirational
Enlightening
Exciting
Comprehensive
Brilliant
Encouraging
Amazing
Educational
Awesome
Life Changing
Helpful
Wonderful
Game Changer
Motivating
Invaluable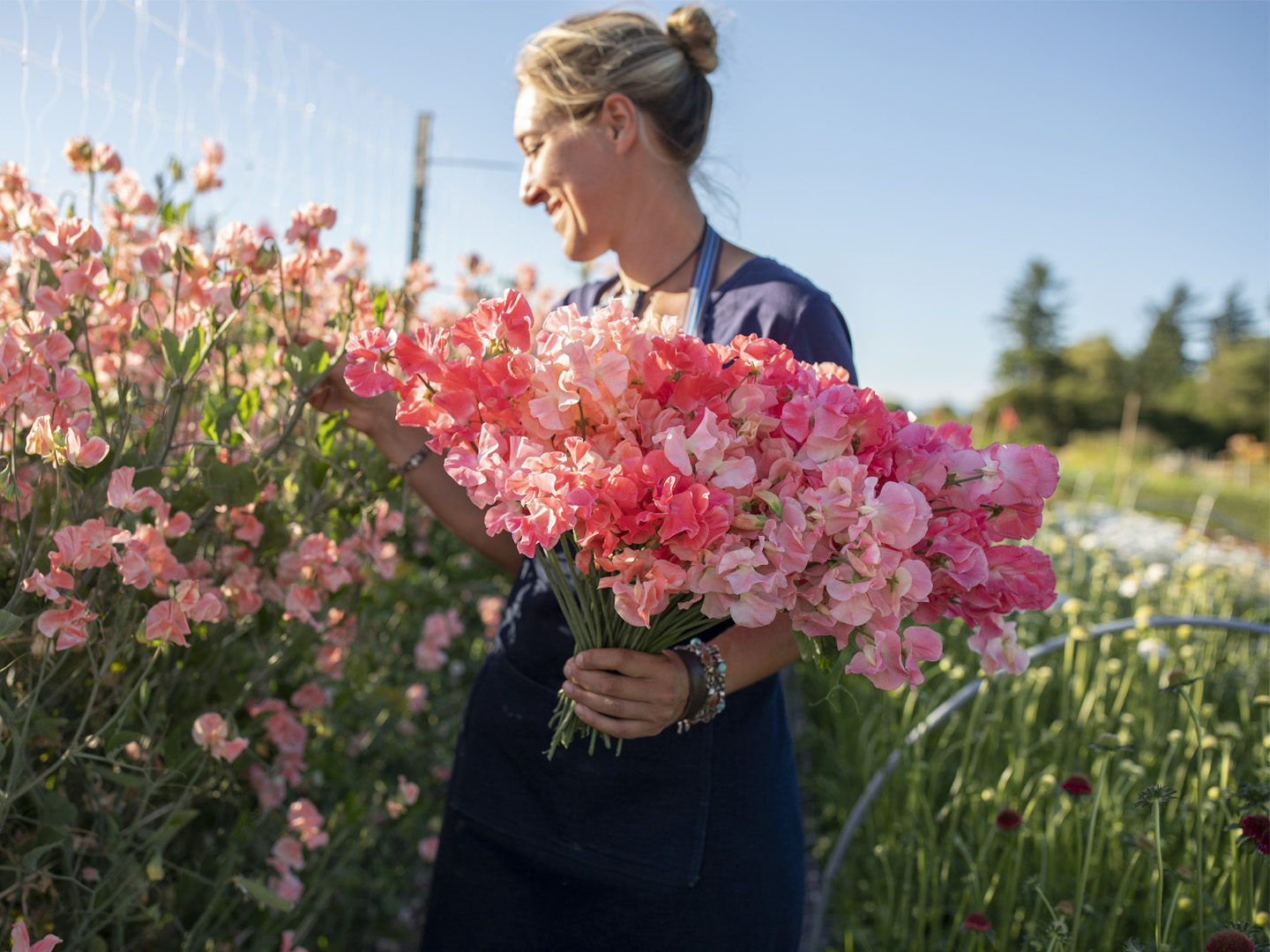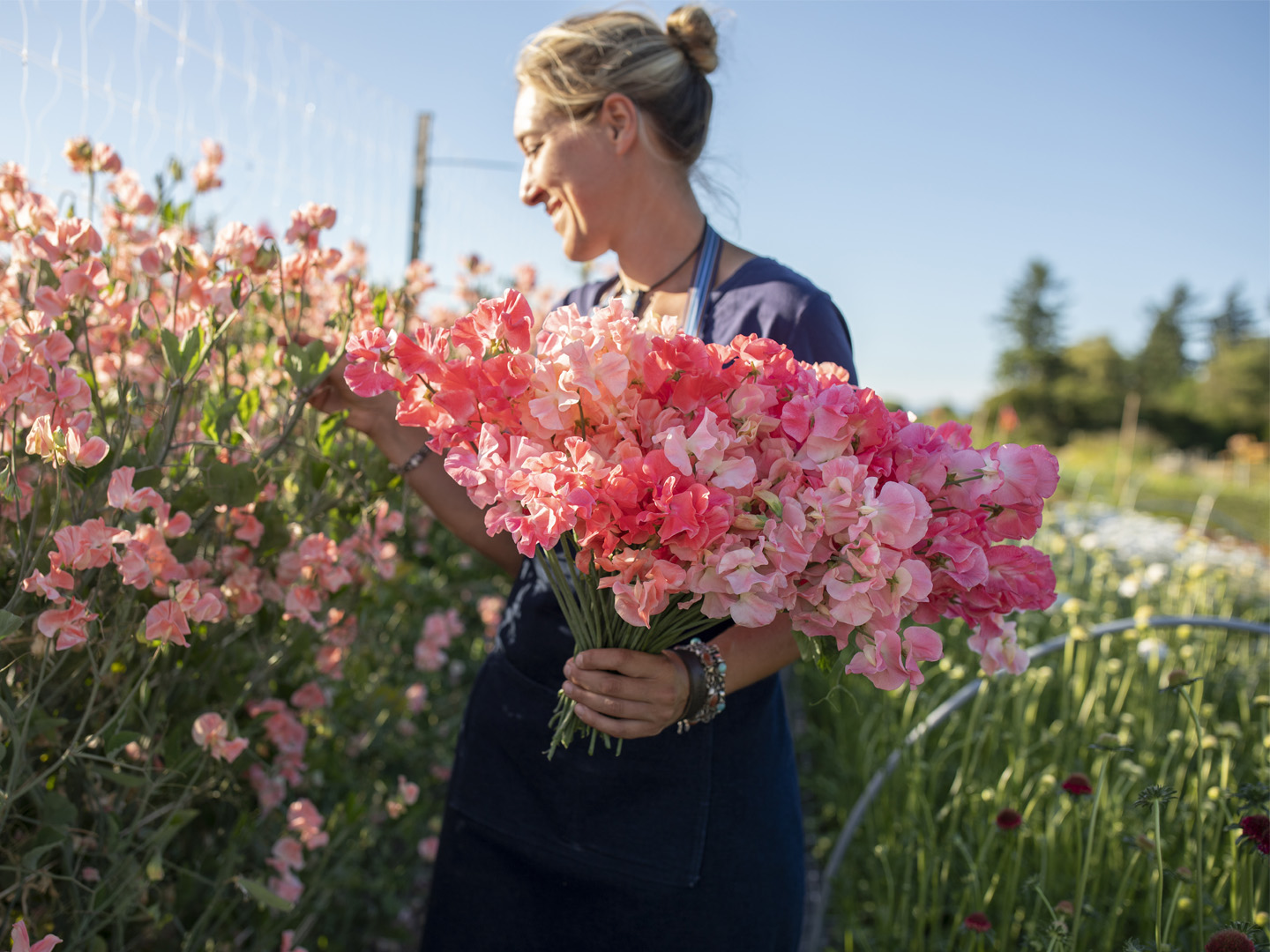 LEARN FROM FLORET FOUNDER ERIN BENZAKEIN
INTERNATIONALLY RENOWNED FLOWER FARMER, DESIGNER, AUTHOR & INSTRUCTOR
Considered to be the country's most influential farmer-florist, Erin Benzakein has shaped floral design trends, redefined micro-farming, and inspired thousands to grow and share seasonal flowers.
Author of the The New York Times Bestseller, A Year in Flowers, Erin, along with Floret's original 2-acre flower farm, have been featured widely in the press and garnered prestigious awards including the Martha Stewart American Made award for Floral & Event Design and Better Homes and Gardens' blogger award. 
Her first book, Floret Farm's Cut Flower Garden: Grow, Harvest & Arrange Stunning Seasonal Blooms won the American Horticultural Society's 2018 Book Award, set sales records at Chronicle Books, and continues to inform, inspire, and delight flower lovers around the world. Erin's third book, Floret Farm's Discovering Dahlias: A Guide to Growing & Arranging Magnificent Blooms, is now available from booksellers everywhere. Growing Floret, a documentary television series about the farm, debuted on the new Magnolia Network in the summer of 2021.
Erin's passion is cultivating beauty in the world by helping others discover the joy of growing and sharing seasonal flowers. A gifted writer, photographer, and teacher, Erin has influenced the flower industry in big ways and small through her popular blog, books, workshops, social media channels, and specialty seeds. Thousands of aspiring and established flower growers and florists, including virtually all the emerging leaders in the field, have honed their craft at one of Floret's workshops. Floret's training has helped growers from more than 4o countries build thriving flower-based businesses and fuel a global seasonal flower movement.
FAST FACTS
FLORET ONLINE WORKSHOP BY THE NUMBERS
Where Floret Online Workshop alumni grow flowers
Number of video tutorials included in the course
Typical plot size of Floret Online Workshop students
Age range of Floret Online Workshop participants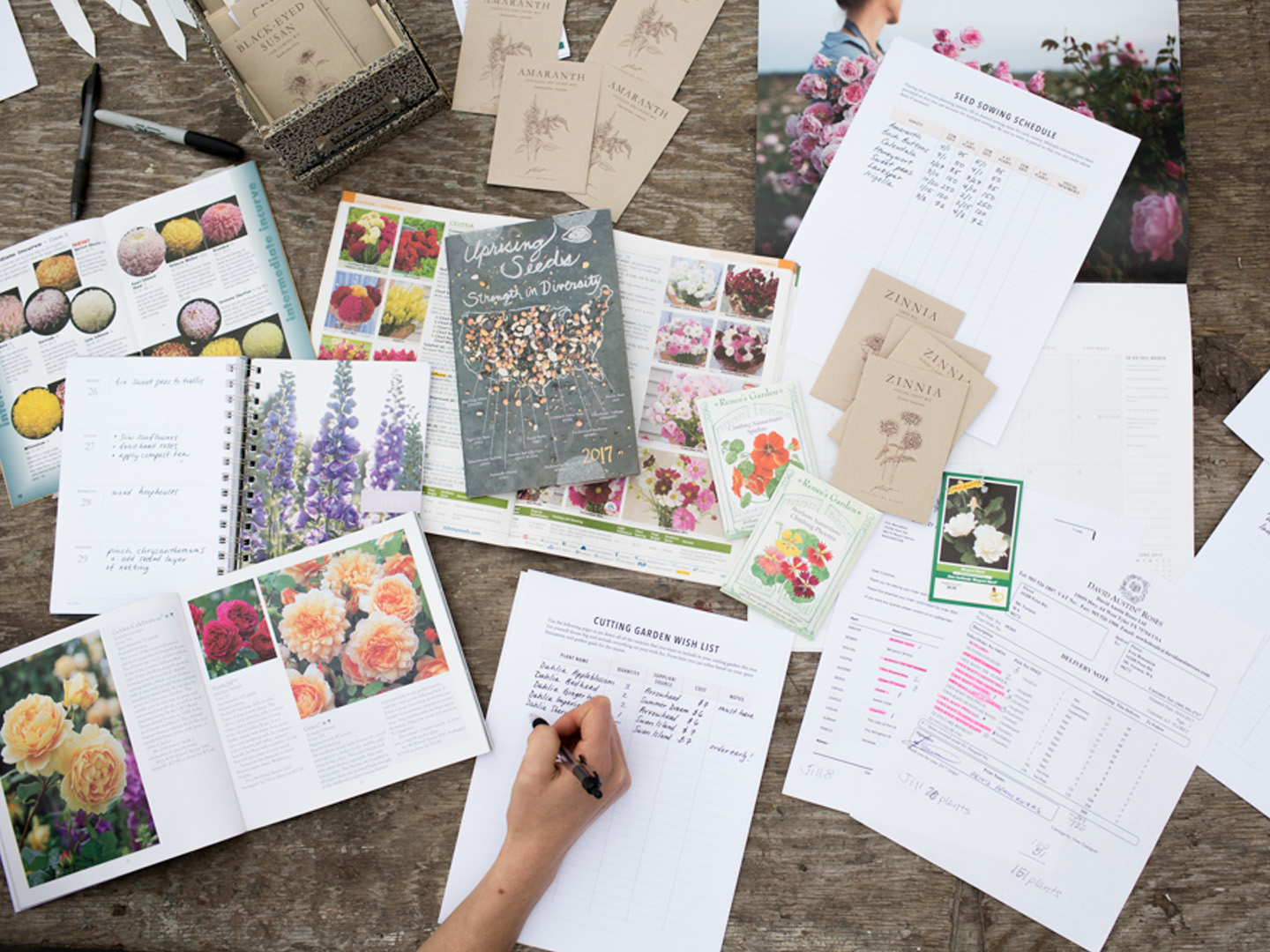 NO TRAVEL REQUIRED
CARVE OUT MORE SPACE IN YOUR LIFE & YARD FOR GROWING GORGEOUS FLOWERS
Join our virtual classroom and participate in the Floret Online Workshop no matter where you live.
YOUR GOALS
Grow a garden and life you love
YOUR PACE
Learn at your own pace—rewatch the videos as often as you'd like
YOUR LEARNING STYLE
Watch videos and take notes in your course book
YOUR SCHEDULE
Participate whenever and wherever you'd like
YOUR COMMUNITY
Connect with flower lovers all over the world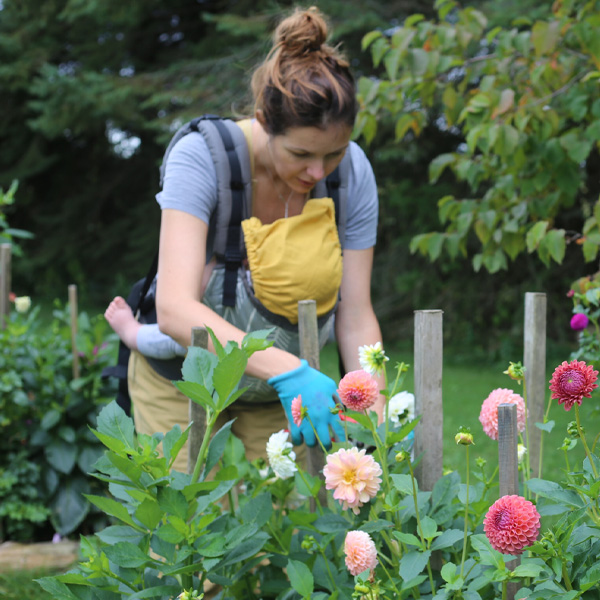 The Floret Workshop gave me the confidence to grow a greater diversity of flowers on a larger scale. The material was easy to digest (I did the course while caring for my fourth baby), and the information was comprehensive. The workshop had specific protocols—like working backwards through steps of a project to see if it's feasible—that helped me increase my productivity and my bottom line, and has helped direct my choice of projects.
The Floret Workshop gave me all the tools I needed to start my farm. It was the most comprehensive course I've ever taken, and has totally influenced the next phase of my professional life. It opened my world up to connecting with other growers and artists around the world, and to seeing the value in social media, blogging, and photography. Everything I do today is guided by what I learned in the workshop. It gave me the foundation for strong field work, successful sales channels, and marketing tips that put me on the map.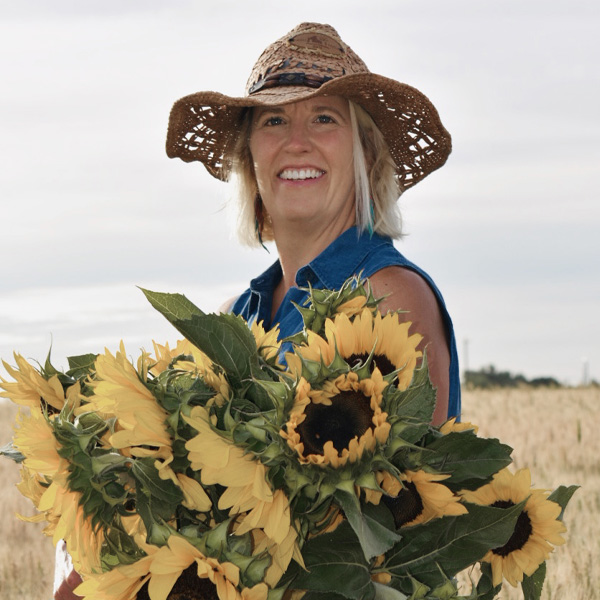 My husband and two sons gave me the gift of the Floret Online Workshop for Christmas. It was one of the best gifts I have gotten. The use of landscape fabric, being able to grow better flowers and foliage, and proper harvesting techniques have made my business double in the past three years. I can't believe how fast my business has grown and how much fun I am having!
Before the Floret Workshop I ran on intuition, but now I run on education. The course gave me the confidence to put myself and my business out there. I was able to land several great florist accounts, as well as a weekly country club account for dining and events. Weddings are on the books, and people are placing orders for bouquets weekly. I feel like I'm on a treadmill trying to keep up with demand. Floret helped me find my passion, and myself. I found my purpose in life—what I was called to do.
Floret Online Workshop Support Team
OUR AMAZING TEAM OF EXPERIENCED GROWERS WILL ANSWER YOUR QUESTIONS & SUPPORT YOU IN THE FLORET LEARNING COMMUNITY
Julio Freitas
The Flower Hat
Montana
Stephanie Hall
Sassafras Fork Farm
North Carolina
Jenn Henry
Field Day Creative
Virginia
Mimo Davis
Urban Buds
Missouri
Marina Michahelles
Shoving Leopard Farm
New York
Shanti Rade
Whipstone Farm
Arizona
Angie Tomey
Little Boy Flowers
California
Gretchen O'Neil
Petals, Ink.
Texas
The Floret Online Workshop is geared towards:
Beginning and intermediate flower growers and gardeners wanting to grow flowers on a small plot, but in a bigger way.

Established growers wanting to improve efficiency, elevate marketing, or expand into new outlets.

Florists wishing to grow their own seasonal blooms.

Gardeners wanting to build a seasonal business, side gig, or new career centered on homegrown flowers.

Teachers and garden coordinators for local schools, community gardens, and institutions.

Dreamers who want to start a flower business.

Anyone looking to bring more joy and beauty into their life through flowers.
The Floret Online Workshop is NOT for:
Large-scale farmers or tractor-dependent agricultural operations hoping to learn high-tech, mechanized systems.

Growers seeking in-depth horticultural lessons or the science behind organic farming or pest- and disease-management systems.

Anyone looking for a get-rich-quick scheme. Building and running a flower business takes a lot of hard work and dedication. If you're not a motivated person and are uncomfortable with challenging situations, this may not be the course for you.
Follow your dreams … you don't have to become a full-time farmer, but you can bring joy into your life and a stranger's life by creating a little space to grow flowers and create beauty. You will be amazed by what you can grow in a small area. Someone said to me when I started this adventure, "Never die not knowing."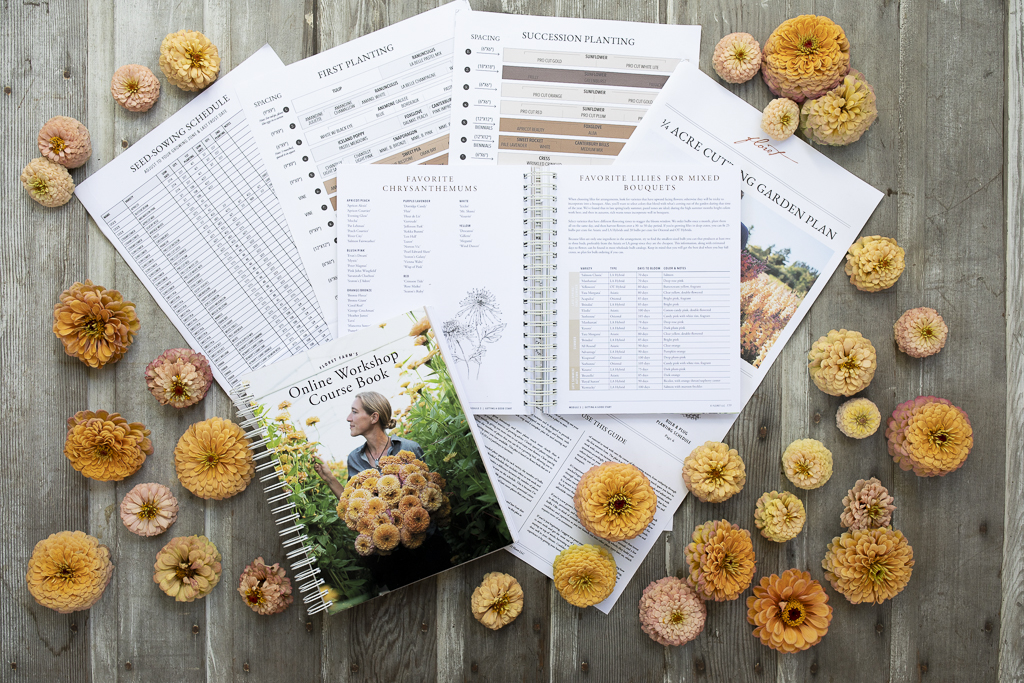 COMPREHENSIVE. CONVENIENT. LIFETIME ACCESS.
REGISTER ONCE—PARTICIPATE YEAR AFTER YEAR
With lifetime access to the course content, you will get all the new videos, worksheets, and course book additions. Plus, you'll be invited to go through the workshop each year.
Join Floret's Class of 2022
Choose the plan that works best for you
BEST VALUE
One payment of
$1,997 USD
(save $277)
LOW MONTHLY
6 monthly payments of
$379 USD
BONUS MATERIALS
Get Floret's exclusive ¼-Acre Cutting Garden Plan when you register for the Floret Online Workshop
Don't worry if you're new to growing and overwhelmed about where to start. We've taken the guesswork out of crop planning and have designed a comprehensive ¼-acre cutting garden plan that includes:
MUST-GROW LIST
Floret's list of tried-and-true cut flower varieties
COMPREHENSIVE PLAN
This plan is designed to provide a season's worth of flowers & foliage
DESIGN & LAYOUT
Done-for-you bed design & layout with plant spacing recommendations for each crop
SOWING SCHEDULE
Complete seed starting & succession planting plan
PRESS
FLORET WORKSHOPS HAVE BEEN FEATURED IN:
Unknowns aren't the only thing on the other side of fear; there are also rewards beyond anything you can imagine. Do it scared. Lean into the discomfort and see what successes await you.
Student Profiles
FLORET ALUMNI SUCCESS STORIES
In 2018, Jessie Ruml stepped away from her demanding dental career to stay at home with her four daughters and reboot and recharge before starting a new dental job. "That summer was pure joy being home with my family and growing a garden together," she said. "I was obnoxiously happy. I found where I belong." 

Eager to learn more about growing flowers on a small scale, Jessie enrolled in the 2019 Floret Online Workshop. That summer, she started offering weekly bouquet subscriptions and word of her unusual blooms soon spread through her community. Jessie doubled her bouquet subscriptions from 24 to 53 in 2020 while also expanding into grocery sales and wedding florals. In addition, she has started "Farm Cart Saturdays" where she loads up her farm cart with flowers, parks it at the end of her driveway, and sells bouquets using an honor system. They typically sell out in less than two hours.

Floret's training really took me from being a backyard gardener to a legitimate flower producer. Plus, the Floret Workshop helped me find my purpose in life again. I found my WHY. My mission is to spread joy through South Dakota flowers.

Denise Kelly first started creating bouquets for her parents' parties when she was in high school. Fast forward to 2012, and Denise launched her own event planning and design company, All RelEvents. As her design style evolved, she found it increasingly difficult to find the specialty flowers she wanted to include in her bouquets. So she decided to grow her own. Her first season was largely trial and error, with limited success. After enrolling in the Floret Online Workshop, Denise focused on maximizing the number of flowers she could grow in large, elevated planters in her yard while she searched for a slightly larger plot of land to lease.

The workshop has impacted me tremendously by allowing me to grow my own flowers that can support my designs. Being able to include flowers from my own plot has brought down my business costs. As we grow more, we will be able to rely less on imported flowers from wholesalers. But the biggest impact has been gaining the confidence to do this at a scale that I choose. I don't have to have 5+ acres to grow flowers on to actually impact my business.

Katie Stutler read Cut Flower Garden around the same time that a friend encouraged her to create the flower arrangements for Katie's grandmother's funeral. Combined, these two experiences served as a catalyst that started her journey of growing and arranging flowers. 

Katie enrolled in the Floret Online Workshop and filled her ¼-acre plot with specialty flowers. But when the pandemic hit at the same time her ranunculus and anemones exploded into bloom, it forced her to find new sales outlets for her flowers. Katie partnered with a local shop to sell her bouquets. As friends went through the drive through for coffee, bread, milk, and flowers, their "shares" and "tags" caught the attention of others in the community. Her sales quadrupled within a month. Katie originally set a goal of selling 15 market bouquets weekly. By Mother's Day 2020, she was selling 50 bouquets weekly, and for Mother's Day, she sold more than 100 arrangements.

Floret's workshop has been helpful in every respect, from the technical side of seed starting and succession planting, to business and marketing tips. I still use my workbook weekly as a reference. I feel like I had bits and pieces of knowledge about growing and setting up a business, but the workshop has helped fill in all the gaps and cut out hours—maybe years—of growing pains.

Masami left her industrial design job to intern on biodynamic farms in Morocco and the U.K. As part of that experience, she tended a flower patch and made bouquets for a weekly market. She returned to France after living abroad for 10 years and began looking for a small plot of land in Paris to cultivate flowers. After a long and complex process, she secured land and created the first urban flower farm in Paris. Masami now grows more than 200 species of flowering plants on a small 1,200-square-meter plot in the city using what she describes as "a curious blend of Floret's tips, biodynamic preparations, no-till techniques, and Japanese microorganisms."  

Masami's fresh cut blooms are available at a farm stand and also made into bouquets for weddings and other special events. She is now taking what she learned in the Floret workshop and is partnering with a team of market gardeners to run a cut flower patch on a 12-acre estate outside the city.

Floret has definitely informed the way I farm, and Erin's techniques and methods are woven into my daily work. The scholarship and the content of the workshop have really pushed me forward, both in time and in emotional space. Floret has simply given me the confidence—and the technical ability—to follow my calling. I'm following my dreams, and that deeply nourishes my soul.
ANSWERS TO YOUR QUESTIONS
EVERYTHING YOU NEED TO KNOW ABOUT THE FLORET ONLINE WORKSHOP
MORE THAN A COURSE: A COMMUNITY
.
Connect.
Ask.
Share.
Support.
Celebrate.
FLOWER FRIENDS FOR LIFE
The Floret Online Workshop is not just a course, it's also a vibrant, supportive community.
When you enroll, you'll be invited to join an incredibly talented and unbelievably kind group of flower growers from all over the world.
Connect with other students and Team Floret inside the Floret Learning Community forum 

Attend virtual and in-person meet-ups 

Ask questions, share ideas, get encouragement, and access valuable resources
The Floret Online Workshop Support Team will lift you up, answer your questions, cheer you on, and support you in ways big and small.
I have made some special friendships with fellow classmates. It started with a meet-up in New Hampshire, which led to two more. We continued communicating via group texts and emails to share tips, successes, and questions. One generous fellow student dug up and brought me white lilac bushes; another gave me a chocolate geranium. We have shared dahlia tubers and even compost worms with each other. They have become a new family for me. I never would have met them had I not participated in this course!
Questions About the Workshop
What is the registration period for the Floret Online Workshop?

Enrollment in the 2022 Floret Online Workshop will open October 18, 2021 at 9 a.m. PDT and close October 22, 2021 at 5 p.m. PDT. Be sure to add your name to our waitlist to be notified.

What is the cost to enroll in the Floret Online Workshop?

Tuition for the Floret Online Workshop is $1,997 USD. Paying in full is the best value, however, we also offer a payment plan option of $379/month for 6 months. You can choose the option that works best for you when you register.

What is the format of the workshop?

The course includes more than 150 videos on a password-protected site, plus a 280-page printed course book. Once the workshop kicks off, we release one module per week. For each of the six modules in the workshop, you'll watch multiple video lessons, which are broken down into bite-sized pieces, making it easy for you to go back and rewatch particular segments. As a student, you're also invited to join the Floret Learning Community, a private discussion group where you can submit questions for Erin and Team Floret to answer during the six weekly Q&A session videos.

I live in a different climate than Floret. Will the workshop materials be relevant to me?

Absolutely! We've had students from nearly 50 countries ranging from cool climates to very arid areas and everywhere in between successfully complete our course. The workshop covers the fundamentals of growing flowers on a small scale and includes core principles such as seed starting, plant propagation, and use of season extension structures that are applicable or easily adaptable to other climates. Plus, Floret's marketing tutorials are relevant no matter where you live and grow flowers.

My schedule is complicated. Will I need to login at a specific time each week? What if I fall behind?

Because all the content is online, you can go at your own pace to get through the material. It's no problem to take a break during your busy times and resume the course once things quiet down. There is no specific time you need to login to access the workshop content. Once the workshop begins and each weekly module is released, you can watch the video lessons whenever it is most convenient for you. You can always revisit a lesson when questions arise about a specific topic, as you have lifetime access to the course materials.

Is the workshop right for me if I don't have much gardening or growing experience?

Yes! We've had students with varying levels of farming and gardening experience complete the course, including many with no experience at all. For example, Mercedes Attig, a student in our 2020 workshop shared, "This is my first year, and the Floret training was essential. I've never even grown flowers before. I had zero experience and never would have been able to do this without the class. I gained at least 5–10 years of experience in 6 weeks."

I have a background in farming and horticulture. Will the workshop be too basic for me?

No. Experienced farmers, gardeners, and landscape professionals have greatly benefited from the course. The small-scale, high-intensity methods we teach are unique to the Floret Online Workshop and have helped experienced growers expand their production and make existing operations more efficient, productive, and profitable. Consider Cristina McCutcheon's words: "I've been involved in the horticulture/agriculture industry for almost 20 years, and this is by far the best and most complete presentation of material I have seen. The fact that it also allows those of us who cannot take a break from our lives to attend lengthy programs or become interns is a gift beyond measure. I continue to return to the course offerings and continue to find them an invaluable resource as my farm evolves."

What is the timeline for the Floret Online Workshop?

Orientation begins in December and students will be invited into the Floret Learning Community at that same time. The first module of the 2022 Floret Online Workshop will be released January 7, 2022. We will release one module per week for 6 weeks. Students will have lifetime access to the workshop content, plus all the new material we add to the course each year.

Why is there a gap between when registration ends and when the workshop begins?

The gap between when registration ends and when the course begins allows us time to print and mail the course books to attendees around the world. Unlike other online courses, we will be sending out physical copies of the material, plus other goodies. We promise it will be worth the wait!

Will there be an extra charge to ship the workshop materials to me?

No, there is no extra fee for shipping the course book to you. The cost of the workshop materials is included in the cost of the workshop.

How many video tutorials are included in the Floret Online Workshop?

There are more than 150 videos, which cover everything from planning your growing area, to efficient harvesting and social media marketing. There are also tutorials on plant propagation, seed starting, irrigation, season extension, and so much more.

Will you be limiting the number of registrants?

With the new online format, we are now able to accommodate everyone who wants to participate as long as you register during the enrollment period.

Will you be hosting any on-farm workshops in 2022?

We do not currently have plans to offer any on-farm workshops in 2022.

Will you offer the Floret Online Workshop more than once in the coming year?

No, the course is offered as a complete flower growing workshop experience just once per year. As part of the Floret Online Workshop, Erin and Team Floret will go through the course modules with you. We'll also have a group of experienced farmer-florists who will be able to answer your questions and provide additional support.

Can I purchase the learning modules individually?

The Floret Online Workshop is only available as a complete course. Individual modules are not available à la carte.

Will I need to download any special software for the workshop?

No, the workshop is a web-based platform, so all you need is an Internet connection. You can access the content on your computer, smartphone, tablet or other mobile device; no special applications or software downloads necessary.

Does access to the Floret Online Workshop expire?

No, unlike other online courses that restrict access to the content after a year, or only allow you to view it on one device, you will have lifetime access to all of the content and any updates we make to the course.

How do I register using the payment plan option?

Once registration is open, you can choose either the "Pay in Full" or "Pay Monthly" option to checkout.
Floret Online Workshop Waitlist
Sign up to be notified when registration opens for the next Floret Online Workshop.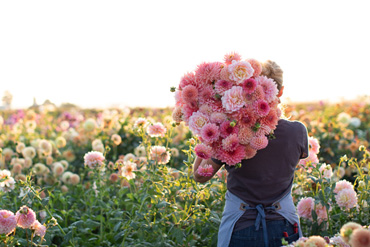 JOIN WAITLIST
Join Us
Join the Floret newsletter and stay in the loop on all the exciting happenings here on the farm
Close