Build a thriving flower business
on two acres or less
Since 2013, Floret workshops have attracted thousands of flower lovers from around the world to learn the techniques we use to grow beautiful, high quality cut flowers on a small scale.
We have taken all of the information shared in our wildly popular sold-out series of on-farm workshops and converted it into a convenient video-based course so you can learn from Floret no matter where you live. Filmed over the course of an entire season, the Floret Online Workshop shows you step-by-step how we grow, harvest and sell high quality cut flowers. We also pull back the curtain and show you the key strategies, systems and time-tested techniques we've used to build a thriving, profitable flower business on a tiny two-acre plot. This comprehensive course features 120+ videos, a beautiful 250+ page course packet, Q&A sessions, access to the Floret Learning Community and much more.  
The Floret Online Workshop is offered just once per year. Enrollment for our 2019 course will open October 11th. Sign up to be notified and learn more.
Notify Me
Cultivate Beauty
Grow a Flower Farm Business you love
Are you…
…interested in growing and selling flowers on a small scale, but unsure where to start
…eager to develop new flower farming and gardening skills
… yearning to carve out space in your life to cultivate more creativity and beauty
…hoping to connect with the natural world and move away from a career path or circumstance that leaves you feeling emotionally drained or empty
…interested in connecting with like-minded people that share your interests and passion
… always putting others and other things before yourself, often hesitating to pursue your own dreams
If any of that sounds familiar to you, you're in the right place. I've been there.
As a young mom, I was eager to build a small business that allowed me to stay home with my kids. I wanted to be able to connect with nature and my creative side while also contributing to our household income. After a lot of trial and error, I was finally able to achieve all of those things and so much more. I'd love to help you do the same.
Floret's Online Workshop provides a convenient way to learn how to build a thriving flower business with very little land. In it, I will show you all the systems and time-saving techniques that I've honed over the last 10 years growing flowers. Plus, I'll help you avoid many of the costly and frustrating mistakes I made during that time. I've specially designed this comprehensive 6-week course for flower lovers who are ready to jumpstart their dreams of building a beautiful, bountiful and profitable flower-based business.
Comprehensive & Convenient
We Bring Floret's Renowned Training to You
Over the years, I welcomed hundreds of aspiring flower farmers and established floral designers to our on-farm training workshops. Attracting flower lovers from around the world, these 3-day events consistently sold out within minutes of going on sale. Unable to support the demand for the live events, we decided to create an easier, more accessible way to teach others: by creating a comprehensive video-based course. All of Floret's renowned training is now available at your fingertips; no expensive airfare, hotels or time away from your loved ones required.
We filmed the Floret Online Workshop over the course of an entire year, which now allows you to see farm tasks unique to each season. Concepts that were impossible to demonstrate in person due to time constraints and seasonality are now covered in depth in this comprehensive 6-week course.  
Rave Reviews
Here's how our students describe the Floret Online Workshop in one word:
Workshop Features
Learn more about what's included in this comprehensive 6-week course
Expert Instruction
Learn Floret's small-scale growing techniques
Erin Benzakein, founder of Floret and author of the award-winning book, Floret Farm's Cut Flower Garden pulls back the curtain and shows you step-by-step how Floret built a thriving, profitable flower business on two tiny acres.
Course Packet
The ultimate resource for farmer-florists
This comprehensive 250+ page printed manual contains a decade's worth of information and resources we developed to grow a thriving flower farm business. We've poured all of our favorite plant lists, planning tools and marketing tips into this massive resource.
Video Tutorials
Learn from Floret season by season
Organized into six modules, the Floret Online Workshop includes 120+ video tutorials filmed over the course of a year, capturing life on the farm during each season. Each lesson is broken down into bite-sized pieces, which make it easy for you to go back and watch over and over.
Q&A Sessions
Get support from Team Floret
Each week of the 6-week course, Erin and Jill sit down to answer student questions. In these popular Q&A sessions, they share additional tips, stories and insights so students can gain a deeper understanding of the course content.
Community
Find your flower tribe
Workshop participants are invited to join the Floret Learning Community, a private online forum where you can discuss the workshop content, share your successes and connect with classmates from around the globe.
Planning Tools
Customizable farm planning workbook
Packed with handy reference guides and customizable spreadsheets, our downloadable planning workbook includes plant spacing tools and seed sowing plans that can save you dozens of hours of research and help you avoid several seasons of costly trial and error.
Lifetime Access
Learn at your own pace
The Floret Online Workshop videos are viewable on any device, so you can go at your own pace and watch our training videos wherever you want, whenever you want and as many times as you want. Lifetime access to the course also includes any new videos and resources added to the curriculum in the future.
Wedding Guide
Add revenue without the added stress
Floret's Weddings a la carte packet is tailor-made for farmer-florists. Whether you offer buckets of flowers for DIY weddings or full floral design services, Floret's pricing and planning guide takes the pain out of the process so you can add revenue without the added stress.
Course Outline
Six comprehensive modules dive deep into small-scale flower farming
Module 1
Getting Clear
Take a behind the scenes tour of Floret. Discover potential sales outlets and learn about various flower farm business models for inspiration. Learn key steps to successful goal setting and how to build a business around your strengths. Get expert tips from successful farmer-florists in various climate regions.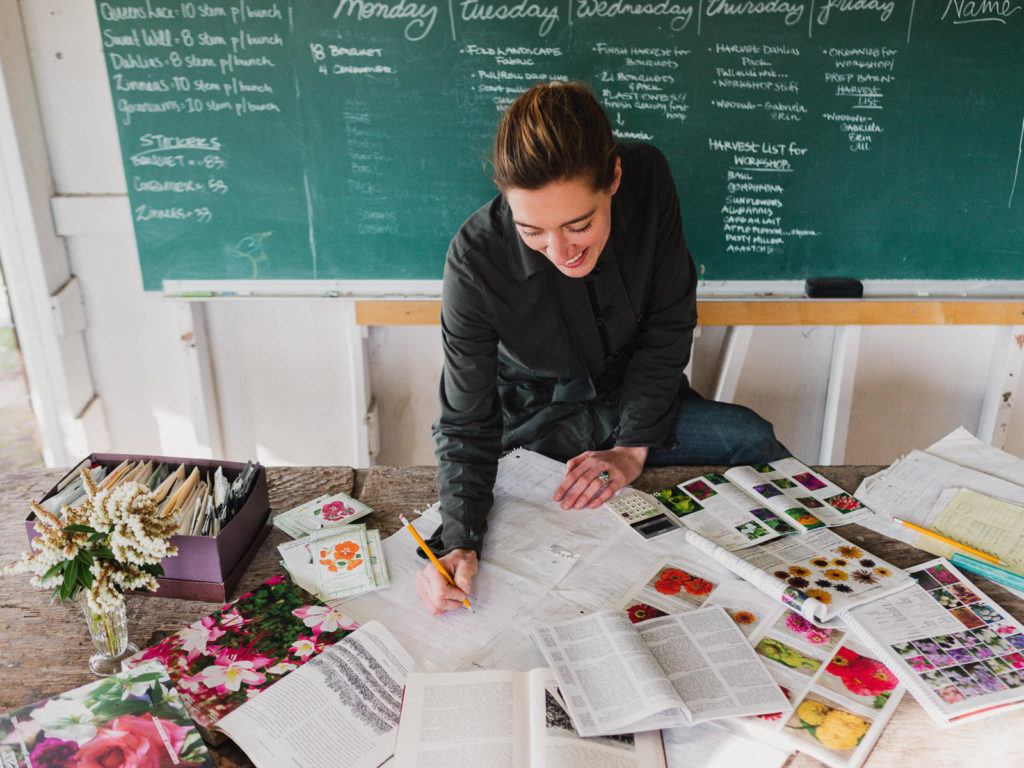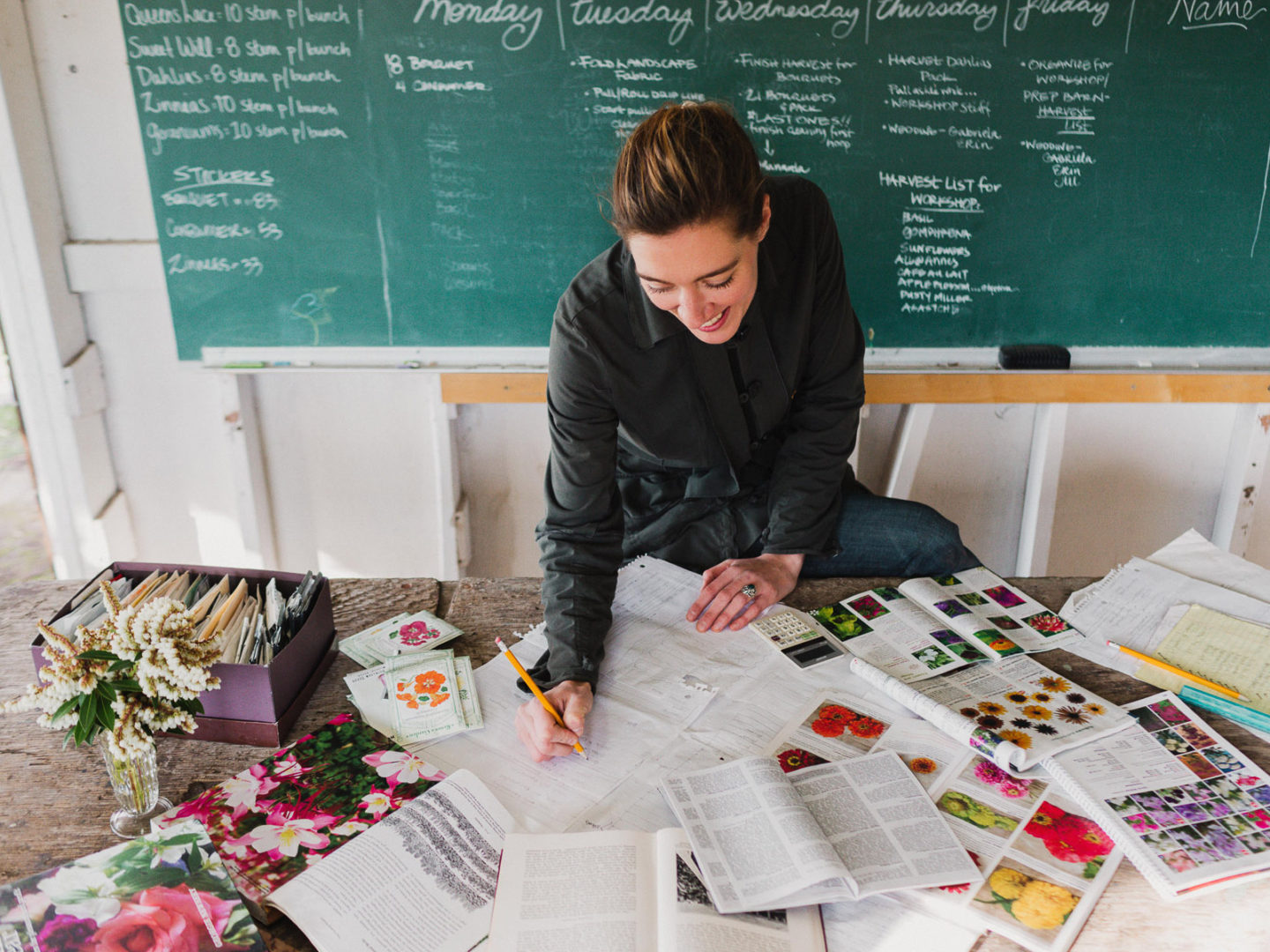 Module 2
Planning the Farm
Learn key strategies to design a productive and profitable flower farm, even on a small scale. Learn to plan and manage annual farm tasks without overwhelm. Learn the secrets to succession planting in order to have a continuous harvest of blooms throughout the growing season.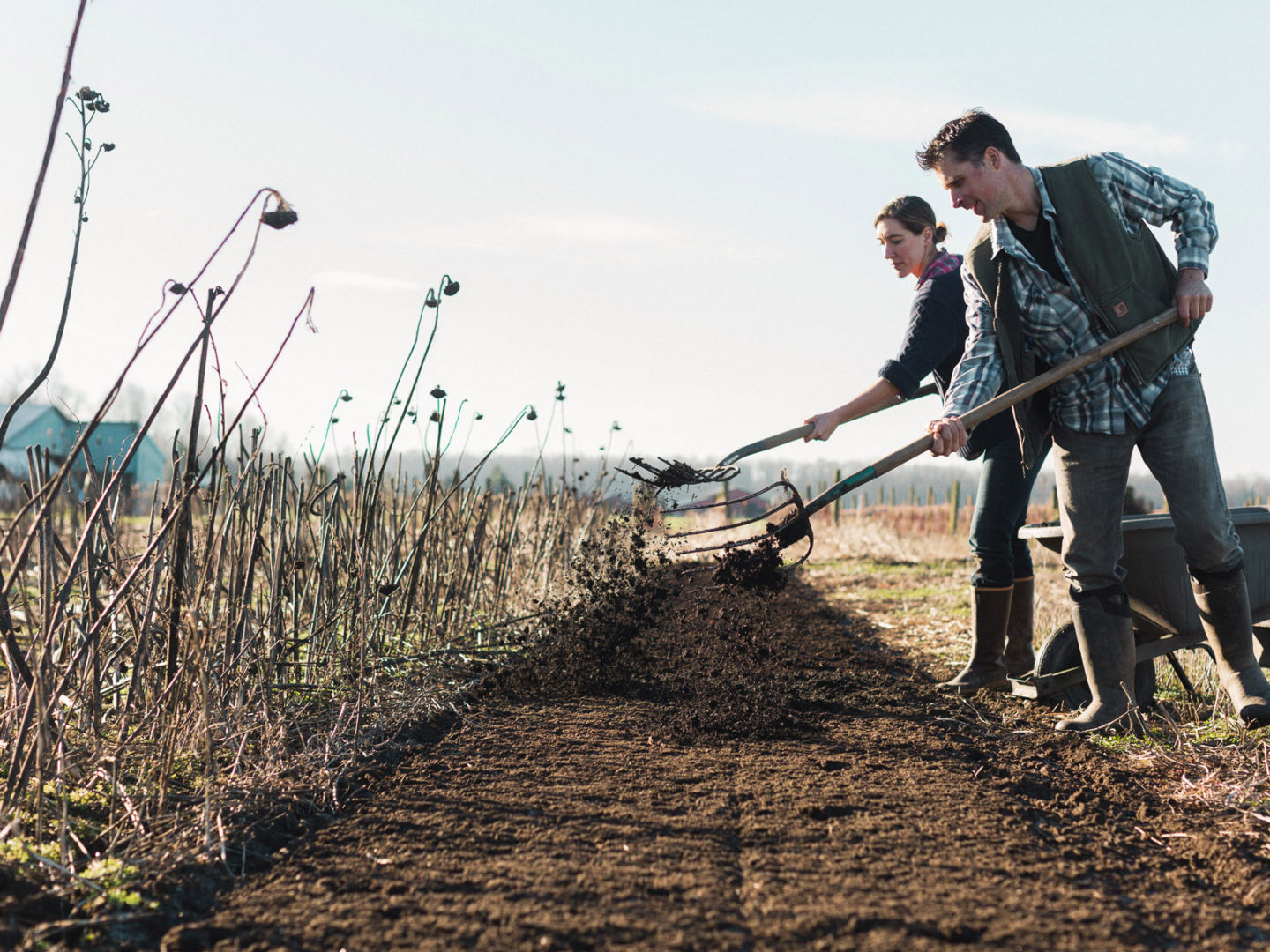 Module 3
Getting a Good Start
Learn the essentials of producing top quality cut flowers using time-tested growing techniques. Dig deep into seed starting, soil preparation, fertility, plant propagation and specialty bulbs. Discover growing techniques to increase production and efficiency in small-scale systems.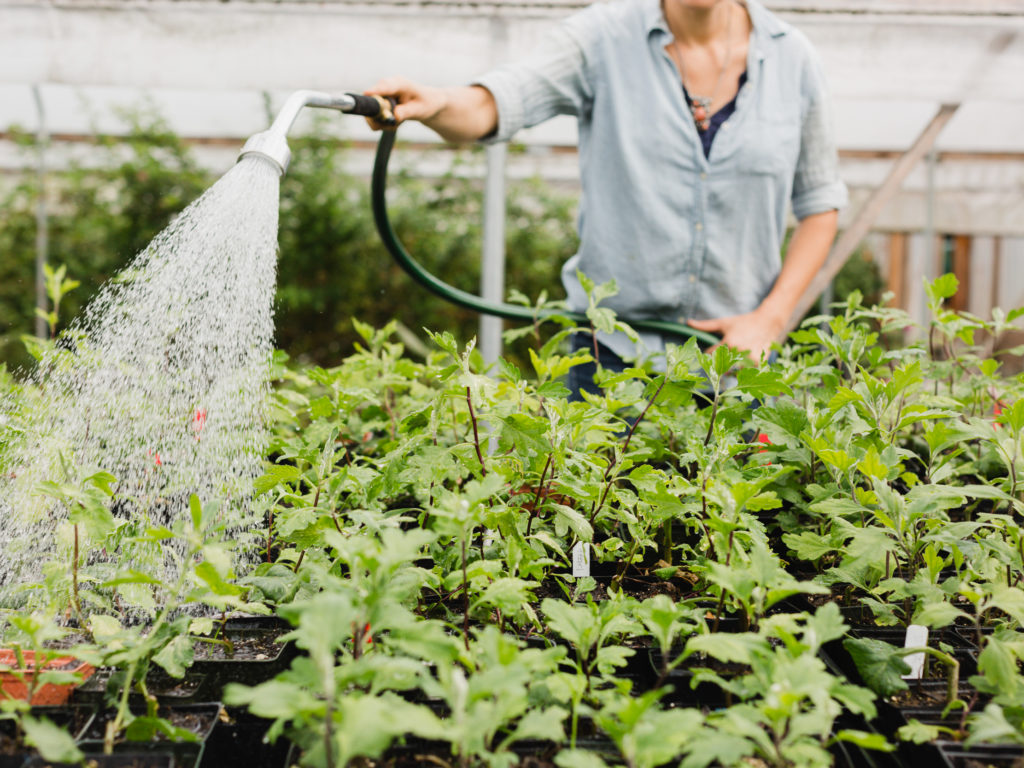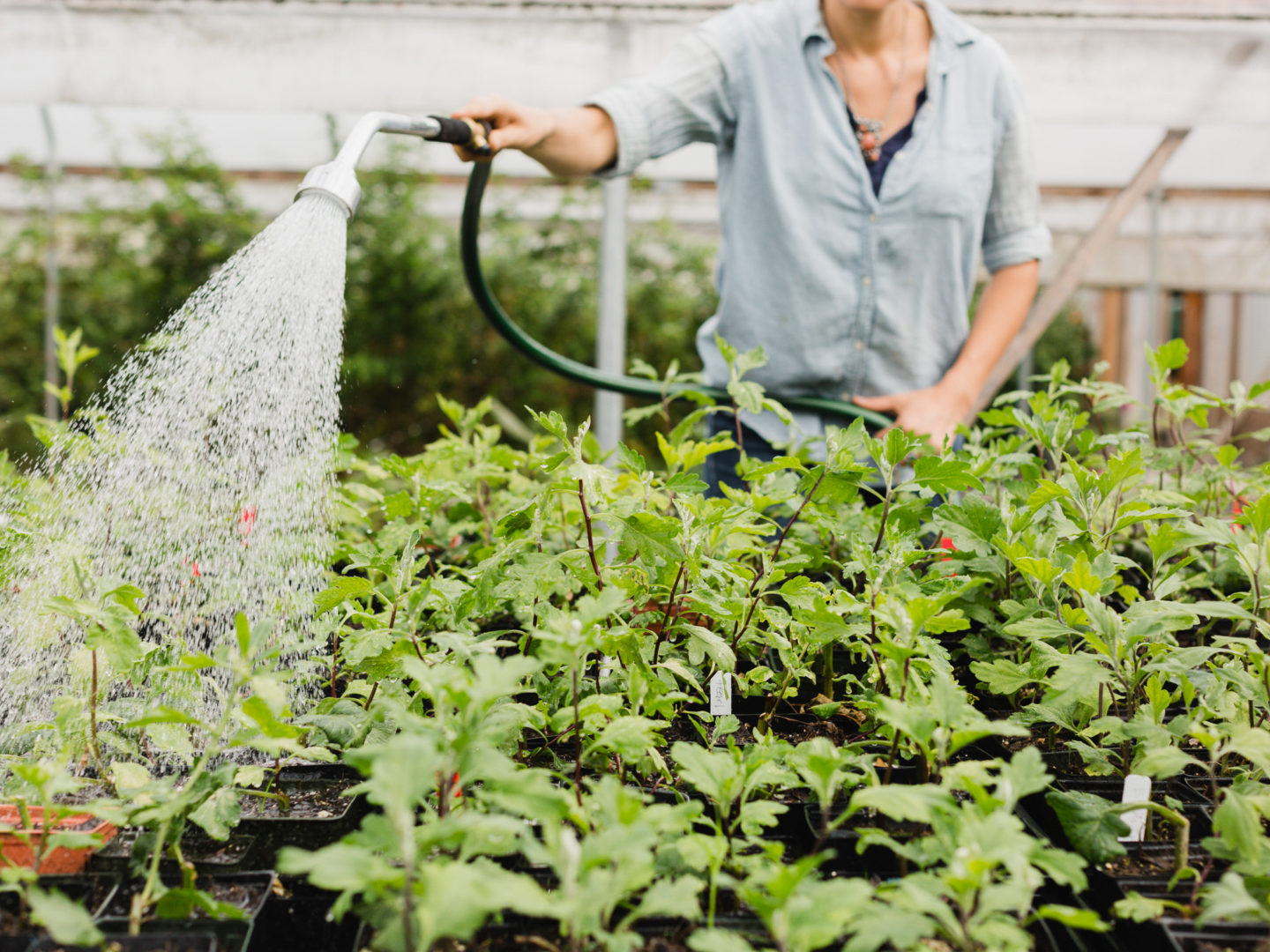 Module 4
Get Growing
Learn essential strategies for efficient transplanting, weed prevention and flower support systems. Get step-by-step tutorials on everything from basic irrigation set up to season extension through the use of low tunnels. Get Floret's list of recommended supplies, tools and gear needed to grow and harvest beautiful blooms.
Module 5
Sales & Marketing
Learn how to effectively price, market and sell your flowers with confidence. Understand and evaluate the various sales channels and value added opportunities for your flowers to decide which is the right fit for you. Learn essential techniques to attract and retain customers on your website and using social media.
Module 6
Caring for Cut Flowers
Discover how to get the maximum vase life out of your farm flowers. Utilize Floret's time-saving techniques to assemble, market and package bouquets beautifully and efficiently. Learn key concepts related to proper stage of harvest and post harvesta handling and care.
Beautiful Printed Course Packet
Attendees will receive a 250+ page printed manual which contains a decade's worth of information and resources that we developed to grow a thriving flower farm business. It includes:
Production & Earnings: Flowers are one of the most profitable specialty crops that farmers can grow. We'll show you how we've consistently grossed over $100,000 per year from just two tiny acres.
Sales & Marketing Primer: Learning how to grow beautiful cut flowers is only half the battle, but knowing how to sell them for a premium price is the other. We'll share how we cracked the code on marketing and grew a waiting list of eager customers.  
Crop & Farm Planning Tools: Learn the key steps to effectively plan a productive and profitable cut flower farm or cutting garden with our invaluable farm planning tools and worksheets.
Wedding Options for Farmer-Florists: Wedding flowers are a great way to increase farm revenue, but they can be stressful. We've taken the pain out of the process and share our step-by-step approach to easy and profitable wedding flowers.
Flower Pricing Guide: We compiled pricing from all over the United States to create this invaluable guide organized by region.  
Get all of Floret's beloved flower farming training
delivered straight to your device
The Floret Online Workshop features video tutorials with all of our best growing advice, time-saving tools, money-saving tips and detailed instruction on growing high quality blooms in a small space.
As a participant, you'll get a VIP video tour of the farm so you can see behind the scenes exactly how we grow so much beauty on so little land. From the first seeds we plant in the spring to the abundant summer harvest, we'll show you step-by-step how we do it all.
The Floret Online Workshop videos are viewable on any device, so you can go at your own pace and watch our training videos whenever you want and as many times as you want. As a registrant, you'll have lifetime access to the course content, including any new videos or resources added in the future.
Press
Floret workshops have been featured in
Past workshop participants share more about their experience:
I learned so much about efficiency through this course, which has led to me being more comfortable in growing new varieties, booking more weddings, starting to make grocery store bouquets and now even doing some wholesale deliveries! My background is in horticulture so, I thought I wouldn't learn much in the growing sections but man was I wrong. All the books in the world can't compare to learning from someone who has successfully been growing for years!

Alexis Sheffield | Wild Roots
This is my first year being a flower farmer and I can't even tell you the enormity of how much this workshop has helped me. I continue to say that the workshop was worth every penny! I'd never started anything from seed before, and I currently have 30 beds full of a variety of flowers I started from seed! I created my own website and I feel confident in marketing my business. I've already sold to a florist, sold some bouquet subscriptions, and created more special order bouquets than I can count. I've gotten numerous compliments on how everything is so well-done and how long my flowers last. This is all thanks to the Floret Workshop!

Lindsay Millard | Lindsay's Flower Patch
I have been growing herbs and edible flowers for a while but cutting flowers are relatively new to me. The course gave me enough confidence to kick-start the flower-growing part of my business. I've achieved my sales goals of bouquet-shares and weddings and have a waiting list of 21 (!) florists in the capital-region of Brussels. The course gave me a strong backbone so I was able to make some bold choices with confidence.

Yo De Beule | Duizenblad
INVESTMENT
Join Floret's Class of 2019
MONTHLY
six monthly payments of
$379
BEST VALUE
one time payment of
$1,997
Choose the payment option that works best for you at check out.
Learn from Floret founder Erin Benzakein
Internationally renowned flower farmer, designer, author and instructor
Considered to be the country's most influential farmer-florist, Erin Benzakein has shaped floral design trends, redefined micro-farming and inspired thousands to grow, buy and design seasonal flowers.
Erin's immensely popular blog, book, workshops, social media channels and specialty seeds have amassed fans from around the globe. Aspiring and established flower farmers and floral designers from around the globe look to Erin to learn Floret's secrets to growing gorgeous flowers on a small scale. Floret's loyal fan base eagerly snaps up Erin's recommendations and anxiously await the farm's annual online sale of specialty seeds, uncommon bulbs and other garden supplies.
Erin and her two-acre flower farm have been featured in major media outlets and amassed prestigious awards including Martha Stewart American Made award for Floral and Event Design and Better Homes and Gardens' blogger award. Her book, Floret Farm's Cut Flower Garden: Grow, Harvest & Arrange Stunning Seasonal Blooms won the American Horticultural Society's 2018 Book Award, set sales records at Chronicle Books and continues to inform, inspire and delight flower lovers around the world.
The Floret Online Workshop is geared for:
Beginning and intermediate flower farmers.

Floral designers wishing to grow their own seasonal blooms.

Established growers wanting to improve efficiency or expand into new sales channels or markets.

"Dreamers" who aspire to one day launch a flower-based business.

Serious gardeners wanting to grow on a larger scale.
The Floret Online Workshop is NOT for:
Large scale farmers hoping to learn high tech, mechanized systems or tractor-dependent agricultural operations.

Growers seeking in-depth horticultural lessons or the science behind organic farming or pest and disease management systems.

Anyone looking for a get rich quick scheme. Running any small business or farm takes hard work. If you are not a self-starter, unwilling to challenge yourself or not good at follow through, this may not be the course for you.
Frequently Asked Questions
What is the registration period for the Floret Online Workshop?

Registration for the 2019 Floret Online Workshop opens on October 11th and closes October 16th at 5 p.m. PST.

When does the 2019 Floret Online Workshop begin?

The 2019 Floret Online Workshop begins on January 4th, 2019.

Why is there a gap between when registration ends and when the workshop begins?

The gap between when registration ends and when the course begins allows us time to print and mail the complete course packets to attendees around the world. Unlike other online courses, we will be sending out physical copies of the material, plus other goodies. We promise it will be worth the wait!

I live in a very different climate than Skagit Valley. Will the workshop materials be relevant to me?

Yes. The workshop covers the fundamentals of flower farming including seed starting, plant propagation, season extension structures that are applicable or easily adaptable to other climates. In our 2018 class, we had participants from 39 different countries, ranging from very temperate to very arid and everything in between. Plus, Floret's marketing tutorials are relevant no matter where you live and grow flowers.

My schedule is complicated. Will I need to log-in at a specific time each week? What if I fall behind?

Life is busy-we get it! Because all the content is online, you can go at your own pace to get through the material. It's no problem to take a break during your busy times and resume the course once things quiet down. There is no specific time you need to log-in to access the workshop content. Once the workshop begins and each weekly module is released, you can watch the video lessons whenever it is most convenient for you. You can always revisit a lesson when questions arise about a specific topic.

What is the format of the workshop?

The course materials are shared as 120+ videos (approximately 12 hours of video content) plus a 250+ page printed course packet. For each of the six modules in the workshop you'll watch multiple video "lessons" which are broken down into bite sized pieces which make it easy for you to go back and re-watch particular segments. Participants are invited to submit questions to weekly Q&A sessions with Erin & Team Floret and also access the Floret Learning Community, a private discussion group.

Does the Floret Online Workshop include floral design tutorials in addition to the flower farming training?

The Online Workshop provides detailed instruction on making and packaging mixed bouquets, but the course does not include wedding-type design tutorials.

How many video tutorials are included in the Floret Online Workshop?

There are more than 120 videos (totaling approximately 12 hours of content) included in the course that cover everything from planning your farm layout, to efficient harvesting and social media marketing. We've created detailed tutorials on plant propagation, seed starting, irrigation, season extension and so much more!

Will you be limiting the number of registrants?

With the new online format, we are now be able to accommodate everyone who wants to participate as long as you register during the enrollment period, October 11-16, 2018.

Will you be hosting any on-farm workshops in 2019?

With a new farm property to tend, and other projects in the works, we have decided to focus all of our teaching efforts on the new online format in 2019.

Will you offer the Floret Online Workshop more than once 2019?

We plan to offer the Floret Online Workshop just once per year. We will not re-open registration again until the autumn of 2019 for the 2020 Floret Online Workshop.

Will you offer additional or "standalone" Floret Online Workshops in 2018?

No, the course is offered as a complete workshop experience just once per year. As part of the Online Workshop, Erin and the Floret Team will go through the course modules with you. We'll also have a team of experienced farmer-florists who will be able to answer questions and provide support throughout the six week course.

Can I purchase the learning modules individually?

The Floret Online Workshop is only available as a complete course. Individual modules are not available a la carte.

Will I need to download any special software for the workshop?

No. The workshop is a web-based platform, so all you need is an internet connection. You can access the content on your computer, smartphone, tablet or other mobile device; no special applications or software downloads necessary.

Does access to the Floret Online Workshop expire?

No. Unlike other online courses that restrict access to the content after a year, or only allow you to view it on one device, you will have lifetime access to all of the content and any updates we make to the course.
Enrollment for the 2019 Floret Online Workshop is open October 11-16th. Sign up to be notified.
Notify Me
Floret Online Workshop
Enrollment for the next Floret Online Workshop will open in the autumn of 2018.
Please sign up below to be notified about Floret workshop enrollment opportunities.
Join Us
Join the Floret newsletter and stay in the loop on all the exciting happenings here on the farm
Close