BRING YOUR FLOWER DREAMS TO LIFE
MASTER THE SKILLS TO GROW AN ABUNDANT CUT FLOWER GARDEN OR BUILD A FLOWER BUSINESS IN YOUR BACKYARD
Whether you want to:
Grow flowers in your backyard to share with your family, friends, and community …
Build a flower business from a hobby that you love …
Or simply bring more joy and beauty into your life through flowers …
You're in the right place.
In the Floret Online Workshop, New York Times bestselling author Erin Benzakein pulls back the curtain of her flower-filled world to show you step by step how to grow, harvest, and sell beautiful cut flowers in your backyard or on a small plot. In the workshop, filmed over an entire growing season, Erin shares key strategies, systems, and time-tested techniques used to build Floret's thriving, profitable flower business on a tiny 2-acre property.
Join flower lovers from around the world who have created abundant cutting gardens, launched successful flower businesses, and discovered the joy of growing and sharing seasonal blooms through the Floret Online Workshop. This comprehensive workshop includes 120+ instructional videos, a beautiful 250-page printed course book, Q&A sessions with Erin and Team Floret, support from fellow flower growers around the globe via the Floret Learning Community, and so much more. Enrollment in the Floret Online Workshop is offered just once per year.
How Participants Describe the Floret Online Workshop
Inspiring
Informative
Great
Good
Empowering
Inspirational
Enlightening
Exciting
Comprehensive
Brilliant
Encouraging
Amazing
Educational
Awesome
Life Changing
Helpful
Wonderful
Game Changer
Motivating
Invaluable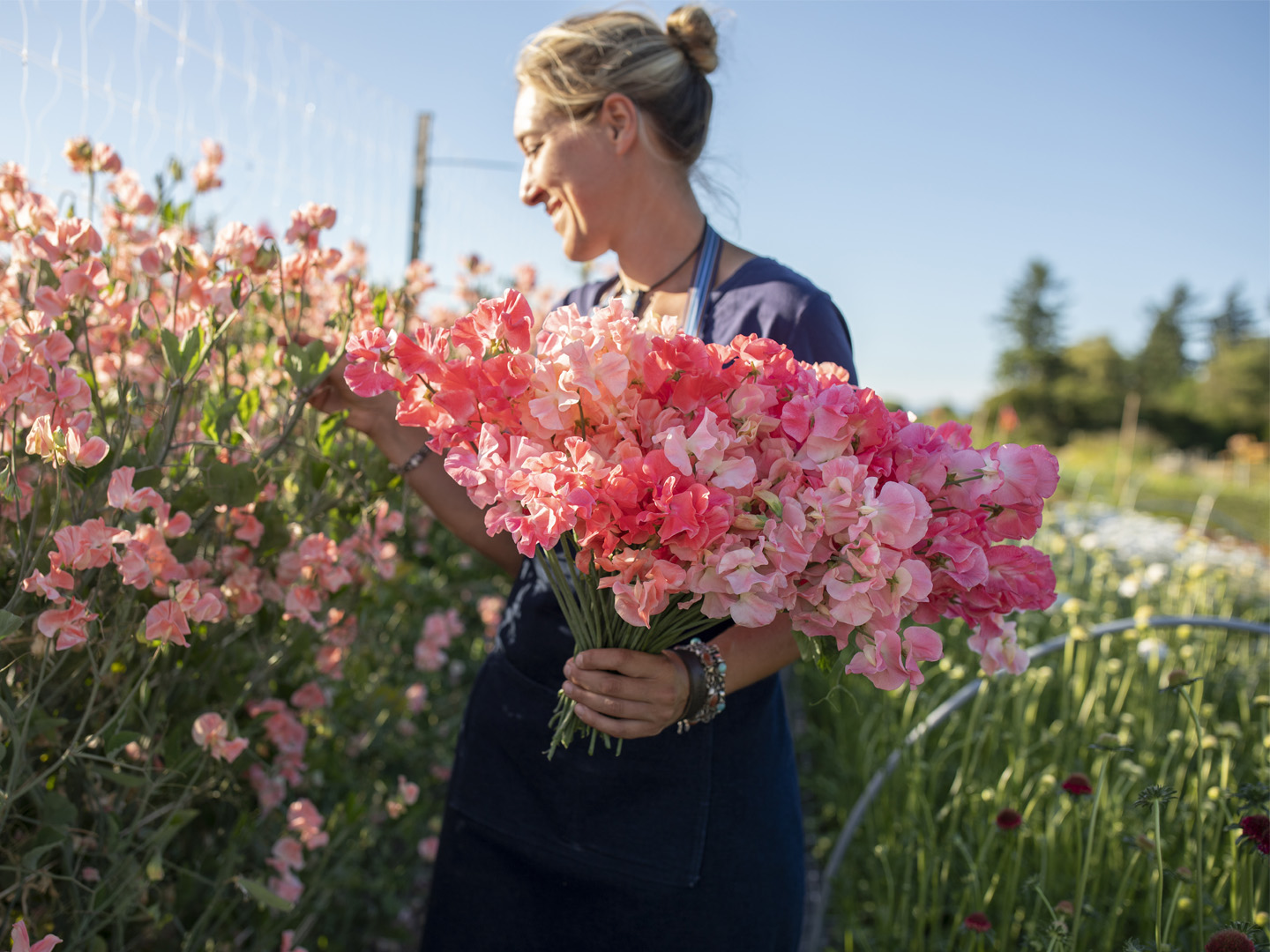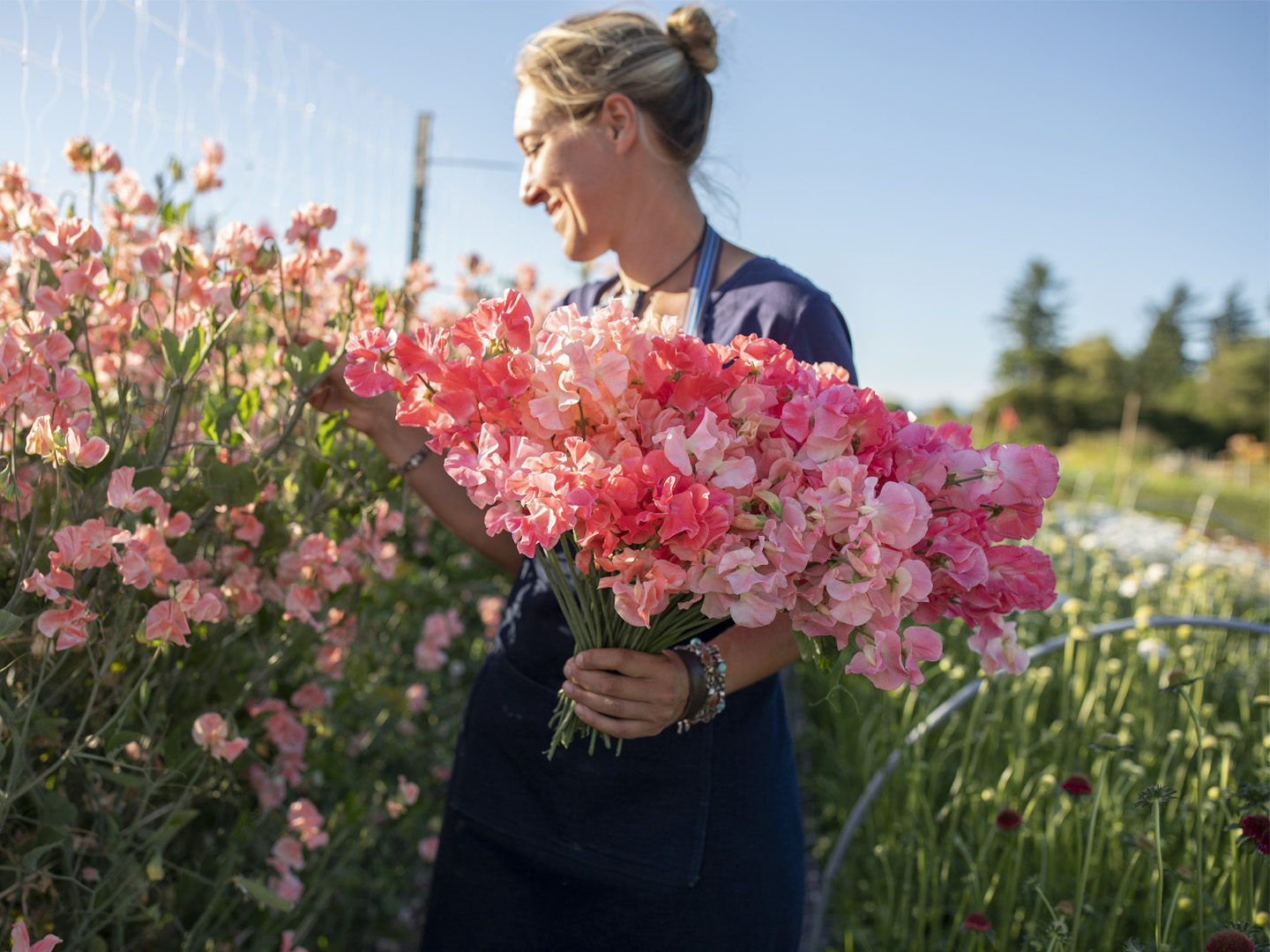 LEARN FROM FLORET FOUNDER ERIN BENZAKEIN
INTERNATIONALLY RENOWNED FLOWER FARMER, DESIGNER, AUTHOR & INSTRUCTOR
Considered to be the country's most influential farmer-florist, Erin Benzakein has shaped floral design trends, redefined micro-farming, and inspired thousands to grow and share seasonal flowers.
Author of the The New York Times Bestseller, A Year in Flowers, Erin, along with Floret's original 2-acre flower farm, have been featured widely in the press and garnered prestigious awards including the Martha Stewart American Made award for Floral & Event Design and Better Homes and Gardens' blogger award. 
Her first book, Floret Farm's Cut Flower Garden: Grow, Harvest & Arrange Stunning Seasonal Blooms won the American Horticultural Society's 2018 Book Award, set sales records at Chronicle Books, and continues to inform, inspire, and delight flower lovers around the world. 
Erin's passion is cultivating beauty in the world by helping others discover the joy of growing and sharing seasonal flowers. A gifted writer, photographer, and teacher, Erin has influenced the flower industry in big ways and small through her popular blog, books, workshops, social media channels, and specialty seeds. Thousands of aspiring and established flower growers and florists, including virtually all the emerging leaders in the field, have honed their craft at one of Floret's workshops. Floret's training has helped growers from more than 4o countries build thriving flower-based businesses and fuel a global seasonal flower movement.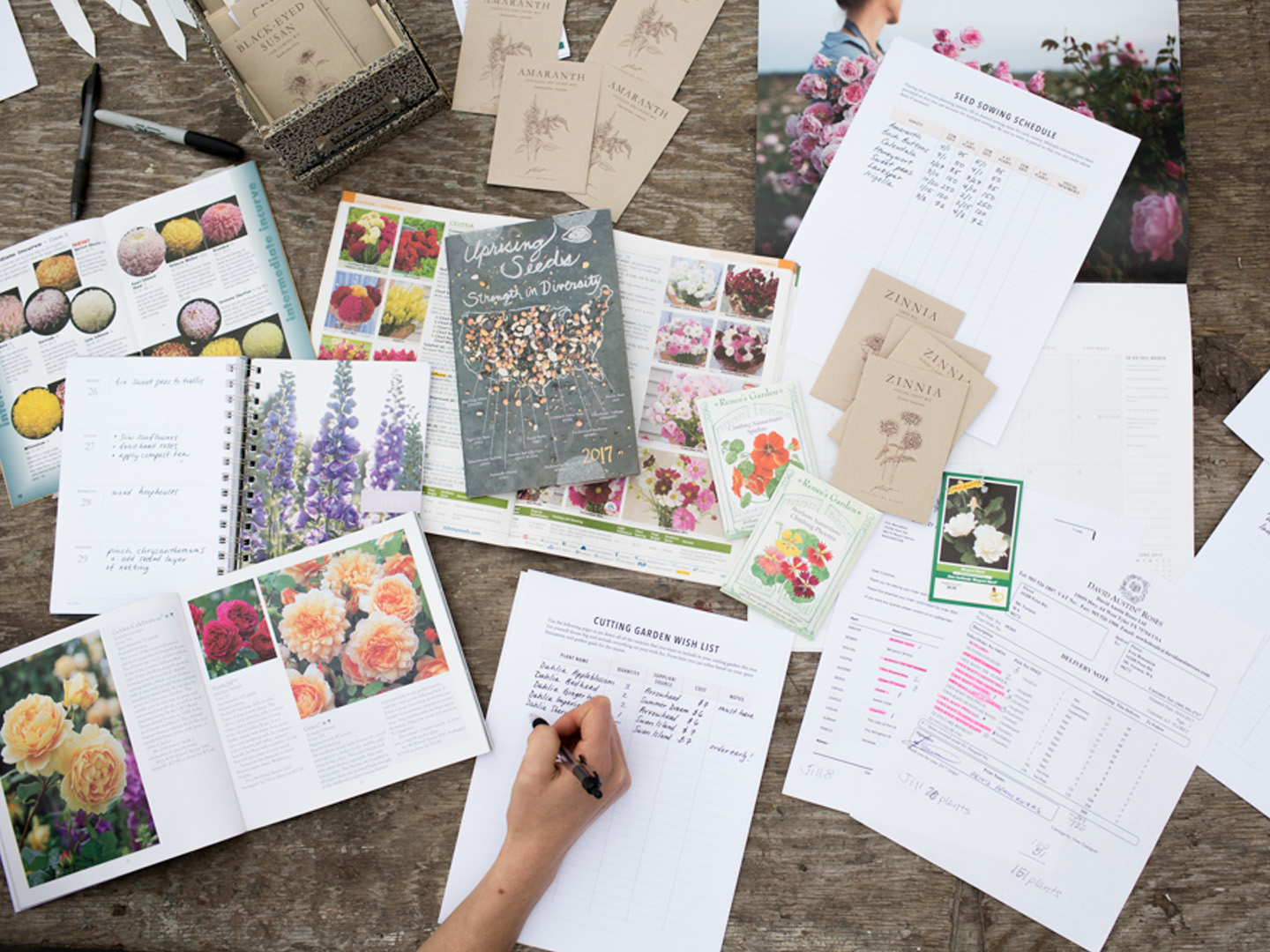 NO TRAVEL REQUIRED
CARVE OUT MORE SPACE IN YOUR LIFE & YARD FOR GROWING GORGEOUS FLOWERS
Join our virtual classroom and participate in the Floret Online Workshop no matter where you live.
YOUR GOALS
Grow a garden and life you love
YOUR PACE
Learn at your own pace—rewatch the videos as often as you'd like
YOUR LEARNING STYLE
Watch videos and take notes in your course book
YOUR SCHEDULE
Participate whenever and wherever you'd like
YOUR COMMUNITY
Connect with flower lovers all over the world
PRESS
FLORET WORKSHOPS HAVE BEEN FEATURED IN:
Floret Online Workshop Waitlist
Sign up to be notified when registration opens for the next Floret Online Workshop.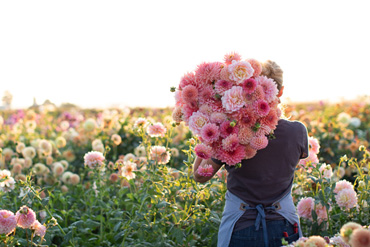 JOIN WAITLIST
Join Us
Join the Floret newsletter and stay in the loop on all the exciting happenings here on the farm
Close