---
Erin Benzakein
The Nation's Leading Farmer-Florist & Founder of Floret
Erin is Floret's founder, and is honored to be considered one of the nation's leading "farmer-florists"—a term she has helped popularize to describe those skilled at both flower farming and floral design—and her exuberance for seasonal flowers has helped inspire a new crop of beginning farmer-florists. Known for her lush, airy, romantic designs, Erin is drawn to old fashioned blooms and is consistently pushing the limits of what can be used in arrangements which led to her winning the Martha Stewart American Made award for Floral and Event Design.
A researcher at heart, Erin conducts extensive field trials of a wide selection of flowers and foliage, including many varieties that are highly fragrant, delicate, and not commonly available in the trade. She shares her trial results along with secrets to small scale, high intensity flower production and design techniques through social media as well as during multi-day workshops that attract farmers, designers, and enthusiasts from around the globe.
Erin's work has been featured widely in numerous books, magazines, and websites and her first book, Floret Farm's Cut Flower Garden:  How to Grow, Harvest and Arrange Stunning Seasonal Blooms was released in March 2017. A believer in fairies, Erin's other dream job is to become a midwife, and of all blooms, she loves sweet peas the most.
---
Chris Benzakein
The Heart of the Operation
Chris Benzakein is the heart of our operation. He oversees all of the field production, greenhouse construction, soil work, irrigation and delivery. He is almost always the one behind the lens, capturing our beautiful flower-filled story. Chris is full of encouragement and is the rock that underpins our family. He has an amazing work ethic, is great at finding the silver lining of any situation and can literally fix anything.
---
Elora Benzakein
The Animal Caretaker
Elora tends a modest flock of bantam chickens, a clutter of sweet rescue cats and many, many tanks of local pond creatures. She dreams of becoming a veterinarian and traveling the world. She happily assists with bouquet making, flower bunching, and packaging.
Jasper Benzakein
Our Helpful Assistant
Jasper is passionate about fish, water insects, coding, and farming. He has grown a vegetable garden since the age of four and loves to feed his family. An amazing helper, he regularly works with Chris on construction projects, compost making, and irrigation.
---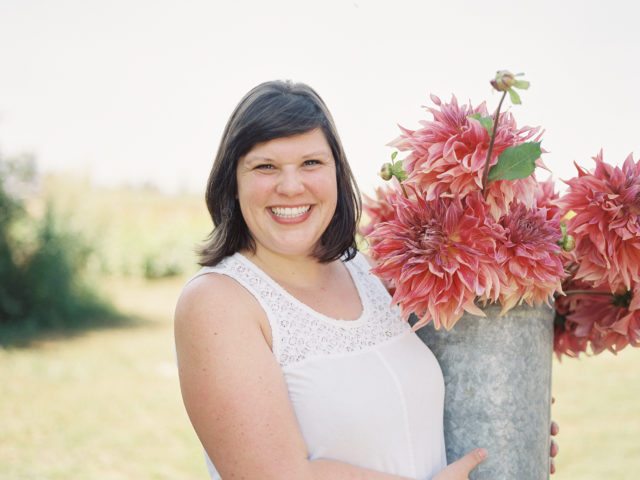 Jill Jorgensen
The Maximizer
Jill takes things from good to great. She writes content, oversees all product creation and helps bring ideas to life. Everything Jill touches, she polishes to a shine and she cares so deeply for the work we do. The phrase most often said at workshops is "I need a Jill!" She has a background in writing, event planning, and floral design and was the first florist to buy flowers as Floret was just getting started. Jill lives in Bellingham with her husband and 2 young kids and has never met a garden rose she didn't like.
Susan Studer King
Our In-House Journalist
Susan is our in-house journalist, digital content creator and multi-tasker extraordinaire. She is our technology troubleshooter and is responsible for the Floret newsletter, blog and press pitches. Susan also assists with Floret's digital marketing strategy and manages product launches, all the while keeping everything flowing smoothly behind the scenes. A lover of peonies, Susan lives with her family in Ohio where she and her mother operate Buckeye Blooms, a small flower farm and wedding design studio.
---
Ellen Clint
The Switchboard Operator
If you've ever sent an email to Floret you've likely heard back from Ellen with a helpful and cheerful response. With a BS in Horticulture from Texas A&M University, Ellen works remotely from Dallas, helping with administrative tasks, copy editing, answering growing related questions and troubleshooting flower and all other inquiries. Ellen manages the Farmer-Florist Collective and communicates with our Facebook followers. She is an adoring mother to a college aged son and high school aged daughter and has a soft spot for sweet peas.
Tim originally hails from the agricultural town of Davis, California where as a kid he spent lots of time on his uncle's vegetable farm. More attracted to the roses and lavender, Tim knew from the start that he wanted to work with flowers. Tim was working on an edible flower farm in Oregon when a twist of fate brought him in touch with Team Floret. With a background in environmental science and plant ecology, Tim brings a diverse skill set to the farm where he manages trials, plant breeding and organic seed production. Though it's hard to choose, Tim loves the giant ranunculus that Floret is famous for.
---
Meg Almanza
Organizational Mastermind
With a background in office administration, Meg keeps everything tidy and organized on the home front. She's extremely hardworking, a master at beautifying spaces and will fearlessly tackle even the most daunting project. Her favorite flower is phlox and when's she's not working her tail off, you can often find her country dancing, antiquing, or spending time with her family.
Aureliano & Gloria Lopez
Farm Angels
Aureliano has been lending his steady support on the farm for nearly a decade. Floret's first official employee, he magically appeared one day out in the field as Erin struggled to get all of the dahlias planted on time. He took the task that otherwise would have taken days and finished it that afternoon. From then on, he worked every summer on the farm and this year was joined by his sweet wife Gloria. We lovingly refer to the Lopez family as our farm angels because they swoop in and keep everything on track, from planting and weeding to seed harvesting and packaging, they keep the farm running smoothly. They are the proud parents of 7 children and 2 grandchildren and love working out in nature and spending time with family.
---
Nina Foster
Our Hostess Extraordinaire
A former flower farmer in Skagit Valley, Nina now lives just outside of Burlington, Vermont. Nina flies back to assist with each Floret workshop to act as our hostess extraordinaire. Nina is a true mama bear, and provides reassurance to workshop attendees and gives the very best hugs. Nina makes a mean apple crisp, loves all flowers and has an especially soft spot for dahlias.