---
Erin Benzakein
Founder of Floret and Author of the award-winning book, Floret Farm's Cut Flower Garden
Erin is Floret's founder, and is honored to be considered one of the nation's leading "farmer-florists"—a term used to describe those who specialize in both growing and designing with seasonal flowers. Erin's work has been featured widely in numerous books, magazines, and websites. Her first book, Floret Farm's Cut Flower Garden: How to Grow, Harvest & Arrange Stunning Seasonal Blooms, was published by Chronicle Books in 2017 and won the American Horticulture Society's 2018 Book Award.
A researcher at heart, Erin conducts extensive field trials on a wide selection of flowers and foliage, including many varieties that are highly fragrant, delicate, and not commonly available in the flower industry. She regularly shares her trial results plus  growing tips and photos of her lush fields via Floret's popular blog and social media channels. Erin also teaches a 6-week course on small scale flower production to other farmers, designers, and enthusiasts from around the globe through the Floret Online Workshop.
Known for her lush, airy, romantic designs, Erin is drawn to old fashioned blooms and is consistently pushing the limits of what can be used in arrangements which led to her winning the Martha Stewart American Made Award for Floral and Event Design. A believer in fairies, Erin's other dream job is to become a midwife, and of all blooms, she loves sweet peas the most.
---
Chris Benzakein
The Heart of the Operation
Chris Benzakein is the heart of our operation. He oversees all of the field production, greenhouse construction, soil work, irrigation and delivery. He is almost always the one behind the lens, capturing our beautiful flower-filled story. Chris is full of encouragement and is the rock that underpins our family. He has an amazing work ethic, is great at finding the silver lining of any situation and can literally fix anything.
---
Elora Benzakein
The Animal Caretaker
Elora tends a modest flock of bantam chickens, a clutter of sweet rescue cats and many, many tanks of local pond creatures. She dreams of becoming a veterinarian and traveling the world. She happily assists with bouquet making, flower bunching, and packaging.
Jasper Benzakein
Our Helpful Assistant
Jasper is passionate about fish, water insects, coding, and farming. He has grown a vegetable garden since the age of four and loves to feed his family. An amazing helper, he regularly works with Chris on construction projects, compost making, and irrigation.
---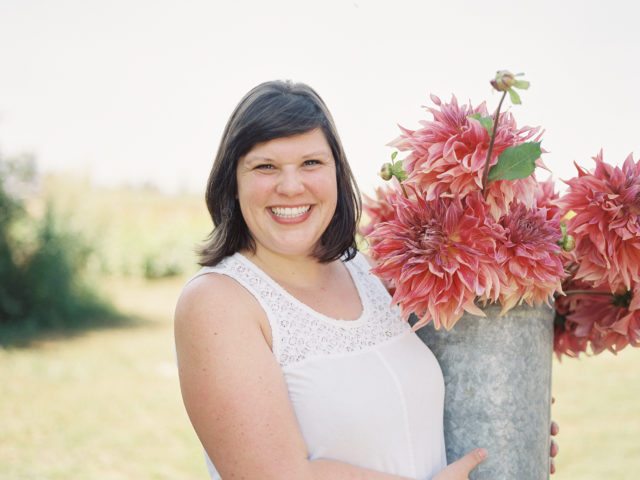 Jill Jorgensen
Creative Director
Jill takes things from good to great. She writes content, oversees all product creation and helps bring ideas to life. Everything Jill touches, she polishes to a shine and she cares so deeply for the work we do. The phrase most often said at workshops is "I need a Jill!" She has a background in writing, event planning, and floral design and was the first florist to buy flowers as Floret was just getting started. Jill lives in Bellingham with her husband and 2 young kids and has never met a garden rose she didn't like.
Susan Studer King
Digital Content Director
Susan is our in-house journalist, digital content creator and multi-tasker extraordinaire. She is our technology troubleshooter and is responsible for the Floret newsletter, blog and press pitches. Susan also assists with Floret's digital marketing strategy and manages product launches, all the while keeping everything flowing smoothly behind the scenes. A lover of peonies, Susan lives with her family in Ohio where she and her mother operated a small flower farm and wedding design studio for 10 years.
---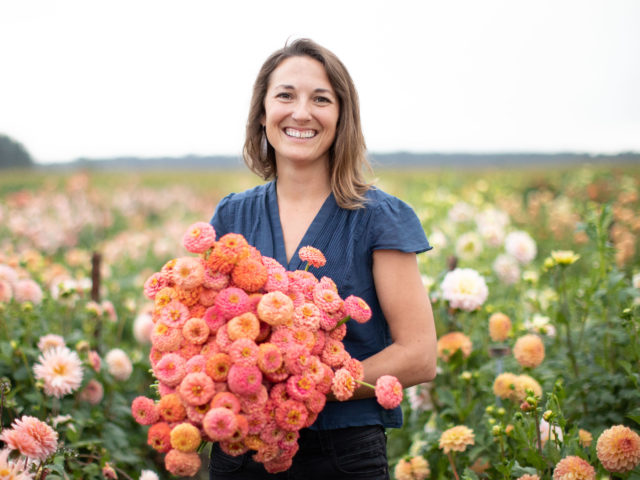 Nikki Boyce
Shop Operations Manager
Nikki came to us with a unique mix of farming and operations management after taking Floret's 2018 workshop. After putting what she learned to use on her own farm in Reno, she moved to the Skagit Valley, where she now acts as our shop operations manager, which means she's constantly working behind the scenes to make sure all of the beautiful things going out into the world are perfect. Her favorite flower is the elegant dahlia, and in her spare time Nikki loves to create by sewing, doing watercolor, exploring, and finding all the best places to eat. Nikki appreciates the agricultural abundance of the Skagit Valley, where everything from flour to produce can be sourced locally. 
Angela Strand
Customer Service Manager
If you've ever sent an email to Floret, you've likely heard back from Angela with a helpful and cheerful response. In addition, she helps facilitate the Floret Online Workshop, supports customers with growing related questions, manages our Facebook page, and keeps everything running smoothly in the office. She loves the many varieties of flowers she gets to enjoy at Floret, but has a soft spot for the first spring daffodils and fields full of lupine. A lifelong Washington resident, Angela loves being active in her community, connecting with others, and encouraging positivity wherever she goes. She is a mother to three young children and a menagerie of cats, dogs, chickens, and ducks, and in her spare time, she loves to hike, garden, and work on her family's 2-acre homestead on Camano Island.
---
Marryn Mathis
Project Manager
For Marryn, no two days are ever the same. You will find her helping with everything from shop launch preparations to planning the dahlia rainbow to harvesting armloads of blooms. She comes to Floret after 21 years in IT and credits Floret's 2018 online workshop with completely changing the direction of her life. Marryn was a second year flower farmer when she came to work for Floret. Her favorite flowers are sweet peas becauses of the emotional connection people have with them and dahlias because they're bold, beautiful, and easy to grow. In her spare time Marryn enjoys remodeling their 1901 farmhouse with her husband and three boys and working in her garden. Marryn loves that here at Floret, we're giving people the inspiration and the tools to follow their dreams and change their lives.
Eric Budzynski
Seed Production Manager
We have Eric to thank for helping us bring to life the most beautiful new flower varieties. As Floret's "seed person" he is responsible for harvesting, cleaning, planning our seed crops, and guiding breeding projects. Prior to his work at Floret, Eric was vegetable seed farming, beginning in Oregon at Wild Garden Seed and then moving to Uprising Seeds in Bellingham. His favorite flower is orach because it's wonderful in arrangements and it bridges the world between vegetables and decorative flowers. Eric lives in Bellingham and enjoys spending time with his family, cooking, gardening, hiking, live music, and traveling to Vancouver for its vibrant food scene. 
---
Christine Chitnis
Publicity Manager
Years after covering Floret for a Country Living feature, Christine is thrilled to join the creative team to coordinate publicity and help tell Floret's story. As a photographer and writer she is greatly inspired by the beauty Floret brings into the world. Dahlias are without a doubt her favorite flower and when she's not combing her home state of Rhode Island for all the best cut flowers, you can find her hanging out with her three young children, reading, traveling, sewing, knitting, and working on her own writing projects. 
Meg Almanza
House Manager
With a background in office administration, Meg keeps everything running smoothly behind the scenes. She is lighting fast on shipping days and often acts as the hostess with the most-ess, making everyone who visits the farm feel warmly welcomed. She's extremely hardworking, a master at beautifying spaces, and will fearlessly tackle even the most daunting project. Her favorite flower is phlox and when she's not working her tail off, you can often find her country dancing, antiquing, or spending time with her family.
---
Susi Murillo
Farm Crew Lead
Susi keeps activities on the farm humming along in a timely matter, and in addition to tending to the plants, she also invests in cultivating relationships with everyone on the team. Whether she is overseeing farm tasks, weeding, planting or watering, she is constantly absorbing and learning as much as possible in any given moment. Susi brings our weekly team calls to life with detailed descriptions of farm activities, always sharing the beauty and the magic of the everyday. Some of her favorite flowers include anemones, echinacea and lavender. When she's not busy at Floret, Susi loves being close to the water, swimming, crafting, gardening and reading.
Sarah Collie
Farm & Shop Crew
From the first day Sarah arrived at Floret, she brought a warmth and positivity to every aspect of her work. It wasn't long before we nicknamed her Sunshine. Sarah's caring heart shines through in everything that she does, from sowing seeds to tending the plants and lovingly looking after the chickens. Growing up in Virginia, Sarah was always outdoors, walking in the woods and playing on land that has been in her family since the late 1800's. Daisies and black eyed Susans are some of her favorite flowers, and Sarah is an avid hiker in her free time. Last year she hiked the entire Appalachian trail!
---
Brenna Estrada
Customer Service & Shop Lead
Most days you'll find Brenna in our shipping department, staying busy with inventory, customer care, and a million other shipping related tasks. Before Brenna came to Floret, she was a 911 dispatcher for 16 years and prior to that served in the United States Marine Corps. Brenna says working at Floret is magical; the farm is full of color and she feels a closeness to the soil. Her favorite flowers are peonies, and in her free time Brenna enjoys being part of the Snohomish County Search and Rescue team, hiking, working in her garden, and spending time with her three boys at home on Camano Island. 
Emily Rivers
Seed Packer & Shipping Lead
Emily packs many of the orders leaving the Floret Shop, making sure that all of the little details are just right for our customers. Emily is a whiz on the computer, has a keen attention to detail, the rare gift of seeing things from many points of view and is always eager to lend a helping hand whenever needed. She also gives the very best hugs! With so many varieties to choose from Emily has a hard time narrowing down a favorite, but if she had to pick just one it'd be Phlox 'Sugar Stars'. She loves computers and just completed her certification in Video Game Development and Programming.
---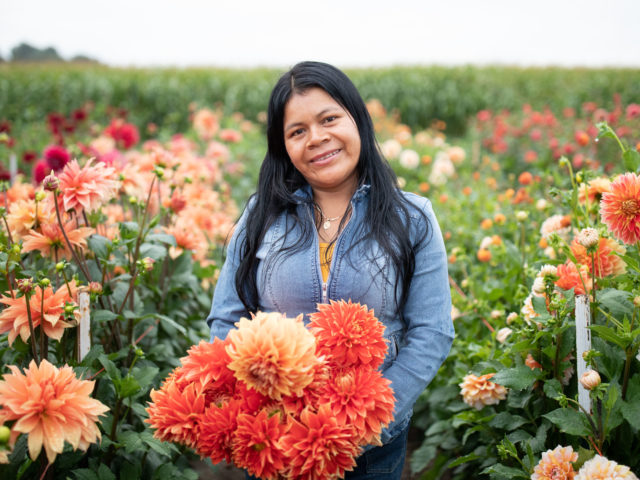 Alicia Gonzalez
Farm Crew
Before coming to Floret, Alicia had never seen a dahlia, so you can imagine how awestruck she was during her first dahlia season at the farm. When she's not falling in love with new dahlia varieties, Alicia helps with planting, harvesting, and various seasonal farm tasks. Everyday is different and there's always something to be done! When Alicia isn't at the farm, she enjoys spending time with her family, being involved with her church, and meeting up with friends. 
Francisco Gonzalez
Farm Crew
Francisco works hard to keep the fields in ideal shape by preparing the soil, fixing irrigation, and maintaining the landscape. Before Francisco came to Floret, he was harvesting vegetables at a local veggie farm, where he also drove a forklift. He loves all flowers that grow on vines, but finds clematis and sweetpeas to be particularly beautiful. In his free time he enjoys spending time with his three kids, traveling, and fishing. Francisco loves the Skagit Valley because of the fact that it's close to the mountains and the sea.
---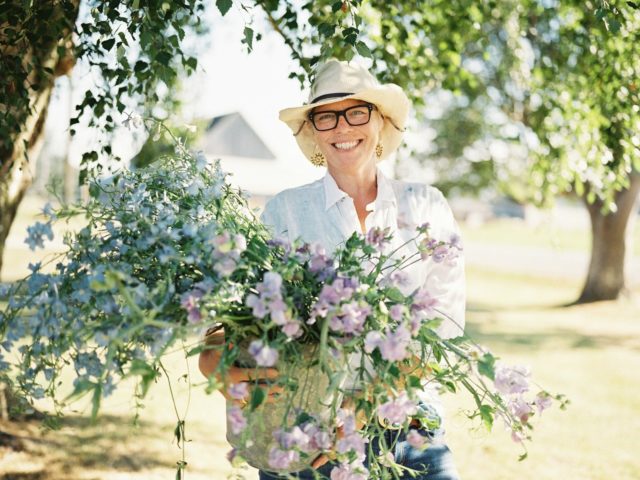 As a flower farmer and designer in Mount Vernon, Nina considers Floret her second family and is thankful to be a small part of the immense beauty the team brings into the world. In the early days of Floret she was instrumental in our on-farm workshops, acting as the hostess and making sure that all attendees felt warmly welcomed. These days she jumps in to help on projects as needed, whether it be book, video, or design projects. Her favorite flowers are narcissus and dahlias, and in her spare time she loves to cook and bake for her family. Growing up in Vermont, she remembers searching for trilliums with her sister as they ventured out after a long New England winter. Since then, flowers have played an important role in her life.
Timmy the Cat
Loyal Companion
Timmy is Erin's constant companion as she walks the fields taking pictures and cutting flowers. Timmy first showed up on the farm as a stray, and it took many months of feeding her to coax her into being held. Since orange female cats are rare, it was assumed Timmy was a male cat and before the mistake was realized, her name had stuck!