In their own words, Floret Workshop alumni share more about their experience as participants in our online and on-farm workshops.
There is so much that the Floret Workshops has helped me to achieve! Since starting my own business, I have used the worksheets and workbooks to help me create my website, my forms, determine my pricing, my crop lists and plans and more. I have used the skills I learned or enhanced through the workshops to divide dahlias (100s of them!) and teach others how to divide them as well, to make quick market bouquets, to design bridal bouquets and centerpieces, to make geranium cuttings, start seeds, and SO much more. The workshop gave me confidence, as a farmer and as a florist.

Daniele Strawn | JoLee Blooms & Design
I've been involved in the horticulture/agriculture industry for almost 20 years, and this is by far the best and most complete presentation of material I have seen. The fact that it also allows those of us who cannot take a break from our lives to attend lengthy programs or become interns is a gift beyond measure. Truly, to all of you who made this possible, words are utterly inadequate to express my gratitude! I continue to return to the course offerings and continue to find them an invaluable resource as my farm evolves.

Cristina McCutcheon | The Localife
The information has been invaluable. I think I was most inspired by the organization, efficiency and layout of everything. As a farmer for many years already, the course helped me analyze my current process and make better changes to eliminate waste, time, etc. I feel more motivated to make a go of it flower farming, take better photos, burn ground cloth, make faster bouquets, be choosy about my employees. Taking the course has given me more confidence, direction and motivation. The biggest impact the Floret workshop has had on me personally and professionally, is vision. It taught me how to make a vision, look at the big picture, think really hard about my business and take the steps to do it right.

Mara Lawrence | Mama Bird Farm
The Floret Online Workshop gave me all the tools I needed to start my farm. From the real world growing techniques, distribution channels, pricing, and marketing. It was the most comprehensive course I've ever taken and has totally influenced the next phase of my professional life. And personally, it opened my world up to connecting with other growers and artists around the world, and seeing the value in social media, blogging, and photography. I've always lived a creative life but struggled to use that creativity professionally. Now I feel whole again because I'm using my creative skills in a professional way. I love where this class is taking me. The workshop launched my business completely and everything I do today is guided by what I learned in the workshop. It gave me the foundation for strong field work, successful sales channels, and marketing tips that put me on the map.

Gina Schley | SHE GROWS
I was in my second season growing flowers when I signed up for the Floret Online Workshop. The workshop changed my life, my farm, and made my dreams come true! I had always dreamed of selling at the farmers market, grocery stores, etc. After taking the workshop it literally felt like the red carpet unfolded in front of me. That season a few local florists started buying my flowers, I was asked to sell at two other natural food stores and I got a spot at the farmers market! I got wonderful feedback on the quality of our flowers and was able to start producing five times more flowers than I had the previous years with spacing and farm planning! 

The biggest impact the Floret workshop had on me personally was to be given the tools for success. I was able to plan my farm out for the whole year, schedule farm tasks, deliveries, and at the end of the day, be able to spend more time with my family and be there for my twin boys when they need me.

Jessica Defaymoreau | Laurel Canyon Farm
As an already established grower I must admit I was a little worried as to what the course could teach me, but I am so impressed, I learned a lot, even about weddings which I have worked in for over 20 years. The growing advice, planning tools etc have revolutionized how I do the flower growing side. It's an amazing course. It gave me the confidence to go for it and really develop and grow my business. The Floret course gave me the inspiration to really up my game on the growing side.

Clare Ashcroft | The Flower Farm (UK)
The Floret Workshop gave me the confidence to take the leap! It provided me with the structure to properly plan out my business. I was crippled with not knowing where to start, so the program broke it down into manageable morsels that I could digest and spend time on without being overwhelmed. Flowers bring me back to what I care about – they center me – they connect me to beautiful people – they inspire joy and gratitude for life. It is amazing that the simple act of planting something and watching it burst into life can bring you back to "you."

Hannah Briggs | The Saol Project
Because of my participation in the workshop I am now in a position to offer my seasonal market style bouquets not only to independent high end stores but also mainstream stores in Ireland. This is life changing for me personally. Having the opportunity to connect with Irish consumers at this level would have been unimaginable two years ago. I'm dyslexic and up until your incredible workshop I struggled to make sense of other information on intensive farming methods and scaling up. The thoughtful presentation, down to earth practical advice and instruction will help change the face of flower consumption in Ireland for the better.

Mags Riordan | Bumblebee Flower Farm
Floret taught me everything I needed to know. As I was taking the course, I'd only begun growing. I owe it all to the workshop for providing me with the jump start that catapulted my flower business to where it is today! I used all the information in the coursework: infrastructure, booking weddings, post-harvest handling, vase life estimations, field planning, sowing seeds. Most of all, it gave me confidence and the " I can" attitude that keeps me going.

Karin Smith | Covington Bloomery
The Floret Online Workshop had a major impact on my business in so many ways. I am awful at documenting and bookkeeping, and the worksheets helped me be organized and keep proper records. The sales and marketing unit helped me in a million ways. The information was clear and easy to translate into my own business model and needs. The biggest impact was learning directly from Erin. Hearing her talk about failures and giving advice for how to avoid things made me more comfortable on this crazy path I am on. I really enjoyed feeling like Erin was talking directly to me. She is natural and not trying to be anything but Erin, there isn't anything fake or flashy about who she is and what she does. Erin brings all this beauty in the world and she wants to share it with us.

Angela Grandgeorge | Sweet Seeds Organics
I took the Floret online course and my business is off and running. Before I ran on intuition, but now I run on education. This course gave me the confidence to put myself and my business out there. I was able to land several great florist accounts, as well as a weekly country club account for dining and events. Weddings are getting on the books, and people are placing orders for bouquets weekly. I feel like I'm on a treadmill trying to keep up with demand. The seed sowing schedule was a game changer, as well as taking cuttings and marketing. Most of all Floret helped me find my passion, and myself. I found my purpose in life, what I was called to do. All is well with my soul, thank you Floret!

Cassandra Kubik | Pine Hill Farm
I love that the workshop was completely comprehensive! The Floret Workshop gave me the self-confidence and all of the tools that I needed to get my garden growing. Everything I needed to know was at my fingertips: from soil testing information and irrigation installation to resources on where to find and order the correct supplies like landscape fabric, staples and a torch to prep my field. People kept questioning what I was doing but I assured them that I knew exactly what needed to be done and in the order it needed to be done – what confidence! I couldn't have done it without the Floret Workshop. I really appreciate the ability to participate in the course year after year. It's a great refresher and it's helping me now with marketing, pricing and approaching my future customers. Growing flowers brings me closer to nature in every way. Flowers are not my creation – they are truly something magical that I get to witness and be a part of.

Brandie Orchard | Mae Orchard Blooms
My mom always said 'Bloom where you're planted.' I spent years being very successful at other people's dreams. I was turning 40 when I heard Floret was offering the first online workshop. I scrounged together the monthly payments and signed up. I gained the confidence to contact clients, build my pricing sheet and weekly emails and establish a 'voice' for my brand. After the Floret course, I ended up selling to 12 florists, one wholesaler and selling out four workshops. The Floret Workshop has given me the skills and confidence to pursue this dream and share my creation with the world. Not only are we a flower farm, we are a place for agritourism, natural healing, natural beauty products, sustainability education and connection to Mother Nature!

Liz Wardlaw | Gardenia
I took the Floret course when I was brand new to flower farming. It helped me create specific goals and follow through with making those goals happen. For example, I exceeded my financial goal by 2k. I'm not sure I would have even set a financial goal if I hadn't taken the course. I also learned to track which flowers are the most successful in sales- and which avenue of sales is most well received in our community. The course has given me confidence and personal motivation as well. We purchased 20 acres in Kentucky with the purpose of homesteading. After living there for a year, we were looking for some way to use our land that would benefit our community. Erin's book came out around that time, and it inspired me to give flower farming a try- and it stuck!

Jessica Broyles | Starry Fields Farm
Two years ago, after reading an article about crops to grow in small spaces, I dug five rows out of our front lawn and planted them with flowers. Before that I had been sneaking more and more flowers into the vegetable garden, and was excited to turn my "habit" into a career! Last year I took over half of the vegetable garden and turned it into my flower farm. I took the Floret Online Workshop and it helped immensely with growing my business. I currently have a spring and summer bouquet subscription service and sell weekly to florists all over town.

The Floret Online Workshop helped me gain the knowledge I needed to grow amazing flowers, and the confidence I needed to sell them. My business and farm have absolutely grown because of all the wisdom I gleaned from the course. Worth every penny!

Heather Cain | Petal Pink Flower Farm
The biggest thing I took away from the Floret Online Workshop was efficiency of tasks like harvesting and mixed bouquet making. It's SOOO easy to spend WAY too much time messing around, looking for tools, jumbled up stems during harvest, extra steps back and forth from barn and more. Bouquet making was simplified and at this point I have cut my time in half. I am now, growing and selling flowers to The Western Slope of Colorado and I've gotten a great following of bouquet subscribers, made some great connections with florists in my area and have become in demand for weddings in our region. It's so exciting!

Cynthia Alvarez | Alpenglow Growers
The Floret course gave me confidence to try new ways of growing, be the face of my new biz, connected me with broader support and community, and gave me a frameworks for growing my dream and literally growing my plants. It is so joyful to me to tend seeds, watch them grow, and marvel in the beauty of the blooms they produce. It is how I connect to this Earth and cultivate that divine connection for others: through flowers.

Kim Zimmerman | Rowdy Poppy
There are countless ways I've benefited from the workshop. It gave me confidence in so many areas! Tulip growing was simple thanks to the course outlines. I was able to order plant, harvest, and store for my tulips appropriately because of the modules. I've had an incredibly successful year with my 800 tulips and plan to expand next year. I love making connections, and flowers provide the most pure and simple way to assist people in making a meaningful connection. I also believe that we can ease life's endless burdens by surrounding ourselves with beauty from nature.

Claire Aldersong | Flicker Townes Farmette
Every bit of the class was and is like gold. I have greatly increased my sales and outlets for sales because of the Floret Workshop. I have rewatched the videos multiple times and still feel like I will get years and years of use from them. I was able to create a whole new growing system for my seedlings along with new irrigation. I saved a ton of work thanks to the resources for supplies, advice on specific seeds and by using the excel spreadsheet on seed sowing and succession planting. The list goes on and on. The Floret Workshop has helped me get my feet under me to grow more flowers for profit in my floral design business. I will order less flowers in and pick more flowers from my own garden. I can grow the exact varieties I want for my design work and also spread the beauty of flowers all around my valley where not many people can easily grow flowers because of our climate.

Brooke Seitz | Barefoot Brook
Being involved in a Floret Workshop was incredibly inspiring and opened my eyes to the possibilities that my property could bring to me and my family. It gave me confidence to take on and deliver my first wedding and from there consistently book weddings that are completed with my wide range of native Australian and other garden flowers. The attention to detail in the workshop inspired me to more recently offer a similar experience to those wanting to learn about the farmer/florist movement at Riverdale Farm. I have met some lovely people and enjoy sharing the farm with them. Inspiring others to use their own flowers in even the smallest way if they have limited space is a joy. The confidence to give it a go and see where the journey takes me…so far it has been incredibly satisfying and florists are the most delightful group of people to spend time with.

Helen Leighton | Riverdale Farm
I grew up in a garden center and worked with plants all my life. I knew how to grow plants once they were in the ground but didn't know anything about seeding or after harvest care. I took the Floret course to learn how to be a better grower and learn how to market the flowers. A few takeaways were how to seed using Florets seeding methods, growing in a small space, when to harvest and after harvest care. Really everything on how to be better efficient when treating flowers like a business instead of a hobby.

Heidi Bekker | Forage + Design Flowers
I grew up on a hobby farm and picked flowers to sell with my mom at the local farmers market when I was a little kid. After high school I moved to the city and stayed there for a corporate job that I loved, however, I met my husband who is a dairy farmer. My husband couldn't move his cows to the city so I had to move back to the country. Eight years and three kids later, I decided it was time to start my own venture on this farm. In the Spring of 2018, I plowed under an old horse pasture and turned it into rows and rows of flowers. My first year was very successful and with the help of the Floret Online Workshop, I hope that I will have a long future in flower farming. This course provided so much knowledge and was also a confidence booster in terms of letting me see that I was on the right track with what I was doing. This course took some of the mystery out of flower farming and provided great resources to go back to as issues arise.

Jessica Miedema | Little Flora Gem
I learned so much about efficiency through this course, which has led to me being more comfortable in growing new varieties, booking more weddings, starting to make grocery store bouquets and now even doing some wholesale deliveries! My background is in horticulture so, I thought I wouldn't learn much in the growing sections but man was I wrong. All the books in the world can't compare to learning from someone who has successfully been growing for years! The little tips on simply arranging things in an order that made sense, down to the timing of ordering, pinching, and fertilizing have been monumental in improving my work. Through this course, I have become more comfortable with the idea that I could leave my full-time job to pursue a full-time flower farming career!

Alexis Sheffield | Wild Roots
I wish you could see what we've accomplished! The course was amazing. Seeing a productive and profitable flower enterprise in detail, from end to end, before we started was empowering. We regularly revisit videos and support materials. The planning tools are the basis of our season. We are both impressed with how complete, attainable, and adaptable the systems shared in the workshop are.

Jim and Katie Haack | Wild Canary Farm
The Floret workshop was the catalyst for my business and made me believe what can be done. The wealth of information on all aspects of the business – preparing, planning, seed starting, rooting cuttings, growing, harvesting, marketing – it's all there. I honestly cannot see how I could start this business without this course. It would have taken years to accumulate this knowledge and experience without it. Absolutely invaluable if you want to become a flower farmer! The Floret Workshop has made me believe that flower farming is a viable business and has given me the tools to start my business, Bella Vista Blooms.

Linda Goss | Bella Vista Blooms
Definitely want to thank Floret for the opportunity to take the Online Workshop. The level of excitement increased with each module because I felt more and more informed on each of the steps that would be required to be a successful flower farmer. Since taking the workshop and plotting out my planting beds, I quickly jumped in to get started sowing seeds. Once plants started to emerge, the second wave of excitement set in and I went back and watched some of the videos over again. I can't tell you how many times I've referred to the course workbook and videos since then. It's like having a support team at my fingertips. I think the best part about going on this journey so far has been the amazing community of growers, both small and large that have reached out to encourage me and share their growing tips.

Shellie Watkins Ritzman | My Garden Blooms
The Floret Online Workshop gave me the big-picture story of a truly successful farmer-florist business, in the most honest and candid way. I wanted to hear that full story, with the details and key points of getting from one step to another and I wanted a comprehensive course. I knew this would be it, and it was. I've been working with flowers one way or another since childhood, but not through my own business, and this filled in the gaps for me: steps to take with specific crops, pros and cons of different marketing outlets, attention to how our individual personalities are best suited to different marketing models. The course is so complete and thorough, definitely worth the investment. It's been a core factor in helping me really look at the range of possibilities and to focus on what works for me now and what I can work toward–to realize I can shift, change and grow in this business.

Kirsten Bosnak | Blue Morning Glory
The Floret online workshop went far beyond my expectations which were pretty high to begin based on previous experience with Floret. I was already selling every flower I could grow but was feeling a bit overwhelmed in how I was going to meet customer demand. I knew there were most likely better ways to farm flowers that I could implement but what were they? The workshop revealed the answers and then some.

Implementing all I learned on my farm was a dream, from bucket washing, bouquet making, planting techniques to time saving tips. My operation is running smoother than ever, which in turn has boosted my confidence to grow more flowers. My revenue grew over 350% from last year!

I know every time I implement a tried technique from Floret magic happens. My mission is Blooming and Sharing the Vibrancy of Life with Flowers. Thanks Floret for creating such a comprehensive workshop that I refer to over and over. I'm totally stoked to have lifetime access to top-notch flower farm training!

Misty VanderWeele | All Dahlia'd Up
I clicked buy for the Floret Online course in a fleeting moment of clear trust in myself. I didn't ask permission, I didn't apologize, even when I was embarrassingly caught vision boarding. I dutifully followed the course: I chose the trusted (and tested) varietals suggested, made a template for burning fabric, laid dripline, pinched the bejeezus out of seemingly healthy, thriving starts, and even hacked together a compost tea brewing system that I attribute to keeping both my flower and vegetable starts happy and healthy.

Looking back, I'm awestruck that the exact make and model delivery van that I'd pasted into the center of my vision board with my logo taped over it, is now parked in my driveway. I unapologetically abandoned the jarred food business, despite being told by nearly everyone how good I would be at it. I'm proudly part of a wave of flower farmers who are doing good things in an otherwise toxic and wasteful industry.

Robin Holland | Goode Farm
The quality of the workshop & instructions materials is unsurpassed. I use the workshop workbook religiously and will be getting one every year. I was like giddy kid when I received the new updated one. I can't tell you how many times I have had to watch the workshop videos. I believe that you truly care about the people that take your workshops & want them to succeed. Thank you for sharing a part of your world.

Pamela DiBasilio | Ivy Bin Flowers
Floret Flower Farm's online workshop is the reason my farm has succeeded this year. It is the MOST inspiring, MOST comprehensive course on farming cut flowers you could ask for. When I signed up last fall, I viewed it as an investment, and over the course of my first year, it's proven to be just that. The material is clear, extremely accessible, and you're grouped with others in your zone for maximum knowledge sharing. And they hook you up with awesome moderators, who are available to answer all your newbie questions! Plus you have lifetime access to the material, including worksheets and step by step, season-by-season modules featuring easy to follow videos.

I decided to jump into this business head first, all in. I'm a single mom of two, and I needed every step ahead I could get to ensure my business didn't sink me. This course probably saved me years of muddling and thousands of dollars worth of mistakes. In my first year, I was able to charge straight ahead, with 40 CSA members, a season of super fun workshops, and week after week of sold out markets. I've connected with flower lovers, established my business within the local market, and am so ready for year two.

If you really want to dig deep into growing cut flowers, take this course. Thank you, Erin and the Floret team for your passion and genuine desire to share this beautiful world of growing.

Sarah Adams | Alberta Girl Acres
The class has helped me take my hobby to the next level. I think I've watched the market bouquet video 10 times, analyzing the flowers, the techniques, and the long stems. This year I set goals, succession planted, had less weed pressure, more organization in the garden and better planning. One of my goals was to have longer stems, so I watched the videos again looking for anything to help towards that goal. I've pinched my plants for the first time ever, fertilized more, reduced weed pressure and am learning to cut deeper when I harvest. I appreciate that I can farm flowers on a small scale to start. We own 5.5 acres, but currently do not have the time to turn it all into flowers. My (approximate) quarter acre of flowers, trees, and perennials is providing enough flowers to meet our current goals, and I can look out on the hay field and imagine it full of blooms some day.

Kellie Schmidt | Blush Blossoms Floral
As a woman who has always been passionate about design but never business, I dreaded all the administrative aspects of owning a company. Responding to endless emails, figuring out quotes, and putting myself out there were not my strong suits. But the LOVE of flowers doesn't pay the bills. I really needed to get my head in the game and find an efficient way to operate. Erin's course taught me how to be more organized and how to come up with a game plan to see all my projects through to the end. From a personal standpoint, I feel as though my confidence has exploded because I have the knowledge to back it up! I feel the Floret course gave me so much clarity in running my business more efficiently, as I'm more of a creative than administrative type. Her easy to follow videos and the text book were a wealth of invaluable knowledge and I'm so so happy I made the investment.

Lauren Wubs | Gossip Floral
The information in the Workshop has impacted us deeply. It has given us a very clear roadmap for how we want to run our flower farm. It has taken out so many frustrations we faced and created a more organized, logical, manageable, and productive way of doing a large project. In turn, it has deeply impacted our relationship with each other. It has bonded our relationship as we work together in this business knowing exactly what needs to be done next. We are able to compliment each other's strengths and remain a strong cohesive couple. At the end of exhausting days, we can sit down with a glass of wine and enjoy the environment we've created. WE LOVE FLORET! Thank you so much for sharing your gift! You have impacted our lives!

Susan Bandor | Black Creek Ridge
Floret gave me the confidence to start my own business. Without the knowledge learned through the workshop I wouldn't have been able to get started. The information provided in the course sped up the process and it put me years ahead of where I would have been had I done it on my own. Floret gave me the nuts and bolts of small scale, intensive flower farming. I knew approximately what I wanted to do but the process of actually getting it done was a mystery to me. Floret helped flesh out all the details.

I was able to approach grocery stores, florists, and local business with a flower availability list to give them more information so they could know what to expect when, which in turn, built their confidence in me. I finally took the leap and went after my dreams because of the breadth of information provided.

Robin Todd | Wilder Flowers
I'm a retired speech therapist living in Memphis, and I took Floret's wonderful online workshop in January, 2018. I have always really appreciated cut flowers and natural beauty and made the decision to take the workshop when I learned that Floret had won the 2014 Martha Stewart American Made award.  The course was absolutely life changing. Floret's workshop gave me the detailed information and support I needed to begin a small scale, high intensity operation in my urban backyard with only three, 60 foot flower beds. Thanks to Floret, I felt a sense of readiness and focus after the course. I ordered seeds and tubers, set up my beds, established a website, and quickly connected with my first customer, a local neighborhood grocery store. I found a strong demand for naturally grown, specialty cut flowers. Floret's founder, Erin, has a gift and style of instilling confidence and conveys segment after segment of invaluable information in a clearly formatted sequence. Each step is packed full of information which I am certain has taken years off of my learning curve. The accompanying handbook is also full of unbelievably detailed information with accompanying pictures. The lifetime access to the course is a huge added value, and I often look at modules again and again. An unexpected bonus is the large community of supportive flower farmers I have met from all over the world on Instagram and through Floret's closed Facebook community. I have added new flower beds for next year and have interest from new customers.  Deciding to take Floret's workshop was one of the best decisions I've ever made!

Margaret Stokes | Flowers Local
When starting the online Floret Workshop, I was a city girl who had never owned a garden or had any knowledge about flowers. I've learned so much this last year and I've loved every minute of it! I wouldn't have been able to get this far without the Floret Workshop. It gave me a chance to live my dream in the south of France. I literally used all the advice, from the width of the beds, to which kind of flowers to grow, poly tunnel, low tunnel made with hoop bender, irrigation, succession planting, pinching, mulching, at which stage to harvest etc. I open a Floret book or excel sheet everyday to find the information I need.

Marieke Wulms | Les Fleurs du Mas
The value that the Floret course has had on our business, our growing abilities, our land management practices, and our own interpersonal relationships with one another has been immeasurable. This year is our first season growing for production and we are continually being humbled by the support we are receiving from our community. We have sold out at all 6 of the markets we have attended. We booked 7 weddings in our first season and are already securing weddings for the 2019 season. We were asked to host a farm tour with an organization called Young Agrarians and we have been asked to run a session and speak at the 2019 Organic Alberta conference. I really could go on and on. Yes, we have put in work, but honestly, without having taken the Floret course, we would be lost. There are no words of thanks that explain how beneficial the sharing of this information has been for us and our business.

Angela Hall | Meadow Farm Florals
The expert advice and secret tips that Erin and Jill reveal and share in this workshop are so wide that every single day on my flower farm, I have at least one 'Floret moment' – be it remembering how to optimally harvest a certain type of bloom, or how to deal with business-related anxiety. Daily, if not hourly, I experience how the accuracy and pertinence of this course deeply shaped and informed the way I work, on a technical level, as well as an emotional level. And the best part is that all that beautiful streamlined efficiency is brought to you in a very humane and sensitive manner by Erin and Jill. Dive into this course and you will feel like you've entered a safe space ruled by chutzpah, kindness, empathy, straightforwardness, and authenticity.

Masami Lavault | Plein Air
Last winter I was lucky enough to take the Floret Online Workshop. I learned SO MUCH and applied everything I possibly could to our flower growing this year. It's been much smoother sailing this season, as we churn out weekly bouquets and bunches for the CSA and market.

Flowers are extremely challenging to learn how to grow and arrange. It's been a four year long learning curve (so far!) and a whole lot of failures along the way, but I'm finally feeling a tiny bit of confidence in my ability to pull this thing off. Every time I load up a bunch of buckets containing the perfect mix to make bouquets with relative ease, I say a little thanks to all of the folks at Floret and the other experienced growers who have shared their tips and tricks with me. Y'all are making this thing possible for new growers, and we know how lucky we are to learn from the greats!

Beth Satterwhite | Even Pull Farm
After a lifetime of playing with flowers and digging in the dirt, I was ready to expand. The Floret Online Workshop was a perfect fit! During the cold months of winter, I watched, and re-watched Erin, Jill and their staff as they educated us about the possibilities of growing flowers in a realistic, well-articulated format. While everyone loves the beauty of flowers, the Floret staff balanced that pleasure with optimistic, concrete suggestions, and caution, about business decisions and over-extending yourself. My Top Three favorite parts of the Workshop are: 1) The ability to go back over the lessons whenever I want and receive all future updates, 2) The question/answer portions of each lesson, 3) The amazing support and resources, both from Floret and in the Facebook Learning Community.

Sharon Keeney | Forget-Me-Not In Dexter
The Floret training was a game changer for us. We live in a VERY rural area and I wasn't sure what to expect. I decided to take the plunge and enrolled in the first ever Floret Online Workshop. It was the BEST thing I could have done. I learned  so much and I loved the practical approach that Erin conveys. I continue to refer to class videos for support and encouragement. Ranunculus and Anemones were a huge early season crop for us. The techniques learned thru Floret were spot on and our harvest was amazing. They caught the eye of a local florist resulting in a flower order as well as a new business relationship. The exceptional quality of the flowers was the catalyst for this.

The Floret Online Workshop empowered me to pursue my lifelong dream of being a flower farmer. It instilled a confidence in me that I didn't believe I could achieve. I love this whole process of adult learning and am embracing this opportunity. I have been an RN for 30 years. I love my profession and feel extremely grateful that I am now able to focus on my life on our farm. Thank you to Erin and the entire Floret team for giving me the tools and information to be a successful flower farmer.

Kathy Campbell | Campbell's Hollow Ranch LLC
It would be no exaggeration to say that this course has changed our entire perspective and outlook on growing flowers and how to approach our business. Erin has guided us to look deeply and with intention into every aspect of flower farming- from our dreams to farm layout to strategy to the nitty-gritty of day-to-day work on the farm.

She doesn't gloss over the difficult parts but really cuts through to the heart of what it takes to build a productive, thriving farm.

I would highly recommend this course for anyone ready to take their garden or farm plot to the next level; it's truly life-changing and so wonderful to have a helping hand along the way to achieving your flower farming dreams.

Rosie and Oscar Winter | The Rose and Radish
This online workshop was so beneficial to our farm. We tripled our growing space this year, added employees and our revenue is on track to triple too. Our crops are having longer stems, more blooms, and fewer pests (love the compost tea!). We can now make our market/grocery bunches in less than a minute each compared to like 10 mins each last year. One of my favorite notable shifts is a comment from a veggie farmer, whom we share a parking lot with for our flower CSA pick up. He said, "I don't know what you guys did over the winter, but it worked! Your flowers are more diverse, higher quality, longer lasting, and the packaging now looks so professional." From one farmer to another that's a HUGE compliment.

Maggie Taylor | Delight Flower Farm
The Floret Online Workshop helped me calmly, and confidently navigate my way through my first year of business as a farmer-florist. To say, 'I can't imagine where I'd be without this course,' is a total understatement. Erin shares her marketing strategies, all of her growing techniques, and more, in an accessible, uncomplicated way. This is kind of ludicrous, but when I took driving lessons, I had this really great instructor. His name was Peter, and after my lessons were over I'd drive without him, but I'd hear his voice in my head reminding me to check my blind spot, or whatever. I thought it was funny, but I also thought it was a testament to his impressive teaching style.
These days as I'm pinching dahlias, emailing letters to brides, and doing countless other farm tasks from dawn till dusk, often I'm reminded of the practical information presented in this course in Erin's vibrant manner. I can hear her voice when she says, 'See what happens if you don't pinch your amaranth', and I feel assured every day because she generously shared her successes and failures.

Sarah Macalpine | Two Birds One Stone Farm
I have immensely enjoyed this course. It provides you with everything there is to know about flower farming. Goal- setting, planning, variety selection, tips on seed germination, plant care, harvesting, etc. The course covers every aspect of the business and literally shaves off years of experience. But what I liked the most is that I felt like I'm physically at Floret absorbing the atmosphere. It's like being an intern at Floret for a year without even leaving my couch! Erin's authenticity and down-to-earth character really shined through, giving the beautiful material a personal touch that was as important as the solid information she has provided.

Farah Altamimi | Verdi
Before the Floret workshop, I had a general idea of what I wanted: to be a successful farmer/florist. The workshop planned out for me, in concrete steps and in no uncertain terms, exactly what it would take to make that happen. Since the workshop, I've been able to grow beautiful flowers, create an income stream through regular co-op bouquets and a CSA, cultivate outlets for excess blooms by selling some wholesale to florists, and provide flowers for one summer bride. My revenue went from 0 to $1,000 a month and this is our first full year of growing. With the workshop's advice, by leveraging social media, I have workshops and pop-ups lined up for the fall and a detailed plan to expand appropriately now with a high tunnel and greenhouse. In short, I think the workshop took years off my learning curve and I'm so grateful!

Sarah Jo Eversole | Everbloom Fields
Erin and her team have inspired so many people and being able to delve a little deeper into their success, strategies, and knowledge was like winning a golden ticket – but better! Having the ability to interact with the Floret Team was so valuable. The positivity and encouragement from both members of the Floret team and other participants were just what I needed.

The workshop was perfect for me, heading into my third season of flower growing. It was a timely opportunity for me to review and assess the base concepts on which I was operating on. The workshop's focus on big-picture thinking, and operating in my strengths was very helpful. From marketing to succession sowing, the solid foundation approach meant I could make immediate positive changes to the way I was doing things. I also learned some nifty practical techniques that I put to good use straight away. My rubber banding of bunches has never looked so good!

If growing flowers is your passion, or you think it could be, the Floret workshop is the very best place to start.

Christy Ralphs | Nourish Gardens
A year ago my husband and I bought our dream 12 acres. It's a very raw piece of land, ready for anything. I took the Floret course and we got to work in the spring, unlike ever before. We've grown for many years but didn't quite know what we were doing. This year we cultivated 400 feet dedicated to flowers, and are growing dozens and dozens of varieties – many of them new! We are considering 2018 our research and development year and are experimenting with making market bouquets, drying flowers, and more. I'm also an artist and have been endlessly inspired by our excess of blooms! Next year we hope to drill down our farm's focus and "take it to the streets." Our small, local community is excited and supportive, as are we! We couldn't have done it without all the knowledge and inspiration from Floret. The Floret Course changed my entire approach to growing. I feel empowered by all the skills I learned and backed by the support of the community I've gotten to know through the course.

Betsy Brockett | Foggy Blossom Farm
The Floret Online Workshop has literally changed our lives. We purchased 5 acres last fall to start our flower farm. The workshop has helped us turn what was just a clearing into an organized growing field that is now home to 650 dahlias and numerous other varieties of plants and flowers. We have used every aspect of the workshop in creating our business. From creating a clear vision, to planning and starting the growing process- we have utilized all the tools that were given to us as part of the course. In fact, the workbook and spreadsheets reside in our greenhouse so I can easily look back on them. This course has been a complete game changer for our family and our farm.

Marryn Mathis | The Farmhouse Flower Farm
Oh my, we are up 171% in our market bouquet sales over last year already and just 1/2 way through our season! We booked and delivered our first destination Outer Banks wedding, and have started up with a local florist. The Floret Course gave me what I needed to get this business properly going. It has helped me learn that with the right tools and knowledge you can grow exponentially until you feel good about your size and your purpose. With this, my level of confidence in what I'm doing is so much stronger, and because of all of this, my business actually has a chance of succeeding. The impact is both personally and professionally.

Emily Nekl | Fuggles Flowers
The Floret online Course helped me know how to specifically grow flowers and provided a resource I can constantly reference. After taking the course I knew I wanted to go for it. We got a late start here in Jackson, but the weather has cooperated and opportunities are springing up left and right. I check the online course at least once a week, the workbook I take everywhere (it's getting quite dirty), and the Cut Flower Garden book I use weekly as well. The biggest impact is that my business is actually here, by way of Floret helping me realize I can figure out how to grow flowers. And of course, all the learning and growing that's coming along with entrepreneurship.

Virginia King | Bitterbrush Farm + Flora
The Floret Online Workshop taught me how to plan, be organized, and successfully sell my flower harvest to customers. I learned how to get the most out of my plants by properly starting seeds, fertilizing, pinching, and harvesting! What I learned has led to a beautiful crop that almost sells itself! Floret's Online Workshop helped me bring all of the random flower farming knowledge together in an organized place to have a successful 2nd year of producing beautiful blooms. I learned so much insightful information including tips and tricks that saved me an extraordinary amount of time. From crop planning to succession planting, I have been successful in having a steady supply of blooms all season long. My favorite thing and the reason that I made the decision to purchase this course, was the quality of photos/videos and how organized the course is. Erin is so easy to listen to all day, and her motivation only makes me want to plant even more flowers. Sometimes we need the encouragement, especially when we start to get worn down from the elements and hard work. Erin is always there to watch, reminding you of the bounty to come.

Daniel Schavey | Petal Pickers Flower Co.
I don't think it's an understatement to say the workshop launched my business. I've not only met the modest goals I mapped out for myself during module 1, but I've already surpassed them, which is totally insane to be able to say because our season started only 8 weeks ago! The Floret Online Workshop has given me the knowledge, confidence, and access to information to 1. Approach a small neighborhood market about bouquet sales, where I'm averaging a dozen bouquets a week. 2. Organize and implement a CSA. 3. Make my first DIY wedding bucket sale this spring, thanks directly to the Farmer-Florist Collective listing on the Floret website! I'm doing all of this while still maintaining a full-time job and running a household. It's a testament to the quality, knowledge, and skills the workshop offers.

Tenille Enger | Lucky Clover Flowers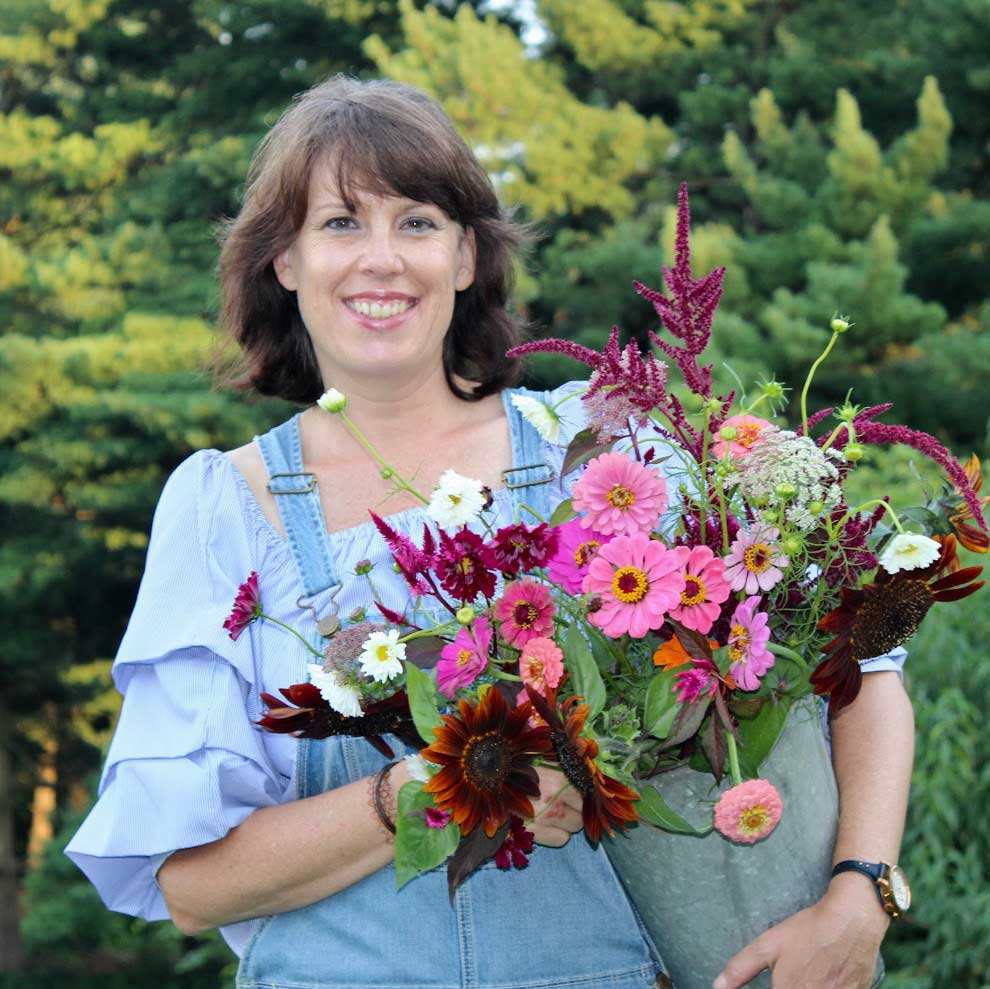 The Floret Online Workshop inspired me to begin selling flowers this year when the plan had been to begin selling in about 5 years when I retire from teaching. We started very slowly but we now have a small but successful flower CSA and farm stand in Virginia. We've sold more flowers than we dreamed of, and the Floret Online course gave me the courage and information I needed to get started.
The class helped me to set goals about what would be best for our farm and family at this time. It also gave me the invaluable knowledge to get started. The step by step process detailed in the videos made it so much easier to start our little business. I've found the specific flower information given in the manual to be invaluable, as I decided what to plant this year and also now as I'm harvesting to sell.

Cindy Farrish | Farrish Farm
Thank you Erin and Team Floret for sharing your advice, wisdom, tips, and tricks, that you learned the hard way. My biggest success so far has been the ability to grow healthy, robust flowers, utilizing every square inch possible. The game changer for market prep has been Erin's market bouquet ingredient list! I truly wouldn't be seeing this amount of success in my first month of flower farming for market without the tools provided through the Floret Workshop. Everything from plant spacing, harvesting and post-harvest care, building tunnels, and lessons in pinching have been incredibly helpful as I move along through the season.

Jennifer Nickel | Gray Acres
The Floret program helped me move from a 'dream' to reality. In the preliminary coursework I quickly realized that I could not accomplish what I wanted to do alone (nor was I interested in tackling all the 'hats'). I discovered some of my strengths (big thinker, creative flair, mentor) and weaknesses (not so great with the tiny details like starting those seedling trays, standing at the Farmers Market for hours, converting my own property to arable land, lack of infrastructure). As well, I discovered 2 participants in my hometown and we meet bi-weekly and have realized that we have unique goals and strengths, so we support each other in many ways. So then I reached out to collaborate with a local non-profit (http://lincsociety.bc.ca) which operates a working farm, training offenders who are out on day passes. It's a win-win situation, they have the infrastructure, labor, and marketing chops (stall at the market/wholesale clients/publicity). I have the flower farming knowledge, design, and interpersonal skills. For year one, we've planted 300′ of annual flower crops at the farm; and I've expanded perennial crops at home. Being open to opportunities as unlikely and unusual (getting fingerprinted to pass clearance!) as they may seem; has allowed me to share my passion in some touching and rewarding ways that exceeded my expectations (such as donating flowers to victims of crime). Flowers truly do feed the soul.

Alexandra Richards | Twiggage and Bloom
This is my first year being a flower farmer and I can't even tell you the enormity of how much this workshop has helped me. I continue to say that the workshop was worth every penny! I'd never started anything from seed before, and I currently have 30 beds full of a variety of flowers I started from seed! I created my own website and I feel confident about marketing my business. This was an area that would've made me squirm prior to the class. I opened the u-pick portion of my business a few weeks ago and it's really taking off. I've already sold to a florist, sold some bouquet subscriptions, and created more special order bouquets than I can count. I've gotten numerous compliments on how everything is so well-done and how long my flowers last. This is all thanks to the Floret Workshop! Thank you!

Lindsay Millard | Lindsay's Flower Patch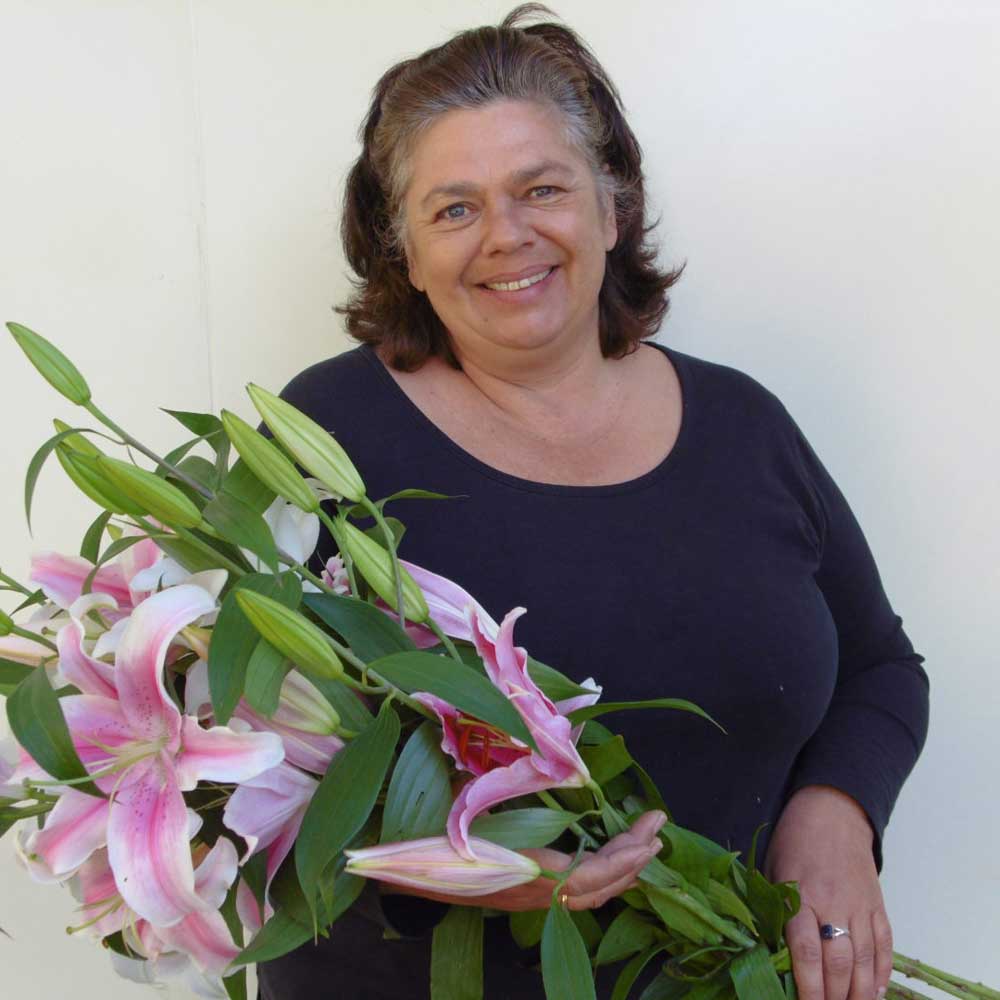 The Floret training has enabled us to identify the priorities and steps in starting a new farm and it has helped us avoid chaos! Everything is growing like mad and the first batch of compost tea is brewing. The excitement is building and we know where we're heading. Thanks so much Floret for making the path crystal clear! I have found my calling. I'm more energized and happier than I've been in a long time. I know that this is the path I was meant to be taking. I'd highly recommend the online workshop as it was well worth the money and I refer to it all the time.

Charlotte Pemberton | Lottie's Bloomers
First off, the workshop was the beginning for me. Other than being a gardener, I had no flower business experience. In December, January and February I practiced seed starting with all kinds of seed varieties along with white and blue anemones. My husband kept saying "what are you gonna do with all this stuff?!" I said, "I don't know, but I have to learn and I have to find out if I like growing!" I discovered a popular restaurant in town needed a new source for flowers. I began delivering a couple loose arrangements and table flowers every week. The owner keeps my cards available when people ask about the flowers. I did a Mother's Day pop-up at the restaurant as well. The experience was a lot of fun and a big learning experience. The highlight of the day was a wedding photographer telling me I should do wedding work. It feels intimidating to me but your segment on weddings a la cart really appeals to me. Bottom line- I could never have made this progress and felt ANY sense of confidence without your workshop!

Molly Picchi | Puck's Garden
After the Floret online training, we felt so prepared for our second season and were excited to get out there and make some significant changes in the way we run the farm. Overall our farm looks better and we feel more confident showing it off. We are actually making money this season, too! The course has been a wonderful investment for us and we are forever grateful for all we've learned. Thank you for all the work you put into helping others grow. I feel much more confident in the work I'm doing because of this course. We continue to marvel at how the confidence we feel has increased our productivity since our first season. Sincerely grateful for this course.

Lynn Windmeyer | Homeplace Fields
Our biggest challenge has been having flowers consistently. The online course helped us a ton with understanding succession planting and now have flowers on a consistent basis It's been life changing! The Floret workshop helped me understand crop planning and so much more. Since starting our farm in 2015 we've built a ton of lifelong flower lovers! People appreciate our story, just like we did when we heard the story of Floret.

Mindy Staton | Two Little Buds
I have been growing herbs and edible flowers for a while but cutting flowers are relatively new to me. The course gave me enough confidence to kick-start the flower-growing part of my business. I achieved my not-so-ambitious goals so far in terms of sales of bouquet shares and weddings and have a waiting list of 21 (!) florists (mostly start-ups) in the capital region of Brussels. The course gave me a strong backbone so I was able to make some bold choices with confidence.

Yo De Beule | Duizendblad
With the workshop, I achieved my dream of having a business. I had a lot of ideas but I didn't know how I could start. With the workshop, I organized my ideas and put them to work. I bought a small farm and I started my career in organic flower farming. I am at the very beginning and I already have a lot of people interested. It is very gratifying.

Danielle Grillo | Flor Alada
This spring I started selling cut flowers and I went from zero to one hundred; I went from having no previous sales to selling out and people clamoring for more. It was the professional tips on harvesting and creating bouquets that made my operation stand out.

Mira Peck | Terra Love Blooms
I am a complete newbie at this and took the course to give me the basics to even start. I can not tell you how many times I have gone back and watched specific videos over and over. My course book will be falling apart before this first growing season ends. I have a better knowledge base now of what flowers will work for me and how to get them from seed to market. The Floret workshop helped me have the basic knowledge to even start this journey. Without the class I would not have even started this. And now I am out laying irrigation, burning holes in landscape fabric and talking to little seedlings to get them to grow. I can hardly wait to see how great my product is going to be. There isn't anyone in my urban area of Orange County, California doing this.

Carolyn Cavecche | Flowers from the Thicket
The Floret Online Workshop helped motivate and inspire me to rebuild my tiny flower farm in a whole new location. The weekly videos helped me visualize my goals and turn them into something achievable. Without the course, I probably would've been overwhelmed with the amount of work I had to do. I didn't know where to start! My new nursery is now starting to look like the place I've been dreaming of.

Jacolien Cleveringa | Bijenbrood
We tell people that going to Floret in our second season was a real game changer and probably put us ahead by 3 seasons. We learned so many tips and tricks to farm more efficiently and also a ton about designing and running a small farm business. 2016 was our first CSA year and it was great to be at their farm and be able to ask all of our burning questions. Erin, Jill, Chris and the entire Floret team were all so nurturing and inspiring. They opened up so many of their hard-earned secrets to us, and introduced us to so many other great flower farmers around the country that we continue to learn and be inspired by. Floret is a taste maker, a trend setter in our industry and also a great teacher. We follow her lead and pay it forward. We established an apprentice program and our in our second year, and we offer workshops on our farm throughout the season.

I found farming and my love of flowers later in life, while I was at home raising my three boys. Farming is my happy place, when I am in the fields there is no place I'd rather be – digging in the ground, weeding, planting, or seeding in the greenhouse. It grounds me and spurs my creativity. I had a crazy dream to build a flower farm and it came true! Producing something beautiful to give to others in our community is a gift. We are in awe of the community that is growing up around our flower farm- florists, artists, flower lovers, gardeners- these are our people.

Nikki Bartley | Cross Street Flower Farm
The Floret Workshop was a turning point in our business. We bought an existing farm, but the plants were not healthy or happy and the setup wasn't efficient, professional, or sufficient for the size of the field. We needed help, and we were clueless. Even though we only grow dahlias, visiting Floret and seeing how Erin and her team farmed, changed everything.

Kate Rowe | Aztec Dahlias
In 2015, when I attended the Floret workshop, I was a gardener, gardening columnist and writing professor. The workshop changed my life: I joined Instagram, grew my following to 75k in four years, and now have a book contract for Cultivated: Elements of Floral Style. Erin has been instrumental to my developing my floral career.

I now teach workshops internationally and run a small floral business from my home in Victoria, BC. I'm sure everyone will say this, but the experience was transformational. Despite being a lifelong gardener and growing salad greens once-upon-a-time for sale, I didn't realize the potential of the flower market AND the way flowers could lead me back to my other interests in environmental writing, art history and also help me launch a new career as a photographer.

I've been able to hire 3 part time employees, all women and one is a young Mother. I cannot express the joy and serendipity I feel everyday. Thanks Erin, Jill, Chris and the Floret team!

Christin Geall | Cultivated
I can't say enough kind words about the hospitality from Erin and Team Floret. Simply put – the workshop experience was superb! It was three magical invigorating days that filled my heart and soul with the love of flowers. From seed starting and soil health to small scale farming best practices they covered a wide range of topics ideal for both beginning farmers and experienced ones alike. A true hands on workshop from start to finish, one of the highlights for me was learning and practicing floral design techniques. They took this timid farmer and gave me the inspiration to explore my creativity and let my flower flag fly! Erin's knowledge, approachability, authenticity and motivation were just what I needed to give me the confidence to find my niche in the flower farming world. I will be forever grateful.

Felicia Alvarez | Rancho Alvarez
The Floret Farming Intensive Workshop I attended has made a tremendous impact on my experience as a new flower farmer and floral designer. When I returned home from Floret, I rushed to apply as many of the things I learned as possible to our new farm in the Adirondacks. Our weather and soil couldn't be any more different than those on the Floret farm, but that didn't matter. I've successfully applied Floret methods here, and I look forward to growing and building more of their ideas into the plan for the future of our farm. Now, several months after my Floret course, I know that the advice I received there has made all the difference in the growing success of my new business. I apply the things I learned there every day. Equally important to everything you learn at Floret is the network of industry friends that you immediately gain. They support my journey tirelessly. I am forever grateful for the inspiration and confidence that I gleaned at Floret. Thank you, Team Floret!

Linda D'Arco | Little Farmhouse Flowers
Being at Floret Peony Flower Workshop in June 2017 was the best gift I have given myself! It is so hard to find superlative words to describe the "floral high" we all experienced as attendees. Erin, her family and team, truly exudes passion and in-depth knowledge of both growing flowers and designing stunning florals. Erin's definition of "brand" was so enlightening to me. I learned that everyone of us has a love story behind their business. It's a story of passion and purpose and that being true to yourself, is your "brand"! I was amazed at the care that was taken in the planting, cultivating and harvesting of the flowers that are grown on Floret Farm. This has revolutionized my approach in pursuing flower suppliers. I now look to develop relationships with local farms that respect the soil as well as treating their workers with honour and dignity. Overall, I feel that by inspiring people to respect the Earth and to pursue their passion, Floret Farms is helping to make the world a better place.

Lyn Chapman | Flower Artistry
The Floret Workshop gave me perspective, confidence, improved technical skills, and a network of other designers to lean on for questions and concerns. But mostly, the Floret Workshop gave me dedicated time away from the pressures of work, family, and the rest of the world for three solid days to focus on what I wanted…what my path should be as a floral designer and person. I left the Floret Workshop with clear, actionable goals and I feel very strongly that without that experience — my shop and current success would not have been possible. Whether it be for a special birthday or a hospital stay, I've seen so many beautiful stories and feel so honored to be representing my customers in such a meaningful way. It's a daily reminder of how we should all be grateful for what we have and to remember that the simple things in life, like flowers, can make all the difference.

Molly Dilmore | The Carrot Flower Company
I can tell you that I am absolutely grateful for this experience.

I have taken other workshops and learned from other florists that I admire and love. But you Erin!!! you are an open heart, and that is priceless. This workshop speaks to the heart more than anything else. Thanks for opening your house and your life to us. For sharing with us you human struggle. For teaching us, not only how to do flowers and the technical side of business, but for sharing your fears and your weakness and your strengths.

I admire that you open your life totally to the people that signs for this classes and share it with an open heart and in such a loving way.

These days have given me strength to face the changes I am going through. I feel stronger and much trusting that it will fold in a positive way for me and the ones I love.

Gabriela Salazar | La Musa de las Flores
The Floret Workshop has completely changed our business! From Intense Farming tried and true practices to floral design techniques, we covered just about everything a farmer-florist needs to know! I'd highly recommend the workshop for anyone wanting to start a cutting garden in a small plot, with no fancy greenhouses or expensive technology. Floret is all about high productivity and efficiency, and Erin will share all her secrets with you! I'd encourage you to ask questions, this is your chance to learn from the best! The investment will pay for itself in no time and avoid you a lot of frustration!

Julio Freitas | The Flower Hat
Partaking in Floret's seasonal floral intensive was a splendid gift that I gave to myself and am forever grateful for doing so. Spending a weekend away in stunning environs to reflect on my branding and vision for my business was worth every cent and so much more.  The personal attention I received from Erin and her stellar team was unexpected and so valuable.  I gleaned much from my Floret weekend but most of all I gained insights to my blooming business and self which I know will help to propel me forward.  Ever thanks Team Floret!

Maura Whalen | Casa Blanca Floral
I was able to take the Farmer-Florist workshop after saving and debating for two years.  This was one of the best investments I have ever made.  I had struggled for a good amount of time with the value of growing flowers versus food.  I felt somehow that my overwhelming desire to grow flowers was not entirely acceptable.  That I was not feeding the community and therefore wasting energy and space.  During the workshop I was opened in a way that I find very hard to put into words.  My heart felt so full and accepted.  To be around other people who have completely given their lives and loves to flowers was…well a moment of realization for me.  I am helping to feed people's souls. The world needs more flowers and art.  I encourage any of you to apply for this amazing opportunity.  I would myself like to attend another of Floret's workshops…again and again.

Erika Stephens | June's Blooms
For new and experienced flower farmers, Floret's Farmer Florist workshop is going to change your life. You will learn so much! Erin is a joy – as is her team; the setting is glorious, the information plentiful and the hands-on practice truly invaluable. I'll never forget my experience and highly recommend it.

Tara Kolla | Silver Lake Farms
In June of this year I found myself among 22 other flowering souls at the June Peony Workshop. It was a pinch me moment that lasted for three incredible days. It's hard to explain what it's really like to be at a Floret Workshop when you've spent so much time just dreaming, hoping, imagining. What I experienced those three flower filled days was visually stunning, business/mindset altering and soulfully inspiring.

Before going, I was asked the question: "where do you see your business in 3-5 years"? I rambled off some stuff feeling like I should have some idea, something to say. In reality I really didn't know. I was at a crossroads. Although I had been growing flowers for some years and booking small weddings, somewhere along the way I found myself lacking confidence, full of self doubt, questioning and second guessing flower, design and business decisions. After all I'd read and visually absorbed through Instagram and Floret's website, I knew I needed to go to a Floret Workshop. What I didn't realize was just how much.

While it was pure joy to be in such a magical place amongst others who understood my complete, unapologetic addiction to flowers, I feel like I won the lottery being able to learn from Erin, Jill and the incredible Floret team. My small but real flower farming/wedding design journey has been seriously fueled by what I learned. The flowers, company, food and connections were all an amazing part of it but I also came home with some serious business and design tools to help me take this work and love of mine to the next level. Thank you for it all!

Kate Fraser-Hominick | Urban Farm Chick
I can't thank you enough for all of the ideas, energy and inspiration I got from spending the time with all of you, including the wonderful group of 'farmer-florists'. I'm still buzzing from it all.

Hillary Alger | Johnny's Selected Seed
I was very fortunate to attend the Peony Seasonal Intensive workshop in June, in the Floral 'Dreamer' category.  I was a little nervous about attending, in general, but especially nervous about being among a group of amazing talented florists. However, Team Floret is so supportive and encouraging; as were all the other attendees.

Being immersed in a creative floral environment for three days, and meeting like-minded, florally-obsessed people was for me a dream come true.

Erin and the team pack those three days full with practical business guidance, industry insights, and information you will still be benefiting from and referring to months afterwards, as I am.  Attendees are challenged to accelerate their technical skills, and encouraged to design arrangements which, at the outset, I didn't think I was capable of.

While I am still working on the steps to make the dream a reality, I now have the confidence, and courage to actually make it happen.

To all of you floral dreamers contemplating a workshop: don't over think it.  Just grab the opportunity and run with your dreams.

Kirsty Owen
My experience at the Floret workshop has given me so much more confidence. My love for flowers has deepened and I have made beautiful memories and life long flower friends. I am so grateful to Erin, Jill and their team for putting in so much time and energy to make us feel safe and comfortable while pouring our hearts out. Sharing our dreams and fears. The resources they provide are priceless and it's an experience like no other. I feel like I have found my floral groove and I'm so grateful. The flowers were out of this world!So much beauty!

Jasmine Dunne | Foxglove Flora
Some time has passed since I returned home from the Floret Workshop and I am still pinching myself. A gigantic thank you to Erin, Team Floret, and all the attendees for such an amazing experience!  I am still in awe of the absolute generosity of time, information, and patience Erin and all of Team Floret shared with us.  In three days, I walked away with so many nuggets of encouragement and inspiration to actually begin my flower journey in earnest. Thank you one million times over!

Carolina Harvey | Pumphouse Farm
I attended the Peony Floret Flower Workshop in June as a potter with a passionate love of flowers.  Erin and her team opened up a new perception of foraged flowers and flower arranging.  They broadened my ideas about what can be used in a bouquet and Erin's detailed demonstrations were truly enlightening.  Erin also spent a good deal of time discussing the business of social media, press and pricing for jobs.  The workshop was a nurturing, safe environment with loads of support and encouragement from the staff and fellow attendees.  I highly recommend this for any person interested in moving forward with a floral design or even design business. Worth every penny and I made a new group of wonderful friends.

Frances Palmer | Frances Palmer Pottery
Attending the floret workshop this past year was a giant step towards following my dream of becoming a farmer florist! I am a testimony that your never too old to dream. This year I was successful in starting my modest flower farm to supplement my floral design business. It's a work in progress but so rewarding! Erin and the floret team were wonderful!

Nancy Wisot | Wisot Designs
My experience at The Floret Spring Intensive workshop was simply life changing; a time where I got to reflect on my own challenges with growing flowers and provided me the opportunity to be around other like minded flower lovers. It was so good for my soul. Much of the beginning of my flower journey was spent in solace, finding comfort and joy in growing flowers. However, at times, that solace can be overwhelming, especially when battling with all the challenges that come with growing flowers. Few times have I had the opportunity to check out of my daily routine in  life, and submerse myself into an experience that taught me so many valuable tools to implement into my business, and at the same time, provided me a space to meet so many unique and wonderful creative minds. I will be forever grateful for the time spent in this amazing place, and look so forward to watching the continued beauty that this collaboration of beautiful souls create all over the globe! Thank you to all the Floret team, you are all amazing!

Liz Wright | The Purple Iris
Erin empowers dreams through the magic of flowers. For those few days that went by in a blink of an eye, I not only felt liberated to dream, but was given the skills to make those dreams come true. Going to the Harvard of Flowers was the best gift, and it keeps giving. I've made life-long flower-friends and learned to cultivate beauty in our own field. If you ever get the chance, go. You will be different when you come back.

Cynthia Zamaria | Cynthia Zamaria
I had the incredible opportunity to attend a Floret Workshop, and it really changed everything for me. That sounds like such a big thing to say, but this trip was healing for me in ways I did not expect. I got to stand beside so many accomplished and inspiring women who encouraged me and loved me well. Erin's transparency and willingness to stand in front of us and describe what had not worked for years only to then reveal her success secrets brought this experience to the next level. We were given plenty of business direction, shown how to build arrangements, and experienced some of the most thoughtful hospitality. Thoughtful is a phenomenal word to describe how the weekend played out. The team working behind the scenes truly has thought through every aspect so carefully. The authenticity of the Floret team is what created the culture of empowerment. Coming off of the trip I feel much more confident and equipped to tackle all of my flower dreams, both big and small.

Mary Johnston
Attending the flower farmer workshop took me from thinking about becoming a flower farmer to becoming one.  The entire Floret team were so generous with their knowledge, insight and experience.  The other attendees at the workshop are now my friends and we share experiences, ask questions and give advice to each other.  I left with great information and inspiration.  There's a reason Erin is such a leader in the field and I feel so fortunate to have taken part in a Floret Workshop.

Page McGavisk | Hedgerow Flower Farm
I've stopped and started a thank you note to all of you a thousand times. Trying to take all of the overwhelming gratitude I have for your sharing your wisdom, passion and experiences and put it into words has been impossible. There is so much to be said. You have provided myself and all of those that attend the opportunity to say to ourselves it's ok to follow our dreams. That in itself was and is an unbelievable gift.

Denise Kelly | The Plant Barn
From the beautiful barn, to the welcoming friendly faces and Florets breathtaking fields of blooms there was too much beauty to take in. Erin and her team are so genuine and down to earth, and filled our eyes and minds full to the brim with beauty and knowledge by the end of the weekend. Whatever doubts or fears I had prior seemed to quickly vanish and I suddenly felt a renewed confidence within' my new flower farming ventures. Everyone was so genuinely supportive of eachother it felt like we were one big happy flower family by the end of the weekend. I would recommend this workshop to anyone in a heart beat, you will not be disappointed!

Heidi Nash | Boho Petals
As a new business owner, I thought that perhaps it was too extravagant to attend a Floret workshop… I'm so glad I didn't listen to that soundtrack and instead invested in attending. The training I received from Jill and Erin and all the other teachers at the on-set of starting up my business was invaluable. There's so much more to the workshop than just flowers. It is a way of thinking about yourself, your work and your life's mission.

Samantha Rothman | Fairview Farm & Flowers
I have just come back from the Farmer Florist workshop. I have wanted to attend this workshop for quite some time now. Just before I attended I was nervous, what if this did not live up to my expectations? The Floret Farmer Florist workshop went way, way above what I had even dreamed it would, this includes the content of the workshop, the staff at Floret, the location and the people attending. If you have a chance to attend grasp it with both hands, you will not regret it for a moment, you will gain a huge amount of knowledge and the friendships that you will make will stay with you forever.

Carolyn Thompson | Willow and Mabel Garden Company
To say that the Floret Workshops are amazing is an understatement. You have to experience them to describe them correctly. It was a magical experience in flower heaven. The wealth of information and generosity provided by the Floret team is impressive. Their genuine care and love for flowers is present in every aspect of the workshop at the talks, the hands-on demos, the conversations, the superb flowers provided for us to learn techniques, the warm conversations, and the delicious food. It was a unique experience full of learning, new friendships and the most beautiful flowers I have ever seen. I left inspired in many ways, not only to grow beautiful flowers but also to build a better life for my family, my community and myself. Thank you to the Floret team for leading by example. You are one of the best teams I have every seen and had the honor to meet. Wishing you much more success in everything you do.

Estefania Mondragon | Estefania Mondragon
I signed up for the Floret workshop for the chance to touch and play with flowers I've only been able to see in pictures. The workshop was that and SO MUCH MORE. Having the opportunity to be amongst and learn from some of the best teachers in the floral industry was illuminating, to say the least. Since returning home, I've applied some of those principles to my own business and have already begun to see the results.

Peicha Chang | Falls Flowers
Erin and team, I can't thank you enough for an amazing three days at the farming intensive workshop. It was such a pleasure to meet you and share my farm story with you. I left WA inspired and ready with the tools to rebuild our family farm. It was definately a game changer for me and really made me evaluate my business and were I want to take it in the next few years. I made amazing friends and feel I have a community to ask questions and feedback as we all struggling thru farming.

Emily Carey | Etc. Designs
I have always dreamed of using my love of flowers into a second career. I had many doubts and fears that at this stage of my life I might have waited too long. This course has empowered me and given me the much needed tools to realize what it takes to be a flower farmer. I cant thank the Floret Team enough,for sharing their wisdom, farm skills and generous spirits, with me. I'm can't wait to start this new journey in my life.

Jill Meyer | Torch & Twig
I came to the Floret workshop expecting to learn how to arrange flowers. Instead, I got a complete re-boot on my business, which is working in Corporate America at a large advertising agency. All of the skills that Erin and Jill (and I love their partnership and their honesty) applied to the workshop, I am now applying to my career. I don't know if I'll ever be good at flowers. But their workshop has made my career bloom anew.

Jeanie Caggiano
I had very high expectations for the Floret workshop, and it exceeded them all by leaps and bounds. Not only did I learn propagation techniques, approaches to business-management and marketing, and bouquet-building skills, but I met a score of other farmer-florists who were fascinating, brilliant, and supportive of my dreams. Not to mention meeting Erin herself, who is generous with her time and experience, more beautiful even than in her photos, and willing to say what has been difficult about her journey. I walked away feeling like I had the world at my fingertips and only had to reach a little further to hold it in my hands. An absolutely incredible experience. Get yourself there, however you can.

Helen Skiba | Farmette Flowers
The three magical days spent at the Farmer-Florist workshop last April were a game changer for me. The idea of my own flower farm was really just a "someday" dream when I arrived. But by the end, I felt like I had the tools and confidence to take the leap in starting my business. I am so grateful to Erin and her team for being so open in sharing their stories and for the passion that they bring to every aspect of their business. One of the best and truly unexpected gifts from the workshop was in finding so many kindred spirits in my fellow attendees. We quickly became lifelong friends and continue to encourage and support one another in our little flower tribe.

Alicia Arzate
I hope heaven resembles the magical works of the Floret team and creative efforts of its students. The wonderful land I was transported to is almost indescribable unless you are there to take part and see it for yourself. I can't thank the entire team enough for the knowledge shared with us all and experience we had. Plus the food was unbelievable on top of it all! Flowers, food, and new friends. Who could ask for a more fantastic 3 days!

Aisha Crawford
My three days at the Floret Farm August Dahlia workshop was nothing short of amazing. I attended as a dreamer/flower lover with no design experience at all and while there I just wanted to soak it all in-hanging on to every word that Erin and her team spoke. They welcomed me with open arms-embracing me the moment I stepped foot into the barn, so immediately I felt at ease. I wish I could describe just how truly awesome the experience was. Let me just say that when I arrived, I was weary, I was sad, and I didn't exactly have a lot of energy. I was mentally and physically tired. But I was super excited to be there and once there, I forgot about being tired and sad! For three wonderful days I was transported into another world. One full of beauty, energy, joy, grace, love, humor, talent, and tons of fun with fellow flower lovers. Honestly, this goes to the top of my "best trips" list. If only I could have stayed an entire week…..

Kim Beller
Until the Farmer-Florist Workshops, I understood my passion as a mere hobby, a beautiful distraction to our produce and pastured livestock at the farm and market. After three amazing days totally engulfed with the Farmer Florist workshop, I moved my passion to the forefront of my farm business. Erin oozes experience, modest confidence, overwhelming support, and oh so candidly shares her love of and success in the business of sustainable flower farming and design. The Farmer Florist workshop lit a fire in me and that excitement is quickly and successfully spreading within my farm and throughout my community!

Stephanie Hall | Sassafras Fork Farm
This time last year I packed up my Subaru and left Northern California for Washington. I had starry eyes and big dreams but lacked the confidence I needed to go down this flower path. Those days in Mount Vernon are ones that I'll never forget. Erin encouraged everyone to drop their guard, be vulnerable, and dream big. I still have my imaginary farm plans from that weekend and a notebook full of wisdom from these ladies. If you are thinking about doing a Floret Workshop, just DO IT! Save up and make it happen! I slept in my car on the way up and ate dehydrated fruit to save money. I'm so grateful for those days surrounded by fun, inspiring and transparent female farmers.

Margaux Bolton | Margaux Renee Flowers
Going to two (!) Floret workshops was the single best thing I have done for myself since starting my floral design business in earnest. There are a lot of workshops out there these days. I don't doubt that they are all beautiful in their own way; they deal in flowers after all. The amazing thing about Erin's workshops is that they combine such abundant and heart-stopping beauty with practical, useful, and inspiring, content. There is great substance behind all that floral beauty. Floret's team is welcoming and warm. Their encouragement and support is all around during the workshops and follows after. Attendees turn into dear friends in a matter of hours (or less) and become a network of fellow flower lovers whose voices stay with you long after you depart the Skagit Valley. It is hard to put into words the magic that happens in that flower filled barn with Erin and her team. Know that it is so much more than twinkly lights and sweetly scented blooms.

Kailla Platt | Kailla Platt Flowers
August 2014 was one of the best few days of my life. The best. How often do you get to say that?

Yes, I had the Floret team, the flowers, (oh the flowers!) and the farm- a fantastic foundation for learning- and new friends but what I really found was…me. I was completely unprepared to meet her. I (re)discovered that I kind of like her and what she can do. I wasn't ready for that kind of experience- nor did I know how desperately my spirit needed it. I think everyone, should you ask them, takes a little something different away from the workshop. For me, it was self-discovery, on a multitude of levels. I will never be the same.

Now that I am home- back in the routine of the day to day, if you look past the floral designer and the mom and the wife that is here, and just at the girl you will see there is a fire- a desire- a quest that needs to be fulfilled within me that didn't burn quite so brightly before my time at Floret. I have found that I am on a fantastic (flower) journey that is just beginning- and I am not sure where it is going to take me quite yet, but I am so ready to find out.

Becca Blue | Becca Blue Flowers
For the last few days, I haven't been able to put my feelings into words. Until I found my eyes welling with tears on my flight home as I looked through photos of our Floret workshop. Photos of everything: my new dear friends whom I'm already missing, some of the most beautiful arrangements I have ever seen, the most lush and extravagant floral installation make over for our dinner celebration, and images of the Floret team working their teaching magic. The last three days changed my life. Really, truly, changed me as a person, designer and business woman. I have so much to do and learn, goals to set (and demolish), ideas to share, shit to MAKE HAPPEN, and many, many thank you notes to send. But for now, thank you to every person present at the workshop. You touched my heart forever.

Kim Mills | The Pollen Mill
The Floret workshop exceeded every expectation that I had. In this age of the internet, so many things are overrated but let me say that Erin and her family, her business, and her team are more authentic and have more to provide than you can ever imagine when you browse her beautiful website. If anyone is considering going to a workshop, do it now. Do anything it takes to get there. Push the limits of your time, your budget, your family, your business or whatever it is that is stopping you and just go. You cannot imagine what is in store. The personal time that you receive in floral design and the development of your own flower business is remarkable. I do not know how they fit everything in to the three day slot, but Team Floret did. The people that you will meet, and the connections you make at the workshop are like icing on the cake. We had people from all over the country and the world and at all stages of their flower endeavors. Creating and growing with them was like nothing I can describe. The only way you will know is by going. Expect to be wowed in every way. I cannot recommend the experience enough.

Mercedes Ivener | Honeysuckle Hollow Florist
Seriously – the workshop was a game-changer, it gave me the inspiration and momentum I needed to dream big. The generosity you offered in technical experience and, as importantly, the open-heartedness in sharing who you are (fears, flaws and all) was amazing.

Sarah Monterio | Farmhand Flowers
I could have sworn I was dreaming in flowers. Ten days later and I'm still on a crazy floral high with a full, full heart. I was given this gift that changed my perspective entirely. It allowed me to explore myself, see my work in a new light, collaborate and learn from other talented creatives and to cultivate lifelong relationships with flower friends and mentors alike. I took the chance to kick apprehension to the curb and drink in all of the knowledge, experience and creativity swirling around me. Thank you Erin for this incredible opportunity to learn from you and your unbelievably talented team. I am forever grateful for this treasured gift.

Jenn Henry | Field Day Creative
My three days with you and the other inspiring women were life-changing (so cliché, but there it is).  It literally picked me up and propelled me forward.  My perspective changed, I felt inspired again, the goal-setting workshop was a phenomenal kick in the pants–in short, it ended up not being a fluke that I attended, but a serendipitous gift…I gained so much from the experience that it really has changed my mental state. Erin: your generosity with your knowledge and warmth and openess are what set you apart from so many others.  You are the type of woman in business that women need to see, and I wish there was another great word for inspiring (because I have already over-used that one), but for you it fits.

Sarah Hughes | Fresh View Events
What an amazing few days ! I just wanted to thank you all so much for allowing me to take part in the Farmer-Florist workshop, making me feel so welcome and comfortable. Those three days we all had on the farm and in the gorgeous barn were everything I hoped they would be. I came away with sooo much information, and motivation for my future plans … What an inspirational story! I loved meeting everyone in the course, and I really hope to re connect with everyone again sometime soon. And that last day of arranging – what can I say !!!???? Heaven – a dream day.

Sophie Rothwell | Little Flowers
What a whirlwind of a weekend. The Floret workshop was really a dream come true. We had access to some of the most beautiful materials I've ever seen. We learned, we grew, we pushed each other to new heights. Then we designed flowers for an epic dinner party and celebrated with a feast!

Eleanor Gerber-Siff | Wallflower Design
First off, thank you SO SO much for an amazing weekend. I learned so much from you and the rest of your team, and the entire experience completely blew my mind. I didn't really have 'expectations' going into it, but almost every minute I felt inspired and encouraged… I came home with a rejuvenated mind and so many ideas. I also completely admire your attitude and style in terms of how you approach things, I totally believe 'if you dream it you can do it' and tend to just fly by the seat of my pants trying things out. Life is too short not to try!

Mara Tyler | The Farm at Oxford
For months I've been meaning to thank you for everything from the Farmer-Florist Intensive this past September.

Signing up for your workshop was at once the most exciting and scary thing I've ever done (and I've done some crazy $#it;). I was following my intuition, a dream that literally kept me awake at night (in a good way) for months but didn't occupy any tangible, professional part of my life yet. I knew I'd be one of the least experienced folks there, but with some reassurance from Jill and knowing in my heart that you were the person I wanted to learn from – I took the plunge.

During that period I was so overcome by fear. Fear of my desire to get serious about creating a life I wanted to live. For attending a workshop with people who were way more knowledgeable and experienced than me. A voice in my head told me repeatedly that I was just trying to fool myself: you can live in a beautiful place, surrounded by good people, and garden on evenings and weekends – but you still have to sit at a desk doing something you don't care about all summer, that's just life. Talking to others who had experienced the same scenario at your workshop was so affirming. Opening myself to workable options that would make a transition possible was life-changing.

Since the workshop, I've made progress, connections and plans that I never would have made, at least not with the efficiency and confidence that I've found. While fear still creeps in and I know will be back to visit each time I explore a different direction, it no longer paralyzes me. I can't tell you how huge that is.

Melissa Hessney Masters | Tanglebloom
What a great 3 days! Thank you so much to the entire team of Floret for making this workshop so special! I have received so much inspiration and so excited to put it to good use. It is difficult for me to find the words to express my sincere gratitude for this experience – one that will stay with me for a lifetime.

Yukiko Miyai | DECO Clay Craft Academy
This workshop was such a great and unique experience. I love that you are all so welcoming and kind–yet you kept it very real and down to earth w/your practical/business/marketing advice. I don't think a lot of people share that type of advice freely or often.

The venue is breathtaking and amazing. You guys really provided an environment that inspired and made us all want to be there.

Nary La | Nary La Flowers
Even a week later, I can't stop smiling! I'm so excited about our future whereas before I was mostly terrified. Thank you for being so supportive and reassuring!

Emily Calhoun | Floriography Flowers
I am so thankful for all the moments Floret's team shared with me and the other 15 ladies. I still can't believe how amazing everything was. I couldn't imagine how good it would be and how different I would come back home. These moments brought more than flower design knowledge, they brought force, energy, courage, self confidence and passion for the flower world.

Bruna Ferreira | Flora de Seriel
I can't express how grateful I am to be a part of your workshop. It was so nice for me to see how you do things, get new ideas and mainly get the courage and clarity to move forward with my vision and ask for what I want.

Angie Tomey | Little Boy Flowers
First things first, I will say that the workshop was unreal. 100% worth the financial sacrifice. Absolutly, 100%. From the moment we walked up to the barn I felt WARMTH. Everyone was calm and inviting and that created a sense of comfort from the very beginning. I would say for me, this was one of the standout aspects of the weekend.

I also loved the way everything was structured. Day 1- get to know each other, talking, interacting without flowers in the way. By the end of day one I felt invested in the other attendees and felt a lot of genuine support and non-judgement, and was comfortable and excited about creating the next day.

OBVIOUSLY the flowers were INSANE!!!!! I mean, the selection and quantity was seriously, so bad ass. It was so fun to walk into the barn each day and just get SMACKED in the face with a whole new smorgasbord. So lush. Like a dream. It was beautiful.

The team was spectacular. I connected with many of you and think it was neat that other attendees have stronger connections with some of the other team members. It was a lovely mix of personalities and talents and just so great. I honestly was blown away by the group of peeps who were there to help us in any way.  I also loved that there was PLENTY of help while arranging.

There's many more things I loved about this magical weekend, I could go on and on about, and in fact have  to everyone around me since being home;). But I do feel these are the highlights for me. I hope and PRAY I can make another Floret workshop happen in my near future!! It was a beautiful few days and very therapeutic for my therapy-craving self…

You guys, words will never be enough to convey my gratitude to you for truly, truly going above and beyond to  give us this life changing three days. You are wonderful people whom I will forever respect and feel grateful for knowing.

Melissa Haupt | Mel Haupt Floral
Erin and her team were absolutely amazing. I traveled across country, alone to attend the workshop and from day one they made me feel comfortable with my travel plans, even arranging to pick me up in the late of night! The design concepts & business techniques I was taught are something that will forever be with me. Erin made it easy to follow her & watching her was inspiring. She and her team are so caring and passionate, they really want to see everyone of us succeed. The workshop came at a very important time in my life and really help me find myself again. Since the workshop, any questions I have had about business or even sending a photo of my arrangements never go unanswered. I will always have a place in my heart for Erin, her family, her team and wonderful flower farm.

Dennille Austin | Village Green Florist
I just wanted to take the time to express my gratitude towards you and your team. I've been so inspired and am still running on adrenaline from the workshop. For as difficult as is was leaving my business behind in August, it was the best time to get re-booted! You all are so supportive and enthusiastic, it's contagious. I've returned and have only wanted to share my experience and knowledge with anyone who will listen! The workshop was more than I had hoped….I wasn't expecting the sincere time spent on our personal growth as women, business owners, florists, farmers and students of one another. Thank you so much for the opportunity and I look forward to continuing to be inspired through you all!

Carra Duggan | Everett Family Farm
Dr. Seuss once said, "Don't cry because it's over, smile because it happened." This is truly the only way I can put into words all the emotions felt during this past weekend at the Floret workshop. I am usually not a "crier" but all the love and genuine souls that made this weekend so incredible are already missed. I feel so inspired and ready to tackle my goals and I can't thank Team Floret enough for pushing me past my comfort zone, which was exactly what I set my intention as for class on the first day. I'm learning that dreams really do come true and want to thank you all so much for being a part of mine!

Alyssa Ice | Church Street Flowers