Every year Floret provides full scholarships to aspiring flower farmers and floral designers to receive advanced training through our workshops.
Since hosting our very first on-farm workshop, we have offered scholarships to a handful of lucky flower lovers each year to receive our training for free. I'm thrilled to have an opportunity to pass along something that will hopefully make a difference in another person's life. I love being able to support aspiring farmer-florists who are hungry for the opportunity and ready to jump in with both feet to take their flower-filled dreams to the next level. One of the greatest rewards of this work has been watching scholarship recipients take what we have taught them and then go on to build thriving flower-based businesses. More than ever before, I am committed to investing in people who are ready, willing and able to follow their dreams with a little help from Floret.
Floret scholarships are a little way of paying it forward for the support I received early on in my flower journey.
---
Years ago, I started Floret with a $1,000 loan from my mom, a used wheelbarrow, a shovel, a few dahlia tubers from a friend and a head full of dreams. I spent the first few years learning how to be a flower farmer largely through trial and error. It was a frustrating and back-breaking way to learn. But I never felt like I was in a place that I could invest in my own education or myself.
My future changed the day I got an email from one of the most talented leaders in the floral design industry, offering me a slot at an upcoming workshop if I could just get myself there. I'll never forget that day; I sat at my desk and wept. Up until that point it had been such a hard process to grow Floret and I was on the verge of quitting. I was fortunate enough to have someone take me under their wing and mentor me as I tried to follow my heart.
Having that opportunity to spend a few days away from my busy life, with one of my floral heroes, was a turning point and completely transformed what I thought was possible, both in life and in business. I came back to the farm refreshed, and with a renewed focus and plan to grow Floret based on my strengths and intuition. I also vowed that if I ever had anything of value to share with someone else who needed a leg up, I'd pay it forward. Always.
Every year since we started hosting workshops, we've offered at least one scholarship for someone to attend for free. I love being able to share the business and life lessons that I've learned and to be able to provide a unique learning experience that will hopefully make a difference in another person's life.
Sign up to be notified about future Floret Scholarships.
Notify Me
Past recipients share more about the impact that Floret Scholarships have had on their lives, businesses and dreams.
The Floret Online Workshop took my dream of a small urban flower farm and helped turn it into reality. It laid a solid foundation for my first full year growing cut flowers, one which I'll be building on for many years to come. The course gave me the knowledge and confidence to try gardening and farming techniques I never would have tackled alone. Beyond the hands-on help with growing a thriving farm, I love the supportive network of fellow classmates and life-long friendships made through these awesome connections. Just three months after the class ended, I met nearly all the goals I set for myself during the class! I highly recommend the Floret Online Workshop for anyone interested in digging deeper and getting to the roots of growing and marketing a small scale (and a super small scale) cut flower farm.

Janie Case Beuthin | Twig End Farm
There's been a few unforgettable moments in my flower farming journey. There was the day I quit my desk job. The day I dug up the backyard and my very first farmers market. And then, the biggest of them all: the day a not-so-inconspicuous email entitled "You Won!" showed up in my inbox. That moment right there was the beginning of something quite amazing. Being selected as a 2019 Floret Workshop scholarship recipient was a key turning point in my career. It wasn't just a little boost; it was rocket fuel. 

Since taking the workshop, I've built caterpillar tunnels that allowed me to start planting in March, not May. This meant I was ready for opening day of the farmers market, earning my first flower sales in April. I built a new website, sold bouquet subscriptions, and I'm thrilled to share that I have started booking weddings. The workshop also provided me with a rich network of mentors and classmates. This ever-growing community of colleagues has been immensely helpful, and allows the learning to continue long after the workshop has ended. 

For me, the workshop was a game changer. There I was with a head full of dreams, in a little flower farming row boat, paddling away…usually upstream. But the Floret Workshop came along and added a motor. And it provided a map. Sure, there's still waves, and leaks, and the occasional capsizing. But I'm a lot farther along than I would have been otherwise. For that I'm grateful. I am deeply appreciative of the experience and hope that it creates just as much magic for everyone else who seizes the opportunity.

Matt Diemer | Bighorn Blooms
The Floret Online Workshop led me to totally rethink my approach to growing flowers. It helped me to explore my goals and vision for my business (and my life!), and in so doing I was able to then focus on the weakest links and challenges that have been preventing growth.

Beyond the holistic goal setting, I've gleaned so much about crop planning with successions, the importance of marketing, and the details of so many new flowers! My Floret Course Packet is never far away–I reference it at least once a week. I know that this is a resource I will use for the rest of my flower farming days. 

Thank you so much to Erin and the Floret Team for giving me such an amazing opportunity through this scholarship. It has truly changed the way I approach both my business and my life. Thanks for sharing so much valuable knowledge and inspiration with so many of us!

Melissa Law | Bumbleroot Organic Farm
The Floret Workshop has been helpful in so many ways. Besides being a complete course with all the information needed to grow and sell flowers, it also opens your view to all the ways growers produce and sell their harvest. 

Since the workshop, I have better clarity of what direction the farm is heading and a better roadmap of how to get there. I've also gained friends and peers in the workshop that are on a similar journey. I would recommend the workshop if you are looking for a comprehensive course on growing and selling flowers. A side effect will be how you'll learn more about yourself and more about others with the same goals. We're all trying to change the world one stem at a time, this course has all the tools you need to do that.

Mike Card | Card Farm
I was so incredibly lucky to win the scholarship in 2019.

Taking the workshop has been one of the best things that has ever happened to me. The Universe was giving me the opportunity of a lifetime. It has changed everything and it has opened many possibilities that I never contemplated before. The workshop has given me access to a community of flower people and great support and encouragement. I don't feel alone along the process!

Kelly Kellogg Gonzalez | Divina Natura
Winning the scholarship made us feel more confident right away. If someone famous in the flower farming world believed in us, shouldn't we do the same? Thank you, Erin and the whole Floret team, for this amazing journey. Thank you for all the tips and tricks lovingly shot on video, it's so much easier to absorb tons of information when you explain it with a few simple words! You reminded us how important it is to follow your heart, but the key to success is to use your head and analyze things carefully. A number of mistakes avoided thanks to the course will save you years of hard work and lots of time and money. The workshop was simply terrific.

Dinar and Julia Mukhamadeeva | Juliette Flowers
Before receiving the scholarship to Floret's Online Workshop, we wanted to get more serious about growing cut flowers on our already existing vegetable farm, but we weren't quite sure where to start. 

The workshop really helped us in ways of efficiency and timing. Flower growing and vegetable growing, though they have similar requirements, are two separate beasts. By knowing where to focus our efforts, we found  having all the right ingredients made growing and selling a breeze. 

Since the workshop, we have more confidence and are taking the flower side of our farm more seriously. Instead of dabbling, we are now on the cusp of tripling our sales from last year with just a few small tips. 

Our favorite part about the workshop is that we're able to keep this information and reference back to it. We look forward to the lessons we'll learn from the course in years to come.

Max VanderBroek & Hayley Roberts | Harpeth Moon Farm

Because of the Floret Workshop, my dreams are becoming a reality! Even after 45+ years as an organic grower, I have learned so much and continue to learn and grow. The workshop helps you to clearly define goals, then provides the map, directions, tools, skills and people to lead you on a truly amazing journey. I would not have had the energy or time to reach the variety of blooms, growing methods, harvesting and sales techniques without the knowledge gained from the workshop. The refreshing inclusiveness, encouraging, supportive attitudes and the excellence of Team Floret are truly remarkable. 

This business has been growth and benefits beyond what I could have imagined!  I'll soon be 73, with a lovely small business that gives me pleasure, profits and wonderful new friends.

Susan Walsh | Havenhills Gardens
The workshop was great for giving me a jump start on getting my flower business going. The scope of all the different things that need to be done to get a flower business going is just so huge that it's easy to get overwhelmed by it all. The workshop helped give me confidence that I could do it. To learn all these lessons on one's own would just be overwhelming. The workshop was easy to understand and it motivated me to face a new business opportunity and challenge.

Aki Nakamura | Old Grove Orange
I was truly touched that Erin, on the other side of the world, should give me such a precious opportunity. The gift to learn and grow my business through the Floret Scholarship was really just the beginning. As the year progressed and I've implemented new ideas, my confidence in my product has skyrocketed. Plus, the advice on marketing from both Erin and other members of the Floret 2019 group has been a goldmine. Such kindness and generosity has made me extra determined to implement my learning and build a successful sustainable business from growing flowers people love.

Rosie Gray | Galloway Flowers
Since the Floret Online Workshop many things have changed in my flower farming operation. The farming program I run educates adults with developmental disabilities and autism to grow and tend organic produce and flowers, care for farm animals, and interact with the natural environment. The Floret Online Workshop Course Book, videos and the online community have been a constant resource for me throughout this growing year and will continue to be for years to come. Through taking this workshop, we were able to expand our growing operation and offer a 20 share flower CSA in our community. The flower CSA was a big first step into turning the farming program into a business and allowed us to turn what used to be a volunteer job into a paying job for the individuals that attend the program.

Mike Bolio | Charles River Center Horticulture Program
The scholarship gave me an amazing opportunity to participate in Floret's first online course. Erin and her team have inspired so many people and being able to delve a little deeper into their success, strategies, and knowledge was like winning a golden ticket – but better! The scholarship afforded me this opportunity that would otherwise have been difficult for us to manage, and I am incredibly grateful for their support and belief in me and my business. Having the ability to interact with the Floret Team was so valuable. The positivity and encouragement from both members of the Floret team and other participants were just what I needed.

Christy Ralphs | Nourish Gardens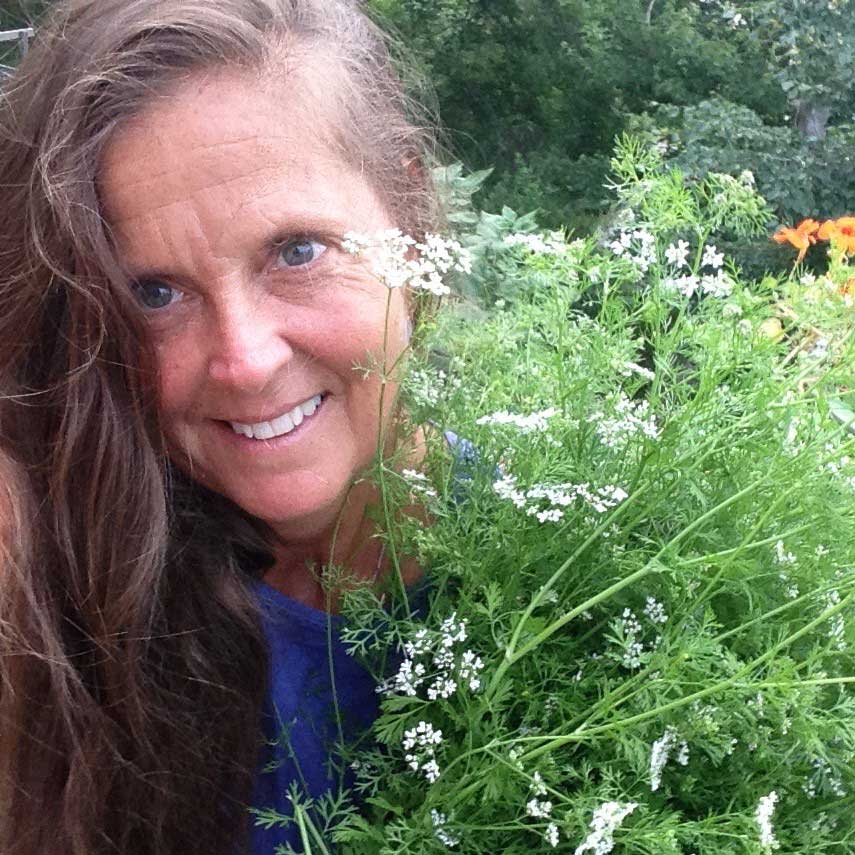 After receiving a scholarship to the Floret Online Workshop, I can honestly say my life drastically changed. It was the catalyst to "living" and "believing" in the good again. The Floret Online Workshop has helped my dream literally come to life. With all of the detailed, specific growing, harvesting and storing techniques, the workshop helped me understand how to grow flowers intensively regardless of your circumstances. 

How has my life changed since the workshop? One word: COURAGE! Courage to step out and take the course. Courage to make mistakes. Courage to believe in me. Courage to fail and courage to plant yet another seed as it is such an amazing, yet simple, deed. I have Floret to thank for my newfound confidence.

Margaret Gino
Being chosen for a Floret scholarship gave us a lot of encouragement and trust in our forces and capabilities. In each and every lesson we could feel the energy and passion of Floret and the Team passed to us. We also felt a lot of responsibility. The combination of these made the scholarship so meaningful to us.

The biggest takeaway was the structural approach it provided and the detail of every component of the course, which we can refer to at any time, compare it with the current situation, analyze and improve.

Inna and Konstantin Zvezdiny | Fluffy Flower Farm
I can truly say that getting a scholarship for this course has been one of the greatest blessings in my life. As a young urban woman with very little 'field cred', no entrepreneurial experience and no financial security, feeling that I was being given a chance to go for it, chase my dream and make it happen has been pivotal. Feeling that someone I deeply admire is at the other end of the planet trusting me and my ability to make it was such a gift. The scholarship and the content of the workshop have really pushed me forward, both in time and in emotional space. Floret has simply given me the confidence – and the technical ability – to follow my calling.

If you're hesitating to apply, just try it. You've already gotten this far, so give yourself some love (a love that you might not feel in your current day job, business or life), channel all that fear of not being good enough or not having enough time to care for your dream, and turn that into an application. In French we say 'Seule l'action libère de la peur' (Only action sets us free from fear).

Masami Lavault | Plein Air
The Floret Course was exactly what I needed. The course is so incredibly comprehensive! The most noteworthy for me was witnessing and learning the efficiency of day to day tasks done at Floret. It's changed the way I think about and approach my business. One of the most helpful parts of the course were the worksheets provided for sowing schedules, plant spacing, and pinching. The way the Floret Course is outlined made it super easy, fun, and addictive to learn.

Katie Koch | Flower Mama
Winning the Floret Scholarship has been the highlight of my year is honestly an understatement. This scholarship has changed my life. Period. As I transitioned from my day job to flower farming, it felt like I was embarking on this journey blindfolded. I had a million burning questions and surfed the internet for countless hours trying to figure everything out but some of the pieces to the puzzle were never to be found. If it wasn't for this scholarship, I would've probably quit flower farming before I'd even started.

Throughout the course, I often had tears in my eyes as I thought about how lucky I am to be invited into Floret's world. Watching Erin work and explain all this critical information has literally changed the way I farm, and helped me build a sustainable and profitable flower farming business from scratch. It is so hard to come across people who, like Erin, believe in abundance. People who truly spread knowledge, generosity, and kindness through the world and help make it special in their own way. This scholarship traveled far and it shows how huge of an impact Erin and the Floret team have on people's lives- even if they are halfway across the globe.

Farah Altamimi | Verdi
It would be no exaggeration to say that this course has changed our entire perspective and outlook on growing flowers and how to approach our business. Erin doesn't gloss over the difficult parts but really cuts through to the heart of what it takes to build a productive, thriving farm.

Erin is a true teacher for the flower farmer; her course is no ordinary guide for the home gardener, but something much richer and it clearly contains years of trial, error, and results. We have also picked up a hundred handy hints and processes through the modules which have been amazing and absolutely invaluable.

Rosie and Oscar Winter | The Rose and Radish
Receiving the scholarship gave me the push I needed to keep going into year three of owning and operating a flower farm and attending the workshop gave me the confidence to take my business to the next level.

At the end of last season I wasn't sure how I could keep doing what I was doing. I was working myself into the ground. I made it through the first two years of my business on sheer will and adrenaline. And the only reason I survived those first two years is because my family made sure I had food to eat and clean clothes to wear. I knew I would not survive a third year that way.

Attending the Floret workshop was a game changer for me. The workshop provided me the confidence to grow as a business and also to grow on a personal level. The workshop made me realize I can have my flower farm and also have a good quality of life. Receiving the scholarship allowed me the room I needed to grow as a business owner and flower farmer. It offered me the encouragement, guidance, and insight to take my business to the next level.

Joanna Letz | Bluma Farm
To receive the life changing gift of the scholarship as a Mama of three young children lifted me and my family up in countless ways that are still unfolding. One of the many gems of life experience Erin shared is that we all have our strengths and natural talents and that when we direct our attention to cultivating our strengths instead of our perceived weaknesses life flows with much more ease.You don't have to do it all by yourself! You also start to be more gentle with yourself and attract people into your life that compliment your skill set. This wisdom continues to teach me in all areas of my life.

The wisdom, honest sharing and care that I received at the Floret Workshop has contributed directly to me and my family being able to follow our hearts and set out on the path to experience our dreams.

Charlotte Chastain | Floralore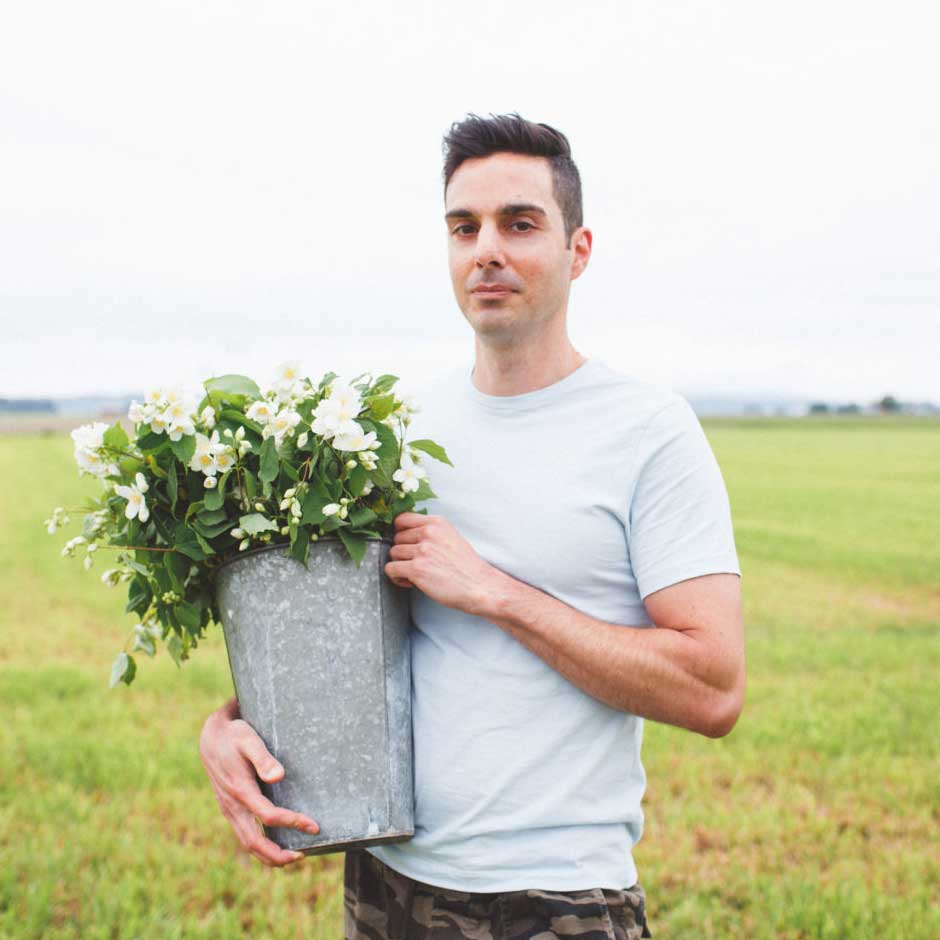 Before attending the Floret workshop my greatest challenge was efficiency. As a one-man-show, I needed to know how to streamline my operations. I was selling my flowers at farmers' markets, which was certainly a step-up from my start with a roadside stand and selling to neighbours, but I still wasn't running a sustainable and largely profitable business. I was also struggling with how to get the word out about my flowers. I loved my flowers, and I loved growing them, but at the end of the day they needed to sell! I hadn't realized that there was so much more to this gig than just growing top notch flowers.

Attending the Floret workshop was an inspiring, informative, and very well-rounded experience. I left the farm with a newfound energy and direction. In fact, the workshop finally gave me the confidence I needed to do my very first wedding – my most profitable flower farming venture to date! I look back on the workshop with such fond memories for the people I met, the warmth and guidance of the Floret team, and, of course, the flowers!

Antonio Valente | Antonio Valente Flowers
Before I received the Floret scholarship, I was burned out. The daily grind had me worn down. So. Worn. Down. I felt like I was being pulled in many different directions, all at once- and, if  I was asked for something I would never, ever say no. To anything- or anyone. Ever. I struggled (and admittedly, still at times do) with pricing and seeing not just my product's, but my own self worth. I think I had given so much of my self away- literally & figuratively that I had begun to lose sight of who I was- a woman, a wife, a mom, a friend, a business owner, a flower lover…and was left with a small echo of who thought I was supposed to be. Who I wanted to be. (Who I was trying to be?) I was stuck standing still.

Attending the Floret workshop… was a dream.  I cannot use any other word to describe my experience.  Since the workshop I have found a very clear flower voice, that is all my own.  (In which the word "no" is included in its vocabulary.) I have two other MASSIVE takeaways from the workshop…and about a million smaller ones…but the biggies are that I have allowed myself to push my dream further than I thought it could go.

Becca Blue | Becca Blue Flowers
When I applied for the Floret scholarship, I truly felt like my life was at a turning point. I had been running the business end of our veg farm for three years, had two young kids, and was growing flowers "on the side" – i.e. in-between everything else, i.e. at the bottom of the priority list. But the fact I was totally in love with flowers AND I was ready to apply 100% of myself to something that was all mine is what drew me to Floret and to the dream of winning the scholarship.

The Floret workshop experience not only provided tons of factual information, but also exposed me to other amazingly hardworking, driven, talented and creative women which boosted my self-confidence and reinforced my hunch that I was indeed on the right path. Thanks to this workshop and Erin's approach to flowers and business, I am proud to consider myself not just a farmer-florist but also an entrepreneur and a creative, identities which just a few years ago I would never have had the confidence to embrace.

Flowers totally excite me and I am also excited by how to share them tangibly with others, how to educate and inspire others to enjoy flowers, and how to make an honest living in doing so.

Flora Brown | Frinklepod Farm
I applied for the Floret scholarship in the fall of 2014 despite the long odds. I dreamt of taking a seat amongst the company of many fellow flower enthusiasts at that circle inside the Basye Family Barn. At that time, I had recently rebranded my business but was doing only a few small jobs here and there. My goal was to begin my path towards becoming an accomplished floral designer taking on large weddings and events. To increase my number of events, I needed to overcome my largest hurdle – a severe lack of confidence.

I went into the workshop intently focused on overcoming my struggle and as it turned out I left the workshop with much more than a little self-esteem. Instead of focusing on the number of events I hoped to book in the coming year Erin pushed me to develop more of what that goal really meant. She taught me how to establish a strategy to approach each of the challenges I would face in achieving my goals. I was heading home with a plan. In addition, I made lifelong friends with my peers that I would cherish for both support in my business and in my personal life.

Jenn Henry | Field Day Creative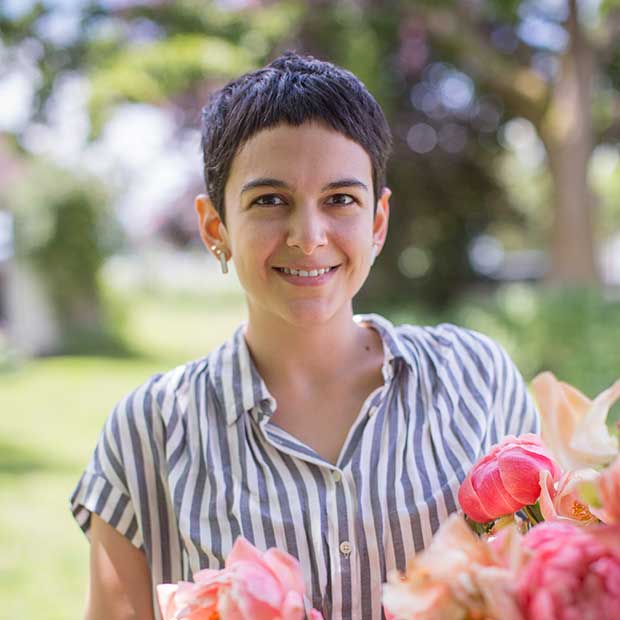 Receiving a scholarship and attending the Floret workshop was one of the most validating and exciting experiences of my florist life. Starting a new business, any business, as many of us know, is challenging and can often feel lonely and never-ending. The workshop was a breath of fresh air-to be able to press pause, enjoy being surrounded by so much beauty, and learn some valuable skills at the same time.

It was the refresher I needed to return home reenergized and excited for things to come. My advice to anyone even remotely thinking about applying is-do it! At the very least it's a perfect opportunity to examine where you are, where you want to go, and maybe even be proud of how far you've come.

Maggie Smith | Pine State Flowers
One of the best pieces of advice I was given by the Floret team during the workshop is to pour as much love as you can into everything you do. From growing flowers, to arranging them and sharing your flower journey with others, the love shows. This advice is great for daily life too.

Floret is a beautiful north star, a beacon for many of us and I continually look to them for inspiration and motivation, day after day.

Chloe Roy | Floramama
Winning the Floret Scholarship was a dream come true! Never in my wildest thoughts did I ever imagine myself winning, but I decided to put words to paper and submit my entry. It is amazing what happens when you put your whole heart and soul into something.

Attending the Floret Workshop encouraged me to never give up on my passions. It created a network of people that I could call on for help or motivation. It also strengthened my desire to farm and give back to the community. My goal for future years is to focus more on helping others and to give back the education and inspiration that was so kindly given to me.

Jamie Sammons | Jayflora
Over the course of our days together, we listened and thought and listened and talked. Pennies dropped and ideas clicked and paradigms shifted. In many ways, the more time that passes, the more grateful I am for the time I had with Erin and her team.

My business is very different now. I know my strengths. I play to my strengths. Sometimes I don't and things get tense and stressful again, and I go back to what I learned from Erin, and I re-adjust.

I now sell beautifully packaged cut flower seed because that is what works for me. I ask other people to do things that are their strengths and not mine, and this has improved every area of my life.

Grace Alexander | Grace Alexander Flowers
Frequently Asked Questions
When is the scholarship application period?

Applications for 2020 Floret Scholarships were accepted September 24-October 1, 2019. Submissions for 2021 scholarships will be available in the autumn of 2020.

Who are the 2020 Floret Scholarship winners?

What is included with the scholarship?

Each scholarship includes:

Free registration to the Floret Online Workshop, our six-week online course focused on growing flowers on a small scale.
A deluxe resource kit filled with some of Floret's favorite books, tools and supplies.

I don't yet have a flower business yet. Can I still apply for a scholarship?

Applications are welcome from "dreamers" as well as established growers. Please note the scholarship award categories described above. 

I don't live in the U.S. Am I eligible to apply for a scholarship?

Yes! We accept applications from flower lovers from across the globe. In fact, most of our 2018 scholarships were awarded to international applicants.

How many scholarships do you offer?

The number of scholarships we offer varies each year. In 2020, we offered a total of six scholarships.
Floret Scholarships
We accept applications for Floret Scholarships once per year.
To please add your name to our list to be notified about our 2021 scholarships.
Join Us
Join the Floret newsletter and stay in the loop on all the exciting happenings here on the farm
Close