Follow your dreams with a little help from Floret
I spent the first few years learning how to grow flowers largely through trial and error. I failed way more than I succeeded and for the first few years, I really thought about quitting every single day. I spent so many hours walking circles in our tiny garage while making thousands of mixed bouquets, waiting for the day I could finally leave the farm and go learn from others. Every time a class or workshop was announced my heart would ache because I just couldn't afford it.
My future changed the day I got an email from one of my floral heroes, offering me a slot at an upcoming workshop. Having someone who I admired so deeply believe in me helped me believe in myself. That act of generosity felt like getting permission to finally go after all of the dreams that I had put on hold for so long.
I have tried my best to infuse her generous legacy into everything we do and our scholarship program is my very favorite way of paying it forward. Hear the full story below.
Who can apply?
We welcome applications from anyone, from anywhere in the world, including but not limited to: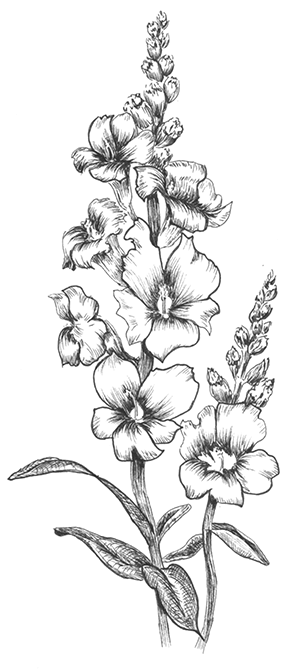 Dreamers
Students
Stay-at-home parents
Community gardens
Beginning growers
Farmers
Homeschool families
Nonprofit organizations
Hobbyists
Florists
Teachers
Therapy programs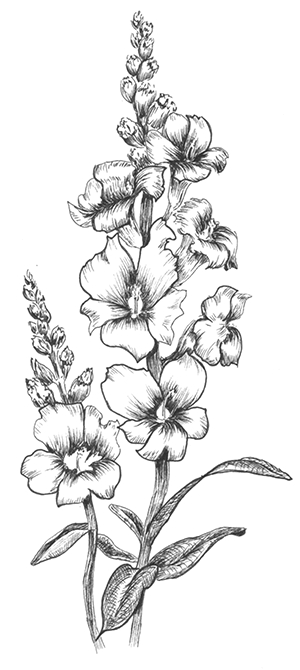 Floret Scholarship Program
A needs-based scholarship for individuals & organizations
Since hosting our very first on-farm workshop in 2013, we've awarded hundreds of full and partial scholarships to individuals and organizations all around the world. Scholarship winners from diverse backgrounds and circumstances have taken what they've learned from the workshop to achieve their goals and give back to their communities in big ways and small.  
This year we planned on awarding 20 scholarships, but three generous donors just came forward and offered to sponsor students, bringing the new total to 23! Each scholarship recipient will receive tuition-free enrollment in the course, which starts in January.
We accepted applications for our 2023 Workshop class from September 20–27, 2022. Winners will be notified by email and announced on the website on October 13.
Sign up to be notified about the next scholarship application period.
At a Glance
Floret Scholarship program by the Numbers
Applicants from more than 90 countries
Number of full scholarships awarded
Number of partial scholarships awarded
Age range of scholarship recipients
Danielle's Story
At 8 months pregnant, Danielle planted her first cutting garden. Two weeks later she gave birth to her daughter Sammie and learned that she had Down syndrome.
"As a result of the lack of resources provided by the hospital, we started a nonprofit called Rising Kites, which distributes bags of encouragement and education to parents who have just learned that their child has Down syndrome."
After taking the workshop, Danielle learned to efficiently make and sell bouquets to help fund the family's nonprofit. As Rising Kites grows, it is Danielle's hope that the organization will be able to provide jobs to individuals with disabilities who often have difficulty finding careers.
FREQUENTLY ASKED QUESTIONS
SCHOLARSHIP RECIPIENTS
IN THEIR OWN WORDS
Ashlee founded Brown Girl Farms with the belief that Black, queer female farmers deserve more representation and celebration in agriculture. She runs a CSA where members receive a produce box once a week full of delicious fruits and vegetables that highlight African American heritage crops and food traditions. In addition, the farm grows and sells flowers to a local Black-owned cooperative grocery store called Mandela Grocery.
Anne-Katrin owns an organic flower farm in Kosovo, where she employs women who would otherwise have difficulty finding jobs. She hopes "to extend the farm further (with all the techniques I learned from you), empowering more women. Even though I was experienced in growing, I took away quite a number of efficiency and marketing strategies that I will implement from this season on!"
Moo Kho's family farmed in Burma for generations before the army clashed with her ethnic group and they were forced to flee. After moving to North Carolina, she began working at Transplanting Traditions, a nonprofit farm for refugees. She discovered her love of flower farming and began selling bouquets. "My customers are happy and want more flowers. Growing flowers heals my body and mind."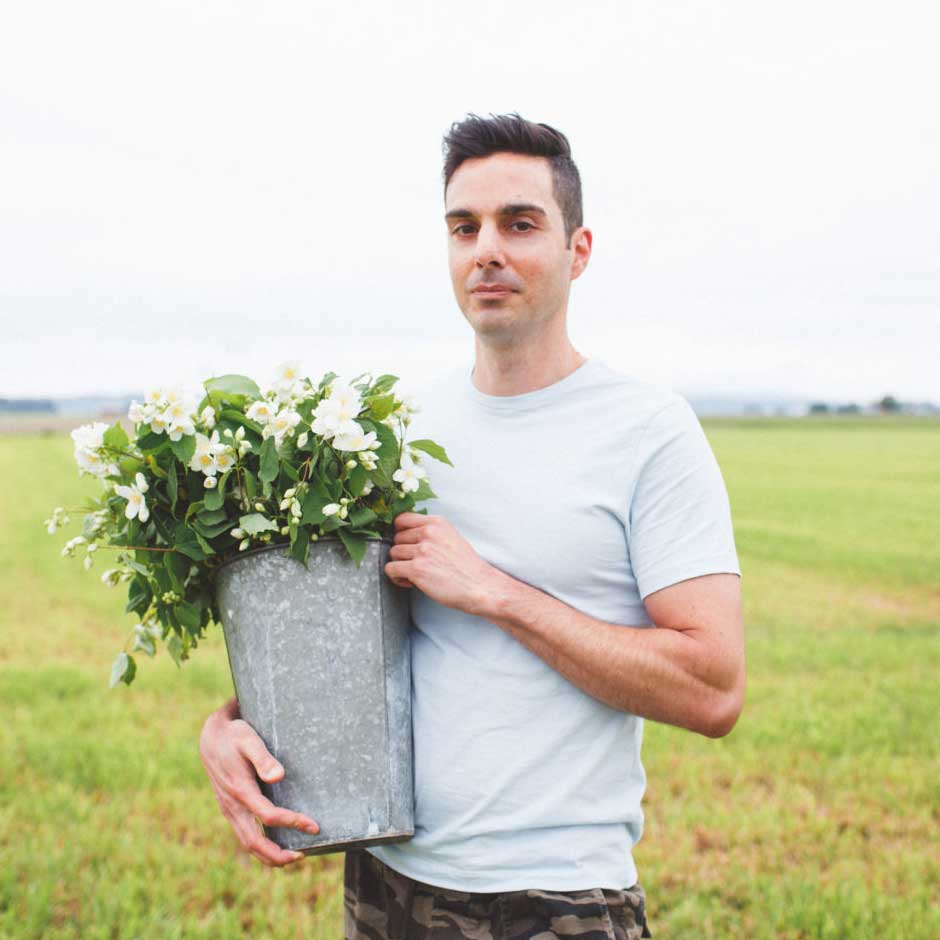 Antonio has always loved flowers but was told at an early age that they weren't something that boys played with. Although he didn't pursue a career in floral design, he continued gardening and making bouquets from his small cutting garden. Soon he was selling out at farmers' markets nearly every week. Now he's "show[ing] the world that boys DO in fact play with flowers!"
Donna is a groundskeeper in the Kansas City area. She also teaches a groundskeeper course at a local prison because it is an area of work that is readily available for men who are reentering society from the prison system. She hopes to start a cutting garden at a property she maintains and use the proceeds to pay for training materials for the groundskeeper program.
Christy started Nourish Gardens after leaving teaching to care for her husband who had received a serious cancer diagnosis. Her trial patch brought her joy, learning, and connection. At the time, the seasonal flower movement in New Zealand was in its infancy, so she set up a private Facebook group to connect, share knowledge with, and help support other growers across the country.
Edward is the only minority and first-generation farmer in his small town in Kentucky. Flowers have helped him grow, heal, and become a better person. "I fell in love with everything flowers have to offer and truly felt like … I had found the missing link in my life. After serving three tours in Iraq, flowers have become my refuge in the fight against PTSD."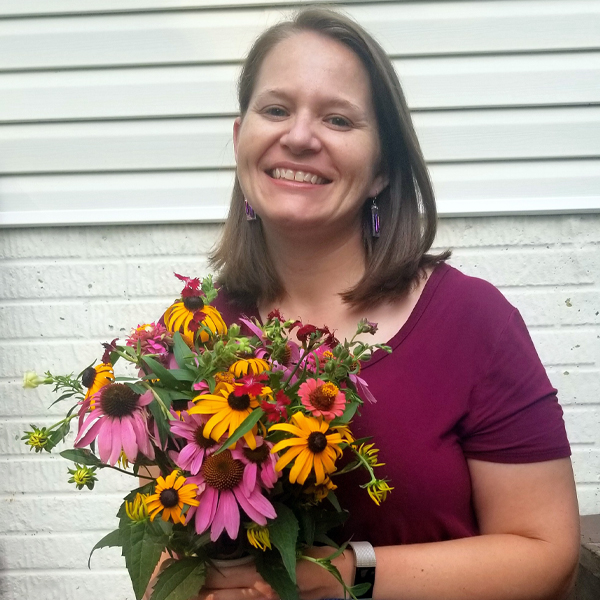 Mandy is an agriculture teacher at a school in the heart of the Shenandoah Valley. She began teaching her students about cut flowers so that they would be familiar with something beyond inexpensive bulk flowers. "I love seeing the excitement in their eyes when they see the transformation that a tiny seed makes, from first being planted to a small seedling, and finally having flowers."
Jenelle turned her edible flower business into one of the first fresh-cut flower farms in Trinidad and Tobago. She plans to use her farm to give back to her community. "Although farming in a male-dominated sector comes with numerous challenges, I am motivated to create change in my community by creating jobs, training Black women, and spreading the happiness and love flowers have given me."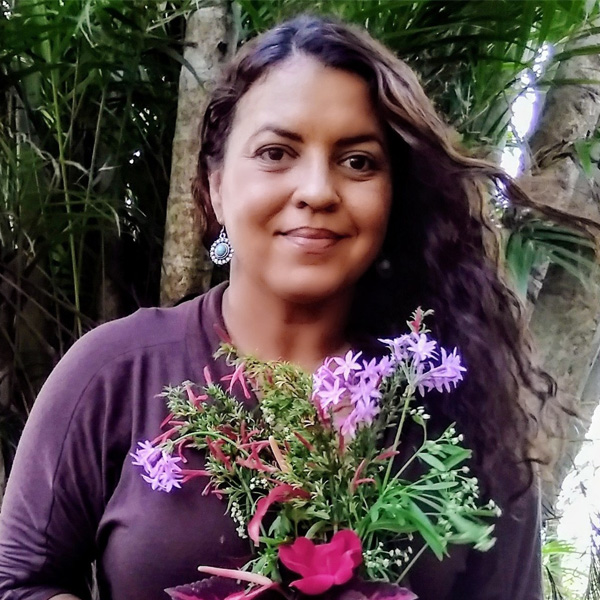 Kelly planted her garden in the aftermath of the devastation and destruction caused by Hurricane Maria. Together with volunteers, she cleared and converted a lot she'd previously used for her food truck and began growing zinnias, cosmos, and other pollinator-friendly plants. That process allowed her "to experience the positive impact flowers have on people … and from that moment on I couldn't stop growing flowers."
After moving to a small farm, Rosie and Oscar started a roadside stall to sell their excess produce. Initially, farming was a hobby, but when Rosie lost her job they needed to make the farm a business. They expanded their flower patch and began selling flowers at a city market. "Flowers found us. Daily we see people uplifted by the medicine that homegrown flowers bring."
Sundown Ranch serves adolescents with drug and alcohol addiction. Leslie and her team are working on a long-term solution for clients who have no stable home to return to and few job skills. The solution depends on growing and selling cut flowers to florists, farmers' markets, and a U-pick flower stand. The Floret Workshop will help them get closer to implementing their solution.
Max and his partner Hayley operate a 2-acre organic vegetable and flower farm near Nashville. They dreamt of growing ranunculus, larkspur, dahlias, and poppies, but weren't sure where to start—every seed purchase felt like a make or break moment. "The workshop really helped us with efficiency and timing. Having all the right ingredients made growing and selling a breeze."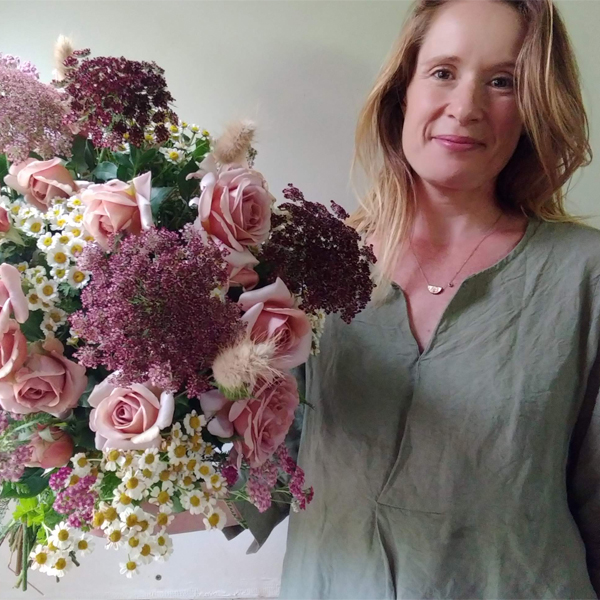 When the dairy farming industry in New South Wales began experiencing challenges, Erica started selling flowers to contribute financially to her family's dairy farm. She is passionate about offering beautiful, seasonal, local flowers as an alternative to her community. The support has been overwhelming and she's found it difficult to keep up with demand. "Flowers are my love letter to my town."
Tracy is a special education teacher and runs the school garden program. She dreamed of growing flowers and finally found a home with a backyard. She plans to create a year-round garden for children with special needs. "My garden will not be a for-profit business. I solely want to create an experience that is out of reach for a specific population that is often forgotten."
Ana Maria grew up in Romania under a regime that confiscated food crops from farmers. Her grandmother helped support her family by growing food and flowers. Ana plans to share a portion of the flowers she grows with the large elderly population in her community to "bring the joy of flowers to someone's grandparent, just like my grandma did for me years ago."
Rosie grew up gardening, but chose a 'sensible' career path and didn't begin selling flowers until later in life. Her business, Galloway Flowers, was growing, but she needed a "major rethink" to make the leap to profitably selling thousands of stems a year. "At 59, I'm impatient and ready to learn more to create a strong foundation for my later years."
In Jordan, flowers are a luxury that the average household cannot afford. Farah's goal as the first cut flower farmer in her country is to produce enough locally grown flowers to make them a "daily treat available to all." "Being from a region of the world plagued with war and pain, NOW is the time for cultivating hope and beauty around us through positive energy."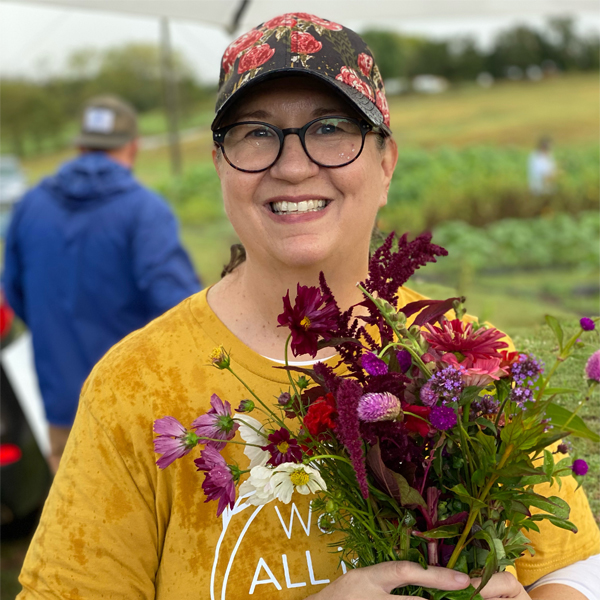 Becky is the founder of Saving Grace, an organization that serves girls who have aged out of the foster care system or are homeless. They are excited to be adding new opportunities to their program, including a flower farm. "We believe good experiences heal bad experiences and want to give these young women every opportunity to break the cycle of poverty for generations to come!"
Mike runs a therapeutic farming and gardening program for adults with autism and developmental disabilities. Since completing the Floret Workshop, he's helped the program create a flower CSA, which "was a big first step into turning the farming program into a business, and allowed us to turn what used to be a volunteer job into a paying job for the individuals that attend the program."
Dinar and Julia are at the forefront of the flower-farming movement in Russia and are breaking stereotypes people have about local farms. They left their city lives and began growing flowers after their second child was born. After selling their first flowers, they realized "this is it! I love being able to give people joy and it inspires me every day."
Deanna began selling flowers after she had to leave her teaching career in her late thirties due to profound hearing loss from a condition called Auto-immune Inner Ear Disease. She makes small bouquets to sell at her roadside farm stand via an honor jar system. Her "goal is to share my love of flowers and put beauty out into the world at an affordable price."
Kenya is one of the world's largest exporters of cut flowers, but the low wages paid to women are barely enough to provide for their families. Sharon's non-profit organization, Neloshan International, works with small-scale cooperatives that provide training and business skills development to single mothers. It also purchases flowers from those cooperatives at a fair market rate and puts all profits back into the organization.
Sarah started Rising Tide Farm to help her community become more sustainable. Living in an area accessible only by ferry or plane, they rely on goods being shipped in from afar. Sarah initially sold plant starts in the spring but planned to expand her flower farm to include a U-pick patch and sell seasonal flowers to local florists who don't currently have any local suppliers.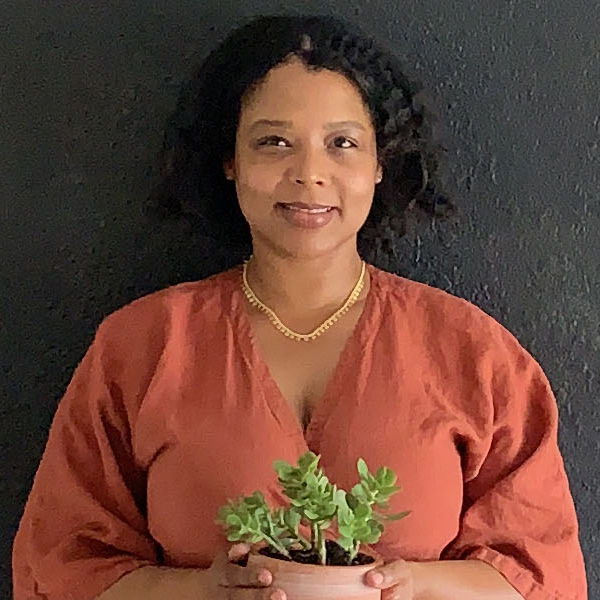 When the pandemic hit, Traci knew she and her daughter needed more space. They moved to a new home with a backyard where Traci planned to grow flowers to use with the vases and planters she creates for her business, Plant + Vessel. The Floret Workshop allowed her to continue her education while "at home, working on my pottery, starting a cutting garden, and raising my daughter."
Olga began growing flowers as a way of dealing with the stress of her intense marketing job. When her family relocated to the country, she planned to transform her small plot into one of the country's first seasonal cut flower farms. Her dream is to see bunches of cornflowers, which are part of the official symbol of her land, in every local flower shop.
Chloe is the founder of Flora Mama, the first organic flower farm in the Quebec area. The farm specializes in the bio-intensive method, which is focused on long-term sustainability. The Floret Workshop gave Chloe more confidence in both the field and her design studio. She and her team are now sharing their knowledge in hopes of inspiring other flower farmers in the area.
After growing flowers while living abroad, Masami returned home intending to create the first urban flower farm in Paris. The process was difficult, but she finally received the keys to a council-owned plot in the city center. Receiving a Floret Scholarship gave her the "feeling that I was being given a chance to go for it, chase my dream, and make it happen."
Old Grove Orange has been in Aki's family for five generations. It's one of the last working farms in the L.A. basin that's open to visitors. When an invasive species threatened the farm's citrus grove, Aki decided to expand into cut flowers. She's used what she learned in the Floret Online Workshop to launch a cut flower business to help save her family's farm.
Peter teaches Urban Farming at Charlottesville High School and hoped to expand the school's student-run business to include cut flowers. "I know they would love the adventure of including more cut flowers into our program." Peter was already using Floret in his teaching and knew that the workshop "could truly take our program to the next level and inspire a future generation of farmers."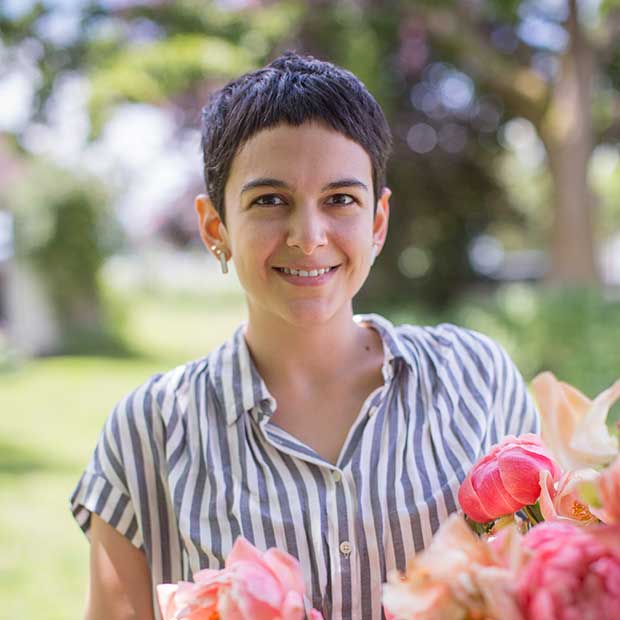 Maggie is the owner of Pine State Flowers, the only flower shop in North Carolina that exclusively sources locally-grown flowers. She worked tirelessly to build her business, with little time left to invest in herself. "The workshop was a breath of fresh air—to be able to press pause, enjoy being surrounded by so much beauty, and learn some valuable skills."
Akosua, a military spouse, and her family grow produce and flowers on their 1,000-square-foot farm, re:Planted Urban Farm. It's the only flower farm within a one-hour drive of her town. They plan to launch a program to donate bouquets to seniors living alone. It is Akosua's hope that "each bouquet will bring peace and joy into every heart and home they enter."
Sandra was preparing for the upcoming season when wildfires came and burned everything to the ground. Despite losing so much, the first thing she did "was re-run irrigation lines and get water to my garden and the trees around it. Everything is gone, but 75% of my garden survived and is thriving." She hoped the Floret Workshop would help her bounce back better and stronger.
Before receiving her scholarship, Jamie had been saving up for tuition for 3 years but had always needed to use the money she'd saved for farm expenses. Attending the Workshop "strengthened my desire to farm and give back to the community. My goal is to focus more on helping others and to give back the education and inspiration that was so kindly given to me."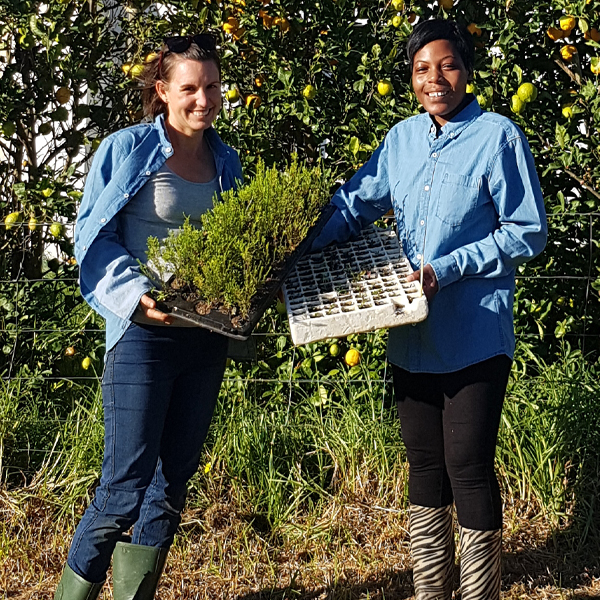 Karen and her family are raising angora goats on their farm in South Africa, but have expanded into cut flowers. Beauty is an integral part of their team and family. They completed the Floret Workshop together in hopes of giving Beauty a second chance in life and an opportunity to provide for her extended family. Their goal is to inspire hope in their community.
When Michael's professional career ended, he started selling veggies and fruit from a roadside stand. After reading Cut Flower Garden, he dedicated part of his field to flowers and found he enjoyed growing them. "I find flowers help us find the emotions that in this age get buried. There's nothing the world needs more right now than finding that depth and meaning."
Jenn was preparing to launch her floral design business when she attended the Floret Workshop. She hoped to one day become a successful farmer-florist and "create honest and natural designs using healthy blooms, wild twisting vines, and fresh lush foliage," but needed the confidence to get started. She "left the workshop with much more than a little self-esteem. I headed home with a plan."
In 2019, Matt left his job to stay home with his three boys. He wanted to show them "what it means … to not get swept up in others' definitions of success." He converted his backyard and began selling seasonal flowers. The Floret Workshop "was a key turning point in my career. It wasn't just a little boost; it was rocket fuel."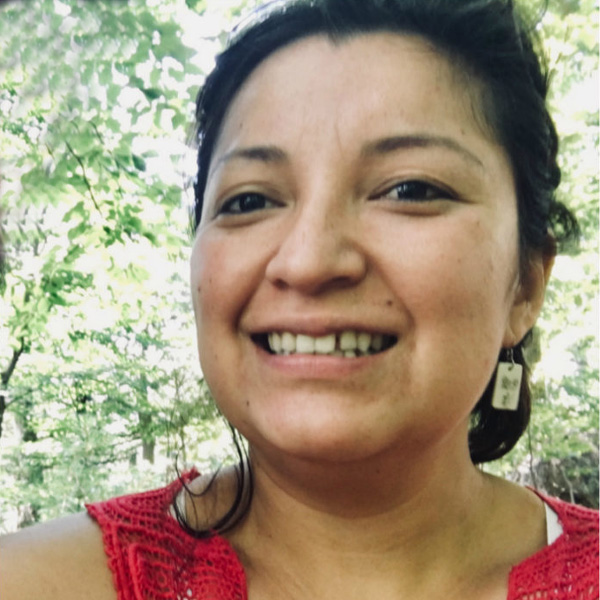 Grazia started her flower farm on land that her husband's grandfather rescued from coal mining operations. While many others in the area have left in search of better opportunities, Grazia and her family are breaking the cycle of generational land abandonment. They've dedicated their time and resources to growing seasonal flowers on their land in hopes of staying connected to it.
Paulette almost put her vegetable garden on the back burner when her granddaughter Bella came to live with her. Bella does not recognize social cues and has a hard time communicating, but Paulette noticed that Bella came alive when she was in the garden. She hopes to incorporate cut flowers into her garden and eventually start a series of workshops where people can communicate through flowers.
When Nethmie's family had to sell their home in Sri Lanka to escape the civil war, they left behind the land they'd farmed for generations. Years later, she received an allotment in her English village and planted her own flower garden. "Because of Floret's scholarship, I can now continue our family legacy and create a meaningful career from my passion and love for growing flowers."
Jenna grew up in a religious organization that separated children from their parents and used them for hard labor. She had been forced to plant trees, dig trenches, and put in irrigation systems. She now grows flowers, which allows her to be with her own kids, something she desperately missed growing up. She sells her flowers in arrangements that she places in handcrafted ceramic vases.
Frinklepod Farm is named after a character in a book Flora's children love. The book discusses "the need to maintain a healthy balance between humans and nature," which is something Flora and her family are deeply committed to. She emphasizes sustainability and accessibility in her work. "I want people to LOVE flowers and I want to make them accessible to everyone, both financially and aesthetically."
Liz is an artist, gardener, mother, and owner of The Dogwood Dyer. For the past 10 years, she has focused on natural dyeing and transforming textiles with color from plants. Liz plans to expand her garden with drought-tolerant, native species dye plants and teach others the art of natural dyes that don't have a detrimental effect on the environment.
Kylie became her sister's guardian while she was a 21-year-old college student studying sustainable agriculture. "Becoming her guardian made me want to be my best self. Farming expedited the journey. Farming tenders strength, determination, and hope." She's now using what she learned in the Floret Workshop to grow flowers for weddings, special events, and bouquet subscriptions on a ¼-acre plot.
Inna and Konstantin dreamed of having space to grow seasonal flowers. They finally made their dream a reality and purchased a 3-acre flower farm near Moscow. They are among the first flower farmers in Russia, so they were excited to connect with and learn from Floret's worldwide community. They have big goals for their future and want their flower business to become their life story.
Shannon is a mother of a son with special needs. After his diagnosis, Shannon quit her job to be home with him. She started a business growing and selling flowers and began volunteering with the local community garden. Using what she learned in the Floret Workshop, she was "able to plan, grow, and sell … within a time frame that worked for my life."
Kjesten's family had just started their flower farm when the Dixie Fire tore through the community destroying countless homes. "We need beauty like never before, and I have deep clarity that flowers are the direction I need to take our small farm. Creating beauty is an act of love. Right now the land needs our love and we need to share that beauty with one another."
Heather left her flower farm dream behind when her husband Bob died suddenly of sepsis during the pandemic. "But the garden, the flowers kept their beauty, kept growing and thriving; never giving up. They coaxed us back to life bit by bit. Showed us that life goes on." She is now working to set up Heather Farms "as a real business" to honor Bob's legacy.
When Laura had to move her grandmother into an assisted living facility, she began growing flowers so she could bring her bouquets. The flowers often brought back memories and inspired meaningful conversations between the two. Laura's dream is to start a bouquet subscription service for seniors. "I've seen how a bouquet can bring such joy to a senior."
Teigan's small rural community in Australia had been greatly impacted by bushfires, so she started a small flower farm to bring the community together and provide locals with job opportunities. Currently, the only sources for flowers are hours away, so there is high demand for local flowers. The village has been incredibly supportive of the farm because of what it could mean.
Sunbird Flowers began as a passion project but quickly grew to become the only Black-owned local flower supplier in the Atlanta area. "The scholarship was meaningful because it gave me access to the information I needed to jump into flowers. It also felt like validation that what we wanted to do was actually a 'thing'—that someone else believed our flower dreams were worthy of investment."
Stephanie is a first-generation farmer and single mom who sells vegetables, herbs, and cut flowers. She started out growing vegetables and added flowers "mainly to attract beneficial insects but quickly fell in love." She sometimes struggles with the demands of running a farm and business, but her "passion and drive gets me back up and I'm out cutting flowers in the morning again."
Paw Wah and her family came to the U.S. from Burma/Myanmar in 2008 as refugees. They joined New Roots for Refugees, a program that teaches refugees agricultural skills so that they can become independent farmers and business owners. Paw Wah and her family took what they learned and created Ki Koko farm ("two sisters"), which they eventually expanded to include cut flowers.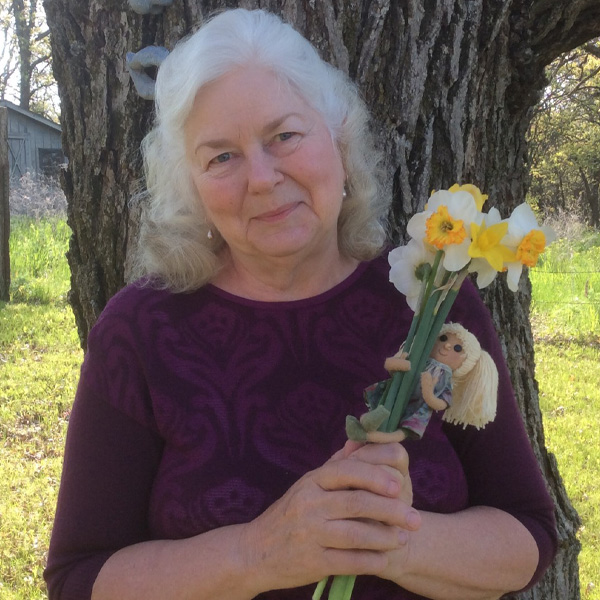 Susan is a self-described "71-year-old great-grandma, who's organically gardened since 1974, in excellent health, strong, energetic, and loves to grow flowers and share her love of growing with others." Proving that you're never too old to start growing flowers, Susan expanded her garden and planted more than 200 dahlias, and began selling them to flower shops and designers in her area.
Becca spent much of her childhood outdoors learning about nature and its different colors and textures. She specializes in natural and lush arrangements and works with as many local flowers as possible. For her, the biggest takeaway from the Floret Workshop was "self-discovery, on a multitude of levels. I will never be the same."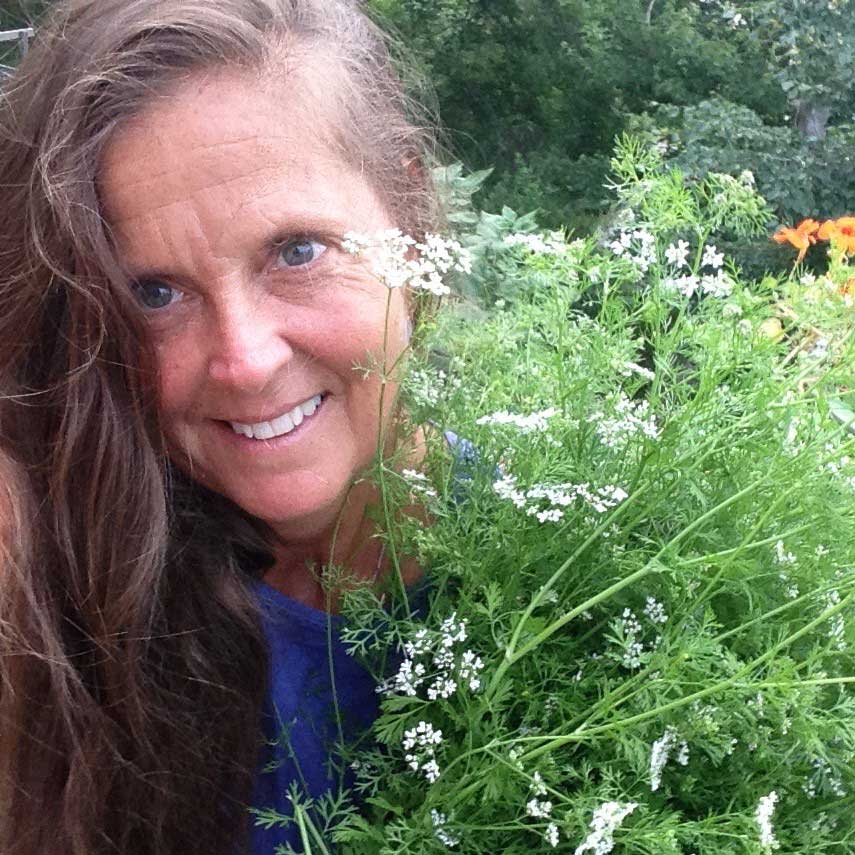 Margaret planted gardens for each of her children with specific flowers capturing who they were in the botanical world. 25 years later, she re-devoted herself to her gardening passions after going through a divorce. "After receiving a scholarship to the Floret Online Workshop, I can honestly say my life drastically changed. It was the catalyst to 'living' and 'believing' in the good again."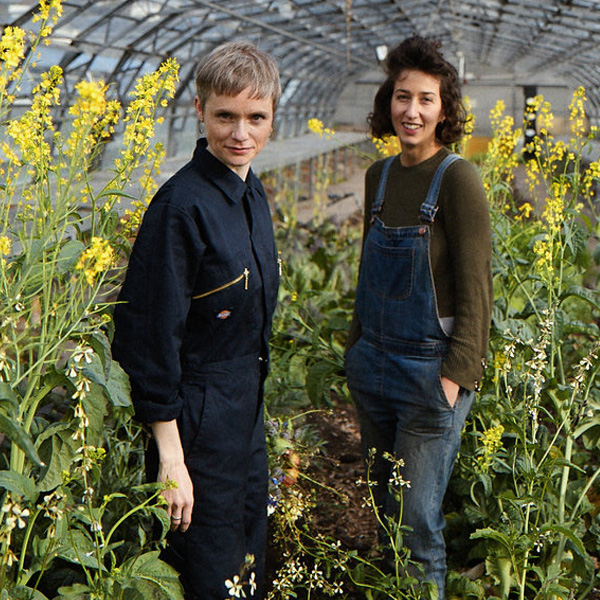 Marianne and Camila have a successful micro flower farm in North London and needed to increase their production to meet demand. Their desire to grow their business was strengthened after teaching workshops on sustainable floristry to women who had experienced human trafficking. The Floret Workshop gave them "the tools to apply the learning to help us—and to enable others, in the future—to meet this demand."
In addition to being a flower farmer, Grace is also a clinical psychologist in the U.K. She began growing flowers in her cottage's garden for her own mental health and was soon completely hooked. She loves sharing her flowers with others and "the emotional impact on people of beauty, the memories of scent and of colour that touch something important."
Katie has been growing flowers since she was a child and now rents and farms a ⅓ of an acre. After going through a series of hard life transitions, Katie was determined to "figure out how to make my business profitable to sustain a life for my son and me. I want nothing more than to be a successful farmer-florist and model that for my son."
Charlotte is a mom of three who started her flower farm on a shoestring budget. She had just wrapped up her first growing season, was filled with questions, and was looking for mentorship when she received her scholarship. The Floret Workshop "contributed directly to me and my family being able to follow our hearts, and set out on the path to experiencing our dreams."
Pamela worked as a farmhand for 10 years before realizing she was destined to be a flower farmer. She hopes to use her small-scale farm to educate her customers about native flowers and seed-saving banks. Many in her area have a desire to grow their own food but don't have access to the necessary resources. "By investing in me, you empower a whole city."
When Mavis and her husband inherited a small farm near Masvingo, Zimbabwe she decided to start a flower business to earn extra money to pay for the school fees for her two children. Her first goal was to become the first grower-supplier in the area to provide flowers for weddings, funerals, and other special events. "Flowers were made to beautify this difficult world."
Joanna's business was at a crossroads when she attended the Floret Workshop. She knew the life she had created operating her farm was what she wanted, but also knew that she needed to reassess things to grow sustainably—for both herself and the planet. The Workshop gave her "the confidence to grow as a business, and to grow on a personal level."
Peggy is a biologist and gardener who lives in northeast Germany. She created Biozuechtergarten to focus on seed production, breeding, and experiments with flowers and herbs. She dreams of one day owning her own piece of land. Peggy's goal is to learn how to grow better cut flowers and in turn focus on breeding and seed production to offer to farmers in her region.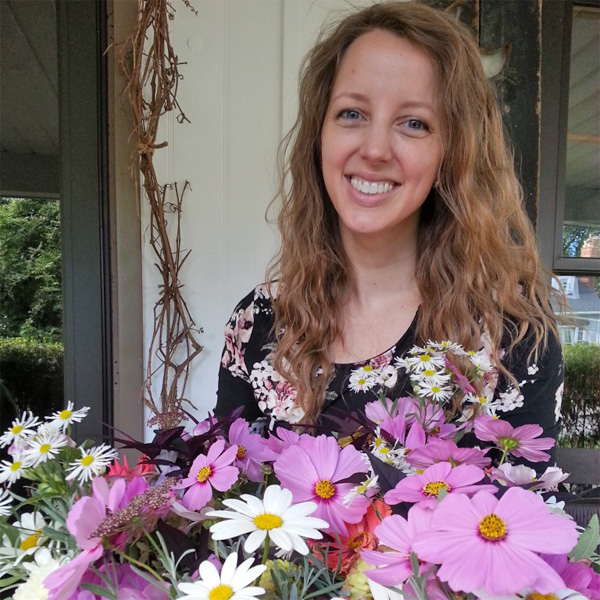 While others moved from Flint, Michigan due to crime and the city's contaminated water, Janie remained committed to her hometown and created Twig End Farm in the heart of downtown. "I am rooted to this place; with every seed I put into the soil, with every plant I divide, I'm creating change. I want to bring to Flint as much good as I can."
Christina has always loved being outside in the garden and eventually found her way to cut flowers. She loves seeing the joy on people's faces when they are given a bouquet of flowers she's grown. In addition to running her own business, Christina volunteers at a horse rescue that started a cut flower garden in order to donate bouquets to hospitals and nursing homes.
Melissa is one of four owners of Bumbleroot Farm in Maine, where they grow organic vegetables and flowers. They're committed to making a positive impact in their community and donate veggies and flowers to local nonprofits. Melissa felt it was possible to be a certified organic flower farm and grow an array of flowers year-round, but needed support and guidance to make that happen.
NO DREAM IS TOO BIG OR TOO SMALL
Floret invites applications for scholarships once per year. Sign up to be notified about the next Floret Scholarship application opportunity.
Floret Online Workshop Scholarships
Floret invites applications for scholarships once per year.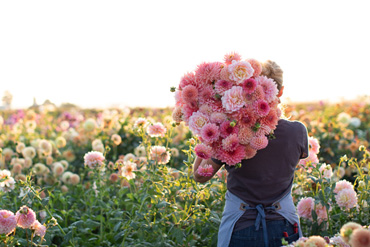 Sign up to receive notifications about the Floret Scholarship program.
Join Us
Join the Floret newsletter and stay in the loop on all the exciting happenings here on the farm
Close