My third book, Floret Farm's Discovering Dahlias is finally out into the world! I am so excited for you to finally be able to hold this book in your hands. 
When we were making the book we grew over 800 unique varieties and then had the challenging task of narrowing down my top favorites to 360 to feature in the Variety Finder section of the book. Hands down, it was the hardest part of the book to write!
I trial dozens of new dahlia varieties every year looking for those with unique forms, subtle coloring, and exceptional growth habit. I buy tubers from a lot of different places and thought I would share some of my top sources for quality and unique offerings.
For a complete list of more than 40 of my favorite dahlia sources, including grower profiles and international sources, be sure to check out Floret's Dahlia Guide, available as a bonus to Discovering Dahlias.
Top U.S. Dahlia Sources
Hands down, the best dahlia growers I've ever encountered are Calvin and Julie Cook from Arrowhead Dahlias in Colorado. This husband and wife team grow more than 300 different varieties on their flower farm located on the eastern plains of Colorado, northeast of Denver. Calvin has been growing dahlias since he was a child and has honed decades of growing experience into offering a wonderful selection of super high quality dahlia tubers.
Bear Creek Farm is located in the Hudson River Valley and has taken the New York flower market by storm. In addition to offering an incredible selection of fresh cut blooms they have also started offering over 100 varieties of their tubers for sale. Owner Debra Kaye has a keen eye for color and her variety selection is unmatched. 
Birch Bay Dahlias located in Washington is my all time favorite place to discover new novelties. Be sure to check out the "Anemone & Other" tab to find all of the hard to find gems. I especially love the Sandia varieties.
Clearview Dahlias located here in Washington is an excellent source for beautiful and rare varieties and their quality is top notch. Owners Richard and Danielle Parshall are prolific breeders and have introduced so many treasures.
Connell's Dahlias is a great source for high quality, reasonably priced tubers. This Washington company has wonderful service, a nice selection, and some of the most high quality tubers I've ever ordered and they always seem to tuck in a few extras.
Crazy 4 Dahlias is a small farm located in Maryland and operated by John Spangenberg. John specializes in breeding varieties that perform well in hot climates. Most of the varieties he offers for sale are intended for show.
Dahlias by Julie located in northwest Washington offers a fantastic selection of many hard to find varieties. The demand for her tubers is a testament to her quality and customer service.
Dahlia Shed is a family operated flower farm located in Rhode Island that offers dahlia tubers for sale in the winter months in bulk quantities for home gardeners and flower farmers.
Dan's Dahlias is located in Washington state and has been offering dahlias for over 35 years. Dan sells more than 300 varieties. 
Delightful Dahlias has two locations in Washington state, offers over 600 unique varieties and has great customer service. 
Ferncliff Gardens has been offering top quality tubers for more than 100 years. In addition to their wide range, they breed many of their own creations.
Fivefork Farms is a flower farm and collaborative partnership between five siblings in Upton, Massachusetts. They have been working for a number of years to build up mother stock and increase their offerings of the best varieties for cutting.
Goldenrod Gardens is located in the mountainous northwest corner of North Carolina. Farmer-florist Lee Carlton trials and selects the very best varieties for cutting and arranging and offers a great selections of tubers for sale in the winter months.
JS Dahlias is located in Middlebury, Illinois and offers more than 200 varieties with a specialty in show-quality dahlias. 
Lobaugh's Dahlias is a small family business located in Chehalis, Washington that specializes in hybridizing new varieties as well as selling a nice selection of tubers in their online shop.
Old House Dahlias  is a 14-acre farm located in Tillamook, Oregon that offers over 200 varieties and some of the best varieties for cutting. 
Organic Dahlia Tubers started by our dear friends at Ralphs Greenhouse, one of the largest root vegetable producers in the Pacific Northwest, has been working on perfecting a line of certified organic dahlia tubers for the past 3 years that are grown just down the road from Floret. We're thrilled to share that their organic tubers are now available for sale and ship nationwide. They are currently selling 35 of our favorite varieties for cutting and will hopefully expand their offerings even more in the future.
Ribier Gardens is located on 5 acres in Meridian, Idaho and their dahlia tuber store opened for the second year on December 1st. All of their dahlias are certified organic and lovingly tended to by Jen Zissou and her family. Jen gave up her previous profession after a health scare and had the realization that life is just too short not to be passionate about every moment. Jen has been living the dream ever since!
Swan Island Dahlias in Canby, Oregon offers one of the largest variety selections in the country. This family run operation has been in business for 91 years and is the largest and leading dahlia grower in the United States. In addition to offering the highest quality tubers on the market they also go above and beyond when it comes to customer service and satisfaction. They are a joy to work with and it's no wonder why they have been in business so long.
Sunny Meadows Flower Farm owned by Gretel and Steve Adams is an urban flower farm 6 miles from downtown Columbus, Ohio. Their online tuber shop has a great selection specifically for cut flower production.
Summer Dreams Farm is fast becoming one of the largest dahlia growers in the country. Located in Michigan and owned by Michael Genovese, Summer Dreams Farm offers an incredible selection of fresh flowers throughout the state during the growing season and tubers shipped nationally in the off season. His quality is fantastic and tubers are known to sell out fast, so sign up for his newsletter to make sure you don't miss out.
Our flower farming friends Triple Wren Farms up in Ferndale, Washington have recently added dahlia tubers to their offerings list. They have a great selection of varieties that are especially suited for cut flower growing, including many of my tried and true favorites.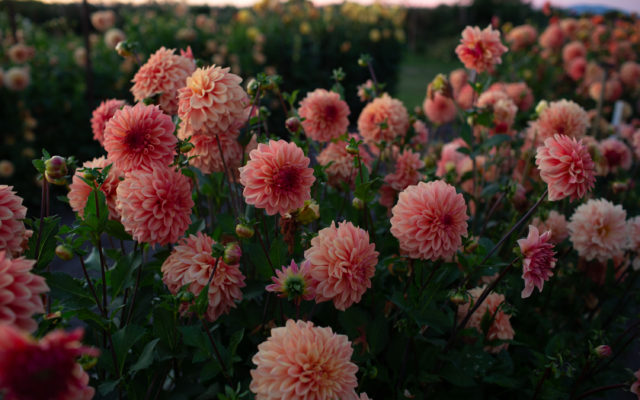 International Sources
For international readers looking for dahlia tubers, we've compiled a short list of potential sources. But please note that, unlike the U.S. suppliers listed above, we do not have any firsthand experience ordering from these companies, so we cannot vouch for their quality or service.
AUSTRALIA
CANADA
Au Beau Pre – Production Saint Anicet
NEW ZEALAND
NETHERLANDS
EUROPE
Claus Dalby (Dahlias sold in Bilkas Garden Centers)
UNITED KINGDOM
CZECH REPUBLIC 
SOUTH AFRICA
I know there is growing demand for dahlias tubers all over the world. If you have a recommended source that you love and trust, please share it in the comments below. Or, if you have a favorite variety that you think I should add to our collection, I'd love to hear about it!