This summer I had the most amazing opportunity to reconnect with Anne Belovich, a well-known and beloved rosarian who left her mark on so many. Anne lived a long and beautiful life and sadly passed away shortly after turning 97 this past fall.
I am so thankful to have gotten a chance to know her and am so inspired by how fully and generously she lived her life. 
This story is a long one, so we decided to break it up into four parts. The first part is about how I came to know Anne and the creation of our rose garden.
The second part is about how we're helping to preserve her extraordinary collection of roses and the process we used to propagate some of her rare treasures.
In the third part, I share more about our rose collection here on the farm and my sources for rare, hard-to-find varieties.
And the fourth part is a wonderful interview with Anne which will leave you in tears—she was one of the most inspiring women I've ever met. I hope you enjoy this series.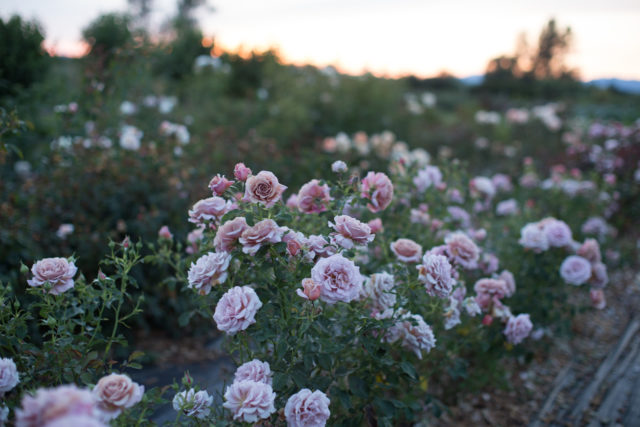 I have been collecting rare, heirloom varieties of roses for nearly 20 years now. Shortly after we bought our house in the country, I went to work trying to transform our acre of perfectly manicured lawn into a wild, magical secret garden inspired by all of the English gardening books that I checked out at the library. 
A few years into my gardening journey, I became a full-fledged flower farmer and received my first grant to trial a wide range of roses that were known to have really great rose hips suitable for cutting. Some of the varieties were from here in the states, but many had to be imported from abroad, which was a very complicated, time-consuming, and expensive process. 
Our area USDA plant inspector connected me with a local rosarian who was very experienced when it came to the process of importing and she generously offered to walk me through all of the steps and show me her setup for quarantining plants once they arrived in the states. And that's how I came to know Anne Belovich.
Anne is somewhat of a legend in the rose world and has inspired so many with her passion and generous sharing. Her love of roses was contagious and while she came to gardening later in life (she grew her first rose at 60), she scoured the globe and amassed the largest collection of giant rambling roses in North America and ended up writing five books on the subject.
I'll never forget the first time I visited her garden, which was like stepping into another world. Anne and her husband Max were such warm hosts and gave me an afternoon of their time, walking me through all of the beautiful gardens and dozens of arbors smothered in arching canes of roses that were just about to bloom.
Every time I thought we were at the end of the tour, we would turn a corner into another section of the garden brimming with varieties I had only read about in books. 
After that first visit, Anne gave me permission to come back as often as I wanted and I returned a couple more times that season to wander around and soak in all of the magic. It was an absolute sight to behold. 
I got so caught up with the farm and raising the kids and trying to keep my head above water that I lost touch with Anne, but every June when all the old roses would bloom in my garden, I would think of her and long to go back.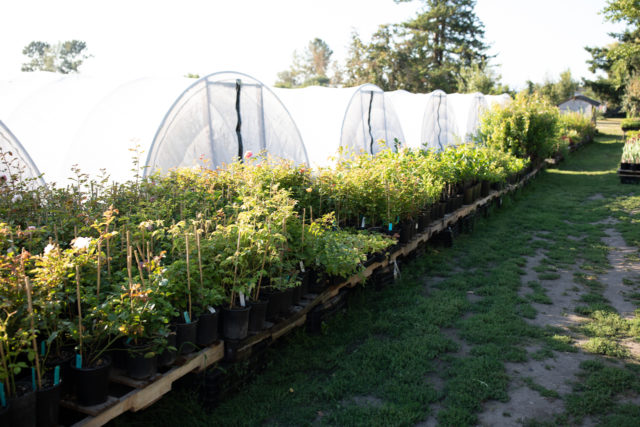 Fast forward a dozen or so years and we finally had a larger piece of land to call our own. When we got the farm it was a blank slate of a field without any structure. It was hard to imagine what it could become, but one of the things I knew I wanted it to include was a rose garden—and to fill the farm with as many rare and heirloom varieties as I could possibly get my hands on.
So I went to work collecting plants from a wide range of nurseries and specialty growers across the country. In all, I gathered more than 250 individual varieties and nearly 1,000 plants. 
Once I had all of the plants gathered, Becky Crowley (who came from England to help me design the farm) and I got to work mapping out where they would all go. In England, there are so many spectacular gardens to visit where you can draw inspiration from. But here on the West Coast, established gardens are few and far between, and finding any with old-fashioned roses is a rare treat. 
We spent a great deal of time at my favorite local nursery, Christianson's, and the owners John and Toni were generous enough to let us tour their personal garden too. Both the nursery and their home garden were incredibly inspiring. It was during one of our conversations that Anne Belovich came up and I decided to reach out and see if we could pay her a visit. 
Many years had passed since we last spoke, but Anne, now in her late 90s, was still just as wonderful as I had remembered.
While she didn't have the energy to personally take us around the garden, her lovely family gave the ladies and me a tour and then turned us loose with our clippers and notebooks to cut as many roses as we possibly could. 
The last time I visited, the extensive gardens and grounds were perfectly manicured. The beds were edged and mulched, the roses were trained to their beautiful arbors and arches, and the acres of lawn were freshly mowed.
But in the years since, Max had passed away and Anne was no longer able to keep up with the monumental task of maintaining the gardens alone. 
While still a sight to behold, nature had crept in and the once-perfect garden had become wild. Roses were climbing high up into the trees, they had swallowed fences and small buildings and completely smothered their arbors.
At their feet, blackberries had taken hold and the two were competing for the same space.
After our tour, we were all absolutely overwhelmed by the wild beauty and the magnitude of Anne's collection and couldn't figure out where to even begin.
So we decided to head back home and get some rest, collect our thoughts, gather supplies, and return the next morning to get to work.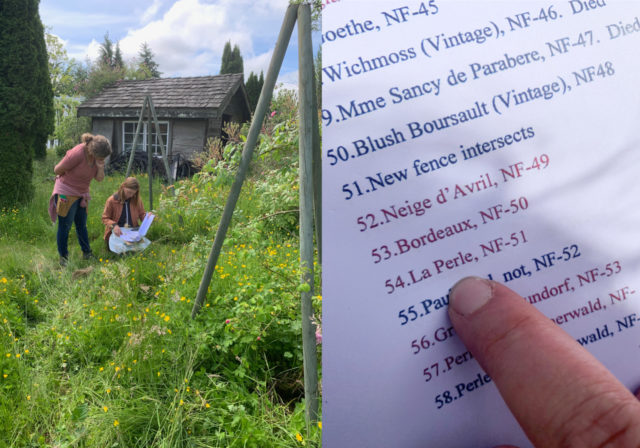 Anne's daughter-in-law, Teddie, gave us a copy of Anne's 20+ page rose list that included every variety on the property and its rough location. The tricky thing was that the location names were Anne's shorthand and we weren't sure which part of the gardens they referred to and Anne couldn't quite remember what was where.
We were able to locate plastic labels on a number of varieties but many had faded and were illegible or were brittle and crumbled in our hands. 
So we spent a couple of days trying to match the rose list to the varieties that did have labels and solve the mysteries through the process of elimination and a lot of Google searching.
We tried our best to ID and relabel as many of the roses as we possibly could, but there were still so many that remained a mystery.
Our little team was buzzing with excitement and everyone took a different part of the project.
Chris took photographs and drone footage of the property so we could try and establish landmarks and key spots while Becky sketched out all of the beds, fences, and structures noting each variety that we were able to identify to ultimately pair up with the photographs so we could create an actual map.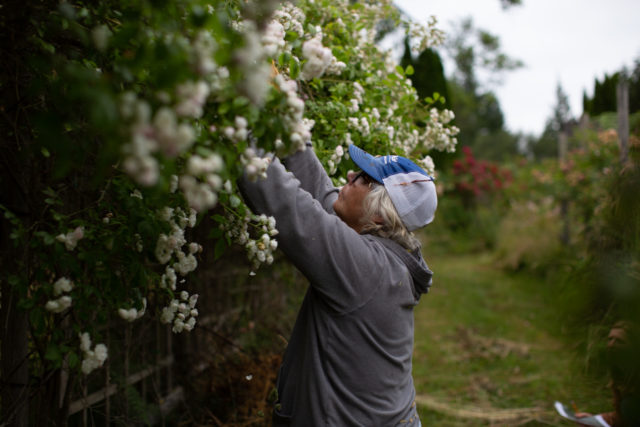 Nina was on blackberry patrol and cut pathways through the brambles so we could get at the roses. Jill took labeling very seriously and got to the base of the plants by any means necessary.
Angela carefully bundled each variety and got them into water and into the shade of the van. I ran around like a crazy person taking hundreds of cuttings and trying to help ID all of the mysteries.
We had to keep stopping and reminding each other to breathe because we were so freaking excited about the roses and still in shock that we were even allowed into this magical secret world that Anne had created. 
We returned three more times to gather as much cutting material as we could, but a record heatwave condensed the bloom window, which is usually about a month, into 10 short days.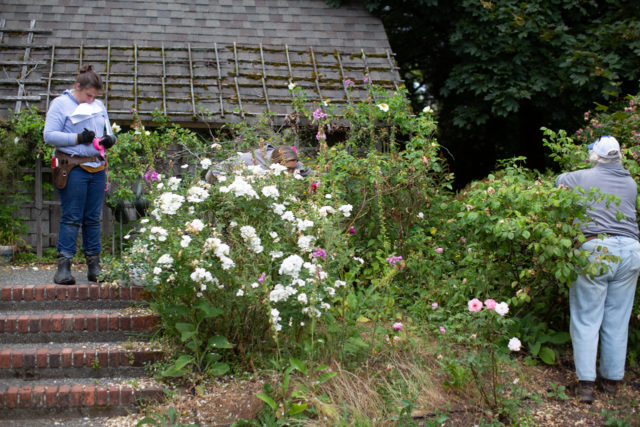 I'm still in awe of how much progress we made in such a short amount of time. In all, we gathered more than 1,000 cuttings from Anne's roses in hopes of propagating them to grow at the farm and eventually to share some of the most rare varieties with others. 
In the next post, I'll share our process for propagating old roses through cuttings.

---
Please note: If your comment doesn't show up right away, sit tight; we have a spam filter that requires us to approve comments before they are published.