One of the most common email messages we get is: "I live in a hot climate. What seeds would thrive in my area?"
While I wish that every gardener could grow whatever varieties they wanted, that's simply not possible. Here in the temperate Pacific Northwest, flowers that love the heat have to be grown in a greenhouse in order to thrive. Meanwhile, some of my flower friends who live in hot, arid climates aren't able to grow many of the most delicate treasures like sweet peas, foxglove, and stock because their climate is just too harsh.
I thought it would be helpful to share a list of some of the easiest-to-grow cut flowers that can take the heat. If you live where the summers get hot and you are looking for some tried-and-true winners to plant into your cutting garden, here are some great suggestions for you.
Amaranth
Amaranth is easy to grow and a great choice for beginning gardeners. I have grown just about every variety of amaranth on the market, and while all make great additions to large-scale arrangements, there are a few varieties that I grow in abundance every year. 
My all-time favorite is 'Green Tails' (pictured above) because its long chartreuse tassels add texture and combine beautifully with both bright and pastel color palettes. 'Coral Fountain' has the same growth habit as 'Green Tails' but is the most exquisite shade of dusty pink that resembles sun-faded velvet. 'Hot Biscuits' produces abundant golden-brown stems that add a unique textural quality to arrangements. It mixes well with just about everything.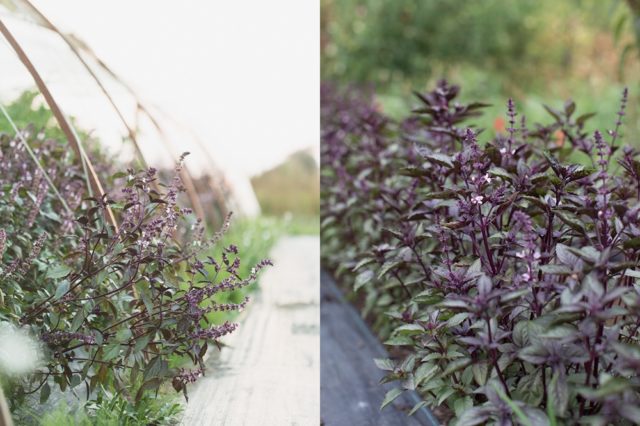 Basil
A mainstay of the herb garden is also one of the most fragrant and abundant summer foliages in the cut flower garden. 'Aromatto' (pictured above) is the most stunning variety of all, sporting deep purple flowers, glossy foliage, and a spicy licorice scent. 'Cinnamon', 'Mrs. Burns Lemon', and 'Dark Opal' are also great additions to both herb and cut flower gardens. 
Cut foliage is prone to wilting in the heat, so harvest in the coolest parts of the day and place directly into water to rest for a few hours before arranging.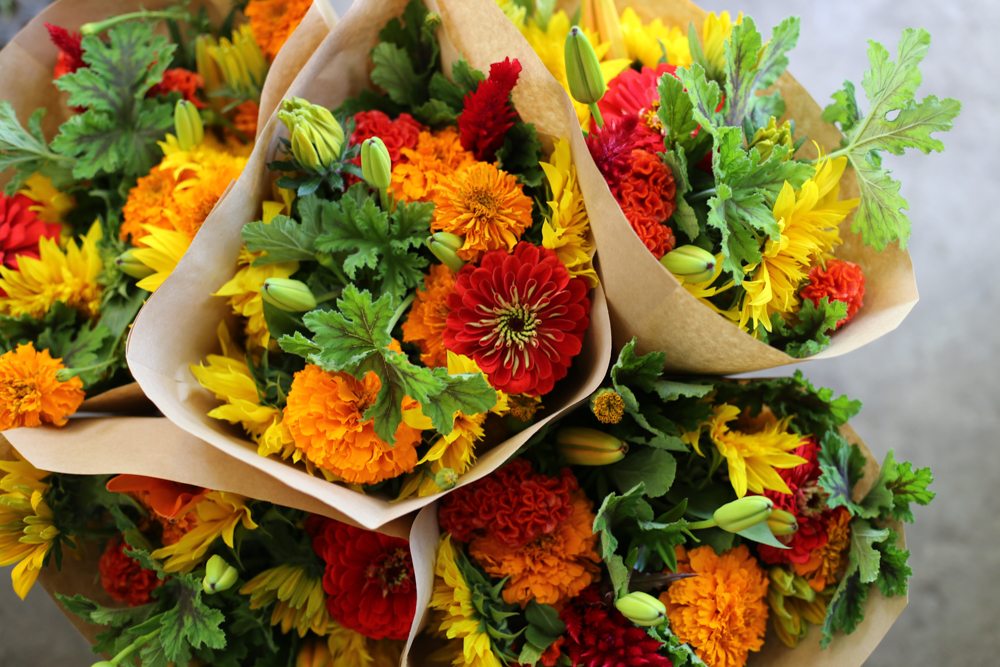 Marigolds
Marigolds are some of the toughest plants you can grow and make excellent additions to mixed bouquets. These garden workhorses benefit from pinching earlier than most when they are around 6 to 8 inches (15 to 20 centimeters) tall.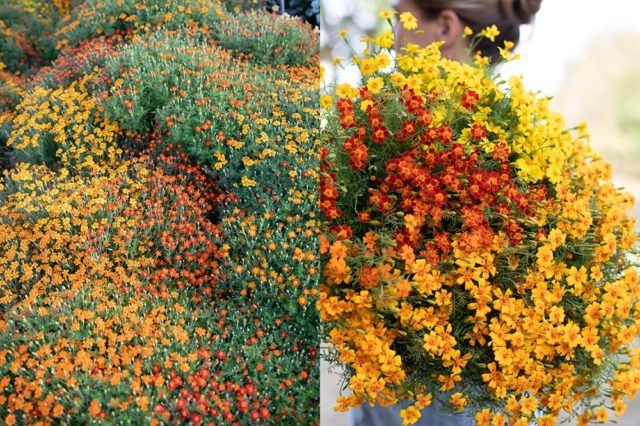 I happen to love the miniature-flowering varieties.
Starfire Mix (pictured above) is a cheerful blend of miniature-flowered marigolds and a must-grow for mixed bouquets. Each plant produces 15 to 20 branching stems that reach more than 30 inches (76 centimeters) and are loaded with dozens of penny-sized glowing blooms in shades of red, orange, and gold, with numerous color variations and bicolors. The ferny foliage is wilt-resistant and scented, making it a summer bouquet staple.
'Tangerine Gem' is very similar, with glowing tangerine blooms with darker orange centers. It reaches more than 24 inches (61 centimeters). With each of these varieties, harvest when one-third to one-half of the flowers on a spray are open. It will last 7 to 10 days in the vase.
Johnny's Selected Seeds has a few great varieties available including 'Giant Orange' and 'Giant Yellow'.
Celosia
Grown for their unique textural blooms, celosias are vigorous and free-flowering. A summer cutting garden workhorse, they thrive in hot and dry conditions.
These easy-to-grow flowers come in a wide variety of shapes, colors, and forms, ranging from a crested cockscomb that my kids call "brain flower" to spikey, plumed forms that are great accents for bouquets. I love them all.
Flower heads get bigger over time, so pick when they are the size that you want, but before they go to seed. Celosias often last 2 weeks as fresh flowers and also can be dried for later use. Hang freshly cut stems upside down in a warm dark place for 2 to 3 weeks or until they are firm to the touch.
'Coral Reef' (pictured above) is an introduction from our breeding program. It's filled with unique coral-like blooms in shades of orange, salmon, peach, and raspberry that look like they belong in the sea.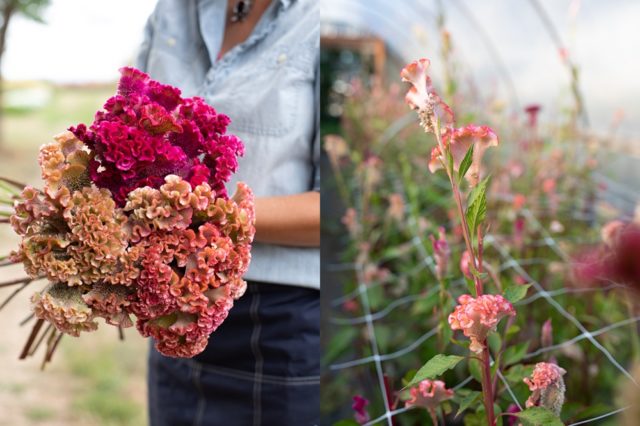 'Fruit Punch' (pictured above) is another special mix from our breeding program that includes fan-shaped blooms in shades of magenta, rose, salmon, and apricot. Both of these new mixes have towering plants with a branching habit and will churn out buckets of large, velvety flower heads for the better part of summer.

'Pink Champagne' (pictured above) is a special mix from our breeding program. It includes a wide range of shapes and sizes including fans, brains, and plumes in shades of champagne, peach, and buttercream. It will churn out buckets of velvety flower heads for the better part of summer. A must-grow for wedding work.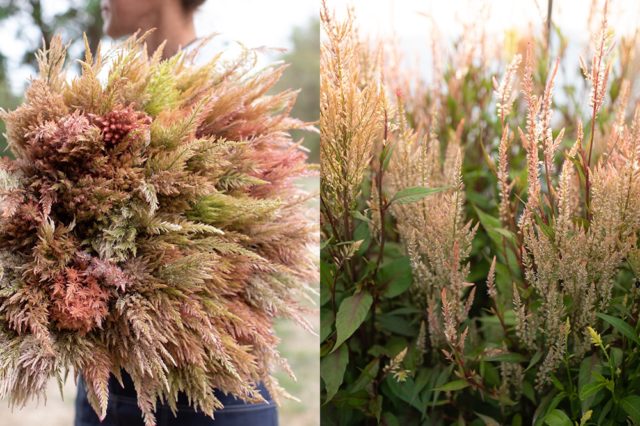 We're so excited to share the treasured variety Texas Plume Vintage Rose Mix (pictured above) with gardeners all over the world. The original stock for this coveted celosia came from famed Texas flower farmers Pamela and Frank Arnosky. Years ago we were gifted the tiniest pinch of seed, which we've slowly grown out and increased over time. This mix is a blend of blush, pewter, and sun-bleached velvet set against striking dark foliage. It's heartbreakingly beautiful.
A few other solid performers to try are Pampas Plume Mix (pictured above), Supercrest Mix, and Texas Plume Summer Sherbet Mix.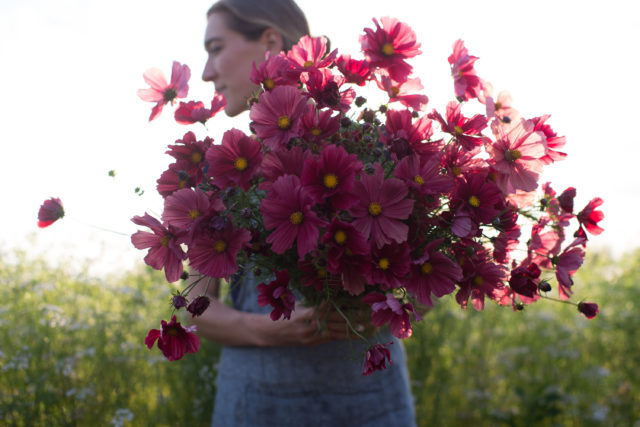 Cosmos
Of all the annual plants you can grow in your cutting garden, few are as productive as cosmos. They truly are a cut-and-come-again flower; the more you harvest them, the more they bloom. A single planting will produce buckets of daisy-like blooms for many months. 
Some of my favorites are the fluffy blooms of the double-flowered cosmos from the Double Click Series and the rich, velvety flowers of both 'Rubenza' (pictured above) and 'Velouette'.
Globe Amaranth
These summer darlings have adorable, button-like blooms that look great in bouquets. They thrive in the heat, and the more you cut, the more they bloom. Freshly harvested flowers can last up to 2 weeks in the vase and can be dried and used for autumn projects and crafts. 
If you're looking for bright, cheerful colors, choose Sunset Mix, which includes magenta, red, and orange. If you're drawn to the softer tones, choose Pastel Mix (pictured above) for white, rose, soft pink, and pale lilac. It's perfect for wedding work.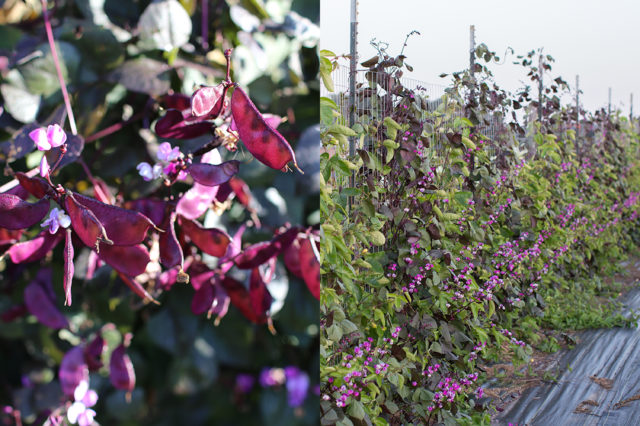 Hyacinth Bean 'Ruby Moon'
This vigorous climber puts on a dazzling show from midsummer to the first frost, making it a must-grow for any gardener. Its eye-catching dark foliage is smothered in wine-colored pea-like blossoms. 
As the flowers fade, long stems covered in vivid, glossy plum seed pods appear. A unique, textural addition to bouquets, these pods add rich color that combines beautifully with almost any color palette.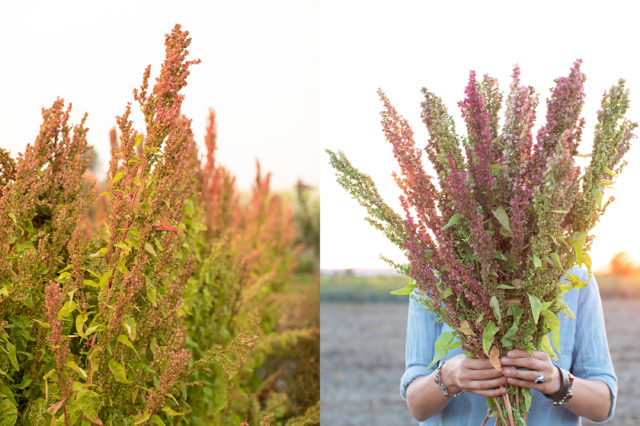 Orach
I discovered this fantastic plant in a friend's veggie patch some years back and have been a huge fan ever since. Early in the season, the leafy stems can be harvested for bouquets. The more you cut, the more it produces. Stems hold best when given a quick searing treatment directly after harvest. Just dip the bottom 2 inches (5 cm) of the stems into boiling water for 10 to 15 seconds, then plunge them into a bucket of cool water.
If plants are left to grow on, you will be rewarded with gorgeous seedy stems by midsummer that are a favorite with designers and wonderful in bouquets. Seeded stems do not need any special postharvest treatment and often last 2 weeks. For a large flush of smaller, more usable stems, be sure to pinch plants hard at 12 to 18 inches (30 to 45 cm). Succession plant every few weeks for an extended harvest.
There are three main colors available: green, burgundy, and a greenish-blush. 'Ruby Gold' (pictured above) has eye-catching foliage of glowing acid-green, and stalks are streaked with cranberry. Seeded stems are a blend of dusty rose and sun-bleached moss.
Red Leaf Hibiscus 'Mahogany Splendor'
With dramatic deep burgundy foliage that resembles Japanese maple leaves, this plant provides great height to garden borders and adds drama to large container plantings. 
Grown primarily for its striking, serrated foliage, red leaf hibiscus only produces flowers indoors in temperate regions. The more you cut this heat- and drought-tolerant plant, the more it produces.
Statice
Considered one of the best flowers to use dried, statice is also great fresh. Easy to grow, great for beginners, and very productive, this versatile plant produces papery flower bracts and blooms over a long period of time. Pastel Mix (pictured above) includes cool tones like violet, lavender, blush, rose, and mauve.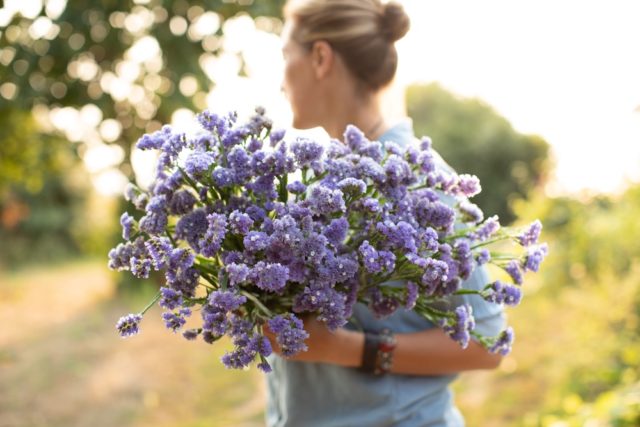 If you're looking for individual colors, Johnny's Selected Seeds carries apricot, white, purple, rose, yellow, and a stunning light blue (pictured above).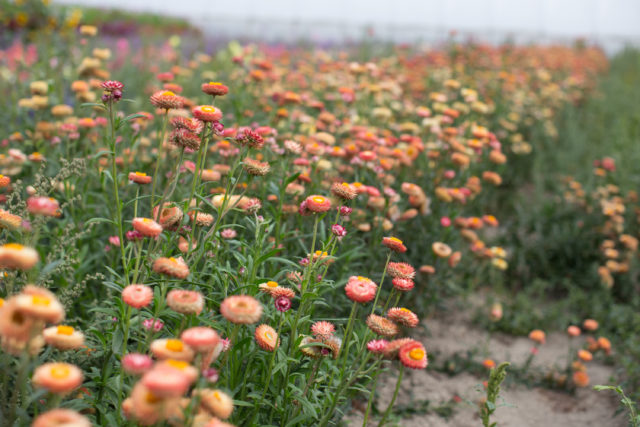 Strawflower
A versatile and textural addition to the cutting garden, strawflower can be used fresh and also dried for use in fall bouquets and wreaths. Also known as everlasting flowers, these papery blooms hold their color and shape indefinitely when dried. Pollinators love them. 
If you're looking for flowers in pink tones, 'Candy Pink', 'Silvery Rose', and 'Pomegranate' are all stunning. I love 'Dragon Fire' for its rich, nearly black blooms, but Apricot Mix (pictured growing above) will forever be my favorite.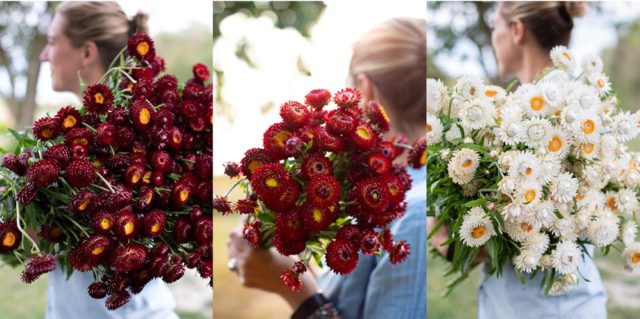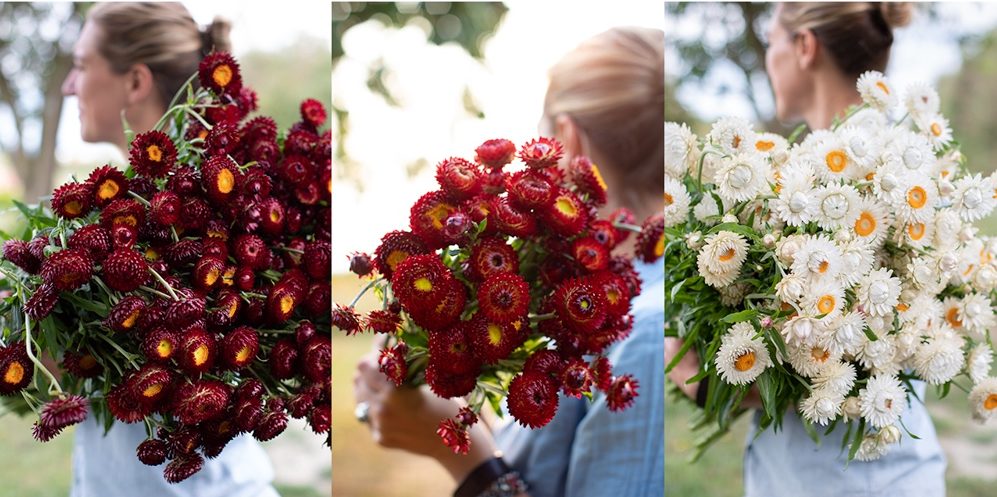 Two gorgeous reds include 'Copper Red' (pictured left, above), whose rusty red-orange flowers have a luminous quality with an eye-catching yellow center that glows in the garden, and 'Scarlet' (pictured center, above), with rich ruby-red flowers that have glowing gold centers.
'Vintage White' (pictured right, above) carries ivory-white flowers with an opalescent, heirloom-quality that's great for wedding work. It combines especially well with blush-pink 'Silvery Rose'.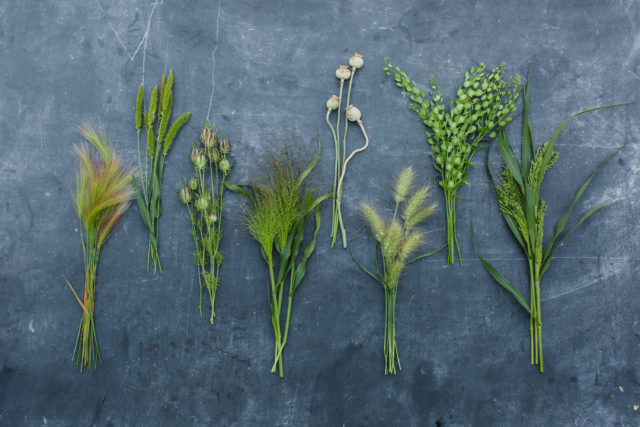 Ornamental Grasses and Grains
In addition to bringing visual interest to bouquets, grasses and grains are also drought-tolerant and easy to grow, and they thrive in the heat.
Some of my favorites grasses are 'Frosted Explosion', 'Broomcorn Millet', 'Bunny Tails', and 'Feathertop'. All are wildly productive and very easy to grow. 'Broomcorn Millet' is an amazing textural ingredient for bouquets. 'Frosted Explosion' is a true workhorse, cranking out buckets of stems every few days. Both 'Bunny Tails' (pictured growing above) and 'Feathertop' produce loads of soft, fluffy "blooms" that are loved by all.
I discovered cress, a fantastic filler, almost a decade ago and have been a fan ever since. Just a few stems of these seedy treasures transform every bouquet! We direct sow it in the spring, staggering five plantings about 2 weeks apart for an extended harvest. Fresh cress persists for more than 10 days in the vase, and any excess can be dried for autumn bouquets and holiday wreaths.
Sunflowers
Sunflowers are the epitome of late summer-early autumn and are stunning displayed en masse or mixed with other blooms. Extremely productive, easy to grow, and free-flowering, these long-standing favorites deserve a spot in every garden.
When it comes to traditional varieties, nothing is more cheerful than 'Pro Cut Gold' (pictured growing above), which has clear yellow petals and a fresh green center.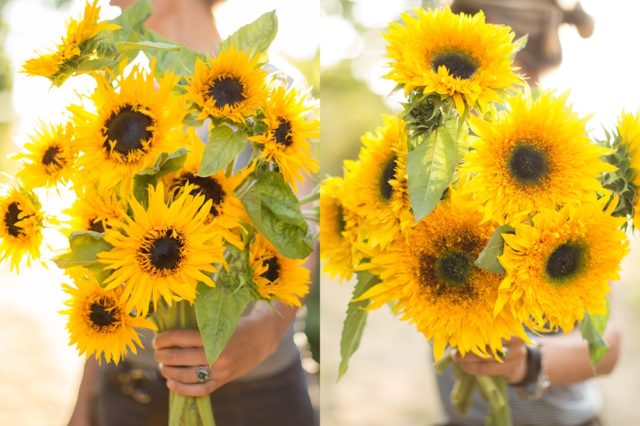 I'm partial to the novelty varieties of sunflowers that either have ruffled petals like 'Frilly' (above, pictured left), 'Greenburst', and 'Panache' (top, pictured right) or rich, ruby-toned blooms such as 'Pro Cut Red' (above, left) and 'Ruby Eclipse' (above, right).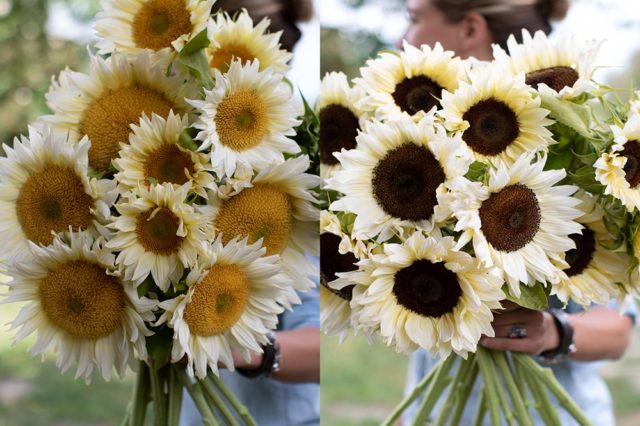 Two additions to the 'Pro Cut' line produce ivory-petaled flowers: 'White Lite' (pictured left) with honey mustard centers and 'White Nite' (pictured right) with chocolatey brown centers.
Eucalyptus
Eucalyptus is a staple, much in demand by florists and for weddings. Its blue-green and silvery hues set off both cool and warm floral palettes, and everyone seems to love its distinctive methol fragrance.
Cut fresh, eucalyptus is a long-lasting foliage—often 2 weeks in the vase. And it's doubly useful because it can be dried and used indefinitely; it's a favorite in autumn wreaths.
Here are some of my favorites.
'Round-Leaved Mallee' (pictured above) is a strongly scented variety with gray-green foliage that bends and arches, sending off whirling side branches. It makes an excellent bouquet filler when foliage has fully ripened. Of all of the eucalyptus we grow, this is our favorite.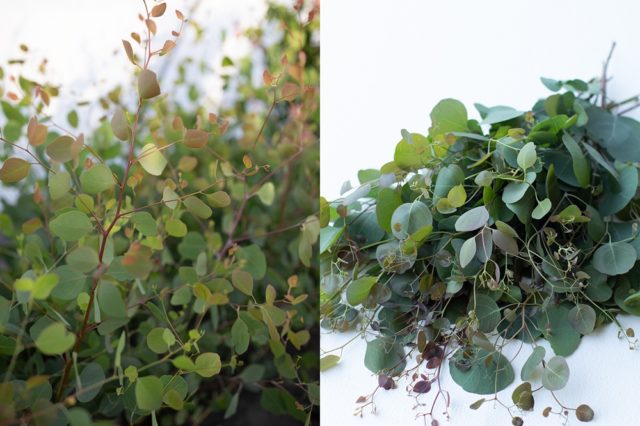 'Silver Dollar' (pictured above) has ginkgo-shaped leaves that alternate up striking purple-red stems. New growth has a beautiful bronze cast. Each branching plant produces loads of stems that are perfect for flower arranging.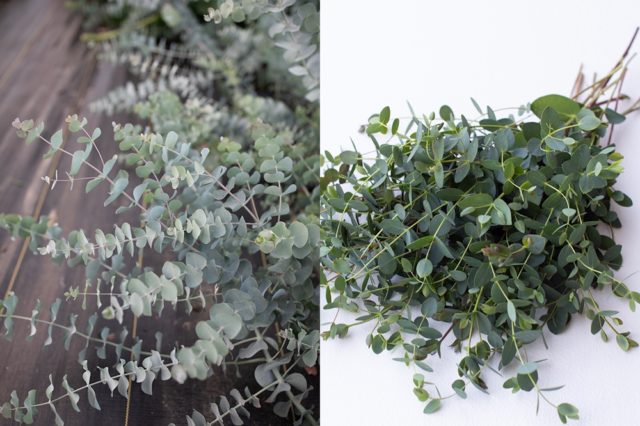 'Small-Leaved Gum' (pictured above) has wispy cranberry stems covered in airy sage-green foliage with a clean, menthol scent. This extremely versatile variety makes a wonderful bouquet addition.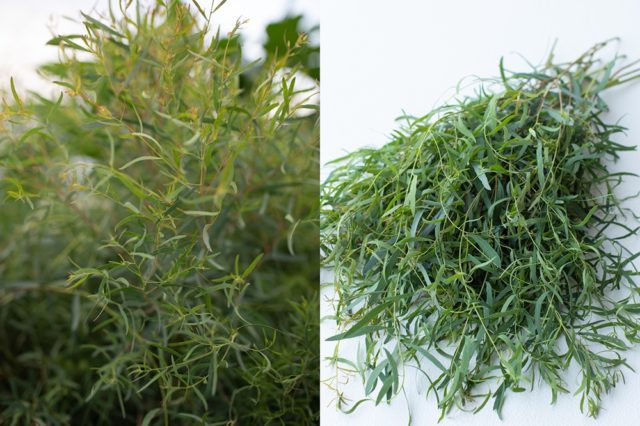 'Nichol's Willow' (pictured above) has striking cranberry-red stems offset by beautiful willow-like blue-green foliage. Delicate, narrow leaves are perfect for event work and are a flower arranger's dream.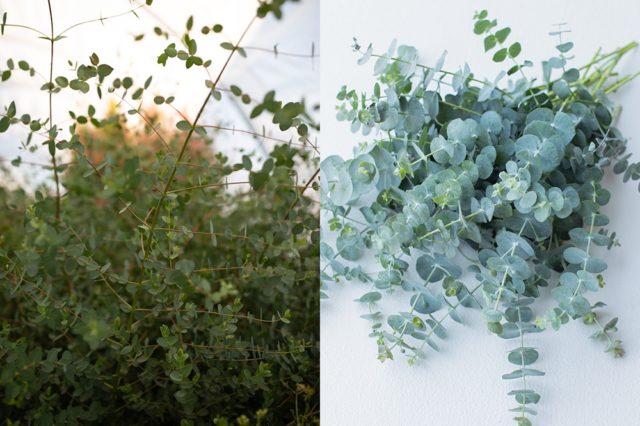 'Baby Blue' (pictured above) is a beautiful plant producing large sprays of blue-gray stems covered in distinctly rounded leaves on opposite sides going up each branch. It's a fragrant and textural addition to late-season bouquets.
One of the best vegetables to sneak into bouquets, tomatoes look amazing tumbling over the edge of an arrangement. They are easy to grow, heat-loving, and vigorous, and produce an abundance of fruit all summer and into autumn. They are sweet and delicious for eating too! 
Hands down, my all-time favorite for arranging is 'Currant Red' (pictured left), which produces an abundance of long stems loaded with miniature fruit.
A cut flower garden wouldn't be complete without zinnias. These easy, fast-growing flowers are a staple of high summer bouquets. They come in so many different colors and unique forms, from simple single flowers to more unusual quilled, crested, and pompon shapes. Heights can vary wildly, depending on the cultivar you choose.
One of the easiest cut flowers to germinate, zinnias can be transplanted or sown directly into the garden, which makes them great for beginning growers. These reliable, prolific producers do well in virtually any climate, and the more you cut, the more they bloom. 
I love all of the offerings available in the Benary's Giant, Oklahoma, and Queen series, plus the adorable Persian Carpet Mix (pictured above).
I know it can be easy to feel limited by your climatic conditions, but there are varieties that will thrive in your growing region. You may have to work a little harder to find out what they are, but it's worth the effort. 
If you're growing in a hotter part of the world, I would love to know some of your favorite varieties for cutting. Do you have any tried-and-true performers you'd suggest? If so, please comment below. Lastly, if you find this information helpful, I would love it if you would share it with your friends.
Please note: If you submit a comment and it doesn't show up right away, sit tight; we have a spam filter that requires we approve most comments before they are published.