Ever since meeting Anne all those years ago, I've longed to create my own version of her magical garden and plant as many roses as I could get my hands on. But with every inch of our small farm devoted to annual cut flower production, I could only ever sneak roses in around the edges.
I had ramblers and climbers scrambling up and over my little flower studio and a few dozen heirloom treasures tucked up against the fence and on my back porch but that's all that I could manage to squeeze in without impacting cut flower production.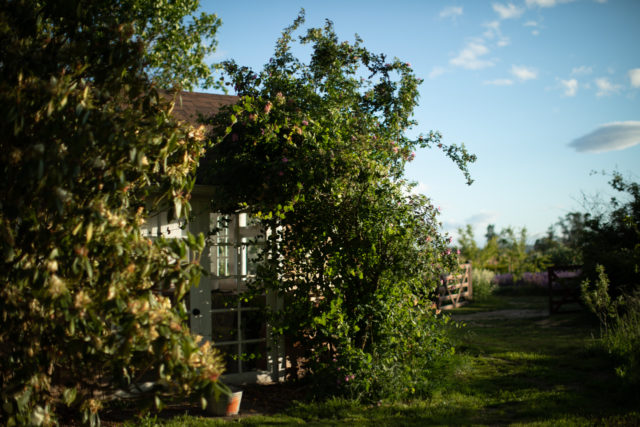 The day we signed papers for the new farm all I could think about was how long I had waited to be able to put down roots and be able to bring my garden dreams to life. One of the first things I did was start to collect roses for the future garden.
I scoured the country looking for rare, heirloom, and old-fashioned roses to include on the property. So many of the specialty nurseries that used to be in business have since closed so it was quite the task to source everything on my wish list. 
Of all the nurseries I've ordered from for this project, below you'll find my very favorite sources. 
The Antique Rose Emporium
This long-standing Texas-based nursery has some of the best customer service around. They have a very unique offering that features more than 350 rare and hard-to-find antique varieties, including their Texas Pioneer rose series, which is a line of carefree, repeat-blooming varieties with an old-world quality.  
Angel Gardens
I have found some really special varieties from this Florida-based mail-order nursery and love visiting their website for the pictures alone. Angel Gardens offers more than 1,000 antique and modern roses and uses organic growing practices in their production. 
Burlington Rose Nursery
Owner Burling Leong maintains a large collection of rare and hard-to-find roses and has been one of my go-to sources when trying to track down rare, coveted varieties. To get a list of her most current availability list, email [email protected]. 
Christianson's Nursery
If you live in western Washington, this family-run nursery has a tremendous selection of potted roses (including many heirloom and hard-to-find treasures) that go on sale in January. While they don't ship their plants, if you're within driving distance it's well worth the trip, and be sure to visit in June to see their English-style rose garden in full bloom—it's a sight to behold!  
David Austin Roses
If you've grown roses for any length of time, chances are that you've fallen in love with the David Austin varieties, which are known for their old-fashioned-looking blooms that come in a wide range of soft colors and are generally repeat-blooming. I have been collecting David Austin roses for years and if you ever come across some of his older varieties, be sure to snatch them up because they are no longer being commercially propagated. 
The Friends of Vintage Roses
This Sebastopol, California-based nonprofit maintains one of the largest private collections of roses in the world and was originally started by Gregg Lowrey and Philip Robinson. Each year, they propagate thousands of cuttings that are sent to curators, collectors, and public gardens devoted to preserving these special plants. Twice yearly they offer the extra plants from their propagation efforts for sale to the public (local pickup only). You can find the availability list on their website. To learn more about the important work they are doing, you can read this interview with founder Gregg Lowery. 
Greenmantle Nursery
This California-based nursery has assembled a comprehensive collection of own root rare and old rose varieties that they have gathered from around the world. If you're looking for something special, be sure to check their Rose Master List, which includes so many rare treasures. Roses from Greenmantle Nursery must be reserved with a deposit made in advance and their shipping season is January through May. It's important to note that they only communicate through the mail or by telephone. 
Heirloom Roses
This rose nursery in Oregon has a tremendous selection of varieties grown on their own roots, including more than 60 David Austin varieties (many of the older ones), a huge range of historic roses, hybrid musks, and everything in between. 
High Country Roses
This Colorado-based nursery has an amazing selection of own root roses. Their collection features old garden roses, cold-tolerant varieties, and modern varieties, including some of the older David Austin treasures. 
Menagerie Farm & Flower
Our flower-farming friend Felicia Alvarez offers a beautiful collection of bare root roses that she has trialed over the years and are known to make excellent cut flowers. Her inventory typically sells fast, so be sure to sign up for her newsletter. Felicia also sells fresh-cut garden roses shipped to floral designers nationwide from late spring through early autumn. 
A Reverence for Roses
This Florida-based nursery specializes in own root roses and has a huge selection of heritage and old garden varieties, plus so many beautiful modern roses and a large selection of hybrid musks—my favorite group!
Rogue Valley Roses
This Oregon-based nursery offers more than 1,500 unique varieties and has one of the largest selections of rare, historic, and exceptional modern roses grown on their own roots. They ship live plants to U.S. and Canadian customers year-round, and can also ship bare root plants internationally in December and January. Be sure to use their "Join wait list" feature, since many of the plants sell out fast and it's the only way to know when they come back in stock.   
Rose Petal Nursery
This Florida-based mail-order nursery offers a large selection of rare heritage roses which they are constantly expanding each year. If you find something special that isn't available, be sure to use the "be notified" button and you'll receive an email when it's back in stock. I've found some real treasures here!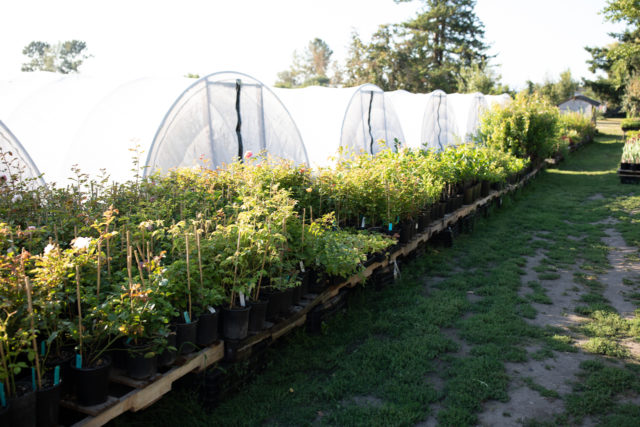 After 3 years of collecting, I gathered more than 250 varieties and nearly 1,000 plants (these numbers do not include the roses from Anne), and while this seems like a lot, I still have a huge wish list of varieties that I'm searching for. I have a feeling that my rose collecting won't slow down any time soon and they may very well end up being the subject of a book someday.  
I will definitely share more about the varieties that I chose and how they are performing once I have a little more time to get to know them. In the meantime, I've shared a few of my favorites below.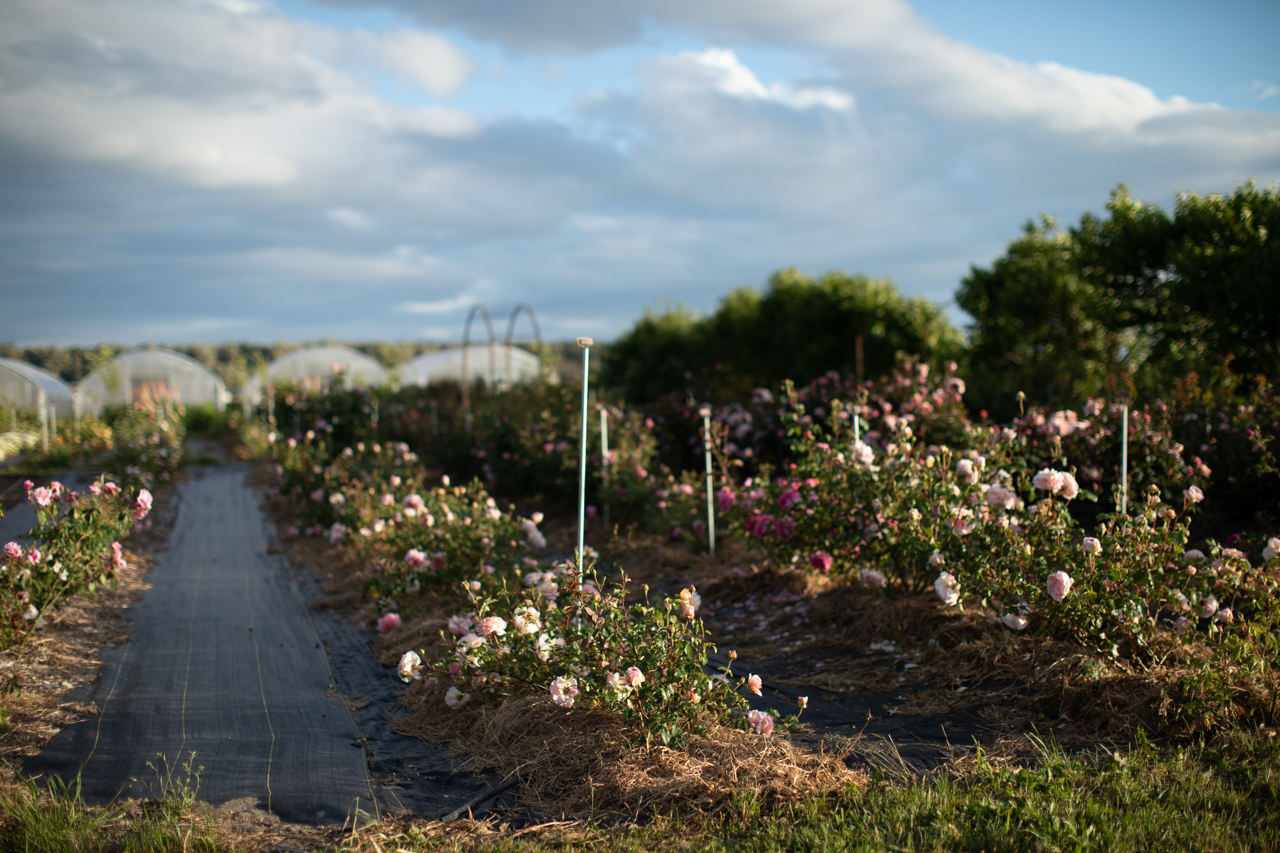 On the farm, our roses are nested into four main collections. The first are the rose varieties that we've planted specifically for cutting. We've devoted ten 70-foot rows of the cutting garden to these varieties that are organized loosely by color. 
These roses are all repeat-bloomers and more than half of them are David Austin varieties and most have a full cabbage rose look.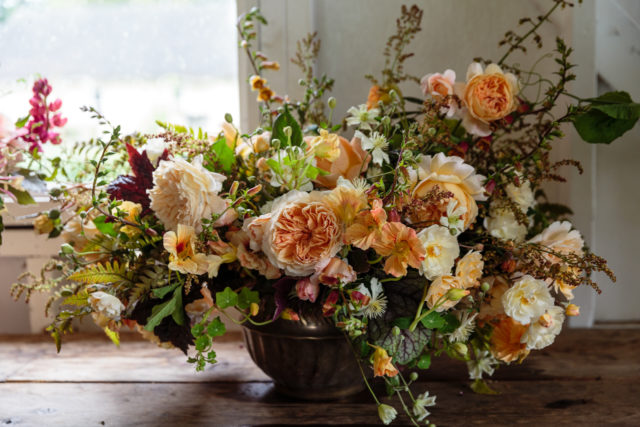 Some of my favorites from the cutting garden are 'Abraham Darby', 'Golden Celebration', 'Grace', 'Teasing Georgia', 'Perlie Mae', 'Mother of Pearl', and 'French Lace'.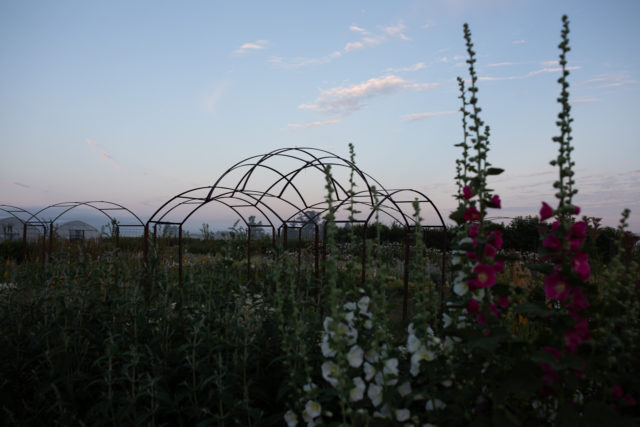 The second group of roses is a mix of climbing and rambling varieties, both one-time and repeat-blooming. Down the center of the cutting garden, we have a series of archways that meet in the middle under a large metal dome that will eventually be engulfed with blooms.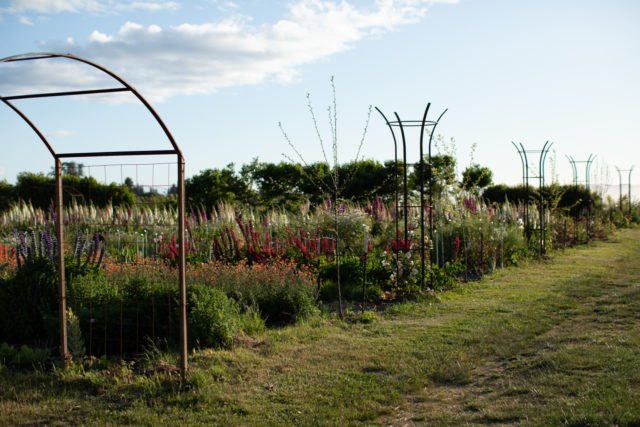 Additionally, down the main access road to the cutting garden, there are a series of alternating towers with climbing roses planted at their base which will soon climb up through and spill over the top. The cutting garden is going to be off the hook once all of these structures are covered! 
A few of my favorite climbing and rambling varieties are 'Cecile Brunner', 'Glorie de Jon', 'Malvern Hills', and 'Alchymist'.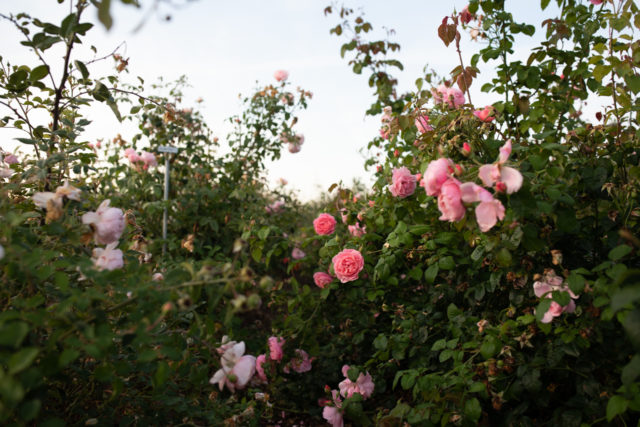 The third group is all of the old roses (most are one-time blooming) that are tucked into the orchard, the hedgerows, or flank the main roadways throughout the farm.
The idea is that once established, these vigorous, hardy varieties will be able to withstand the harsher, more exposed conditions out on the main farm.  
A few of my favorite old rose varieties are 'Dupontii', 'Kathleen', 'Moyesii', and rosa glauca. 
The fourth group is a mix of mainly shrub roses selected for their fragrance and delicate-looking blooms. We wanted to be able to observe these roses up close and really get to know them over time. 
For this formal rose garden we needed to get the plants in the ground quickly because they had outgrown their pots and we were going through a pretty extreme heatwave, so rather than tilling up the grass and waiting for it to break down, we instead rented a sod lifter and prepared the garden space in a long, back-breaking weekend.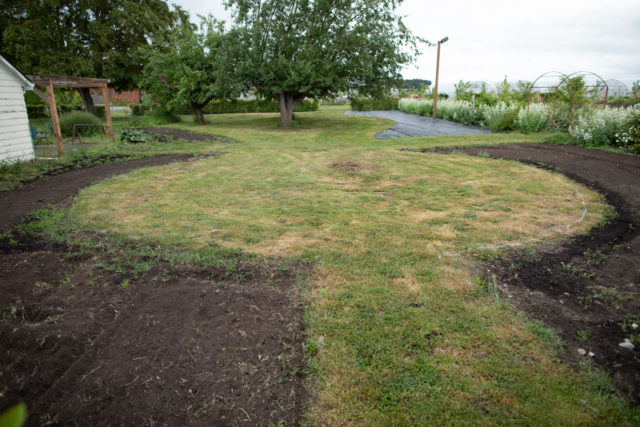 We'd never used a sod lifter before and it's definitely a great option if you need to remove grass from an area quickly, but if you have quack grass, it doesn't get deep enough to remove the rhizomes so those still need to be grubbed out by hand.
Once the sod was cut, we rolled it up and took it back to the compost pile to decompose and then next spring, once it has broken down, we'll return it to the garden in the form of compost.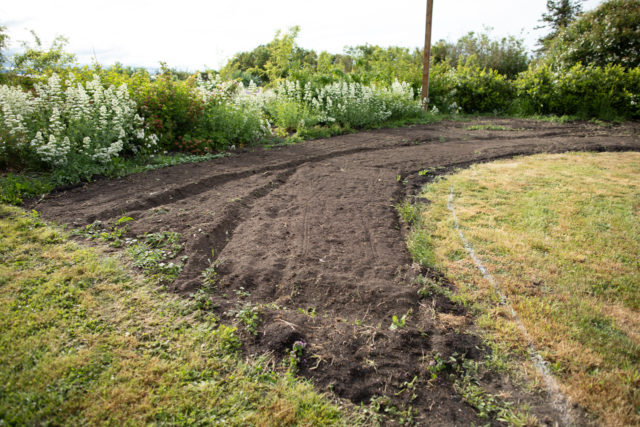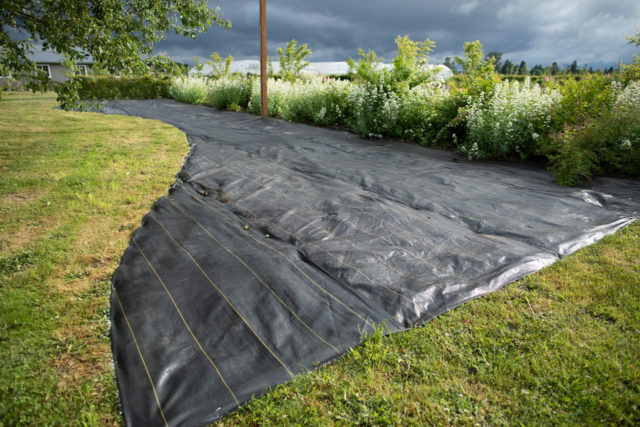 Once the sod was out of the way, we amended the planting beds with a thick layer of compost and a heavy dose of Walt's organic fertilizer, and then covered the beds with landscape fabric. Becky then marked the spots where each rose would go, we burned holes in the fabric and planted the roses into the holes.
The reason for this was to help suppress the weeds in this garden while the roses grow and establish because we just didn't have the time to mulch and weed all of the planting beds by hand. Once the roses are larger, we will remove the landscape fabric and plant perennials and small shrubs amongst the roses. I can't wait to see this garden come to life!
Some notable favorites planted in this garden are 'Bishop Darlington', 'Buff Beauty', 'Penelope', 'Sally Holmes', 'Star of Republic', and 'Windrush'.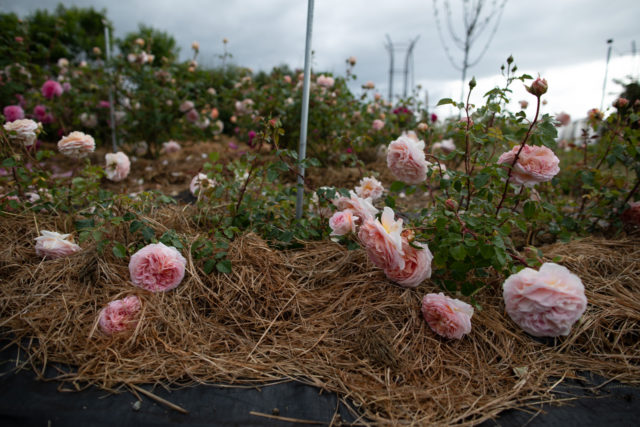 I've saved the best for last. In the fourth and final post of this series, you'll find an interview with Anne Belovich that she so generously shared with us all this summer, just a few short months before she passed away. 
---
Please note: If your comment doesn't show up right away, sit tight; we have a spam filter that requires us to approve comments before they are published.
Floret only lists companies and products that we love, use, and recommend. All opinions expressed here are our own and Floret does not offer sponsored content or accept money for editorial reviews. If you buy something using the retail links in this post, Floret may receive a small commission. Thank you for your support!