Whenever I'm curious about something and want to learn more I end up conducting some type of trial. Being able to compare all of the options that are available side by side is one of my favorite ways to learn.
Over the years, I have trialed so many different things, from thousands of different varieties of plants to tools, vases, rain gear, shoes, pens, notebooks, and bizarrely, even salad dressing!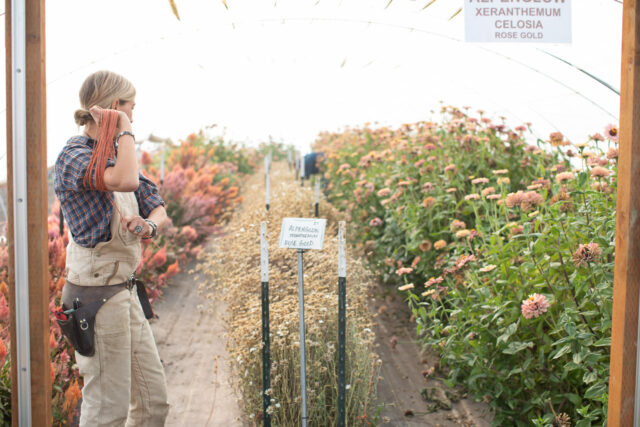 This past season, my trialing obsession grew to include women's workwear. Finding workwear for women that's durable, comfortable, flattering, made to actually work in, and that fits different body types has proven to be quite the challenge. I have pretty much tested every single brand on the market now and I have a lot of thoughts to share.  
While writing an entire article about clothing feels a little silly, workwear is expensive and it can be time-consuming to figure out what style or brand will fit your own unique set of needs, especially if you don't fall into the standard size options that are most commonly available. 
There are a lot of really cute styles out there these days, but when put to the test, I have found that many fall short. Below you will find my review of the best brands I've discovered when it comes to quality workwear for women, including the things that I like about each company and also a few criticisms.
Jill and Nina shared their favorites as well, so there should be something here for everyone.
Of all the brands that I've tried, Dovetail is hands-down my favorite. I love that this female-founded and run company has put so much effort into creating legitimate workwear for women across many different industries, including farming, landscaping, construction, welding … and on the "badassery" scale their clothes are 10/10. 
Their clothing is available at most places that offer workwear, but if you need special sizing, you'll have to order it through their online store (their return/exchange process is very user-friendly). They offer a wide range of inseam lengths for both overalls and work pants depending on your height. They also have some really nice flannels and lightweight work jackets. 
Overall, Dovetail clothing is a little more fitted in nature. Their overalls are tighter through the waist and their pants have a slimmer silhouette. They fit my body type really well, but both Jill and Nina find their pants and overalls too tight through the middle. If you don't like form-fitting clothing or need a bit more room, then this brand might not be a good fit. 
Freshley Overalls in Grey Thermal Denim (pictured above) are my go-to overalls whenever the weather is cool. I tend to run cold and during cooler weather I typically wear long johns under my pants, but these insulated overalls eliminate the need for an extra layer and they are so comfortable and stretchy. It feels like you're wearing your pj's out in the field!
Freshley Overalls in Saddle Brown Canvas (pictured above) are the lightest weight Dovetail overalls that I've tried and are my go-to when working in the greenhouses and field when the weather is warm.
They are moderately stretchy so are great for crawling around on the ground harvesting seed crops, weeding, and scouting for pests. 
I also have the Freshley Overalls in Natural Canvas (pictured above). This fabric is much thicker and doesn't have any stretch, so I would say that if you're going to be moving around a lot in them I would size up. They hold their shape really well and are a beautiful earthy green-brown. 
In addition to overalls, Dovetail has some great work pants. What I love about them, in addition to them being comfortable, durable, and flattering, is that they don't slide down when you bend over, which is a huge plus.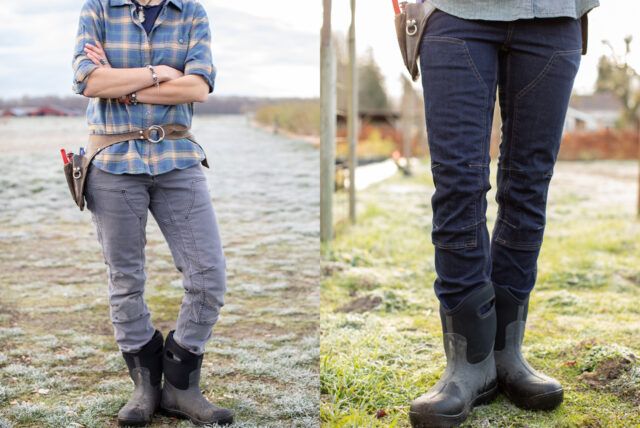 I love the Britt Utility in Grey Thermal Denim (pictured above, left) in cooler weather. These fleece-lined work pants are super stretchy and cozy. 
After Carhartt changed their double-front jean design, I've been on the hunt for a replacement. The Britt Utility Reinforced Indigo Denim work pants (pictured above, right) are a great alternative and so far I've been really happy with them. They don't have any stretch, which is the one downside in my book because it seems like I'm always crawling around on the ground and can use a little extra give. 
The Givens Work Shirt in Indigo Stripe (pictured above, left) is a medium-weight work shirt that is perfect for wearing every day in the garden. The first time I put it on it felt like it was already broken in and it actually has enough room through the shoulders without looking boxy. 
I recently bought the Givens Work Shirt Stretch Flannel in Vintage Blue (pictured above, right) and plan to get all of the other colors. It's super comfortable, stretchy, fits through the shoulders (which is always a challenge for me), and I really like the color combination.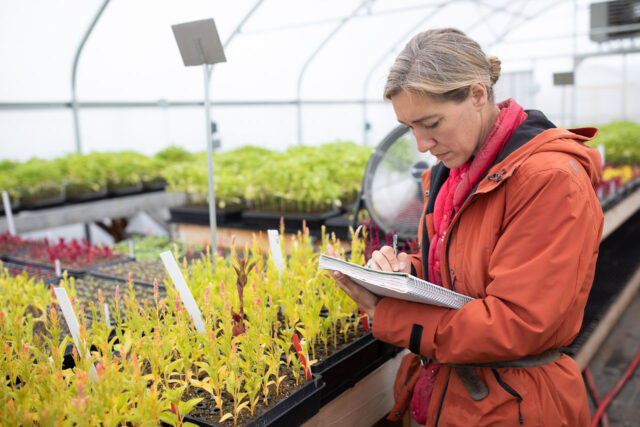 I got the Eli Chore Coat in Paprika (pictured above) a few years ago and pretty much have lived in it ever since. This medium-weight waterproof jacket is so comfortable. The shoulders are wide enough to move in and the fabric has a good amount of stretch to it.
I normally wear a down vest underneath it to add a bit of extra warmth, but it is my everyday garden jacket.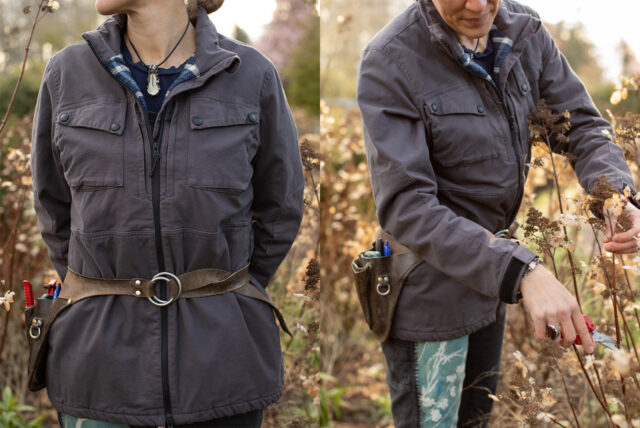 The Kent Chore Coat (pictured above) is a mid-weight flannel-lined work jacket. It has nice deep pockets, comes with a detachable hood, and is really comfortable if you're doing work that requires a lot of movement. I haven't had mine for very long but so far I'm a huge fan. 
If you order from Dovetail, you can get $10 off your order by using the code FLORETFLOWER at checkout. 
I have tried out pretty much every piece of Carhartt work clothing that they make and while I appreciate how much energy they've devoted to expanding their range of women's wear, unfortunately, I've found that many of their new designs fall short when put to the test on the farm.
I also don't love how logo-heavy they've gotten when it comes to their sweatshirts. 
Of all the things they offer, I keep going back to their overalls, both for comfort and durability. While you can't usually find special sizing available in stores, many of their styles come in both short and tall lengths, and they offer a great range of plus sizes online.
Jill loves their Women's Utility Leggings because they're stretchy, but her favorite part is that they don't slide down when she's crouching or bending over taking notes in the field. 
Carhartt is probably best known for its duck canvas fabric—it's what made them so famous. This material is long lasting and durable, but the downside is that it takes forever to break in. I have two pairs of their heavy-duty duck overalls (that seem to be discontinued) that are finally at that soft, cozy, broken-in stage, and I wear them all the time.
Overall, their fit is very loose and kind of boxy, which is great if you like to wear long johns or flannel underneath or need more room through the middle.
Last summer, I got a pair of the Women's Rugged Flex® Loose Fit Canvas Bib Overalls in Natural (pictured above) and they are awesome. The fabric is lightweight, breathable, and stretchy, and while it seems crazy to wear white in the garden, they are actually perfect in hot weather because they reflect the sun. 
Jill has a pair of Women's Relaxed Fit Denim Bib Overalls in Railroad Stripe (pictured above) that she wears all the time. She loves that they are soft and roomy, and says she always gets compliments on them when she goes to the grocery store after work. 
When Carhartt first released their Straight Fit Double-Front Jeans (pictured above), I ordered a bunch of pairs because I was so in love with how well they fit. Thankfully I stocked up because they changed the original design shortly after release and the newer versions don't have the same great fit or fabric.
The reason I list them here is that I get so many questions and compliments online whenever I wear the original pairs. If you like a more fitted work jean, a good alternative is the Britt Utility Reinforced Indigo Denim work pants that I listed above.
I have a number of different flannels from Carhartt and have been really happy with how well they fit and hold up with heavy use and frequent washing. If you have broad shoulders, they fit really well. Unfortunately, I don't see any of them currently available. 
When Becky Crowley came from England to help design the farm a few years ago, she got a few pieces of Patagonia's new (at the time) workwear and couldn't stop raving about it, so I decided to give it a try.
The company itself is such an inspiration and the way it conducts its business with such high ethical and environmental standards is impressive. They also have a great buyback program and will repair any of the pieces that you get from them indefinitely. 
At this point, I've tried pretty much all of their workwear and have been really impressed with the quality, comfort, and durability. I'll report back on their work coats once I give them a little more time in the garden. 
I love their All Seasons Hemp Canvas Bib Overalls (pictured above) and wear them every day in the summer. The canvas part of the name is misleading because they actually feel like more of a heavy linen and are very loose and breathable.
They are my go-to overalls for hot weather, even when I'm roguing flowers in a 100°F-plus greenhouse. 
If you're lucky, you can find long sizes through their website, but they don't always stock them, so it's worth signing up to be notified when they are restocked if you are tall. 
Because I love their overalls so much, I thought their work pants would also be great, and while they are comfortable unless you get the ones where you can cinch the back, they slide down when you bend over. 
I put a poll up on Instagram asking about people's favorite workwear brands for the garden and Duluth, by far, had the most praise. The styles they offer fit women with curves and those who need a shorter inseam. I have ordered multiple pairs hoping to find the right style, but unfortunately, none of them have a long enough cut to fit my frame. 
Jill and Nina are both huge fans of Duluth's overalls and they each have multiple pairs. 
Jill loves the Heirloom Gardening Bib Overalls and has them in Coal and Spice (pictured above, but not currently listed online). She loves that they are available in short sizes (she's 5' 3") and that the material is breathable and dries quickly if it gets wet. The fabric also has a nice stretch to it that is great for crawling around on the ground, which she frequently does! She wore them every day last summer and so far they've shown no signs of wear.
Her only complaint is that the material (while it has its many benefits) is very loud and swooshy when she walks—I can hear her coming from a mile away!
Nina loves the Rootstock Gardening Overalls in Railroad Stripe (pictured above) because the material is nice and stretchy, which makes them extra comfy, and the double layer of fabric over the knees gives them extra reinforcement. She's also a big fan of all the pockets.
A few years ago I discovered Kellie Swanson, a Montana-based artist who specializes in applying cyanotype photography to clothing. In addition to offering beautifully printed upcycled overalls, jackets, and workwear, Kellie also takes a limited number of custom orders each season. While the wait is a little long, you can send her your favorite jacket, overalls, or shirt and she can personalize it for you. 
I sent her a pair of my Carhartt Women's Rugged Flex® Loose Fit Canvas Bib Overalls in Natural (pictured above) and Dovetail Freshley Overalls in Heather Black Denim that she tricked out for me.
The only downside is that whenever I wear them out in public so many people come up to me asking where I got them. While I love sharing about Kellie's amazing work, it's a little terrifying for an introvert like me. Haha!
To be the first to know when her new collections drop or when she has an opening for custom orders, be sure to sign up for her newsletter on her site. 
Here in Washington we get a lot of rain and are often working in wet, muddy weather, so having high-quality rain gear on hand is a must. I have tried all the brands and all the styles and keep coming back to Grundéns. 
This brand is known in the fishing industry as the gold standard, but many farmers are fans as well, including our crew. 
I wear the Men's Neptune 509 Bibs and Men's Neptune 319 Commercial Fishing Jacket (both pictured above) in a size small and love that they are lightweight, durable, and really easy to work in. I have to order men's sizing for the extra length.
Unfortunately, as far as I know, their women's line doesn't have a good tall option (yet).
If you order from Grundéns, you can get 20% off your order by using the code FloretFlowers20 at checkout. 
I know it seems strange to list this brand under workwear, but I have yet to find any other company that makes such comfortable, well-fitting, durable jackets that are also affordable. They always have some kind of great sale running on their website and you can find really good deals. 
One of my favorite things is that they also offer tall sizing, which I need for arm length, and a longer cut that is both flattering and offers extra coverage.
Over the years I have seriously put these jackets to the test! I've had my black down coat from them since Jasper was a baby and I'm still wearing it in the garden. Mistakenly, I wore it to prune roses too many times, so my mom has added a whole collection of darling patches which makes me love it even more. 
None of the styles that I have are still available but they have lots of other great options to choose from.
Jill used to tease me about wearing my Land's End coats in the garden and now she's singing their praises, too.

Footwear
I wasn't planning to include shoes and boots in this review but I get so many questions about my favorites. Again, I have tried just about everything on the market and keep coming back to just a handful of brands.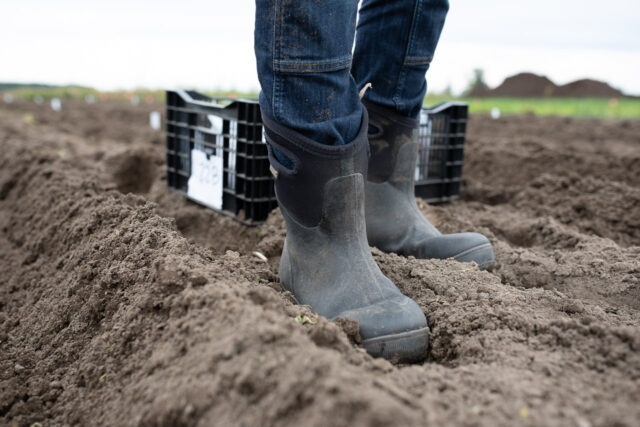 Here in Washington, having insulated boots is a must if you don't want cold feet. I get a fresh pair of Bogs Neo-classic Mid boots (pictured above) every fall and they last me almost 12 months to the day before cracking along the seam. I put these boots to the test, walking miles every day and no other brand has been able to keep up with that level of wear. Given their amount of use, I am really happy with how long a pair holds up.
My favorite part about these boots is that you can slip them on and off without having to reach down and use your hands because my arms are always full going in and out of the house. They have lots of other cuter styles, but none of those easily slip on and off. 
It pains me to write this because these shoes are so incredibly unattractive, but here on the farm once the weather warms up, there's nothing more comfortable than a good ol' pair of Keens, Kacie III Slip-Ons (pictured above) to be exact. But what they lack in style they make up for in durability and comfort.
They slip on and off really easily, especially when your hands are full, and if you have flat feet (Jill) or long toes (me), they'll fit you great! 
My farmer-florist tool belt is hands down my all-time favorite tool for gardening and flower farming. I've been wearing the original prototype of this belt every day, in every kind of weather, for more than 8 years now and it's still going strong. This handcrafted tool belt, custom made for us by leatherworker Wheeler Munroe, has been a total game changer. 
After years of tearing holes in the back pockets of every pair of pants and misplacing phones, pens, and flower snips throughout the day, this tool belt changed everything for me.
We offer five different colors (brown, black, rosewood, wheat, and gray) in the Floret Shop. We also have left-handed styles in both black and brown. 
Scarves
And last but not least, one of my all-time favorite companies, Block Shop Textiles. Sisters Lily and Hopie Stockman started their business back in 2013 with a small collection of scarves made in Jaipur, India with the goal of supporting and celebrating the Indian hand block printing tradition. 
Their business has grown tremendously and now works with a number of small, family-owned workshops and studios based in India, Italy, and the U.S. 
While technically not workwear, their beautiful cotton/silk scarves are lightweight but surprisingly warm. I've accumulated a pretty sizable collection over the years and love every single one. They make the perfect birthday present or gift to yourself. 
It has been really encouraging to see so many companies devoting time and energy to developing quality workwear for women in recent years. I'm hopeful that this trend will continue into the future and that even more options will be available for our shapes, sizes, and body types. 
The good folks at Dovetail, Carhartt, and Grundéns have generously offered to sponsor an awesome giveaway for five Floret readers. Each winner will receive three gift certificates—one to Dovetail ($150), one to Carhartt ($100), and one to Grundéns ($150). 
To enter to win one of five of these gift certificate bundles, please tell us about a favorite piece of workwear that you've owned or a company you think we should know about. This giveaway is open to U.S. residents only and winners will be announced on April 25.
Update: Congratulations to our winners, Heather, D. Hamilton, Lisa Mabry, Margaret LaPlant, and Sandy!
---
Please note: If your comment doesn't show up right away, sit tight; we have a spam filter that requires us to approve comments before they are published.
Floret only lists companies and products that we love, use, and recommend. All opinions expressed here are our own and Floret does not offer sponsored content or accept money for editorial reviews. If you buy something using the retail links in this post, Floret may receive a small commission. Thank you for your support!