A few years ago we got an email out of the blue from a flower farmer in Wisconsin who sent a picture of some sunflowers he had been breeding and wanted to see if we might be interested in offering them. His sunflowers were like nothing I had ever seen before and I immediately picked up the phone. 
Two short weeks later Steve Kaufer flew out to the farm to meet us and we ended up planting a huge field of his amazing sunflowers to trial here in our climate. After getting to experience Steve's beautiful creations, it became clear that he was really onto something and we encouraged him to follow the trail so that he could one day release his beauties out into the world.
In addition to being a flower farmer and sunflower breeder, Steve is also a master falconer. And during the winter months, he shares a lot of really interesting videos about how he utilizes these magnificent birds of prey to combat pests, such as rabbits, on his farm.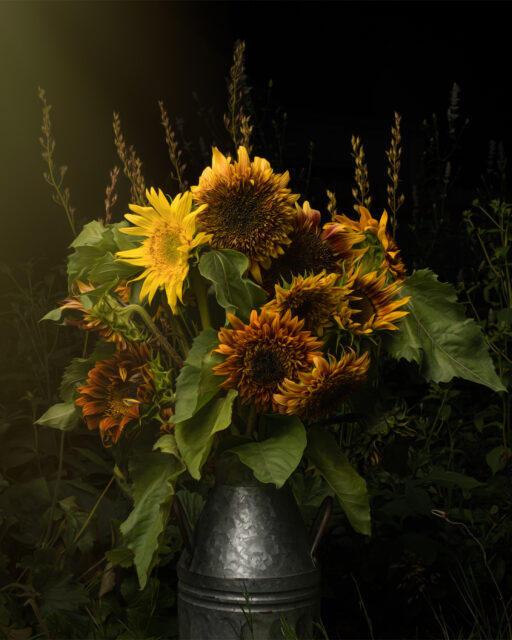 Steve is one of the kindest, most generous people I know and it has been such an honor to get to play a small part in his flower journey. I thought it would be fun to have Steve share a little more about his flower farm, the sunflowers he's been breeding, and his upcoming seed sale on April 1, 2023.
Your flower journey has been a long and winding one. I'd love to have you share a little about how you started and where you are now. 
I pretty much stumbled into the cut flower world. I had been growing native prairie grasses and flowers since the early 1990s in order to improve our land for wildlife. In January 2000, I lost my job due to downsizing and I needed to find a way to make an income.
I got a job working for a friend but needed to make more money, and I discovered that nobody was utilizing the native prairie flowers in the cut flower market. As a side hustle, I started selling single stems of golden Alexanders, blue Baptisia, echinacea, and a dozen other native flowers to flower shops in the Twin Cities.
Some of my flower shop customers suggested I start growing zinnias and sunflowers for them, so I did, not having a clue what I was doing … just a desire to provide for my family. I grew to love growing and selling flowers over the next few years as we added a huge retailer, a wholesaler, and two farmers markets to our customer list. Growing acres of perennials and annuals, we sold mixed grab-and-go bouquets as well as wholesale 5-stem single-variety bunches.
In 2012, we changed focus and concentrated on doing high-volume 5-stem bunches of just our most popular flowers—peonies and lilacs for perennials, sunflowers and zinnas for annuals. From 2012 to 2022, we cut between 15,000 to 20,000 sunflowers a week for 12 weeks, and they became what we were known for. 
During this time, I discovered a rogue sunflower in one of my idled fields that had volunteered, which was really odd because everything I grow is a sterile hybrid. There shouldn't have been any flowers in that field, especially a teddy bear-looking thing that was bi-colored.
And that lone flower has led me to where I am today, turning the page on my 22 years as a cut flower grower to start a seed company to breed and bring amazing new sunflowers to the world, with the hope to spread joy and leave a beautiful legacy behind in my wake.
So after finding that special rogue sunflower, it sounds like you started down the path you're on now. Will you share more about why you decided to shift your focus?
Initially, my goal was to see if I could create a flower for my customers that no one else had. It took 8 years of planting, culling, and selecting to get a good population of multicolored double-flowering sunflowers. I was still working 16 hours a day on my cut flower business, so I couldn't devote a ton of time to breeding and almost stopped several times due to setbacks of weather and just not enough hours in the day. 
However, in 2016 I remember looking at the seeds I needed to plant and trying to decide if I had the time to do it. I felt God nudge me to plant them—that something good would come from it. That year I decided to start separating the colors from each other and do some hand-pollinating to strive toward individual colors. Then in 2020 when the pandemic hit, I had an epiphany—I could sell seeds to make money if nobody would be able to buy cut flowers in person.
I reached out to a couple of seed companies, but nothing panned out. Then I reached out to Floret, and lo and behold, for some reason you reached back out to a little unknown flower farmer in Wisconsin.
You're currently working on breeding some incredibly special and unique sunflower varieties. Can you talk about the goals of your breeding program? Are there any varieties in particular that you're especially excited about? 
After you and I spoke, I was inspired to continue breeding my sunflowers for a different reason. I want to be able to share their beauty with people everywhere, not just in my little part of the world. That's why I started my seed company and I am turning the page on my cut flower business.
I am particularly excited about a few varieties that are on the verge of being ready for market. There is a chocolate double variety that has been getting better and better each year. There is also a deep burgundy double that has an iridescent look to it that I really like. And something I am super excited about is a breakthrough I had with a variegated variety. The foliage is absolutely amazing and I believe I am only a couple of years away from having it stable, fingers crossed. Of course, I have several dozen others that I am hoping will replicate when I plant this year. However, as you know, sometimes you never see the traits of the parent plant ever again.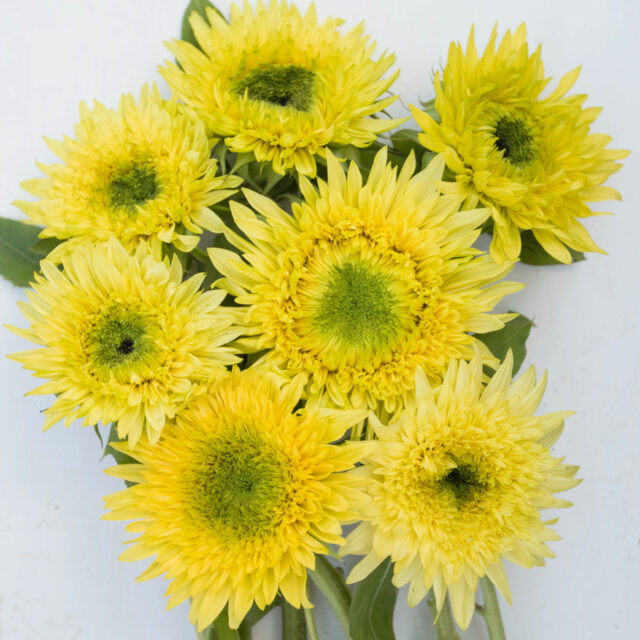 In 2024, I will be releasing a variety called the Lemon Drop Mix (pictured above). It is a mix of lemon-colored flowers that are single, semi-double, and fully double flowers. They will be available in my store on my website. If you go there and sign up for my newsletter you will be kept in the loop on breeding progress as well as sales and special offers.
I love the giant flower murals you share on social media—talk about taking things to the next level! What inspired you to start creating these large-scale works, and can you walk us through the process of making one? 
I had made smaller flat-lay murals on our picnic table just for fun. But then a few years ago when a violent storm laid out our last 3 weeks of sunflower production, I suddenly found myself with 100,000 uncuttable flowers. So, I decided to make lemonade out of lemons—it was better than crying and way more fun. We were in a unique position to scale up our flower murals to another level.
At first, we just free-handed them. As they got more complex, I started printing them out and making a grid so we could scale up a ratio. For example, a 1-in-by-1-in square on the paper was equal to a 3-ft-by-3-ft square on the ground. Then we just started cutting flower heads and putting them in containers in the cooler until I felt we had enough to do the mural.
I usually have two murals in my head at the same time. That way, once we are done with one we can leave a lot of the flowers on the ground and repurpose them for the second mural. They usually take three of us about 6 hours to do.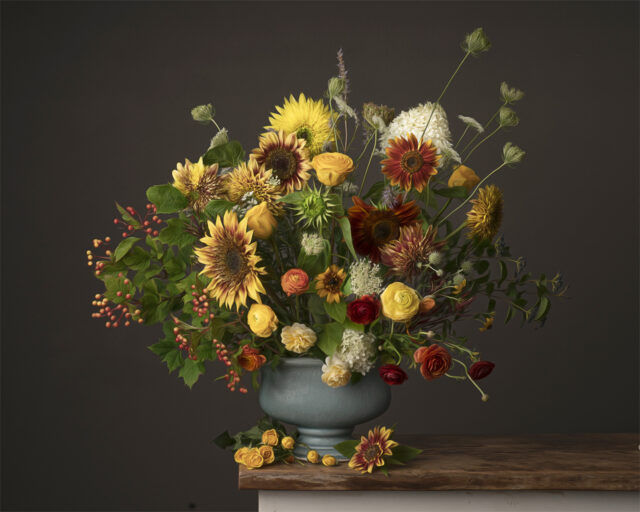 The photographs you shared for this interview featuring your sunflowers are stunning! Can you tell us more about these images and their creator? Are they part of a larger project?

I met the photographer, Caroline Jensen, on Instagram. I posted a story about my prairie flowers and she commented on it. I found out she was an amazing photographer and subliminally stored that information in my brain.
I had considered doing some sort of project to share my many years in the cut flower business but I wasn't exactly sure what … YouTube, online courses, farm events, perhaps writing a book. However, I hadn't really looked at any of these options as more than a passing interest.
Later on, I was looking at some photos of the Van Gogh's Fantasy field I had taken during the last growing season. I remember thinking, "Everybody should be so lucky to see this beauty every day." And a light bulb went off—a book! I need to put these photos in a book!
And, if I'm being honest, I went to the bookshelf and thumbed through your Discovering Dahlias book. As I was looking at it, I thought, "These dahlia photos are amazing. There's no way I can take photos anywhere near as stunning as these." But then I thought of the amazing photographer with a shared love of prairie flowers who follows me online.
So, I contacted Caroline through Instagram and asked her if she would be interested in being the first professional photographer to take pictures of my flowers. We hit it off immediately and had a great conversation about flowers, photography, and faith. I told her I didn't exactly know how I was going to use the photos, but wanted to know if she wanted first dibs and she enthusiastically agreed.
Caroline lives hours away from me, but she and her husband traveled here three times last summer. They camped out in their camper so she could get photos during the morning and evening golden hour. Then I sent her home with buckets of my flowers so she could work her magical arranging skills and capture photos that I could only dream of taking. And after seeing her first shots I knew I was right.
So, in answer to your question, I will be working on a book of some sort. Now that I have Caroline's artistic talent behind the beauty of my flowers, I am even more motivated to create something I can share with fellow flower lovers.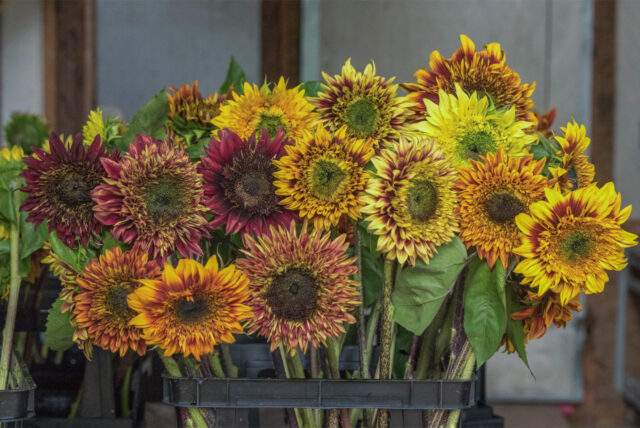 Your sunflower varieties are unlike anything I've ever grown before and I'm so excited that you're finally making them available to the world. How can people purchase seeds and when and where will they be available?
This coming Saturday, April 1, at 12 p.m. CST, I'll be offering my Van Gogh's Fantasy Mix (pictured above) in my online shop. It's a mix of every flower that has ever been produced at my farm over the last 14 years.
Each packet includes 25 seeds and will produce a diverse mix of colors and forms. I'll also be offering bundles of bulk packets at a discount for people wanting to grow larger quantities. For now, I am only able to ship within the United States but am hopeful that by 2024 I will have the details worked out to ship to other countries.
Thank you so much, Steve, for taking the time to share about your sunflowers and your breeding journey. I can't wait to grow more of your beautiful creations on our farm this year. 
Steve has generously offered to share some of his coveted seeds with Floret readers! For a chance to win a packet of Lemon Drop Mix and Van Gogh's Fantasy Mix, post a comment below telling us where you would plant Steve's magical sunflower seeds if you won—we'd love to hear a little bit about your garden. 
We will be drawing five winners on April 10. Unfortunately, due to export restrictions, this giveaway is open to U.S. residents only. 
Visit Sunflower Steve's website where you can sign up for his newsletter and shop his sale: https://www.sunflowersteveseedco.com/
Follow Steve on Instagram: https://www.instagram.com/sun_flower_steve/
Update: A  huge congratulations to our winners, Linda Dyer, Sarah Barlow, Beth Arnold, Caryn Szejka, and Kimberly Scanlon.
---
Please note: If your comment doesn't show up right away, sit tight; we have a spam filter that requires us to approve comments before they are published.