Over the years I've been flooded with countless emails and messages asking what I recommend for boots, raincoats, tools, books, camera gear, and even which online courses I've found to be most valuable.
With the holidays coming up, the team and I thought it would be fun to put together a big list of things I use on a regular basis and highly recommend. These trusted companies and talented artisan makers inspire me with their commitment to quality, their heartfelt stories, and the way they run their businesses with such integrity and passion.
Supporting fellow small businesses is a core principle of our philosophy here at Floret. I love being able to shop from intentional, women-owned companies and the creative community whenever possible. I've had the great fortune of connecting with some incredibly talented makers and creators over the last few years through workshops, travel, and social media. Today I'm happy to share some of them with you. 
I hope you enjoy this list and take the time to share some of your own favorites in the comments section at the bottom of this post. 
Boots & clothing
In our part of Washington, where it stays cool and wet for two-thirds of the year, keeping dry and warm is essential. The entire team and I have been wearing Bogs for many, many years, and we've found them to be the only insulated boots that hold up over time with heavy use. My personal favorite is the Neo-Classic Mid, and  I recently got a pair of the Arcata style, which are great for wet, cold days but are cute enough to wear into town. Chris loves the Classic Ultra High, and the rest of our team members wear a variety of different styles. Our barn entrance is always lined with so many of their boots!
If you live in a rainy climate similar to Skagit Valley, durable rain gear is essential. We swear by our Grundens bib pants. I wear the Neptune Bibs and Jacket (men's small). I order men's sizes since I'm tall and need the extra length, plus the women's have a bright pink logo that I don't particularly care for. Our whole team is outfitted in this high-quality, long-lasting gear, and I can't recommend it highly enough. 
I have been a collector of Block Shop Textiles for so many years. Sisters Lily and Hopie Stockman started with a small collection of scarves in 2013 made in Jaipur, India, with the goal of supporting and celebrating the Indian hand block printing tradition. Their business has since grown tremendously, and they now offer a wide range of beautiful textiles including scarves, quilts, wall hangings, and rugs. 
For jeans and overalls, I absolutely love Carhartt's Double Front Jeans, and I also regularly wear their Bib Overalls. They are very well-made and super comfortable and they stand the test of time.
Dovetail makes workwear that is perfectly tailored to fit and flatter women. One of the things I love so much about this company is their mission: "To encourage women to enter and succeed in non-traditional occupations. We envision the future as all women fulfilling their personal potential, thriving in their work, and strengthening their communities."  Their Britt Utility Pants and overalls are absolutely wonderful and a favorite among many female farmers I know, plus a lot of the gals on our team. 
I am the type of person who is always cold, and I wear my down coat until summer begins. I've tried every brand and style under the sun and continually come back to Lands' End because their coats are warm, durable, and flattering, plus they always seem to be running some sort of sale. I love their long, down coats for gardening and morning chores or to stay warm on a chilly walk. I've found that their coats hold up surprisingly well even though they are not considered utility wear. 
Tools & supplies
This handcrafted tool belt, custom-designed and handmade for Floret by talented leather worker Wheeler Munroe, has revolutionized the way we work here on the farm. After years of tearing holes in the back pockets of every pair of pants and misplacing phones, pens, and flower snips throughout the day, we've found that this custom-designed belt changed everything. With room for both heavy-duty pruners and flower snips or scissors plus  a cell phone, a pen and pencil, and a roll of flagging tape, this tool belt has been a total game-changer. It rests comfortably on your hips, keeping essential tools within reach without adding any extra weight or strain on your back. This belt is not only a tool, but also a keepsake that will serve you for many years to come.
I have a huge collection of aprons that I wear in the garden and the studio. Most of them were made for me by my mom, but I'm always on the hunt for new additions. I have been a big fan for years of the Portland Apron Company. Erika, the owner and creative behind Portland Apron Company, started her business in 2012 with the desire to make high-quality, organic cotton handmade aprons with a focus on natural fabrics and minimal waste. She creates a variety of styles, from full length aprons to kids aprons. I love her timeless style and beautiful website. 
Jewelry from Belle Femme: A collaboration between jeweler Eduard Oganov and his daughter, Eugenia, these semi-precious pieces are beautiful and unique, and the stones contain healing properties. I love their rings and bracelets, and I'm never without my pendant.
After visiting England and seeing The Land Gardeners in their adorable smocks, I've been hunting for something similar here in the States. And I am over the moon to have finally discovered the Essential WorkShirt from The Flower Frog. This lovingly made work shirt is made from 100 percent linen by Rightfully Sewn in Kansas City. Three large pockets line the front of the shirt, perfect for garden gloves, seed packets, and anything else you  might need. The Flower Frog is a flower farm and online boutique located in the tranquil Hopewell Valley of New Jersey. On this historic farm, the owners grow many varieties of summer blooms that are sold at their honor stand and at other locations in the valley.
Weeding is one of my least favorite farm chores, and I'm always looking for ways to make this task easier and faster. My three favorite weeding tools are the collinear hoe, the Japanese hand hoe, and the hori hori knife. 
The collinear hoe allows you to stand up straight while cultivating. Its thin, sharp blade glides just below the soil surface, cutting off weeds at their roots. The lightwright, upright design turns the tedious task of weeding into a speedy, meditative joy. The ultra-sharp Japanese hand hoe is my all-time favorite short-handled hoe. It's well balanced, lightweight, and sturdy and makes the process of hand-weeding a breeze. Both of these tools are available from Johnny's Selected Seeds.
Japanese for "dig-dig," a hori hori knife is a versatile tool that can be used for digging, sawing, and dividing plants with ease. It is also great for transplanting, weeding, opening plastic bags, and cutting twine. You can find them at A.M.Leonard.
For gloves, I've tried them all and always come back to the Atlas brand 370 Nitrile Gloves. They are my daily go-tos because they are durable, breathable, and easy to clean. They wash up well in the washing machine, but to extend their life, don't put them in the dryer. 
For vases and pottery, some of my most treasured pieces were created by Frances Palmer. I first met Frances  in 2015 when she came to our farm to attend one of our in-person workshops. We formed a strong connection and have stayed in touch over the years. I'm in love with her pottery and her photography, and deeply inspired by how she's grown a very intentional business centered on creativity and staying true to what works for her.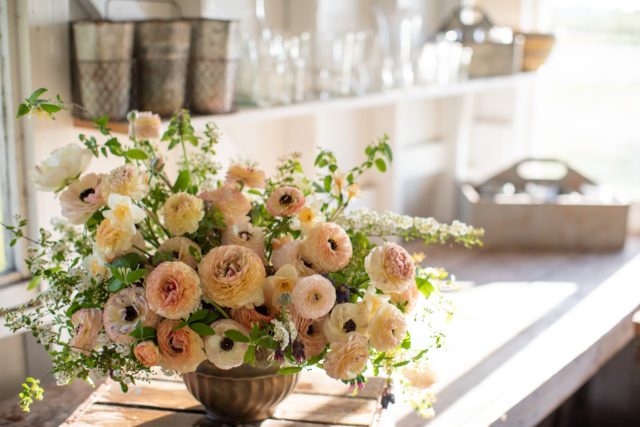 We also often receive questions about the metal and brass containers I use for arrangements. Over the years I've had fun collecting a variety of pieces from local thrift stores and antique shops. It's been fun to find lots of second-hand treasures.
For unique vintage gems, repurposed garden, industrial and farmhouse and barn finds, I'd definitely recommend Old Shed Vintage and the Red Door Antique Mall in Mount Vernon.
Bigger farm investments
Over the years we have put up a half dozen different styles and brands of hoophouses, and each one has its pros and cons. This past year we discovered Farmer's Friend, and I am so impressed with all of the innovative work they are doing to help small-scale growers succeed when it comes to season extension and production. Their video tutorials are incredibly helpful, and I am so excited to watch this amazing company grow. 
We are currently putting up our first Gothic Pro Caterpillar Tunnel from them and have been so pleased with the quality of the material, the ease and speed of ordering, and their wonderful customer service. I am so excited about these tunnels because they come as an easy-to-assemble kit but are still incredibly affordable and an appropriate scale for a large backyard or small farm. 
Having a cooler to store your flowers or produce is a total game-changer for any farm, but professional coolers normally start at $10,000 and go up from there, which makes them out of reach for most people. Years ago we discovered the company Store It Cold, which makes this ingenious device called a CoolBot that allows you to transform an insulated room or trailer into a super-affordable walk-in cooler using a standard window air conditioner that you can buy at the local hardware store. We've been using a CoolBot cooler set-up for more than a decade, and I can't recommend them highly enough. You can find more information on the Store It Cold website. 
Camera gear
One of the most common photography-related questions we receive is about which camera Chris prefers. His favorite is the Canon EOS 5D Mark IV. A few of the lenses he uses are the 50mm 1.4  and the 35mm 1.2.
Books
The list of books I love grows longer by the day, but here are some of my current top favorites. You'll find other books that I highly recommend in these blog posts. 
New additions to my library:
Life in the Studio by Frances Palmer 
Flowers for the Table, The Flower Workshop, and Seasonal Flower Arranging by Ariella Chezar 
Five Mary's Ranch Raised Cookbook: Homegrown Recipes from Our Family to Yours
Gardening:
The Complete Gardener by Monty Don 
Growing flowers:
The Flower Farmer by Lynn Byczynski
The Cutting Garden by Sarah Raven 
Grow Your Own Cut Flowers by Sarah Raven 
Personal development & goal setting:
Strengths Finder 2.0 by Gallup 
Going Pro by Steven Pressfield 
Fire Starter Sessions by Danielle LaPorte 
Online workshops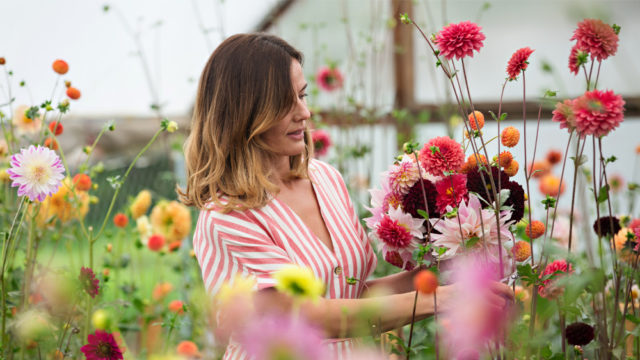 My dear friend Gabriela Salazar is an incredible floral designer and skilled cut flower grower who lives and works just outside of Mexico City. You probably already follow her on Instagram @lamusadelasflores. Gabriela was a guest instructor at our on-farm design workshops many years ago, and her floral design work and teaching style is equal parts inspiring and captivating. What I love most about Gabriela's work is that she elevates garden-grown flowers in the most reverent way. Gabriela has created a series of floral design and cut flower growing courses that I have both taken and highly recommend. 
Ariella Chezar is the godmother and original creator of seasonal floral design. Her work will take your breath away. Ariella's exquisite approach to color and composition have made her one of the most sought-after and highly regarded designers of our time. Her work has greatly influenced my own and has inspired an entire generation of floral designers seeking to connect more closely with nature and tie their work to the seasons. Ariella recently created a series of video tutorials demonstrating how she creates her signature flower arrangements. In true Ariella fashion, even the videography and narration was a work of art. I can't recommend them highly enough, and if you're looking to be inspired and hone your craft, she's the best teacher there is.
Of all of the investments I've made in myself and Floret, I would say that BSchool was one of the most impactful. I can trace so much of our success back to what I learned from Marie Forleo. BSchool is a significant investment and is really designed for those who are ready to play full out when it comes to business. I love the fact that, in addition to being incredibly well-organized and thoroughly put together, it was created by a woman, primarily for women, especially those in creative fields. I first took the course back in 2012 and have retaken parts or all of it every year since. I still get tremendous value out of this program and can honestly say it's one of the best investments I've ever made. 
Family businesses to support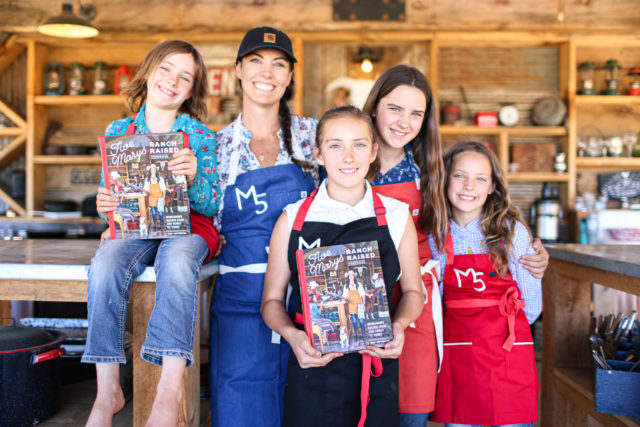 I've been a fan of Mary Heffernan of Five Marys Farm for many years after discovering her on Instagram, and we've since become real-life friends. This past spring Mary surprised me by flying up for the launch of A Year in Flowers. Mary, her husband, and their four daughters, all named Mary, have a ranch in northern California where they raise Black Angus cattle, Navajo Churro lambs, and Berkshire heritage pigs. They sell their pasture-raised meats and other farm-produced products direct-to-consumer. We've been members of their Farm Club for years and get a monthly box of their pasture-raised meats delivered from their farm to our doorstep—it's a pretty amazing program! I can't say enough good things about the quality, taste, packaging, and customer service (which often includes handwritten notes in each box). Mary has also created a wonderful online business course for farmers and ranchers. She's an incredible businesswoman and a wealth of information. This fall Mary's cookbook, Five Mary's Ranch Raised Cookbook: Homegrown Recipes from Our Family to Yours was released. It's one of the best cookbooks on my shelf. All of the recipes we're made were delicious, and the stories and photography are top notch. You can read my past interview with Mary here—and be sure to follow her on Instagram. 
Located in the historic waterfront town of La Conner, Washington, Mary Davis Vintage Lighting is a must-visit! Owner Mary Davis offers a vast array of restored vintage lighting fixtures from the late 1800s to the mid-1900s and an ever-changing inventory of new and old items. While the shop is quite small, you can get lost for hours exploring all of the vintage treasures. I've been collecting hand-painted victrola horns that she's transformed into the most unique lights, and they now decorate the ceiling of my flower studio. In addition to having such an amazing selection of one-of-a-kind treasures, Mary is pure gold. I love visiting with her as much as I love visiting her store. If you're ever in the area, you have to stop by. 
For more of my local favorites, be sure to check out the "Best of Skagit Valley: A Visitors Guide" blog post. 
We're giving away 3 assorted prize boxes filled with some of my favorite things, including books, a Grundens jacket, gift cards from Dovetail and Portland Apron Company, a Floret tool belt, and other goodies!
To enter to win, please share about the shops, books, or entrepreneurs that are inspiring you at the moment in the comments section below. Winners will be announced and notified on Wednesday, December 16. 
A huge congratulations to our winners: Jessica Brennis, Tracy Klie and Rebecca R. Harrison!
Please note: Floret only lists companies and products that we love, use, and recommend. All opinions expressed here are our own and Floret does not offer sponsored content or accept money for editorial reviews. If you buy something using the retail links in this post, Floret may receive a small commission. Thank you for your support!