I first met Frances Palmer in 2015 when she came to our farm to attend one of our in-person workshops. We formed a strong connection and have stayed in touch over the years. I'm in love with her pottery and her photography, and deeply inspired by how she's grown a very intentional business centered around creativity and staying true to what works for her. Frances also loves flowers, especially dahlias, and has an amazing cutting garden she keeps for inspiration and subject matter for her photos. I asked her to share some of the lessons and experiences that led to her gorgeous new book, Life in the Studio: Inspiration and Lessons on Creativity, with Floret readers.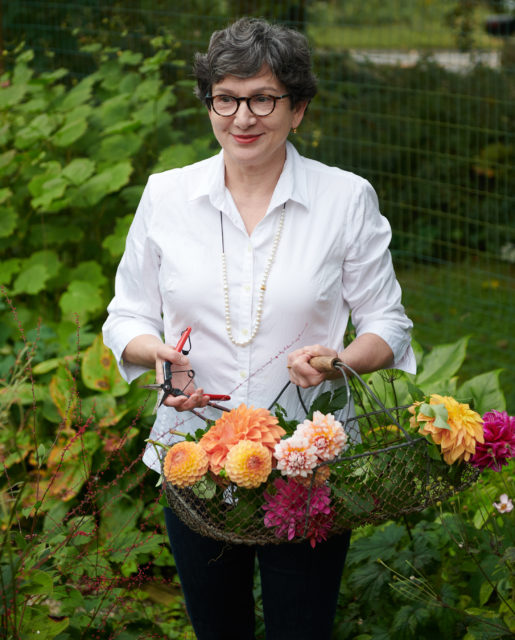 Erin: Thank you so much for taking time to share your story with Floret readers. For those not familiar with your work, can you share an overview of your story?

Frances: I've been a potter for over 30 years and did not begin until I turned 30, though I've made art since I was young and originally aspired to be a printmaker. When we moved out to Weston, Connecticut, with a newborn daughter, and I felt completely overwhelmed, I signed up for a throwing class at a nearby art guild. I knew immediately that pottery was my métier, and it combined all the things that I love to do. I am fascinated by the process from start to finish. My work is primarily functional, formed on the pottery wheel and thrown in mainly three clay bodies: white earthenware, terracotta, and high-fire translucent porcelain. In the early years, I worked in the house while our three children were growing up. Now, I have a barn next to the house and spend most of my time there. There are two gardens next to the studio where the flowers are grown for my photography.
Erin: Your career began in arts administration, but you left that behind decades ago and have worked in the creative arena yourself ever since. Your new book, Life in the Studio, is such a rich record of your path and also your day-to-day process. Is the book a project you've wanted to do for a long time?
Frances: My literary agent urged me for a long time to do a book, but I felt that I wasn't ready or clear about what I wished to say. Then, Artisan Books asked me to write about my studio philosophies in order to inspire others. In general, I prefer my art to speak for itself, so it was challenging to put down on the page principles that I have held since the start of my career. Most of the time, because I am in the studio alone, my strategies live in my head and go no farther than family and friends. Some essays were easier to articulate than others, but I wrote for two years to explain my creative path, and it has been a worthwhile experience.
Erin: So many of our readers are yearning to express their creativity and might be waiting for certain things to fall into place first. But in the introduction to your book, you talk about unpredictability, and also about how following artistic dreams doesn't mean you have to completely change your everyday life. Can you talk more about balancing creative intentions with unpredictability and less-than-ideal circumstances?

Frances: I was trying to say that even if one can't afford to give up a means of support in order to fully follow a creative desire, small steps can be taken, allowing space to start. A table in a room, a special chair, a wheel at a communal pottery. One or two hours a week. It doesn't have to be an all-or-nothing proposition, and gradually, the balance will start to shift. It takes time and patience, and sometimes one's in the middle of change before it is acknowledged. Mostly, just keep at whatever inspires you, and even a little is a movement forward. Just knowing that you are allowing yourself that creative time makes a huge difference.
Erin: Your book has an entire section devoted to dahlias: their history, your favorite varieties, and how you care for the tubers and plants throughout the year for a season of blooms. Clearly you've been bitten by the dahlia bug! Can you say more about what these blooms, and gardening in general, mean to your work and your inspiration?

Frances: I've been growing dahlias now for over 26 years. I first spied them in a book and was immediately obsessed. When I began, they were out of fashion, and gardening friends were dismissive of my enthusiasm. But I was and still am captivated by their exuberance, color, and form. I love that dahlias bloom from late summer through to frost and get better and more eccentric as the season moves on. I am also fascinated by their provenance and how they are bred. Heirloom dahlias have a lot to say about the culture of their time, depending on origin. I am an art historian by education. I love to study the history of plants, as well as ceramics, and how the two intertwine in my craft. It is not just about planting a flower in the garden. I do a tremendous amount of research on all the flower types that I select.
Erin: You cover so many themes that have come up in your years of creative practice, including believing in your intuition about whether a potential commission is a good fit or not. Can you share more about learning to trust your gut?
Frances: I give each project complete attention and only send out work that is my best effort. At the start of my business, I accepted all opportunities, even if the job was something that did not really align with my design aesthetic. Over time, I realized that, if possible, it was most important to only undertake collaborations that I could be enthusiastic about. Fortunately, I've had only a few requests that I've turned down, but it is important to ask yourself a few questions before moving forward. If you listen to yourself, that is the best guide, as instinctively, you know if something is right for you. It is when you don't listen that things can go awry.
Erin: You also write about how you initially bought ads to get word out about your pottery but eventually found that photography—which you have taken time to learn yourself—was the best tool. Would you recommend that other creatives learn to photograph their own work as a way of telling their story?  
Frances: Yes, I think that it is important for an artist to learn photography for a number of reasons. Photos keep a record of your work, showing evolution. No one will see your art the way that you do, so hiring a photographer can be expensive and unsatisfactory. At the end of the day, you will know best how to interpret your ideas and give the best expression. In the age of social media, it is important to be able to capture a spontaneous moment, and if you always have a camera or phone with you, this is easily accomplished. In these times, many digital and print magazines request you to supply your own high-resolution photos because they are unable to send a photographer. It is crucial to know how to provide these, which increases your visibility editorially. Finally, taking photos trains your eye to see things that are happening visually around you. Once your consciousness is raised, it is exciting to find new ways to capture the world.
Erin: I was really struck by the part of the book where you talk about your creative community, about how you wanted your daughter to be around artistic, accomplished women—and about how she has so many "other mothers" she can rely on. You write, "As much as I love my family, there is no substitute for having another woman to talk to about anxieties, fears, triumphs, tribulations, and the day-to-day job of being female." I love this! Can you share more?
Frances: While there is much to admire in the accomplishments of famous women, I am most inspired by the women I know personally and witness their courage in facing the challenges of daily life. As mentioned, I work alone, so my friendships are tremendously important. Everyone needs empathy and support, yet also truthfulness. Having my women friends to talk to makes all the difference. But it is not a one-way street—I am glad to hear their thoughts equally, and we talk about politics, gardens, making things with our hands, children, and on and on. If we all lived in a communal village and sat around while we worked, that would be wonderful. But as that is not the current mode of things, get-togethers and conversation are gifts and highly cherished.
Erin: Who are some of the artists or people working in other arenas who are inspiring you now?
Frances: I am reading the biography of Ruth Asawa (Everything She Touched: The Life of Ruth Asawa, by Marilyn Chase), a Japanese-American artist (1926-2013) who as a teenager lived in the Japanese internment camps during World War II. She had an indomitable spirit in spite of this terrible hardship and went on to be an incredible artist of elegant wire mesh sculptures, as well as a community activist in the San Francisco school system during the 1960s. The USPS has just released a stamp collection of her sculptures. I recently finished reading a book by Isabella Tree called Wilding, about returning her family's land that had been farmed for over a century back to the natural landscape. As a result, all sorts of plants, insects, and animals that were on the verge of extinction reappeared and flourished. Tree describes how interwoven and integral each aspect of nature is to the other and how this needs to be preserved for the health of the earth.
Erin: What are some of the projects you're currently working on that you're most excited about, and what are you dreaming of doing next?

Frances: I am very excited about the release of my book, as it will be the culmination of two years of writing and photographing. I also am having a photography exhibition at Wave Hill, a wonderful public garden on the Hudson River in the Bronx, New York. My photos are in Wave Hill House September 12th through to December 31st. Additionally, my wood-fired pots are part of an installation at the Eliot Noyes House in New Canaan. I am looking forward to making and firing new pots in my wood kiln that I had built last year near my studio. Creating the glazes for this is fascinating, and then to see how the ash from the wood transforms the pots is magical. It takes time and focus, and I love moving my work in this direction.
Erin: Thank you so much, Frances, for taking the time to share your story with Floret readers. I continue to be inspired by your work, and I know so many of our readers will learn from what you've shared.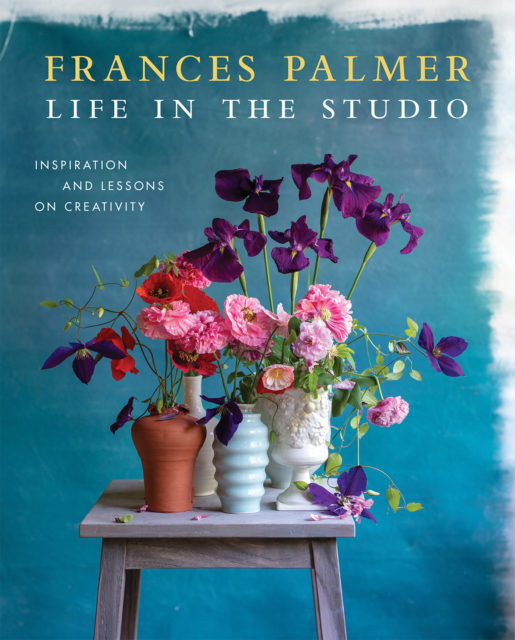 To celebrate the release of Frances's new book, Life in the Studio: Inspiration and Lessons on Creativity, we're giving away 5 copies. Winners will also receive Frances's beautiful new 750-piece dahlia puzzle. For a chance to win, simply post a comment below. In your comment, tell us what inspires you most about Frances and her work. Winners will be announced on Friday, October 23rd.

A big congratulations to our winners: Victoria Summers, Melinda, Christina, Olivia Josephine and Angie Choly!
Please note: If your comment doesn't show up right away, sit tight; we have a spam filter that requires we approve comments before they are published.
Learn more and connect with Frances Palmer.
Book: https://amzn.to/2F8pxFS
Instagram: https://www.instagram.com/francespalmer/
Twitter: https://twitter.com/francespalmer
Facebook: https://www.facebook.com/Frances-Palmer-Pottery
Pinterest: https://www.pinterest.com/francespalmer/