One of my main goals in writing this blog is to save you time and money by learning from my mistakes. To say that I learned about succession planting the hard way would be putting it mildly!
The first year I grew flowers to sell, I was served a big ol' slice of humble pie. While it was a tough lesson to learn at the time, my experience (or lack thereof) with succession planting taught me that too much of anything, especially blooming at the same time, can be a curse. I now take lots of time planning and plotting the season to come and have much better outcomes as a result.
The first season I grew flowers on any kind of scale (¼ acre), I knew very little about staggering the harvest through succession planting. In early spring I sowed one huge batch of seeds, planted them all out after the danger of frost had passed and spent the next few months impatiently tending to them as they grew. I didn't pick a single flower until late June and then in a flash I was swimming in more bounty that I knew what to do with. For the next month and a half I harvested, arranged and delivered flowers from sunrise to sunset, seven days a week.
No matter how hard I worked, or how fast I went, I still couldn't get everything out of the field. It was heartbreaking to have so much beauty go to waste, especially when I had people wanting to buy it, and I really, really needed the money.
By early August, the floral tidal wave subsided and I was left with a few rows of dahlias and zinnias that were still blooming, but that was it.
During the brief floral extravaganza, I had quickly built up a nice little customer base. Fancy city ladies who joined my weekly bouquet subscription, grocery buyers who were thrilled to get organic blooms and a few local wholesalers who seemed intrigued with my unusual heirloom offerings. It was pretty humiliating to have to go back to them and say my flower season was over so quickly.
Determined to find a way to do better next year, I threw myself head first into learning everything I could about extending the flower season.
In addition to choosing a wide range of varieties that will flower at different times in the season, it's also important to stagger each planting.
Rather than sowing all of your seeds in one shot, you instead sow small batches, successively, every few weeks. This spreads out the flowering window and the workload, into much more manageable waves.
In late spring and early summer cool weather lovers like Iceland Poppies, Sweet Peas, Larkspur, Bells of Ireland and Honeywort steal the show. High summer brings heat lovers like Globe Amaranth, Zinnias, Celosia, Basil, Cosmos and Chocolate Lace Flower. During the early fall months Amaranth, Grasses, Asters, Rudbeckia and Sunflowers shine.
When creating a succession-planting plan you need to know when your last spring and first fall frosts are. If you don't already know them, your local county extension office or Master Gardeners group can help. You also need to know how many days each variety takes from seed to flower. This information can be found in the variety description of the catalog or on the seed packets. You'll notice that some varieties like Calendula come into flower very quickly, in just 55-60 days, so you can squeeze more flowering waves into a season. While other varieties like Black Eyed Susan's require a much longer growing window of up to 120 days, so fewer successions can be achieved.
Once you know your last fall frost date, simply count backwards the number of days that each variety takes to ripen and that's the last date that seed can be sown with enough time to flower.
Because the days get shorter and colder as autumn approaches, plant growth will slow down as the season progresses. To account for this, count back an additional two to three weeks on the very last sowing to ensure the plants have enough time to ripen before frost arrives.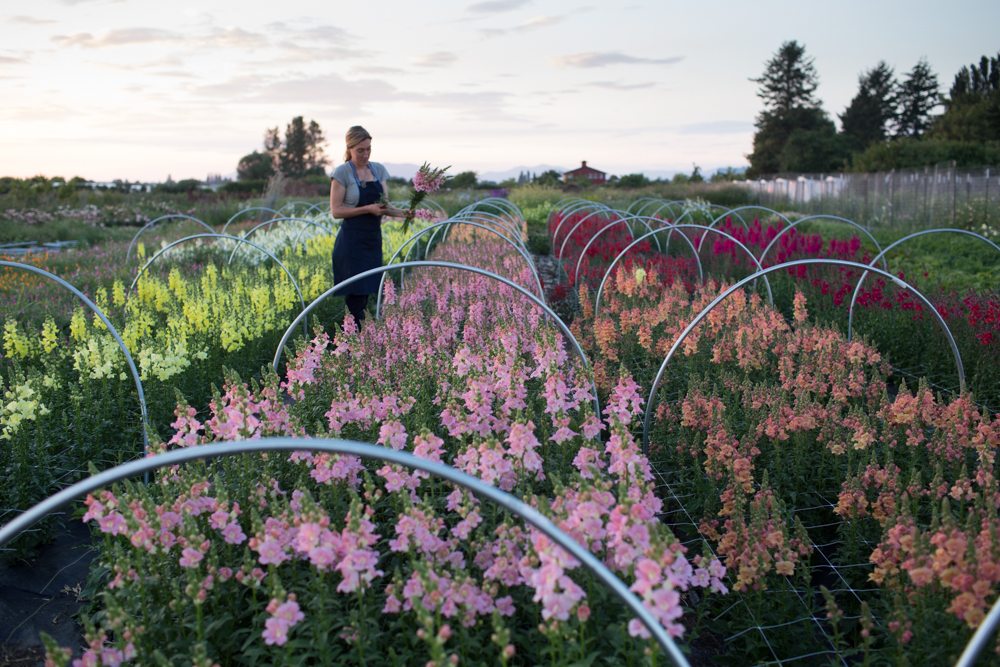 To make the planning process easier, I've broken our field and hoop houses up into separate growing blocks. This allows us to plant small batches, every week, without having to increase our labor support over the season. When I was first farming, I was flying solo with only Chris and the kids for help. I had very limited time and labor help, and by breaking things up into smaller pieces, I was able to stay on top of it all. Planting the whole field at once would have been impossible.
The same goes with the picking. With smaller blocks of flowers, staggered throughout the season, I was able to stay on top of the cutting without too much struggle.
After a patch of flowers has bloomed and begins to fade, it is pulled out and the beds are replanted within a matter of days. Pictured above, an early summer wave of Campanula and Feverfew in bloom from mid-late June and once done flowering are pulled out, the beds are prepped and a quick Sunflower is put in by mid July for a fall harvest.
My goal is to get two crops from each bed within a given year. While it is still a work in progress, this intensive approach allows us to produce a HUGE amount of volume out of a very limited space. Early bloomers like Sweet Peas and Iceland Poppies can be followed with a fast flowering variety such as Pro Cut Sunflowers or Cress.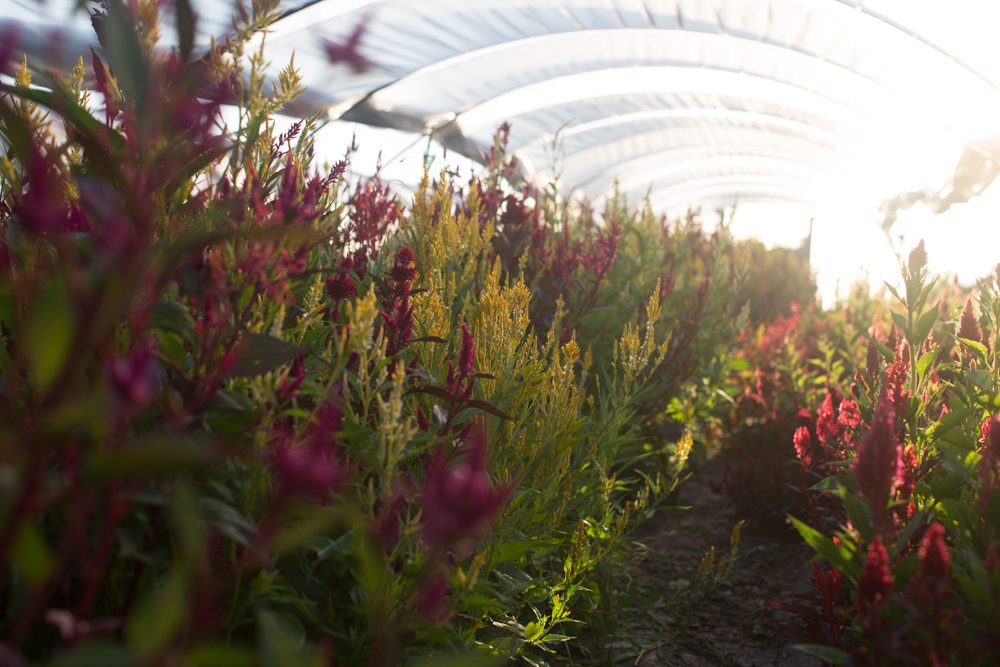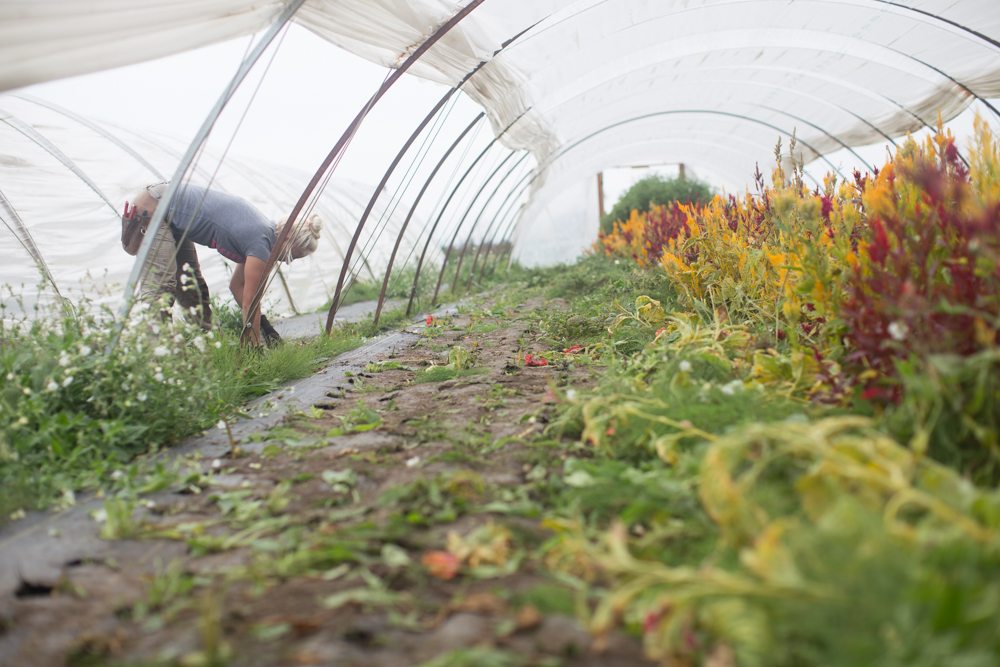 There are three main categories I assign annual cutting varieties to:
"Cut and come again" bloomers are true garden workhorses. They produce buckets and buckets of flowers and foliage over a very long period of time and are a great choice for new growers. The more you harvest these flowers, the more the plants produce. Because they are so productive, fewer succession sowings are required. I generally aim for three sowings, three to four weeks apart. Zinnias, Cosmos, Icelandic Poppies, Gomphrena, Pampas Plume Celosia and Basil belong in this category.
"Medium producers" are very productive but don't have quite as long of a flowering window, so they need to be replanted more often. Amaranth, branching Sunflowers, Snapdragons, Queen Anne's Lace and Honeywort all fall into this category. I plant these every three weeks.
"One hit wonders" include many easy to grow gems like Bupleurum, Bombay Celosia and single stemmed Sunflowers. For an uninterrupted harvest of these wild fire bloomers, they should be replanted every week or two.
When referencing the following plant suggestions, be sure to keep in mind climate differences. Our farm is located in Washington State where springtime is cool and damp, summer is mildly warm and fall is wet cool. If you are in a warmer, drier climate, then you'll likely be able to get three to four more sowings of most heat lovers into your season whereas you may need to subtract at least one planting off of anything that likes cooler weather.
I have found that all annuals can be replanted at least once, often twice, with 3-4 weeks between plantings. The following references are based on a best case scenario. Once the season hits it can be really tough to keep on seeding and planting but if you can stick with it, you'll be generously rewarded!
Cut and come again favorites:
Basil: In our cool climate Basil must be grown in the hoop house for best production. I plant three successions, three weeks apart for a summer and autumn filled with this fragrant foliage.
Cockscomb: (Celosia): These fuzzy textural bloomers add interest and color to bouquets. The Pampas Plume mix flowers abundantly for many, many weeks. I aim for three plantings a season, every month until mid summer.
Cosmos: Of all the annual plants you can grow in your cutting garden, few are more productive per square foot than cosmos. The more you cut, the more they bloom. These cheery blooms look great in bouquets. New plants are started every three to four weeks until mid summer.
Dusty Miller: One of the most versatile things you can add to a cutting garden, this silvery accent cranks out buckets and buckets of foliage all summer. I plant one batch in the fall, into the hoop house for late spring picking and then a second patch outside in late spring.
Fiber Optic Grass: The first year I grew this gem, a 4 x 60 foot bed (with 9×9" spacing) produced $1,950 in revenue in one short month long harvest. While the initial customer obsession with it has faded, we still use a generous amount for bouquets and straight bunches all summer long. Each planting produces robustly for about three weeks and then peters out quite rapidly. I aim for five planting, three weeks apart.
Foxglove: While this cottage garden favorite typically falls into the biennial category, modern breeding has blessed us with some very exciting annual flowering varieties. Both the Dalmatian and Camelot series flower the first year from seed. I sow the first batch of plants in the fall and tuck them into the hoop house for early flowers, followed by a late winter and mid spring sowing. This approach provides an uninterrupted harvest of up to four months.
Iceland Poppies (Papaver nudicale): One of the most productive focal flowers we grow, Iceland Poppies have fast become a favorite around here. For extra early spring blooms I start seed in the fall and transplant them to an unheated hoop house before cold weather really sets in. Plants overwinter and come into flower by mid March. I do two more successive sowings, one in late winter that gets transplanted into a hoop in the spring and another a month later that get planted directly into the field. This approach gives us an abundant crop for nearly five months.
Sweet Peas: Few plants rival the production of a healthy patch of sweet peas. In areas with cooler summers like the Pacific Northwest and the UK, sowing seeds from the three flowering groups (winter, spring and summer) can increase the production window. In areas where spring is short, sow two batches of Spencer Sweet Peas (these are what we carry) three weeks apart.
Zinnias: In our cool climate we can't seem to squeeze more than three rounds of these cheerful bloomers into a summer, planted about 3 weeks apart. Growers in warmer parts of the world succession plant them every week or two from their first spring frost until mid summer.
Medium producers:
Amaranthus: Most varieties are 80-100 days to bloom, so three to four plantings two to three weeks apart will provide a summer of cutting material. Our Chocolate/Cherry Mix includes Opopeo, a brilliant maroon variety with dark foliage that blooms in just 60 short days and can be planted every two weeks through mid summer.
Bachelor Buttons (Centaurea cyanus): I have a love hate relationship with these guys. I love their pretty wildflower blooms in early summer bouquets but I hate picking them. I think everyone feels the same! I direct seed a batch in late fall and then make three to four subsequent sowings about three weeks apart beginning in mid February. I find sowing smaller patches more often allows me to keep up with harvesting and spreads their beauty out over a longer period.
Black Eyed Susan's (Rudbeckia hirta): I can't get enough of these richly colored daisy blooms. I plant two successions a month apart for an autumn full of color.
Bells of Ireland (Moluccella laevis): Hands down, Bells are the best filler you can grow. Each plant churns out masses of beautiful, fragrant stems that make bouquets look lush and vibrant. Whenever there's a lull in production I feel lost! Each year I somehow squeeze in another planting of these beauties and most years we enjoy six to seven lush crops. The first and last sowings are planted into the hoop house to protect the towering spike from wet weather. The other five batches are sown three weeks apart and planted outside until mid summer.
Chinese Forget Me Nots (Cynogolssum amiable): This delicate blue treasure is a must grow. Unlike regular Forget Me Nots that are a biennial, these darlings flower the first year from seed. I sow three batches, three weeks apart for a steady spring harvest.
Chocolate Lace Flower (Dacus carota): This large flowered burgundy-chocolate and cream colored Queen Anne's Lace has been an absolute hit from day one. It looks great en masse, pairs well with almost anything and blooms for most of the summer from just one planting. The lacy umbels come in a range of sizes and shades, adding a dramatic, airy quality to finished arrangements. I sow three batches of seed, a month apart.
Globe Amaranth (Gomphrena haggena): This summer darling is hard working in both the garden and in the vase. The more you cut, the more they bloom. Adorable button like blooms resemble colored clover blossoms and look great in bouquets. They thrive in the heat and are good both fresh and dried. I plant three successions, three weeks apart.
Honeywort (Cerinthe major): This one of my favorite early season fillers. It is super easy to grow and each plant produces so many stems it can be a real struggle to keep it harvested. I opt for smaller plantings, more often to stagger the abundance. I aim for five sowings, beginning in late February, every three weeks.
Satin Flower (Godetia): The first few years we grew way too much at one time and had whole beds go to waste. Godetia is wildly productive and comes on all at once so keep that in mind when planting. Even a small patch can take hours to harvest every morning and if you don't keep up with it you'll spend even longer picking off the opened flowers. Smaller plantings make it easier to stay on top of the harvest. I aim for three plantings, roughly every three weeks.
Snapdragons: Like sweet peas, snapdragons are available in different flowering groups and bloom according to day length. To have the longest bloom window possible you'll want to select varieties from each of the groups. Chantilly's flower first followed by the Madame Butterfly's. I sow two batches of each variety, three weeks apart to extend the harvest window.
Sunflowers: It's no wonder why these cheerful summer bloomers are loved by so many. The branching varieties like Panache produce an abundance of bouquet-sized stems over the course of many weeks. I plant a new wave of seeds every two to three weeks until mid summer.
Larkspur: A great colorful spiky bloom for late spring and early summer bouquets. Flowers come in a wide range of colors and are easy to grow and harvest. If sown two to three times in the fall/winter and again in early spring, up to four or five good crops can be had per season. Larkspur resents transplanting, so be sure to direct seed it into the garden.
Millet (Seteria italica): A great textural addition to late summer and early fall bouquets. It's easy to grow and does well in poor soil. I plant a wide selection of varieties with varying days to maturity every three weeks until mid summer.
Queen Anne's Lace: I aim for four plantings starting with one in the fall and three staggered three weeks apart in the spring. The last planting is always quite a bit shorter than the early ones since Queen Anne's Lace likes to grow in cool, moist soil. But even with the decreased height it's still a very productive crop.
One Shot Wonders:
Bupleurum: Second to Bells of Ireland, Bupleurum is one of the most useful fillers for bouquet making. Plantings get cut rapidly so you'll want to keep sowing every week or two as long as you can stand to do so.
Cockscomb (Celosia): These fuzzy textural bloomers add interest and color to bouquets. The Bombay series comes in an incredible range of colors, producing just one bloom per plant. We aim for plantings every 7-10 days, through early summer.
Love in a Mist (Nigella hispanica): This simple little beauty is as wonderful in flower as it is in pod. I direct seed six plantings each season, starting with one in the fall and then every two to three weeks from mid March on.
Sunflowers: One planting of single stemmed sunflowers like those from the Procut or Sunrich series generally blooms for about 10 days to two weeks. For a nice steady harvest, I sow batches every 10 days beginning right after the last spring frost and continuing until mid summer.
I realize that this is a ton of information, but my hope is that it can provide you with a framework to develop your own succession seeding plan that reflects your climate, your space (and time!) and your goals (be sure to read my post, Six Important Questions to Answer Before You Get Started Growing Flowers for more on that).
Putting this together was a real labor of love and I'd truly appreciate your feedback. If you'd please take a minute and share your insights, experience, or questions regarding succession planting for your flower farm or cutting garden that would be amazing. Do you do approach your planning similarly? Are there any tools or tips you'd like to add to the post? Is there a book or article about this topic that you'd care to share a link to? Thanks in advance for sharing your thoughts.