In the beginning, pulling together bouquets was almost effortless. A quick stroll around the yard and I could gather more than enough ingredients to put together something beautiful. But as time went on and my hobby turned into a business, having a steady supply of the right kind of ingredients became tricky.
It's one thing to be able to whip up a few centerpieces with goodies from the garden, and a whole other thing to be able to fill a twice a week mixed bouquet order for a grocery chain or bouquet subscription/flower CSA. Some weeks the stars would align and I'd have everything I needed, and some weeks I'd be missing focal flowers or key foliage.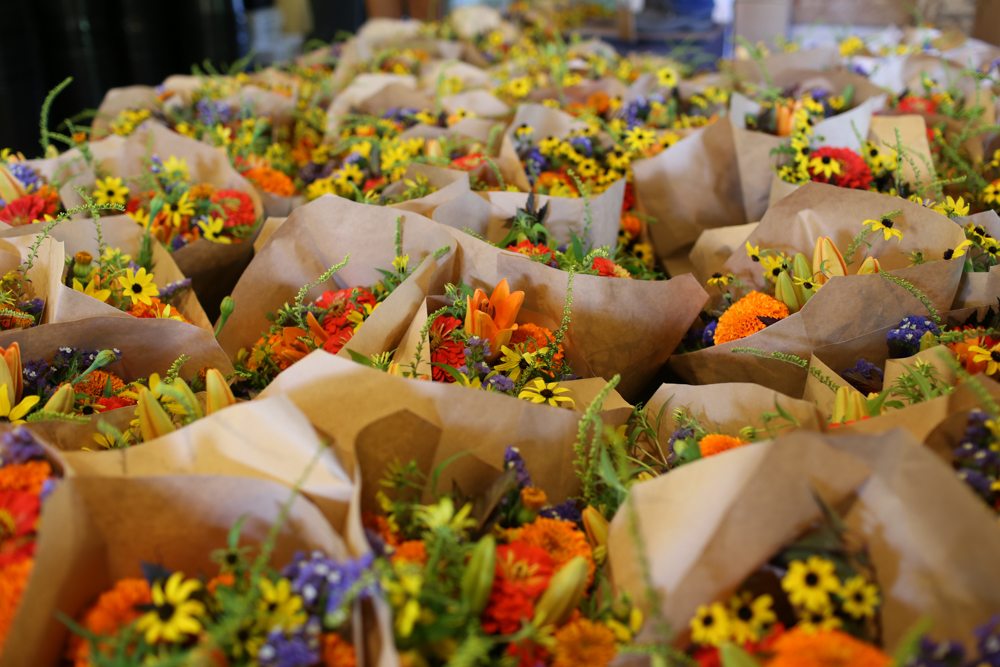 After seeing the amazing response our mixed bouquets received, but having to endure a season filled with stress, where I was constantly scraping for enough of the right thing, I decided to invest some time into mastering bouquet production.
Bouquets were one of the key stepping stones in growing Floret. When most stores could only take so many straight bunches of flowers, their appetite for fresh, local bouquets was insatiable and we quickly found that they made up roughly half of our wholesale business.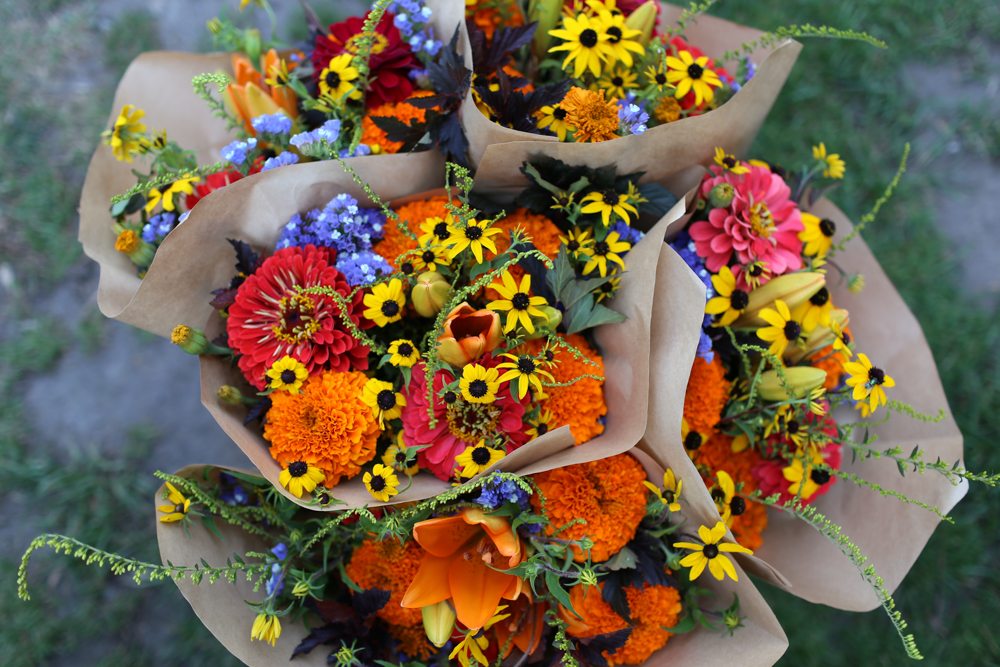 Farm planning is always a lot of work. Thinking out an entire season, making best guess estimates, predicting demand, scheduling seed sowing and transplanting for dozens of weeks can leave your head spinning. And once you add bouquets into the mix, the puzzle gets even more complex.
To simplify the process, I like to look at each of the bouquet seasons in separate blocks:
Spring (May/June)
Summer (July/August)
Fall (September/early October).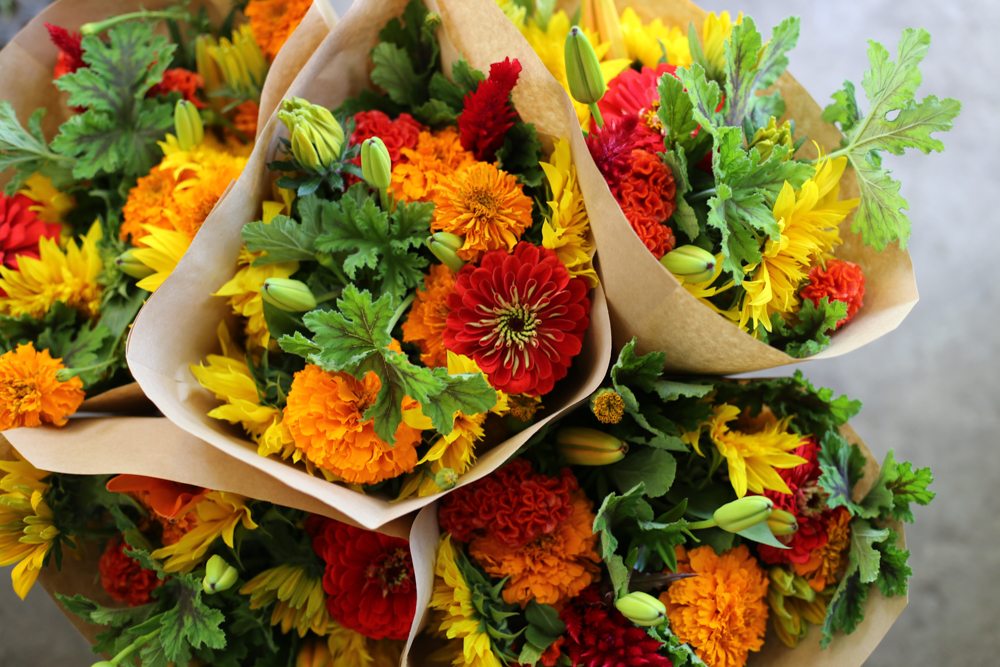 While we have flowers starting in mid-March and continuing until early November, mixed bouquets are only offered during the most abundant months of the year, May – October. Within each seasonal block I sort potential ingredients into the following categories to ensure the balanced mix necessary for bouquet making, without any production gaps. I aim for about 50% of the mix being filler, 30% being disks and the remaining 20% split between spikes, the focal bloom and airy elements.
Focal: the main flower that the bouquet will be built around, typically something large and showy.
Spikes: colorful vertical elements that really grab customer's attention and accent the focal bloom.
Disk: these round-headed flowers are great at taking up space and filling in holes.
Filler: I rely heavily on greens to fill out each bouquet and provide textural interest.
Airy Elements: these delicate ingredients add whimsy, movement and interest to any bouquet.
A sample grocery bouquet in June might include: one Peony (focal), three stems of Snapdragons (spike), three stems of Sweet Williams (disk), five stems of apple mint (filler), three stems of Lady's Mantle and a few Agrostemma.
Once the seasonal ingredients are sorted into categories, I can see where the gaps might be. For instance, in spring focal and disk flowers are in abundance, but filler is often scarce. So I put extra focus on filling in that category of the mix.
After each season and category is balanced out, I go through and estimate how many plants are needed of each to fill my desired harvest. If a variety is "cut and come again" I may need to only succession plant it two or three times, whereas a "one shot wonder" like bupleurum needs to get replanted every 10 days.
Having production records from the following season comes in really handy during this process. I always review last years production records, plus my field notes, to get a sense of what needs to be adjusted going forward and how many stems I can count on from each variety. If you're just starting, you'll have to do a lot of guessing on this step, but don't worry, after one season you'll have your own records and from there the sky is the limit.
Let's say last season I had a 70 foot bed (roughly 500 plants) of Bells of Ireland. Each plant produces between 6-8 stems that are tall enough for bouquets, for a total of 3-4,000 stems. Bells are great bouquet filler and I like to use three stems in each one to make things go fast. So a 70 foot bed will allow me to make between a 1,000-1,200 bouquets.
We harvest off of a bed of Bells for about three weeks before plants start to slow down. We also have a standing order for 400 mixed bouquets a week with one of our favorite grocery chains. So I can figure that the one bed of bells will give me two and half to three weeks worth of bouquet filler for that account.
I do this same process for every week of the bouquet season, with each of our key crops. Once I know how many plants I need of each, and when I want them to bloom, I plug this information into my seed-sowing schedule. Yes, it's a lot of work, but a day or two at the table planning gives me a steady seasons worth of production without too much headache.
Spring Bouquet Favorites:
Focals: Peonies, Tulips, Ranunculus
Spikes: Stock, Snapdragons, Larkspur, Canterbury bells, Foxglove, Delphinium, Lupine
Disks: Calendula, Dianthus, Godetia, Iceland Poppies,
Filler: Apple Mint, Bells of Ireland, Bupleurum, Queen Anne's Lace, Honeywort, Snowball Viburnum, Lady's Mantle, Orach foliage, Raspberry foliage
Air: Love in a Mist, Bachelor Buttons, Orlaya, Chinese Forget-Me-Nots, Agrostemma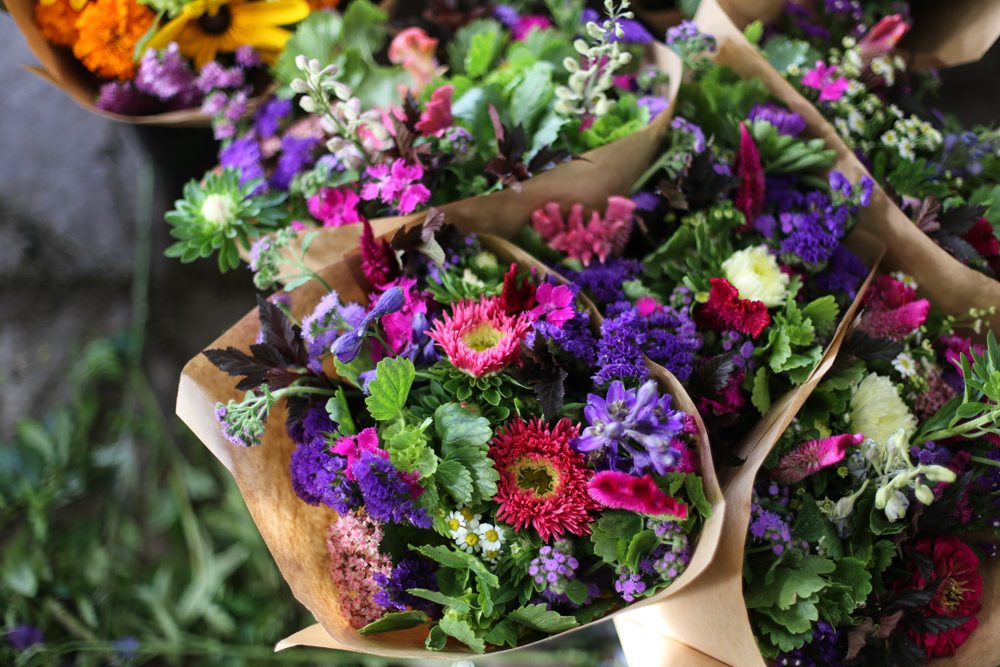 Summer Bouquet Favorites:
Focals: Sunflowers, Lilies, Zinnias
Spikes: Snapdragons, Cockscomb (plume), Gladiolas, Salvia
Disks: Asters, Cosmos, small Zinnias, Rudbeckia, Marigolds, Ageratum, Cockscomb (crested)
Filler: Amaranth, Bells of Ireland, Orach, Basil, Scented Geraniums, Ninebark, Raspberry foliage, Chocolate Lace Flower
Air: Grasses, Scabiosa, Poppy Pods, Globe Amaranth, Rudbeckia triloba, Oregano, Love in the Mist pods, Nicotiana, Flax, Cress
Fall Bouquet Favorites:
Focals: Sunflowers, Zinnias, Dahlias
Spikes: Cockscomb (plume), ornamental Peppers, Millet, Salvia leucantha, Broom Corn
Disk: Asters, Cosmos, Helenium, small Zinnias, Rudbeckias, Marigolds, Strawflowers, Cockscomb (brain/crested or fan), Chrysanthemums
Filler: Scented Geraniums, Amaranth, Basil, Pineapple Sage, Ninebark,
Air: Orach, Love in a Mist pods, Rose hips, Grasses, Jewels of Opar, Grains, Flax and Cress
Favorite key bouquet making supplies:
We get pre-made brown Kraft paper sleeves from a company called A-Roo down in Texas. If you call (1-830-372-4770) and tell them I sent you, they will gladly send you free samples of the sleeve size we use for our market bouquets. They are a great company, with great customer service and super fast turn around.
The awesome folks at Grower's Discount Labels make all of our stickers for us. Stuart, the owner, is a wealth of knowledge and is a real joy to work with. We've been with this company since our first year in business and I can't recommend them or their products highly enough! If you email them ([email protected] ) they will send you a catalog and free samples. Canadians, you're in luck, they ship also ship to you : )
*One final note on stickers, ours are in the shape of a circle because that way you can't put them on too crooked. I always had little people doing the sticking, and that one tiny details saved us so much hassle!
If you're venturing into the bouquet business, the first thing you need to invest in is a table mounted stem chopper. It will save your wrists and increase efficiency like you won't believe. You can find them at your local flower wholesaler or online from Floral Supply Syndicates for about $120. Trust me, it's money well spent!
While I wish there were a blanket bouquet planning formula that would work for everyone, there are just so many unique variations that need to be taken into account including what grows well in your area, how many bouquets you want to produce a week and then what your personal style is.
But hopefully this little formula will help you in your planning process and highlight any seasons and categories that need extra focus.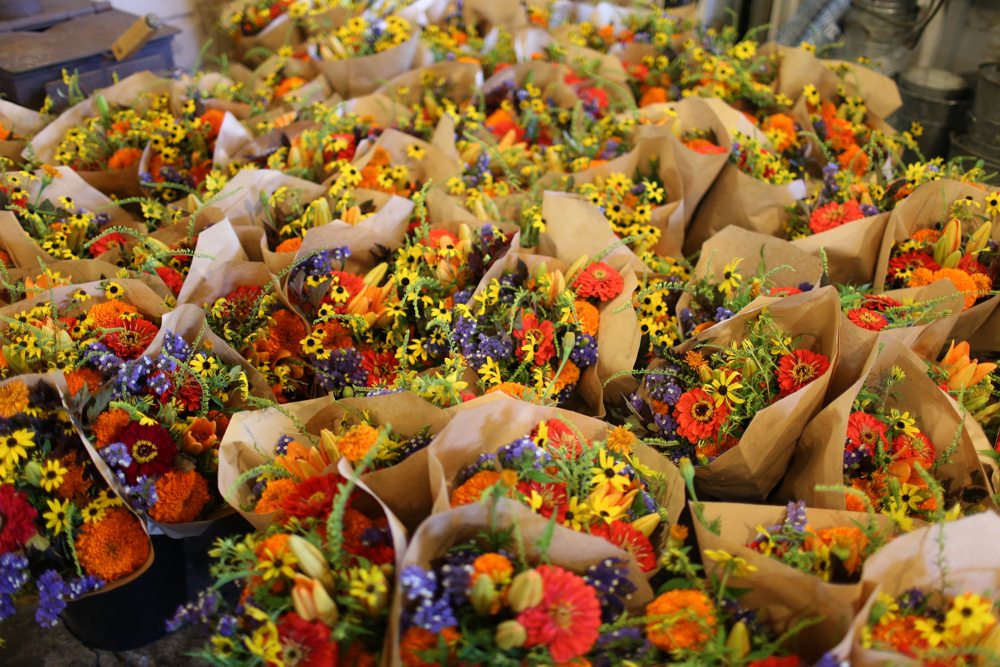 It took a lot of time and energy to create this post and without your feedback, the team and I are unable to know if we're on the right track. I would really appreciate it if you would please take a minute and leave a comment. Even a few words would be great! I would love to know if this was helpful, what questions do you still have about the topic, what are you struggling with, or if you have any great resources relating to this topic that you'd be willing to share with other readers.
If you submit a comment and it doesn't show up right away, sit tight, we have a spam filter that requires we approve most comments before they are published. Lastly, if you feel like this information is helpful, I would love it if you would share it with your friends.