The first year I grew flowers, my cutting garden was a delightful jungle of flowers and waist-high weeds. While I loved the process of selecting varieties, planting, tending, and picking, I hadn't anticipated just how much energy would be used battling weeds to ensure a healthy and abundant harvest.
The following spring, determined to have a more successful experience, I borrowed a thousand dollars from my Mom and ordered enough landscape fabric to cover my barely half-acre plot.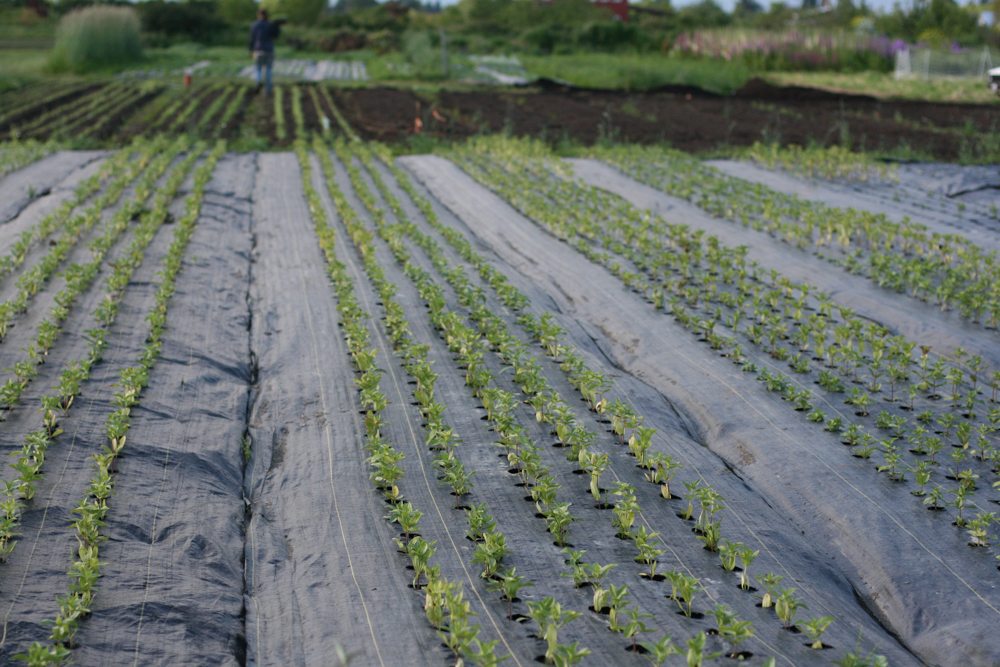 While it was a huge investment, it was the only way I could see being able to manage the weeds, wrangle our two small children, and grow my budding little business. That spring, Chris burned close to 15,000 holes in landscape fabric, and I finally had a thriving and relatively weed-free garden.
A lot has changed since then. Both the kids and the garden have grown rapidly, but that initial batch of landscape fabric is still in use and has been added to each season.
While weed suppression is our main reason for using landscape fabric, there are a few additional benefits worth noting. Unlike plastic, landscape fabric is reusable. The majority of our stock is in its 10th season and shows little to no wear.
I've also inherited a batch of preburned fabric from a retired flower farmer that dates back to the early '90s and is still in pretty good shape, considering its age. I am hopeful that ours will last for 20-plus years too.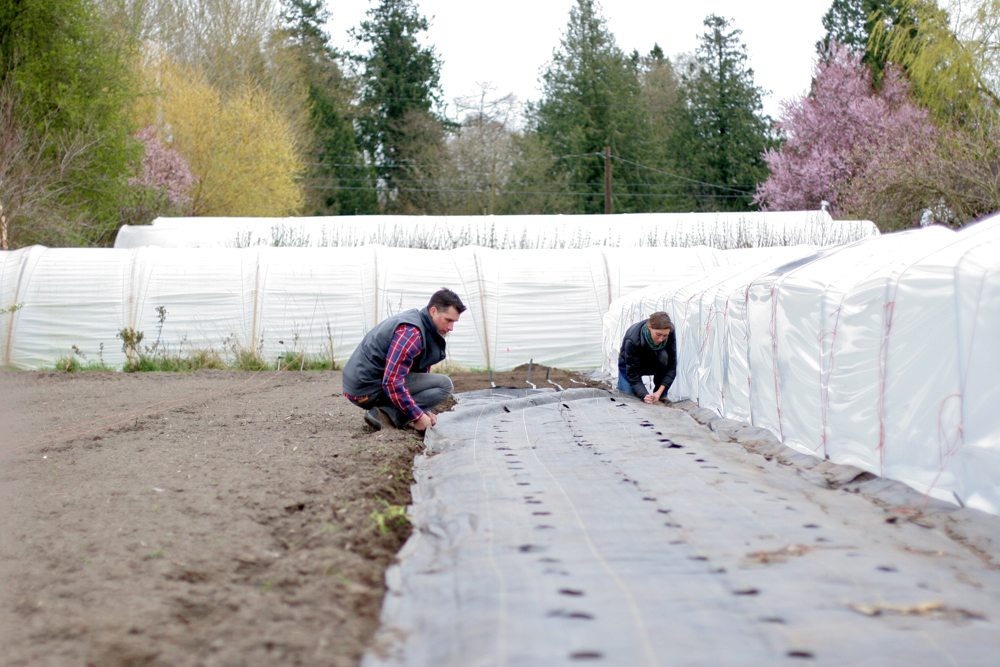 Flowers like zinnias, celosia, cosmos, and basil, which like warmer soil and added heat, thrive when planted into the fabric. And moisture retention seems to be greatly increased too. Another great bonus is that fabric makes for a tidy, clean-looking garden. Proper plant spacing is a snap when the holes are preset.
Lastly, weed pressure is greatly decreased. We generally only have to do two early rounds of weeding on the fabric beds before they can coast for the rest of the season untended. Compared to the time spent on the typical four or five rounds of weeding needed on our open field crops, the cost of the fabric quickly pays for itself in saved labor.
Sunbelt is the brand of landscape fabric we always buy, but if you can't find it locally, you can find it at Johnny's Selected Seeds. It is shiny on both sides (avoid the type with a fuzzy bottom), is super-durable, and comes in a number of different lengths and widths.
We prefer the 6-foot-wide by 300-foot-long rolls, which allow 4 feet (.3 m) for the growing bed, and, if overlapped with another swath of fabric, provide a weed-free path between beds that's just wide enough for planting, weeding, and harvesting.
It's important that the holes in the landscape fabric are burned, not cut. We highly recommend using a handheld Bernzomatic TS4000 Trigger Start Torch attachment, which screws onto a 14-ounce disposable propane canister, available at your local hardware store. One canister will last a long time, and the automatic trigger switch, while more expensive than the flint-lit version, will pay for itself in no time.
For perfect spacing and increased efficiency, you will need to use some type of template. In the early years I made them out of cardboard and lined the holes with tin foil. It worked pretty well for a short while, but they didn't hold up over the long haul.
I have friends who make templates out of plywood, but I'd recommend staying away from this option since plywood gets really heavy to pull along, especially if you have a lot of fabric to burn.
The best option is to use a template made of metal. You can make your own with supplies from the hardware store, including a 2-inch hole drill and sheet metal. It's a bit of a project, but metal is the lightest and longest-lasting option.
Using a template is a total game-changer when it comes to using landscape fabric because it allows you to perfectly space each hole quickly and efficiently, saving you so many hours of work.
Here on the farm we use six main spacing regimes. You can learn more about our approach to intensive growing, including more about spacing, in my post How to Grow More Flowers than You Ever Thought Possible.
6- by 6-inch (15 cm) spacing = 7 rows per bed. This ultra-tight spacing is great for single-stemmed crops like lisianthus, flowering kale, and 'Bombay' celosia.
9- by 9-inch (23 cm) spacing = 5 rows per bed. This is by far our most popular spacing, making up about 80 percent of our field, and is perfect for dianthus, zinnias, basil, frosted explosion grass, snapdragons, ageratum, bupleurum, and honeywort.
12- by 12-inch (30.5 cm) spacing = 4 rows per bed. This spacing is perfect for bulky varieties like bells of Ireland, celosia, amaranth, scented geranium, perilla, and lavatera.
18- by 18-inch (46 cm) spacing = 3 rows per bed. This spacing works for really large plants like branching sunflowers and eucalyptus.
Vine spacing, 8 inches (20 cm) between plants and 12 inches (30.5 cm) between rows = 2 rows per bed, one on each side of the trellis. This spacing is perfect for sweet peas, nasturtiums, love-in-a-puff, and hyacinth bean.
Dahlia spacing, 12 inches (30.5 cm) between plants and 18 inches (46 cm) between rows = 2 rows per bed. We grow our dahlias intensively, with two rows per bed.
In past years we've burned the fabric outdoors because the fumes are pretty strong, but when wind-free days are scarce in the spring, we sometimes have to move the project inside. Our garage has a large concrete floor and plenty of big doors that can be rolled open for good ventilation.
With music going and someone to help move the template, we are able to burn a 300-foot roll of fabric in about an hour and a half.
Before laying the fabric, we amend beds with compost and fertilizer, then lightly till and lay four lines of drip irrigation. You can get the full scoop about how we prepare planting beds in my post about Soil Preparation.
After the soil has been amended and drip irrigation is in place, we roll the fabric out over the beds and irrigation lines, and anchor it in place with earth staples.
During the earliest months of spring, we get a lot of intense wind storms (gusts of up to 40 to 60 mph) that roll through our valley. To keep newly laid fabric in place during really breezy weather, we place cinder blocks along the pathways. Once the weather has calmed we take them up and store them.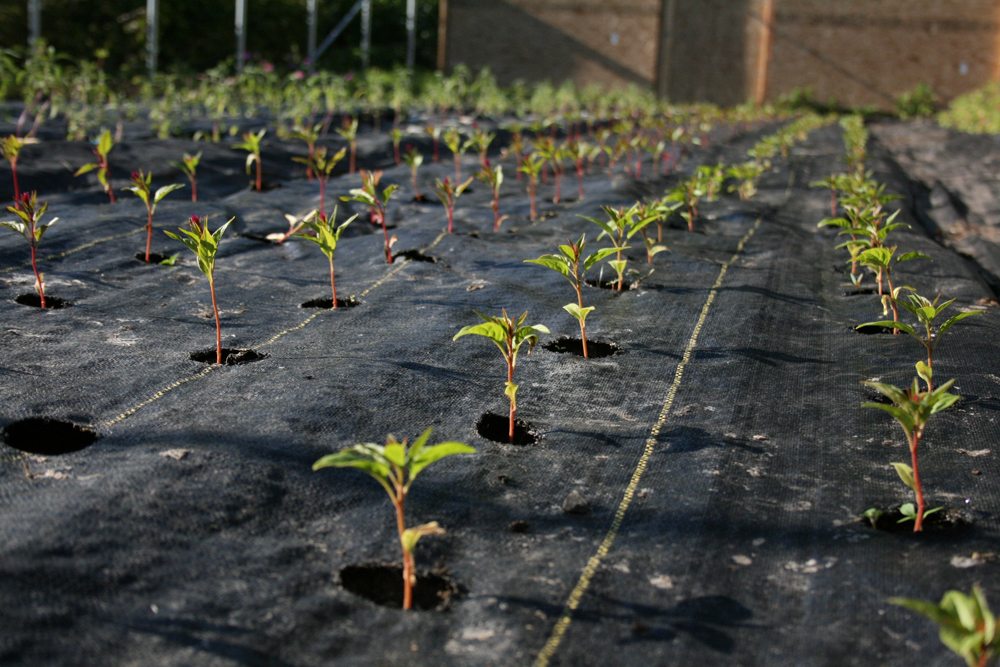 Seedlings are then tucked into the holes with our favorite planting tool, a butter knife. Nothing does the job better! Newly planted babies are given a light overhead watering and a long drip irrigation soaking, then are left to do their thing.
We come through a few times with compost tea and, as the plants grow, add a layer or two of Hortonova flower netting for support.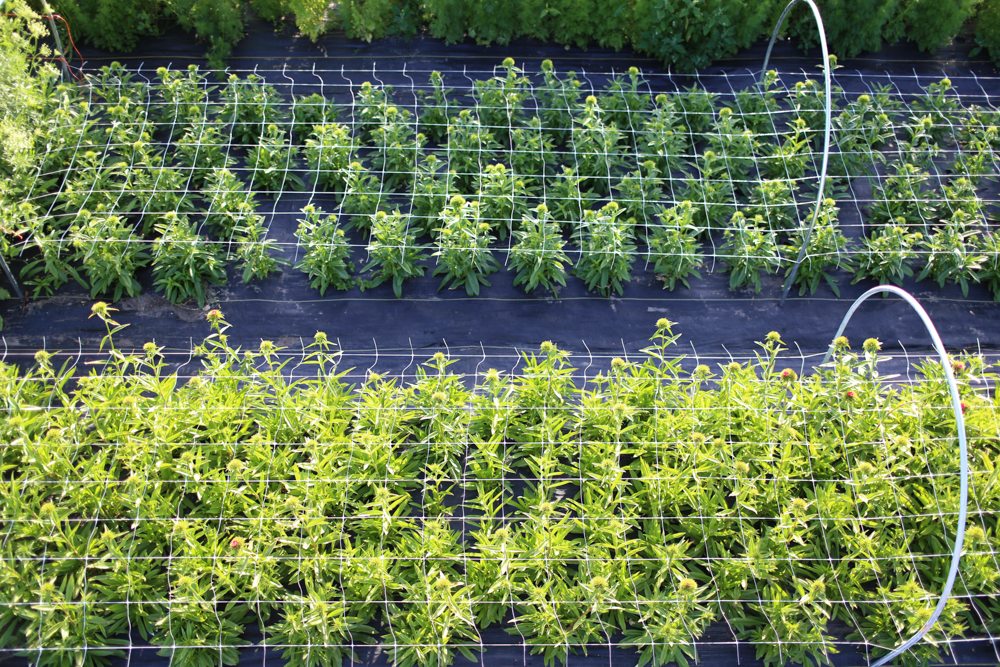 After the crop has been harvested, we remove the netting, mow the remaining foliage down with either our brush hog, set a foot above the ground, or with a weed whacker/string trimmer.
We then chain the ends of the fabric to our tractor bucket and pull it up. But before we had a tractor, it was all done by hand. After the fabric is removed, we shake off the excess dirt, fold it up, and store it away for the next season.
While using landscape fabric is certainly more labor-intensive on the front and back end of the season compared with straight field planting, we've found that the added weed suppression and perfect preset plant spacing far outweigh the drawbacks.
Originally published in 2016; Updated in 2020.