It's no wonder that sunflowers have long held the top spot as the most commonly grown cut flower worldwide—they are ridiculously easy to grow, thrive during the dog days of summer and early autumn, bloom abundantly, and require very little attention to thrive.
There are two types of sunflowers, branching and non-branching. Branching types get quite large and produce an abundance of blooms over a long period of time. They require a good deal of room, so space them 18 to 24 inches (45 to 60 cm) apart. To stagger the harvest, sow a new batch every 3 to 4 weeks from spring through midsummer.
Non-branching types (also called single stem) produce one flower per seed and are prized for their fast bloom time and long, straight stems. These are the types that most flower farmers choose to cultivate.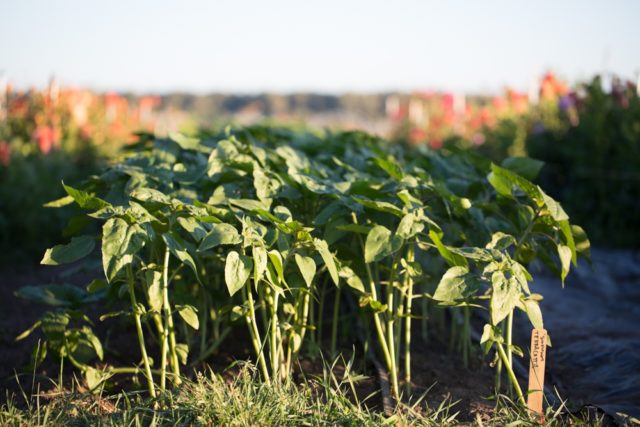 To keep them at a manageable size, it's best to plant them quite close together, otherwise you'll end up with broomstick-sized stems that are impossible to work into arrangements. For smaller, bouquet-sized blooms, space plants 4 to 6 inches (10 to 15 cm) apart. For a continuous harvest, sow successive plantings of these every 7 to 10 days throughout the spring and early summer.

Sunflowers can be either direct seeded or transplanted into the garden as soon as the weather has warmed and all threat of frost has passed. Seeds germinate rapidly, and within a few days plants will be poking out of the ground.
If birds and other wildlife are an issue, be sure to protect young seedlings until they are 3 to 4 inches (7 to 10 cm) tall, since critters will make short work of pulling out young plants and eating the tender seeds if given the chance. I cover freshly seeded beds with frost cloth and anchor the corners down with heavy stones to keep the birds away until the plants have had a chance to root in and anchor themselves. To avoid this extra step, you can plant out transplants instead of seeds.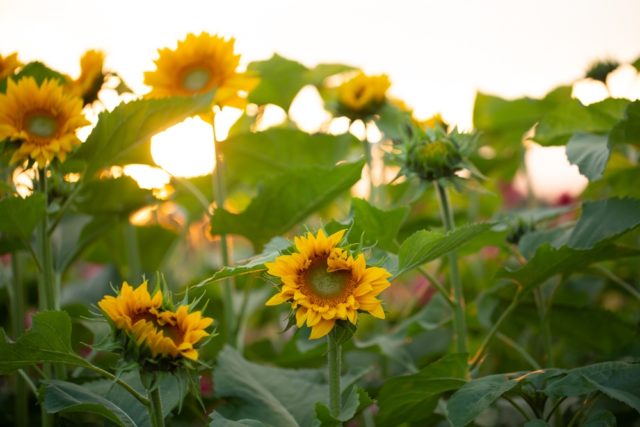 Harvest as soon as the first petals on a sunflower bloom start to unfurl, and strip the bottom three-fourths of the leaves from the stem for the longest vase life. No flower preservative is needed.
As summer fades and early autumn arrives, sunflowers are at their prime, and there's no better way to usher in the changing seasons than by creating a wild, textural arrangement filled with the best the garden has to offer.
These gorgeous focals combine beautifully with amaranth, millet, and other grains and grasses, as well as rudbeckias (see my post on Grasses, Grains, and Pods). Be sure to mix some dark-flowered varieties to set off this predominantly green-and-yellow palette.
Unlike wild sunflowers, all of the varieties discussed here are pollenless, so they won't stain. They're perfect for arranging and gift-giving.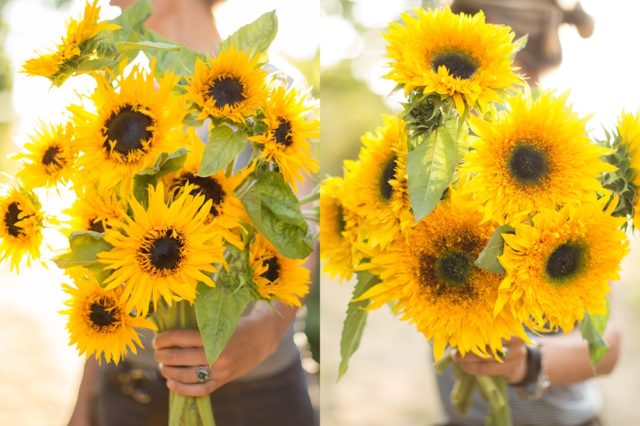 One of the most unique sunflowers we've grown, 'Frilly' (pictured above, left), is loaded with glowing spiky petals that surround dark fuzzy centers that are ringed by a delicate fringe. The effect is truly spectacular, and the coloring reminds us of a busy hive of honeybees.
I've grown dozens of branching sunflowers over the years, and none has topped 'Panache' (above left). Its ultra-fluffy, shaggy petals and dark green-brown centers make for a fantastic floral display. These blooms are the epitome of late summer-early autumn and look incredible displayed en masse or mixed with black-eyed Susans and ornamental grasses.
'Pro Cut Gold' (pictured above, left) is a delightful addition to the cutting garden, featuring light green centers ringed by glowing gold petals. The cheerful blooms mix well with pastels and are perfect for early to midsummer bouquets. We grow more than 10,000 of these each year at the farm for market bouquets. With strong, tall stems, this uniform beauty and the entire 'Pro Cut' series is bred for commercial cut flower production.
The glowing golden semi-double petals of 'Greenburst' (above right) surround a fluffy green center, making for the most beautiful and cheerful display. This extremely productive and free-flowering beauty is a customer favorite and a must-grow. Flowering just 2 months from seeding, this cutie can be succession-sown from early spring through midsummer for flowers from early summer through late autumn. We grow loads of this variety every year.

'Pro Cut Red' (picture above, left) is a stunning new dark addition. Flowers are a deep, rich rusty-red, one of the best dark colors on the market. Dark chocolatey centers gradually give way to ruby-ringed petals that fade to a lighter tip.
One of the fastest flowering varieties, 'Ruby Eclipse' (above right) is an attractive branching sunflower that's as productive as it is beautiful. Blooms are a mix of bicolor flowers in shades of cream, dusty rose, and ruby-red. Super easy to grow, with one planting producing for 3 weeks. Side branches are the perfect size for bouquets.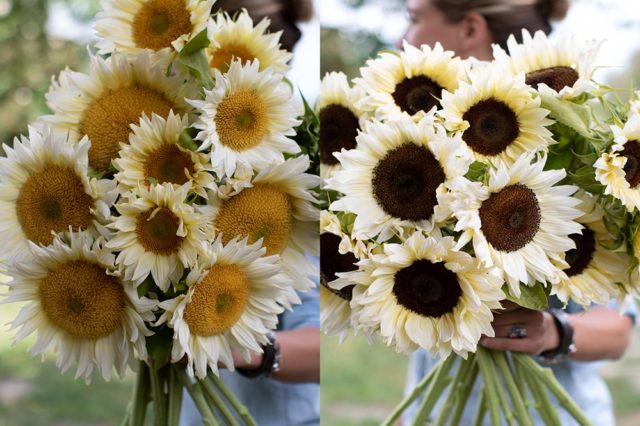 Two additions to the 'Pro Cut' line produce ivory-petaled flowers: 'White Lite' (pictured above, left) with honey mustard centers, and 'White Nite' (above right) with chocolatey brown centers.


I would love to hear your experience with sunflowers. Do you grow them or plan to add them to your garden this coming season? If so, what are your favorite varieties?
Please note: If you submit a comment and it doesn't show up right away, sit tight; we have a spam filter that requires we approve most comments before they are published.
Lastly, if you find this information helpful, I would love it if you would share it with your friends.