In the winter of 2022, I went on the hunt to find as much information as I could about rare and heirloom roses.
Through the process of researching, I came across the inspiring work of Gregg Lowery. 
In the early 1980s, Gregg Lowery and his friend Phillip Robinson started collecting roses and over time they created one of the largest and most complete collections of old roses in the world.
From there, Gregg started a nursery and eventually established The Friends of Vintage Roses, a nonprofit organization devoted to the preservation and sharing of endangered rose species.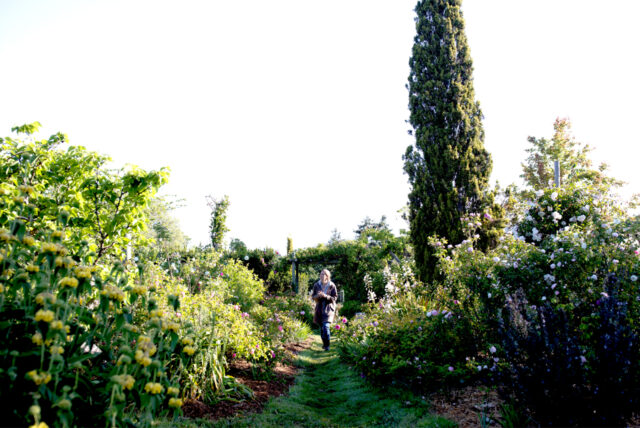 I have been lucky enough to visit Gregg's beautiful, rose-filled property and recently adopted a large collection of Old European roses through his curator program, which he explains below. 
Gregg is one of the most knowledgeable rosarians I've ever met and his dedication to these treasured plants is incredibly inspiring. Plus, he's one of the most beautiful writers I know. I'm thrilled to be able to share his work, and words, with Floret readers. 
Thank you Gregg for taking the time to answer my questions. Can you share the mission behind your nonprofit The Friends of Vintage Roses and how it came to be? 
The mission of The Friends of Vintage Roses is to preserve a specific collection of historic roses, a collection created by me and Phillip Robinson over some thirty years of growing roses. The rose collection grew during a period of interest in old roses (ca. 1970 to 2000) by a small but passionate network of gardeners, here in America and abroad.
And the collection grew through a communal search for the history of these roses—so many of which we found surviving in old cemeteries and waysides, flowering in obscurity, and surviving untended.
More than 5,000 rose varieties passed through our collection. Some were our foundlings, many were gifts from others, and still more were gleaned from the shrinking pages of rose catalogues here and in Europe.
At the foundation of our nonprofit, some 3,600 varieties remained.
The collection became the basis of my nursery, Vintage Gardens. Many were planted in my garden in Sebastopol, California in a design that offered a pathway through the history of the rose.
Visitors to the garden established an informal working group that helped maintain the roses. They called themselves The Friends of Vintage Gardens. 
It was this volunteer group who urged me to work with them to preserve the collection when in 2013 I announced the closing of Vintage Gardens.
I credit "The Friends" as the reason that preserving the roses became our mission. They taught me that beauty cannot be owned, but it can be shared. We don't preserve for the sake of the roses, but for people.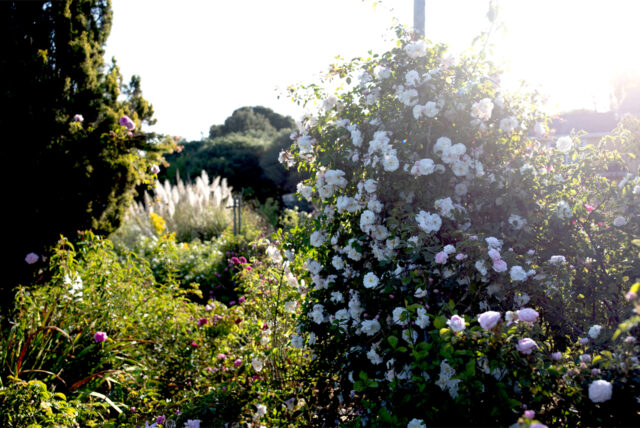 Many people don't realize just how dire the situation is for heirloom roses and how fragile their fate really is. Can you talk more about the current situation and what's at stake?
First, we must understand that the institutions that publicly hold and display plants—especially unusual garden plants like old roses—are not governed by mission statements that put preservation first. Botanical gardens follow missions based on educating the public, and very few include preservation as a primary goal.
So, keeping any particular collection of plants alive, or even ensuring that those cultivars are shared and duplicated will not happen.
This struck me as very odd as I researched national plants collections schemes that are popular in Europe. Billed as plant preservation initiatives, they are largely top-down institutions that grant status on gardens that can be revoked, and that do little or nothing to seed those gardens with plant collections.
Passionate plant people build collections that they often give to these institutions at the ends of their lives, with no reciprocal commitments to preserve.
Historical rose collections open to the public have seen a great shrinking in the past several years. Those that survive, thrive only because of dedicated volunteer groups who care.
The Sacramento Historic Rose Garden in the old City Cemetery (pictured above) was home to a 25-year volunteer effort that created and maintained a great collection of historic roses in a beautiful setting, echoing what the pioneers created with the planting of hundreds of roses.
That collection has been cut to the ground recently and the volunteers evicted from the cemetery.
Getting to visit your garden last summer was a life highlight. Would you please tell us more about your place? Is it open to the public and can people come to tour the gardens?
Our garden is on a hillside near the town of Sebastopol in rural Sonoma County, with misty views of the geothermal Mayacamas Mountains to the north. It's about 3 acres and was begun in 1986. The soil is sandy and has absorbed thousands of yards of manure and compost over the years in an effort to make a rose garden.
Several hundred roses still survive in the old garden alongside more than 4,000 mother plants in nursery pots.
We are slowly restoring the garden section by section with an eye to opening the garden to the public starting in 2024. The focus of our nonprofit is not the garden. Rather it is to share the roses with individual curators, nurseries, and public gardens.
Sharing and building a preservation community fulfills our mission.
You started a rose curator program through The Friends of Vintage Roses to help preserve your extensive rare and heirloom rose collection. Can you talk more about the program and how people can get involved? 
Before our nonprofit existed, it was clear that the size of our collection had outgrown the 3 acres. In about 2004, I asked Pamela and Michael Temple of Mendocino County if they would adopt our Rambler collection of about 350 varieties.
Their large acreage on a wild mountainside (pictured above) had room, and they could grow them naturally, without extensive pruning or training. The Temples became the first "curators" that were recognized when the nonprofit began. Since 2004, the Temples and I worked jointly with Anne Belovich to share and preserve the ramblers.
The Friends considered various ways in which we could enlist more curators, and as our fundraising built up steam, we were able to develop a propagation space and begin to provide plants and cuttings to subsequent curators, like Susan Feichtmeir, whose hilltop garden in Santa Rosa, California (pictured above) now holds our Modern Shrub Rose collection along with the early 20th-century group of compact shrubs, the Polyanthas.
Our curatorship program is based on the notion that passionate people stay faithful to their commitments. We have no written agreements, but rather a "Common Understanding" with each other, which grows from our belief that it is from the bottom up that good things are cherished and preserved.
We enjoy hearing from those who are interested in joining our mission and becoming curators. Underwriting our efforts makes it possible to propagate and share with curators. 
From the final statement in our Common Understanding:
"Our own experience with trying to maintain a very large collection has reminded us that gardening is an individual sport and that each of us want to follow our pathway. How we garden, how we maintain these collections will vary dramatically. And we all age and finally leave our gardens behind. So the curated collections must pass through many hands to arrive in a future place. Often we hear friends say that they wished that there was someone to adopt their roses when they go. Alas, sometimes that is too late for an adoption to take place. We aim to change the game, so that it becomes commonplace to make those connections in time, and to find younger gardeners who can carry forward the passions!"
During our time together, we discussed how critical it is that more people become curators. You said that when someone adopts an entire class or collection of roses, they become the gardener for the world and help move those roses through time, helping to preserve them for future generations. What would you say is the most important thing someone can do to help in this effort, even in the smallest of ways?  
Human beings cannot survive on our planet without plants. Though our human population continues to grow, green things vanish rapidly. Everyone can grow a plant. That is the start and the smallest of ways that we preserve the beauty of plants, and save our own species, humanity.
If your passion leads you to bigger commitments to preserve, then start by helping someone you admire who is growing lots of roses. You'll grow your knowledge quickly and test the depth of your passion.
You may want then to curate something bigger!
And if you are sure of your path and the roses call you, take stock of what you can manage, and then take on a big chunk, as our curators do, and make a home for them while you also begin to find others to share the work with you. Yes, you have become a gardener for the world.
You can't imagine how that expands the joy of being a gardener for yourself.
Even though the old roses are so special, why have they fallen out of favor? Why should gardeners consider adding them to their gardens? 
Sadly, we are being told every day that old varieties have been surpassed by new ones. It is the interest of large companies to convince us to see all things as disposable and outdated.
I think that the rose rustlers of my generation questioned this in our search for what we valued. Without a doubt, rose hybridizers continue to fill the world with new visions of beauty, but those creations don't take the place of others.
In my perspective, all roses are historical. Time goes by.
We have readers from all over the world who'd love to get started growing roses but don't know where to begin. Do you have some varieties, or classes, that you recommend? I know people would love to hear some of your top picks specifically for very cold climates and hot/humid climates.
Every climate that people thrive in will have roses that will thrive. No rose variety will thrive in all climates. A good rule of thumb for all gardeners is to open your eyes. You run across roses in your town, in your county. Some of them strike you as particularly lovely.
So, take a cutting!
Make sure it is the flowering stem, in bloom or out, with 3 or 4 leaves or leaf points.

Cut just below (1/8 in [3.2 mm] below) where the bottom leaf is attached to the stem. 

Dip the cut end in rooting hormone, stick it into a pot of clean soil or sand, and water in. 

Make a tent with a clear plastic bag or water/juice bottle to cover the cutting and pot.

Keep it in bright light with very little direct sunlight. 

Lift the cover daily and keep it moist.

If at first you don't succeed … you can order a truckload of roses and lose most of them, but the one you find thriving in your neighborhood is almost certain to thrive. And solving the mystery of where it came from and what it might be, that's better than a truckload of Agatha Christie mysteries.
However, nurseries are wonderful resources and our American climates have a few climate extremes that tend to favor some groups of roses. 
Northerly climates have longer, colder winters. A few historical groups are excellent including the old Gallicas, Centifolias, Mosses, and the Albas, which grow in northern Sweden and have survived centuries. Consider, too, the hybrids of Rosa rugosa from Japan, which have long bloom seasons. Drying winds can be challenging, so consider offering shelter screens. Hybrid Perpetual and many Bourbon roses typically do well in colder North American climates, down to USDA zone 6.
Some of my favorites include:
'Commandant Beaurepaire'—Bourbon
'Grandmother's Hat'—Hybrid Perpetual
'Rosa Mundi'—Gallica
'Sappho'—Alba
'Sarah Van Fleet'—Rugosa
'Centifolia Major'—Centifolia
'William Lobb'—Moss
Southern climates have very long bloom seasons and make the most of the ancient Chinese rose groups known as the Teas and Chinas and their offspring. Created in the Song Dynasty in Southern China about 1,000 years ago, these roses never stop blooming in mild climates. They also resist most rose diseases in humid conditions. They are difficult in USDA zone 6 and below.
These are high on my list of favorites:
'Cramoisi Supérieur'—China
'Baronne Henriette Snoy'—Tea
'Desprez á Fleur Jaune'—Tea-Noisette
Santa Clara University #10—Gigantea 
Where can people buy your roses or some of the roses that you recommend? 
Our collection is full of roses that were not so long ago acquired from many small nurseries in the U.S., but which are no longer in commerce worldwide. Although we have fundraising sales each year we cannot ship. We recommend that you seek out and order from small nurseries.
The online free encyclopedia of roses, HelpMeFind.com/roses is an invaluable source for all roses. It lists any known sources of a particular variety that exists today in the world. No nursery is perfect, or able to carry more than a limited number of varieties, so be open-minded, support the little people, and you'll help to support rose preservation!
A few sources that I turn to again and again to try to locate long-lost roses include:
Antique Rose Emporium, Brenham, Texas
Angel Gardens, Alachua, Florida
Der Rosenmeister, Ithaca, New York
Freedom Gardens, Freedom Township, Ohio
Greenmantle Nursery, Garberville, California
High Country Roses, Broomfield, Colorado
Rogue Valley Roses, Medford, Oregon
Rose Petals Nursery, Newberry, Florida
Roses Unlimited, Laurens, South Carolina
And California Coastal Rose Society, a nonprofit in Oceanside, California, holds one or two rare rose auctions each year. This group is dedicated to providing access to the world's rarest roses through their rose sales and they reinvest their revenues into seeking out and propagating roses that are unobtainable otherwise.
Do you have any favorite books or resources on rose growing and care that you would recommend for beginning gardeners?
A garden library is your best friend. Go online now. Go while print books are still abundant and inexpensive. The works of Englishman Graham Stuart Thomas will provide superb background on the old roses, climbing roses, and shrub roses and are written beautifully. Seek out the works of Gertrude Jekyll, the late 19th-century garden maker, who offers a vision of how roses work in gardens. And read Vita Sackville-West's Garden Book, a compilation of her weekly columns in The Observer from 1947 to 1961, and perhaps the most engaging book about growing plants and creating a garden ever written in the English language.
For early and midcentury rose portraits, find J. Horace McFarland's Roses of the World in Color. For postwar roses, Jack Harkness is the great storyteller. Gordon Edwards in the 1960s and Eléonore Cruse in the new century each paint compelling portraits of the old European roses, and make us understand why wild roses must never be forgotten. Roger Phillips and Martin Rix set the modern standard of rose portraiture with hundreds of comparative photos with botanical details.
Old roses as painted in the 19th century open a door to the past, from the many reprints of Redoutè's early-century portraits and Henry Curtis' midcentury portraits in a unique reprint from Sweetbriar Press. And a century later in the 1950s, New Zealand rose lover Nancy Steen told a story of old roses brought round the world from Europe to colonize the isolated islands. Steen's book hooked me on old roses in 1976. Brent Dickerson's monumental works of research and translation of writings contemporary to the roses will await you at the end of your exploration to answer all the questions you will have pondered while reading the others.
And lastly, if you are fortunate to speak another language, the whole rest of the world of roses is still to explore in French, German, Italian, Spanish, Chinese, and Japanese. Readers of Chinese should quickly find the works of Wang Guoliang of Nanjing, China, who now has three bestsellers on the rose in history—all 3,000 years of the Chinese story. And in Japanese, look for Yuki Mikanagi's recent works on the wild roses of Japan.
If people want to learn more about your place, and your program, what should they do? Is your catalog still available and if so, where can people find it?
The 2006 Vintage Gardens Book of Roses, which served as the master catalogue of my nursery, now belongs to our nonprofit and we have incorporated nearly all of the pages into our website. We do not have copies to sell, but used copies can still be found online.
I encourage folks to explore our website where they can learn about our mission and our work. Pages are devoted to the mother collection, our curators, our volunteer opportunities, and the sales we hold throughout the year.
You can also download all of our past newsletters going back to 2016. These will provide a story of our decade as a nonprofit, the struggles we have faced, and the solutions we have forged.
Gregg, I'm so happy to be able to share about the important work and the wonderful team at The Friends of Vintage Roses. It's such a gift to the world. 
To learn more about The Friends of Vintage Roses, its curator program, and how you can support its mission, visit their website. You can also follow them on Facebook. 
---
Please note: If your comment doesn't show up right away, sit tight; we have a spam filter that requires us to approve comments before they are published.