For as many years as I have been growing flowers, I still can't believe that I've only recently come to discover the great variety of China asters. Years ago, when we were growing for grocery store sales, the only varieties on the market were run-of-the-mill 'Matsumoto' and spray types. There was nothing beautiful or exciting about them, so I rarely included them in the garden. But a few years ago, I stumbled onto a German grower offering an incredible range of varieties that I had never seen before.
The following summer, we grew more than 40 varieties, and the next summer we grew 40 more, and now I am a passionate champion for China asters. What makes these plants so great is that they can be grown from seed, are easy to grow, and flower at a time when the garden is starting to fade. As the day length shortens, this group of plants is prompted to begin flowering.
In addition to lasting an incredibly long time in the vase, China asters come in a dazzling rainbow of colors and a wide range of flower shapes and sizes, including huge feathered blossoms, sturdy sprays of miniature buttons, tight-domed flower heads, and soft rose-like blooms.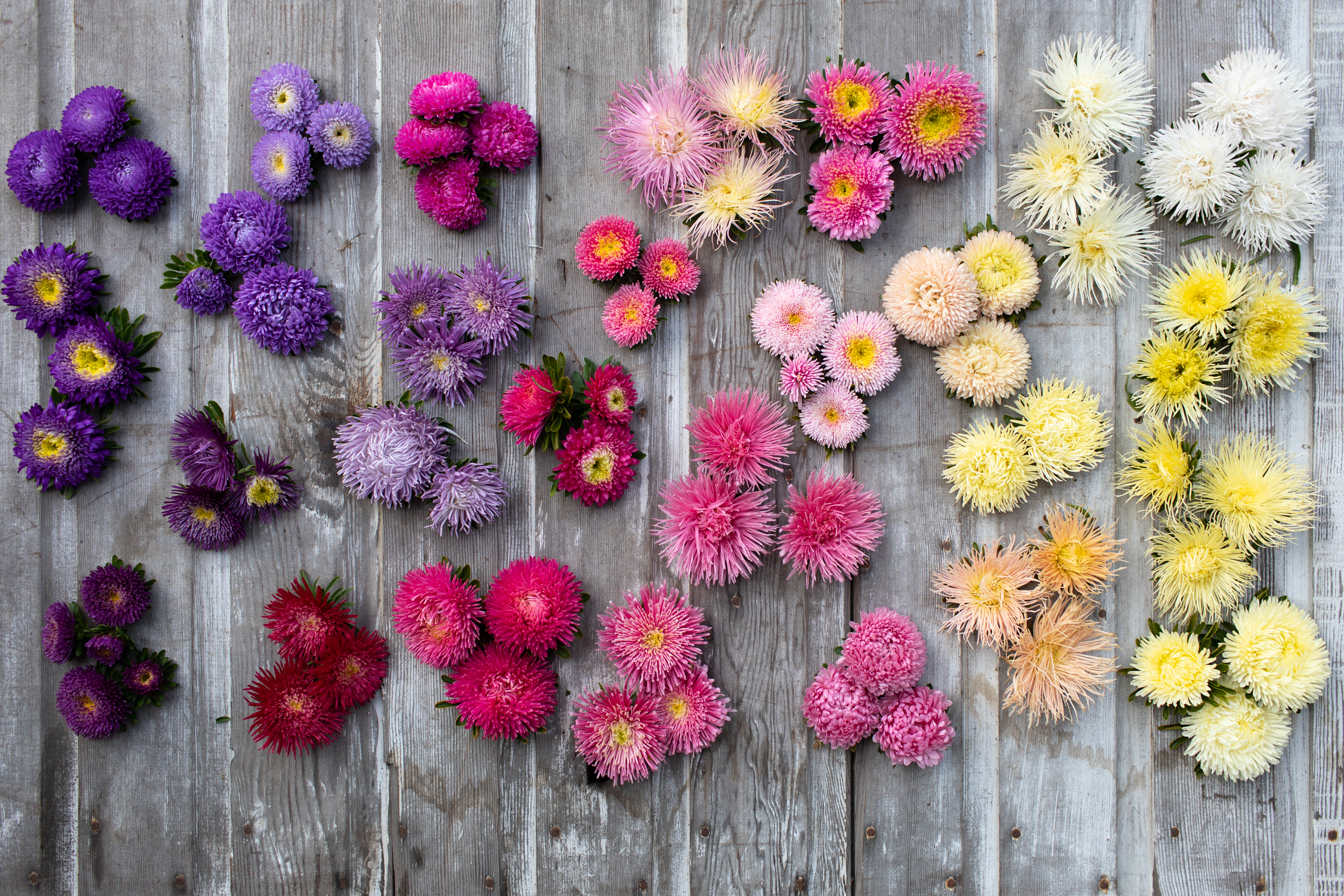 Sow seeds for China asters 6 to 8 weeks before the last spring frost and transplant out after the weather has sufficiently warmed. As with other cold-sensitive plants, such as basil, celosia, and zinnias, it's important to wait to tuck these into the garden until all danger of frost has passed.
We grow our China asters in landscape fabric and space plants 9 in (23 cm) apart with 5 rows per bed. Once blooms appear, plants tend to topple under the weight of the flower display, so be sure to give these guys plenty of support while the plants are still small.
We use a layer of Hortonova netting stretched horizontally about 12 in (30 cm) above the ground. Netting is held in place by metal hoops that we made with our Johnny's Quick Hoops Bender, but any type of stake, wooden or metal, will work just fine. As the plants grow, they push up through the grid of netting and get the support they need.
After plants are tucked into the ground, they just hang out for the better part of the summer and seem dull in the landscape. I've found myself fretting over them, wondering if they are going to do anything. But as summer comes to a close, they start making buds and elongating in the waning light.
As the rest of the garden starts to wind down and fall apart, China asters come into their prime and, along with dahlias, help finish the flower season strong. They are a must-grow for late-summer and early-autumn bouquets.
Harvest flowers when they are about halfway open. For spray varieties, harvest when one-quarter of the flowers on a stem have opened. Strip the foliage off the lower half of the stems, and place them in water with flower food. Expect a vase life of 7 to 10 days or even longer.
China asters are sensitive to wet weather, and the petals will brown if not harvested on time, so be sure to pick them regularly for the best-looking blooms.
Altogether, we've grown close to 80 different mixes and individual varieties, so I've had a chance to narrow down my favorites, many of them in the softer tones. Peach and blush have become extremely popular colors with floral designers and brides, so if you have wedding work in your future, you might want to consider the following varieties.
'Harlekin Light Rose' (pictured above, left) is a tall, feminine beauty smothered in an abundance of the sweetest soft, ballerina-pink blooms. Disk-shaped flowers have a fluffy appearance from the hundreds of quilled, tubular petals covering them.
The feminine 'Tower Salmon' (pictured above, center) features warm ballet slipper-pink flowers. Delicate ruffled blooms look like pretty, soft pillows.
The palm-size, mauve-pink blooms of 'Valkyrie Pink' (pictured above, right) remind me of the color of sea anemones. Buds are lighter than the mature flowers, giving plants a wonderful color range. Long, pointed flower petals resemble rosy cactus flowers, and as blooms are opening, the center petals are swirled.
'Lady Coral Chamois' (pictured above, left) has the softest peachy-blush blooms, giving this romantic beauty a glowing quality. Each plant is smothered in at least a dozen stems topped with ruffled, feminine flowers.
'Tower Chamois Apricot' (pictured above, center) is one of the most beautiful and well-loved asters and is a must-grow. Each vigorous plant is loaded with dozens of glowing peachy-pink blooms that are perfect for flower arranging and wedding work.
The striking palm-size blooms on 'Valkyrie Chamois' (pictured above, right) are stunning. Long, pointed flower petals resemble bird feathers, and as blooms are opening, the center petals are swirled.
If you're looking for some beautiful, hardworking additions to the late-summer cutting garden, look no further. China asters shine when the rest of the garden starts to fade, rewarding you with a bumper crop of glowing, textural blooms.
Do you grow China asters? Do you have a favorite variety? Please take a minute and leave a comment below about your experience growing them.
Please note: If your comment doesn't show up right away, sit tight; we have a spam filter that requires us to approve comments before they are published.