One of the great joys of this business is having the opportunity to teach, assist and mentor other flower farmers, floral designers and farmer-florists.  I absolutely love being able to support folks like you who share my passion for seasonal flowers.  I want to do whatever I can to see you succeed, whether that's starting a simple little cutting garden in the corner of your yard, or whether you've taken the leap to be a full time farmer-florist.  I want to make sure you have all the information, tools and resources possible to make your wildest flower-filled dreams come true.
So, just in case the Floret February 'Blog Blizzard' wasn't already an information overload, I thought I'd compile some additional websites to check out that have great information, inspiration –or a bit of both– for flower lovers.  Warning: some of these sites will suck you in!  I take no responsibility for the hours of lost productivity that ensues from discovering some of these sites.
Love 'n Fresh Flowers — Many of you are likely already familiar with Jennie Love's fantastic little urban flower farm and floral design business in Philadelphia.  Jennie is a great farmer, designer, photographer and writer and her posts are always filled with beauty.  For an added bonus:  check out our cross-country creative collaboration from 2013, the Seasonal Bouquet Project, the result of a challenge–a dare, really–to post one bouquet each week that featured the best that was in bloom in our gardens.
Saipua— Sarah Ryhanen, the flower star behind New York's Saipua and World's End Farm also maintains an interesting online blog journal with her personal reflections and observations on flowers, farming, her travels and life.  Her posts are insightful, interesting and are often infused with equal parts humor, sarcasm and poetry. I am particularly smitten with her essays and photos from World's End.  Related:  Floret's Farmer & the Florist Interview with Sarah.
Sarah Raven's YouTube channel--These short clips contain lots of useful tips and tricks for getting the most out of your cutting garden.  Sarah's approachable style (and her sweet, lilting British accent) make these great fun to watch.
Bare Mtn Farm  — Tony and Denise Gaetz are phenomenal flower farms and generously share their knowledge and expertise with others on their website.  I regularly refer folks to their excellent guide to constructing caterpillar tunnels.
Flower Farmer Facebook Group–this is an extremely active, positive community of flower growers that generously shares growing advice, marketing tips and even helps others identify mystery plants and pests.  Note: as a closed Facebook Group, you must seek permission to be added.
Flowerona— This UK-based blog is a great place to keep up to speed with the seasonal flower movement across the pond and around the world.  I can literally spend days clicking through all of Flowerona's Links feature, which is a roundup of the best flower-related news, resources and inspiration.
Botanical Brouhaha—  Each and every post on this blog is eye candy.   These beautiful images from some of the very best floral designers are usually grouped by imaginative themes focused on specific flowers, colors, styles and trends.  Their Expert Panel also shares great insights and advice on a variety of floral design topics.
Flirty Fleurs –This is another must-read blog for floral designers.  Their posts–particularly their rose studies– are killer!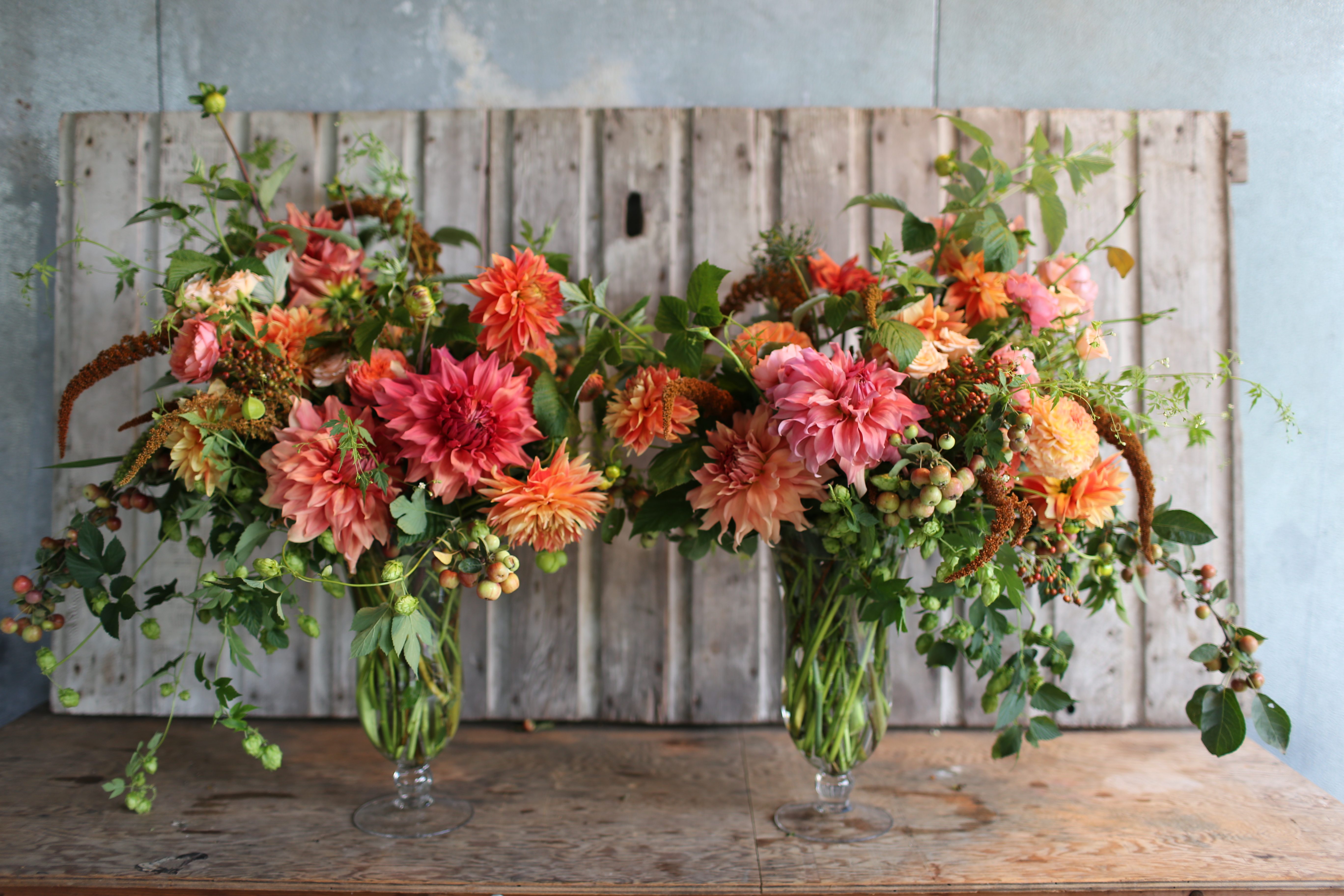 Slow Flowers Podcasts— Debra Prinzing's blog and podcasts include profiles and interviews with the 'Who's Who' of the flower world in the U.S.  I know a lot of other flower farmers that love listening to podcasts as they work in the greenhouse and while working on seed starting.  Related:  Farmer & the Florist Interview with Debra Prinzing
Johnny's Selected Seeds— In addition to being a great supplier of seeds and garden supplies, Johnny's also has really great online resources for growers.
Back issues of Growing for Market— Full Access Subscribers can read 15 years worth of back-issues of this great publication.  While mostly focused on local food producers, the flower column (of which I authored for several years) is chock full of practical growing information.
ASCFG bulletin board— The Association of Specialty Cut Flower Growers maintains an online forum–dating back more than a decade–with loads of information and growing advice from professional flower farmers from across the country.  While based on an older platform, the search function can be a bit unwieldy, but the insights shared by experienced growers is absolutely invaluable.   Note: you must be a member of ASCFG to access.
Whew– that's a lot of sites to stalk!  The scary part is that I could go on…and on…and on.  But I know that many of you likely didn't even make it to the end of this post, because you got distracted by one or more of these great sites.  If you DID make it to the end of my list I'd love to know what other flower-focused blogs and and websites inspire you. Please share your favorites in the comments below.