Our little farm is situated in damp, foggy and ultra rainy western Washington, about an hour north of Seattle. Some years, if we're really on a bad weather kick, the sun won't make an appearance for months, literally! Springs are cool and long, and unless you have a ton of bulbs or greenhouses, cash flow doesn't really start to kick in until the field flowers wake up in June.
But by March my inbox is already full of notes from excited customers, ready to begin another flower season with us. They are hungry for color and life after so many months of grey. In the beginning, we slowly stretched our season out by stocking the field with fragrant narcissus, tulips and biennials, but these measures didn't go very far when everyone was clamoring to get a piece of the action. When demand was at its peak, we never had enough flowers to go around.
In an effort to capitalize on the ever-increasing spring demand we started adding covered structures into the mix. While hoop houses and low tunnels are a big financial investment, we've found that we are able to recoup the cost in just one growing season because the covered space is so dang productive.
Hoop house crops flower up to six weeks earlier than the same varieties planted outside which allows us to get two full crops out of each growing bed in a season. For example, a bed of Ranunculus generally finishes flowering in mid May, then it's pulled out and replanted with Lisianthus that will flower from early July through September, and when that's done, it gets pulled out and replanted with anemone corms that will flower the following spring.
Hoop houses and low tunnels have many benefits in addition to extending the season. Flower quality is greatly improved because there is no damage from the wind, rain or hail, and disease pressure is usually much less than out in the field. Stems are consistently much longer and the near perfect blooms always bring top price!
In our climate, warm season crops consistently struggle to thrive. Basil, Lisianthus, Scented Geraniums, Globe Amaranth and Cockscomb rarely get very tall in the field and always melt into a moldy mess shortly after the rains return in September. Having a warm, dry space for them to grow is fantastic.
Dinner plate dahlias also prefer being tucked inside. We're able to have flowers by July most years, when the field grown plants don't start producing until late August-early September. But having covered space to work in when the weather is bad is probably the best part of all!
Getting an earlier start in the spring, protecting crops from the elements, expanding what we can grow in our cool climate and keeping flowers and foliage going long after frost has made life as a flower farmer much easier.
While most of the experience with hoop growing has been positive, there are a few problems we've run into. First off, because crops get bigger in the hoop, sometimes spacing can become an issue.
In the field our larkspur and delphinium generally get about 4-5 feet tall. In the hoop they reach 7-9 feet tall! Honeywort generally gets about 30″ tall in the field, but undercover it grows to 4 feet and if planted in a side bed it'll crush itself on the curved sidewalls leaving only half the crop harvestable.
Another issue is plant spacing. In the field, plants are crammed really close together. Most crops are grown in 9 x 9" spacing with five rows to a bed. Paths are often only 12-18" wide and harvesting in these tight conditions can be tough but is still doable. In the hoops, depending on the crop, this approach doesn't always work.
For bulky growers, navigating the jungle of foliage without damaging the plants is almost impossible. It's important to increase path width to accommodate the lush, unchecked growth.
Staking is another must!
On our farm we have three main tunnel types. The first are professional models that we bought as kits from Oregon Valley Greenhouses and assembled ourselves on site. These heavy-duty tunnels are designed to handle weather extremes and are built to last.
We have four large 20 x 60 foot long high tunnels (pictured above). The reason they are only 60 feet long is because that's how wide our side yard is. If I had the choice, I would have made them 100 feet. Three are unheated with four-foot tall roll up sidewalls and the other has double inflated walls, heat and electricity which use for starting all of our transplants in the spring.
If you can swing it, investing in one of these large hoops is great! But if you're just starting out, are on a tight budget or the land you grow on is being leased, here are two more options to consider.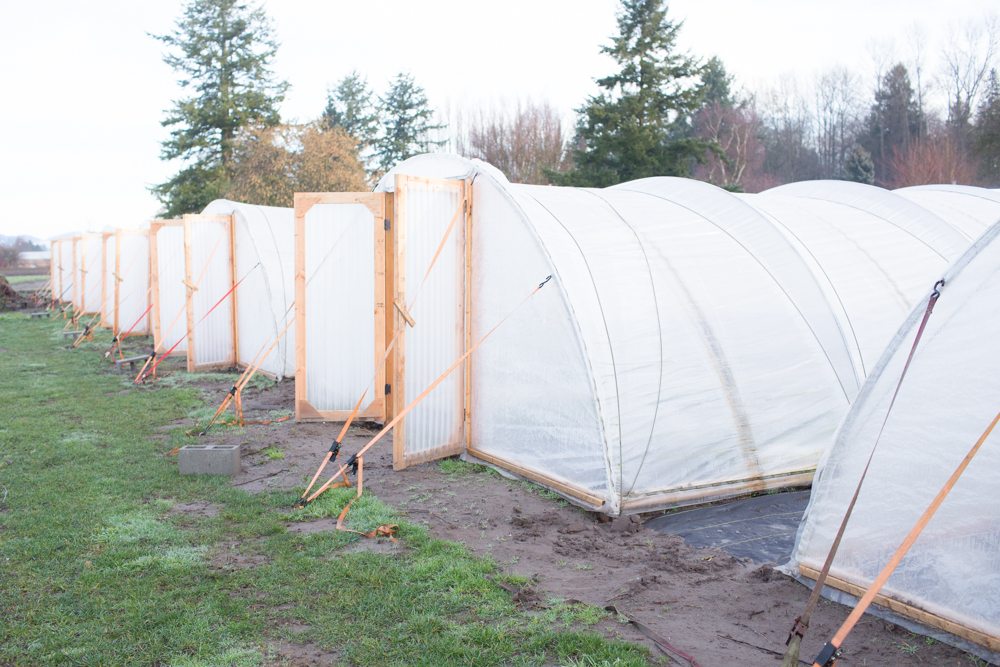 Some years back Tony and Denise Gaetz, owners of Bare Mountain Flowers, graciously welcomed us to their farm and spent an entire day teaching us the ins and outs of homemade greenhouse construction. There we found out about the "hoopty tunnel" (pictured above).
These smaller, extremely easy to build houses are amazing, especially if you're not super handy or are on a tight budget. One 17 x 100 foot house costs about $1000 and can be put up in a weekend (including pipe bending) for about 1/3 of the cost of a larger professional model.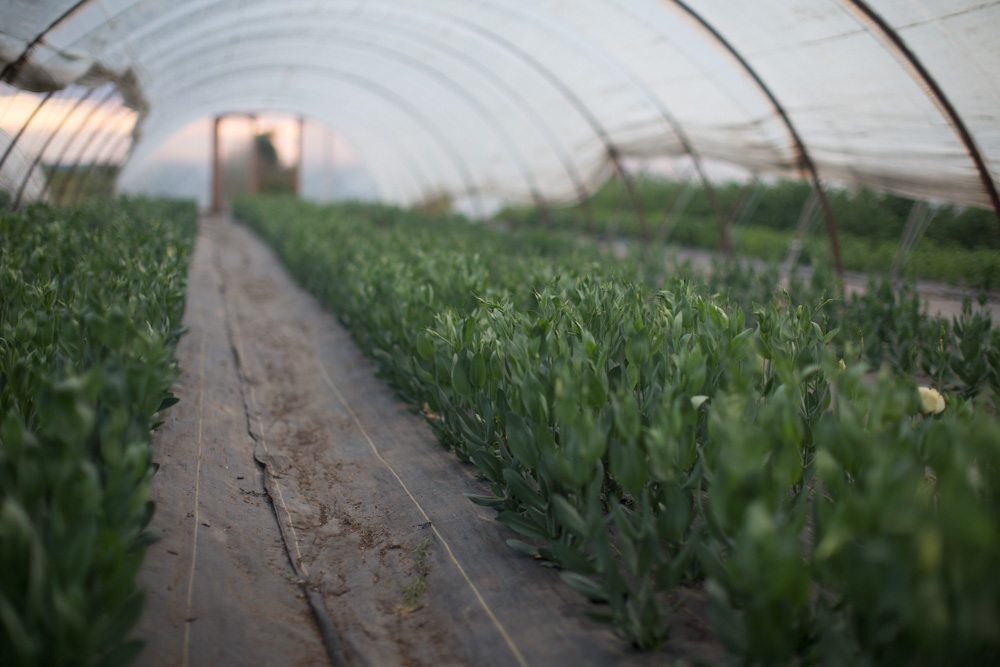 The three main drawbacks with the "hooptys" are they can't take much snow, unless they are anchored down they can only withstand up to 50 mph of wind and they have pretty low ceilings, just 7 feet. But if you're in a mild climate or just need covered space for three seasons, these houses are certainly worth looking into.
My favorite feature about the "hoopty" is the adjustable sidewalls which allow for air flow throughout the entire house. We modified our six just a bit from the directions. Since our soil is pretty much pure sand, we poured footings for each rebar stake that the hoops sit on, as well as the door frame posts and the large end wall anchor pins. Our area sees quite a bit of wind so the extra effort to securely anchor the houses is necessary.
Complete directions, including a material cost list, pipe bender specs and a very thorough step by step with photos can be found for free on the Kerr Center for Sustainable Ag's website.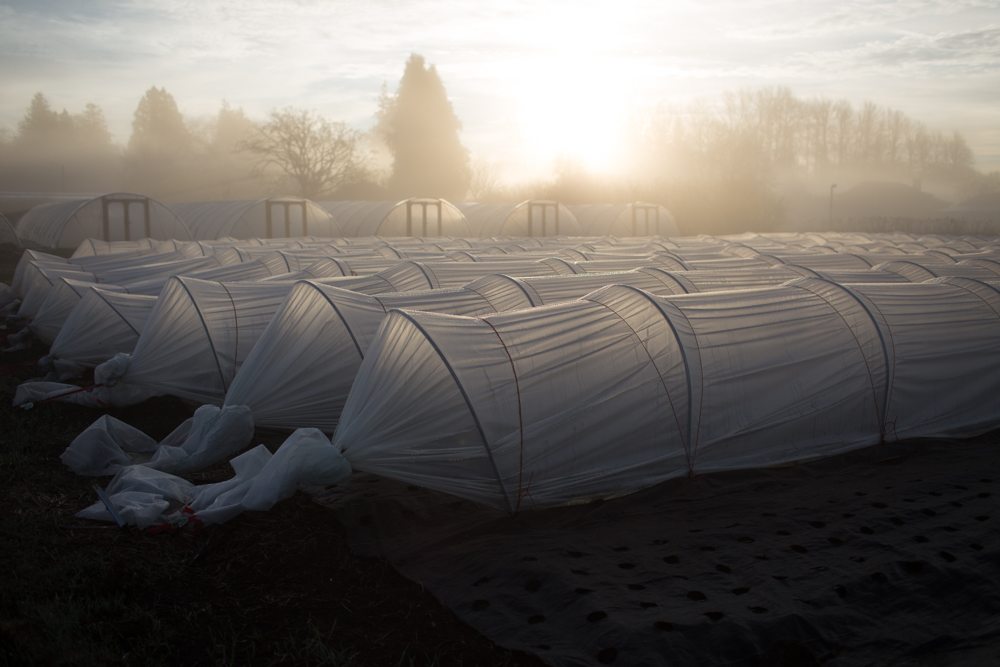 Without any more space to erect larger, more permanent structures we turned to low "caterpillar" tunnels to get a jump on the season out in the field. These mini hoops are great for low growing flower varieties such as Anemones, Ranunculus, Iceland Poppies, Campanula, Basil, Globe Amaranth, Scented Geraniums and Lisianthus. For taller varieties, we just pull the plastic off when the plants near the top and they flower a few weeks earlier than the same ones growing unprotected.
We have a fleet of 20 -100 footers and love the flexibility and affordability they provide. This year we're going to plant many of our dahlias underneath them to get a jump on the season.
You can find instructions for building them over on Bare Mountain Flowers Blog.
And you can purchase the foot piper bender needed, plus get loads of helpful information on season extension from the Johnny's Selected Seeds website.
While setting aside the time and money to construct any type of covered growing structure requires extra effort, if you can manage it you'll be generously rewarded.
I'd love to know what type of season extension methods you use, or if you have any helpful resources on this topic that you'd be willing to share.