Over the years, I've contemplated many different ways to potentially grow our little flower business. For a long time, I thought the answer would be to buy more land and expand our production in a big, big way. We were selling every stem we could produce on our tiny two-acre farm and still had a waiting list a mile long of customers eager to buy our flowers. I was constantly getting messages from designers literally begging me to ship our blooms to them. What should have been a "good" problem to have, sure didn't feel like it at the time. I was constantly having to say no and then dealing with very disappointed customers whose only other option, at that time, was to buy imported blooms.
Expanding our acreage seemed like it would be a solution. When our plan to purchase more land fell through a few years ago, there was a part of me that was secretly relieved.  In hindsight, the timing wasn't right. Plus, the prospect of shipping our flowers to far flung places seemed like a contradiction of what I'd been saying for years:  that using local flowers when they're in season and at their most abundant will give you the most luscious, beautiful bouquets.  So, rather than expanding Floret's fields, I expanded Floret's focus.
Over the past three years, Floret has deepened our dedication to teaching the fine art of small-scale high-intensity flower production and sourcing high quality seeds and supplies so that farmers, gardeners and designers can better supply the demand for seasonal flowers in their respective region. Since then, we've welcomed hundreds of flower farmers and designers to our farm to learn our growing techniques and we've shipped specialty seeds and supplies to gardens across the country and around the globe.  It has been amazing to witness the interest in local, seasonal flowers grow, and grow and grow.
Even though we continue to receive requests for our cut flowers, I no longer feel bad about saying no.  Thanks to the explosion of new flower farms (quite a few of whom received training from Floret!) it is now so much easier to refer flower lovers to other local farms or growers in their region.  To help make these connections, I created the Farmer-Florist Collective, a map of flower farmers and floral designers who specialize in seasonal flowers.
When the Floret Team and I first created the Farmer-Florist Collective, we wanted to highlight Floret Workshop alumni and also help them connect with one another. We later upgraded the map and expanded the Collective to encourage any flower farms, farmer-florists and floral designers committed to local, seasonal flowers to create a profile.
Our intention when creating this Collective was to make a directory that is free, inclusive and accessible on a global level. It is a simple little tool to help flower lovers find local flowers.
My hope is that even more consumers will seek out seasonal flower providers in their region and that flower farmers and designers will make new connections and continue to build a vibrant seasonal flower community.
Since launching the site, we've received some super sweet notes from appreciative users who found local flowers and new connections via the Collective.  I've heard from farmer-florists who have booked wedding clients, floral designers who have developed relationships with local farms willing to custom-grow particular flowers for them, and consumers delighted to discover a flower farm in their area.  I've even heard that the Collective map has been used to plan flower-focused vacations or to map stops at farms en route to other destinations.
Here are just a few examples of recent stories and connections made via the Collective:
Last week Samantha Leenman of Willow Flowers By Design from Sydney, Australia emailed that she would be coming to California this fall to arrange her sister's wedding flowers and hoped to connect with florists.  She headed over to the Collective to find Northern California flower farmers listed on the Collective, and she joined as well.
Julia Lamberth of Hortulanus Budde in Kwazulu Natal Midlands, South Africa named her 1.5 acre heirloom cut rose farm after a long forgotten rose she discovered in her grandfather's 1947 gardening book.  Her photo on the Collective is a favorite; it was taken by George, a 14 year old aspiring photographer.
In Colorado, On the Vine at Richmond Farm scrolled through the area on the Collective map, and in a "small world" moment, discovered the flower farm belonging to the daughter of their farming buddies.
Marieke Nolsen of In de Boomgaard in Holland exchanged warm emails, and has the most stunning armload of flowers I've ever seen in her Collective photo.  IG: @mariekenolsen
Meanwhile, one of my Floret Team members, Ellen Clint, just met up with Mara, Teresa, and Laura Cugusi of Puscina Flowers in Tuscany, Italy (IG:  @puscinaflowers).  They welcomed Ellen and her daughter to their farm and home, where they shared an amazing lunch featuring food grown on the farm.  "It was the highlight of our trip," Ellen shared with me.  "Four generations of their family live at the family home.  At the end of our visit, we left with a care package of food, seeds, directions for a scenic drive, and memories for a lifetime."  And, yes, you'll find Puscina on the Collective map!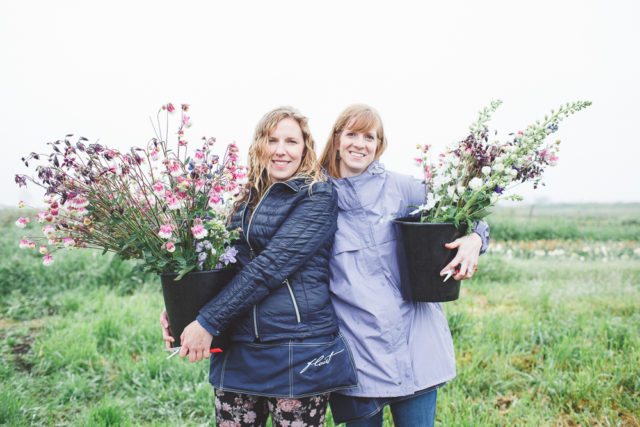 Have you discovered a new flower resource through the Collective, or perhaps forged a new flower friendship?  I'd love to hear your stories in the comments below or by sending a note to: support (at) www.floretflowers.com.  Tell us about it!
If you or someone you know has a flower-based business committed to local, seasonal sourcing we would love to invite you to join the Collective if you haven't done so already.  We invite submissions from:
Flower Farms  that supply flowers for the local, regional or domestic market.
Florists/Designers that are committed to utilizing local or regionally-grown flowers and foliage whenever possible.
Farmer-Florists who grow flowers and offer floral design services.
Note to applicants: the Farmer-Florist Collective is intended to be used as a tool to make personal connections between growers, designers, and flower lovers. Putting a face to each business is an important part of that process, so photos (that include you) are required as part of the application.
If you're a consumer who loves to enjoy fresh, seasonal flowers, be sure to explore the Collective to find sources for fresh, local seasonal flowers near you.  Other sites to search for flowers in the U.S. and Canada include: ASCFG and Slow Flowers.  
In the UK, go to  Flowers from the Farm. 
In Australia, try Consortium Botanicus.
NEW: In France, check out the France Flower Collective, Collectif de la Fleur Française.
"We embrace trustworthiness, integrity, collaboration, community spirit, generosity, kindness and friendship," the Australian consortium states.  "We do not welcome jealousy, greed, envy, imitation, undermining, back-stabbing or monopolisation. Life's too short and we've got farms and florals to tend to."  I couldn't have said it better myself.  
Please connect with and support these incredible farmers, artisans and entrepreneurs!  And thanks for spreading the local flower love!