Only in recent years have I become a fan of dried flowers. I always used to turn up my nose at them because they reminded me of tacky, dated flower books from the late '80s.
Now I can't believe it took me so long to discover their benefits. Drying flowers means you can preserve the abundance from your garden to be enjoyed later, when nothing is blooming. Back when we were finishing the winter chapter of A Year in Flowers, I realized how useful and versatile dried flowers really are.
If you use the right method, you can dry just about anything, and there are dozens of books on the subject lining the shelves of used bookstores and thrift stores. A couple of years ago I discovered a dated but incredibly helpful book, Flowers: Growing, Drying, Preserving, by Alan Cormack and David Carter, that goes into great detail on all the different varieties you can dry, plus step-by-step instructions for how to do it, whether you're air-drying or using silica gel.
There are so many ways to use dried flowers, seedpods, and grasses: in late-autumn arrangements, adorning fresh holiday wreaths, or even mixed with fresh blooms. I thought it would be helpful to share some of the varieties that are the easiest to grow and most popular for drying.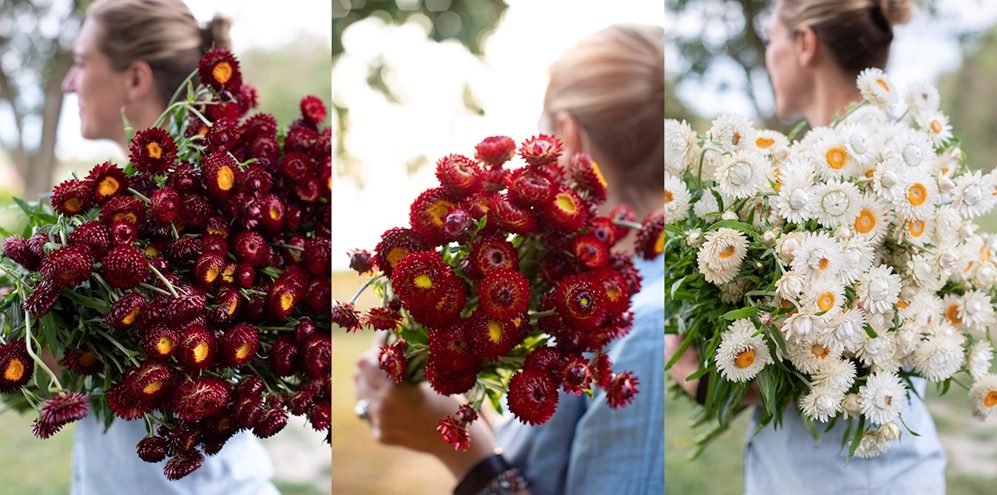 Strawflowers (pictured above) are a traditional standby, but the gorgeous new colors and varieties make them seem entirely different from those '80s flowers, and they actually look incredible when mixed with fresh blooms.
Start seed indoors in trays 6 weeks before your last frost. Seed requires light to germinate, so do not cover. Bottom-water until seedlings emerge, and transplant out after all danger of frost has passed. For drying, you can cut them at the desired stage of openness and they'll hold in that stage.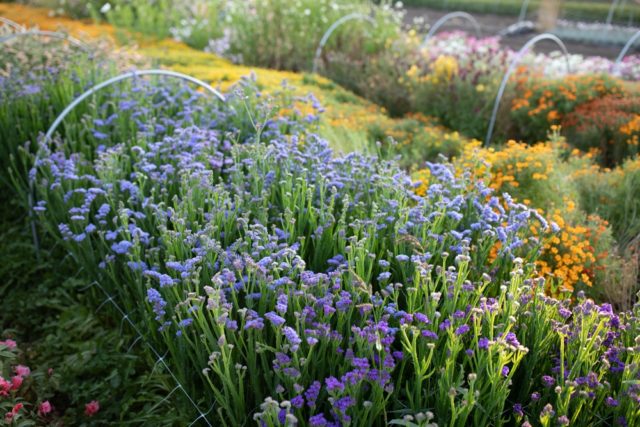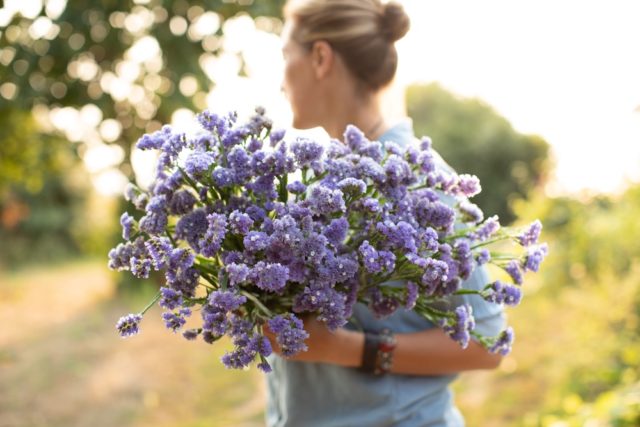 Statice (pictured above), another standby, is one of the best flowers for drying and also wonderful when used fresh. Easy to grow and great for beginners, this versatile plant's papery flowers bloom all summer long.
Start seeds indoors 6 weeks before last frost; transplant out when all danger of frost has passed. Harvest when all flowers on a stem have appeared. If picked too soon, stems will wilt. Fresh flowers have a 7- to 10-day vase life.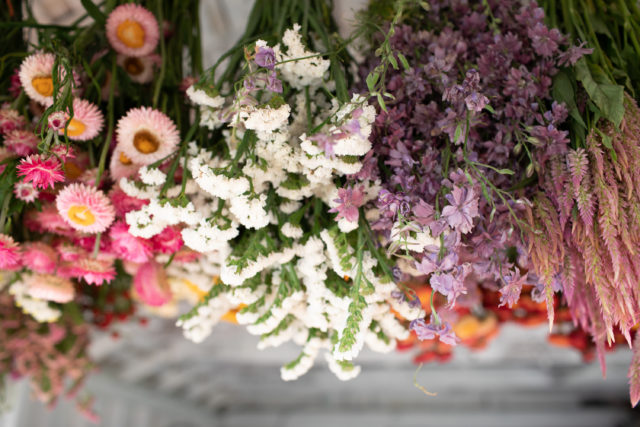 Larkspur (second from right, above) is one of the easiest cut flowers to grow—cold tolerant and early to bloom, it adds tall, colorful spikes to spring gardens.
Direct-seed in late fall or early spring or start seed indoors in trays 6 to 8 weeks before your last frost, and plant out while weather is still cool. Plants do best when sown directly in the garden. Larkspur can be planted in fall in even the coldest corners of the world. Speed up germination by chilling seed in a refrigerator or freezer for a week or two before sowing.
To dry, let all but the top 3 to 4 blooms open, then pick and hang upside down in a warm, dark place out of bright light for 2 weeks.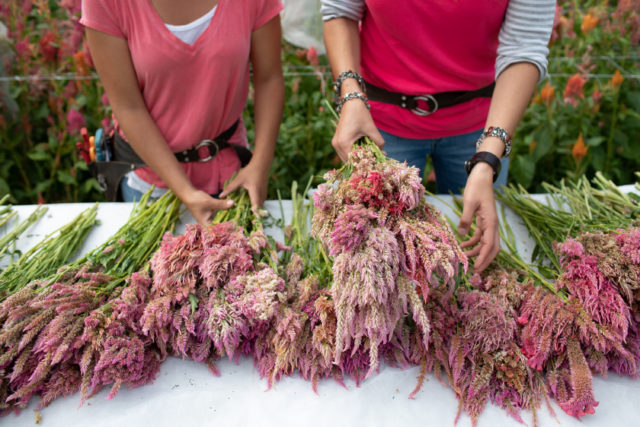 Grown for their unique textural blooms, celosias (pictured above) are vigorous and free-flowering. These easy-to-grow flowers come in a wide variety of shapes, colors, and forms, ranging from a crested cockscomb to spikey, plumed forms that are great accents for bouquets.
Flower heads get bigger over time, so pick when they are the size you want, but before they go to seed. Celosias often last 2 weeks as fresh flowers. To dry them, hang freshly cut stems upside down in a warm, dark place for 2 to 3 weeks or until they are firm to the touch.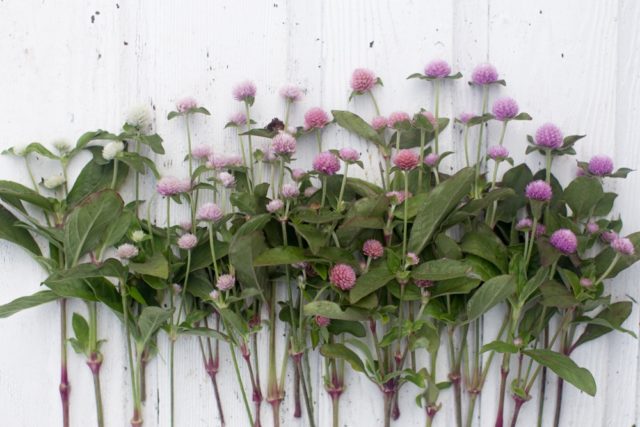 Globe amaranth (pictured above) have adorable, button-like blooms that look great in bouquets. This late-summer darling thrives in the heat and is hardworking in both the garden and the vase.
Start seed indoors in trays 4 to 6 weeks before last frost; transplant out after all danger of frost has passed. Freshly harvested flowers can last up to 2 weeks in the vase, and dried flowers look nearly the same as fresh ones.
Eucalyptus is a staple, much in demand by florists and for weddings. Its blue-green and silvery hues set off both cool and warm floral palettes, and everyone loves its distinctive menthol fragrance. Our favorite is 'Round-leaved Mallee', pictured above.
Eucalyptus can be grown as an annual from seed if started early. Sow seed on the surface of the soil and do not cover. Seeds are very slow to germinate and take 45 days to sprout, so be patient. Harvest once foliage is mature and tips are no longer droopy.
Cut fresh, eucalyptus is a long-lasting foliage—often 2 weeks in the vase. As a dried foliage, it's a favorite in autumn wreaths.
I discovered cress (pictured above), a fantastic filler, almost a decade ago and have been a fan ever since. Just a few stems of these seedy treasures transform every bouquet. The tall, sturdy plants are smothered in beautiful silvery seedpods that aren't prone to wilting or shattering.
Cress is extremely quick to germinate and produces a bumper crop in just 2 months. We direct-sow it every 2 to 3 weeks from our last spring frost through early summer for a steady supply.
Harvest when the seedpods are fully formed and the top blooms have faded for a 7- to 10-day vase life. If you succession-sow, you'll have plenty to dry for autumn bouquets and wreaths. Stems dry easily; just hang them upside down in a warm, dark place.
'Bunny Tails' (pictured above) is an irresistible ornamental grass that's as soft as a well-worn baby's blanket. Compact plants produce graceful gray-green blades with elongated heads that turn a delicate cream color and soften as they age.
Harvest at any point once seed heads emerge. If you cut it fresh, expect a vase life of 7 to 10 days; no preservative needed.
To dry, wait until the pollen sheds, then pick and hang upside down in a warm, dark place. Everyone who visits the farm loves this grass! It mixes well with everything and looks fantastic dried.
Poppy pods have long been a favorite in mixed bouquets. They are easy to grow and make a wonderful addition to any garden.
Breadseed poppies produce large, decorative seedpods that can be dried and used indefinitely. 'Rattle Poppy' pods are as large as limes! Breadseed poppies do best when direct-sown, but slugs love them, so keep an eye out.
Shirley poppies (pictured above) yield a bumper crop of miniature silver pods with darker tops that are excellent for handwork, bridal bouquets, and dried crafts.
Direct-sow into the garden after all danger of frost has passed. Shirley poppies can be started indoors; just take care when planting out not to disturb the roots too much.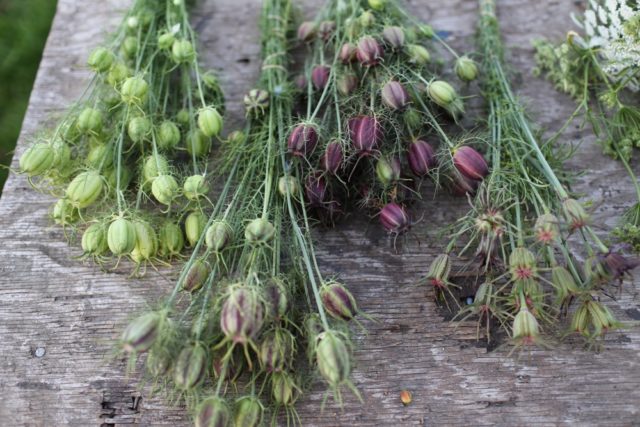 Many other materials can be dried. You may want to experiment with hydrangea, love-in-a mist (pictured above), lunaria, and ornamental grasses.
When we were starting out with drying, we kept things easy and simply hung the harvested bunches upside down in the back of the garage, where it gets really hot and dry in the summer. Standard advice is to dry flowers in a warm, dark place, but thankfully ours dried so quickly that their color didn't fade in the sunlight.
After the bunches were completely dry, we wrapped them in pieces of kraft paper and stored them in plastic Rubbermaid bins until we were ready to use them.
I gave two huge boxes of dried goodies to my friend Nina, who makes the sweetest little dried wreaths that she sells at craft fairs. I divided the rest among the team, and the ladies had fun crafting with them.
What got me going on the dried flower bandwagon in the first place was my flower friend Siri Thorson.
Siri lives on one of the most remote San Juan Islands and travels between her family's farm and destinations worldwide arranging flowers. She makes the most stunning works of art from dried flowers that she grows and ships nationwide around the holidays.
Some of Siri's everlasting wreaths are shown here. Aren't they amazing?
Here are a few important things to keep in mind if you're planning to dry flowers:
Flowers for drying should be picked more open than those for fresh cuts, but make sure they're not too ripe. I suggest picking blooms when they are about three-quarters of the way open. If overly ripe, they will fall apart during the drying process.

After flowers are harvested, you'll want to remove all of the foliage and leaves on the stem because they will turn brown and crispy when they dry.

Be sure to hang your bunches upside down while they are drying because the flower heads will be fixed in whatever position they were in when they dried. Hanging them upside down will ensure straight, usable stems.

Handle dried flowers with care because they are quite fragile and can break easily. If you aren't going to use them right away, you can wrap them in tissue or kraft paper and store them until needed.
Even if you only save a few bunches of flowers for drying, I'd highly recommend that you give it a try. You'll be glad to have them on hand during the lean winter months.
I'd love to hear what you think about dried flowers. Are you drying any flowers from your garden this season, or do you think of them as tacky and dated? If you're a dried flower fan, I'd love to know your favorite varieties for drying and any resources that you'd recommend for beginners.
Please note: If your comment doesn't show up right away, sit tight; we have a spam filter that requires us to approve comments before they are published.