It wasn't until this past year that I actually became a fan of dried flowers. I can't believe it took me so long to discover their benefits. Until recently, I had always turned my nose up at dried flowers because they reminded me of tacky, dated flower books from the late 80's.
One of the best parts about drying flowers is that you can preserve the abundance from your garden to be enjoyed later in the year when nothing is blooming. This winter when we were finishing the winter chapter of the flower arranging book and found ourselves scraping for material. Dried flowers saved the day.
I can't believe I just typed those words!
Technically you can dry just about anything and there are dozens of books on the subject lining the shelves of nearly every used book store and thrift store.
I recently discovered an awesome, albeit dated, book called Flowers: Growing-Drying-Preserving by Alan Cormack and David Carter that goes into great detail on all the different varieties that you can dry, plus step by step instructions for how to do it utilizing both air drying and silica gel.
This season we focused on just a few main ingredients, including pods, ornamental grasses, plus statice and strawflowers in every color of the rainbow.
The seed pods came in handy for late autumn arrangements and the strawflowers actually looked incredible when mixed with fresh blooms.
When it came to drying, we kept things easy and simply hung the harvested bunches upside down in the back of the garage where it gets really hot and dry in the summer. Common advice is to dry flowers in a warm, dark place, but thankfully ours dried so quickly that their color didn't fade in the sunlight.
After the bunches were completely dry, we wrapped them in pieces of kraft paper and stored them in plastic Rubbermaid bins until we were ready to use them.
I mailed two huge boxes of dried goodies to my friend Nina in Vermont who makes the sweetest little dried wreaths that she sells at craft fairs in New England.
I divided the rest among the team and the ladies are still having fun crafting with them.
What got me going on the dried flower bandwagon in the first place was my flower friend Siri Thorson.
Siri lives on one of the most remote San Juan islands and travels between her family's farm and destinations worldwide arranging flowers. Siri makes the most stunning works of art from dried flowers that she grows on her family's farm and ships them nationwide around the holidays.
Pictured are some of Siri's incredible everlasting wreaths. Aren't they amazing?
I am determined to learn her secrets in the near future.
She's hinted at teaching a few workshops next fall and I'm planning to be the first person to sign up. 
While I have grand plans of expanding what we grow and dry next season, I still have a lot to learn.
Some of the varieties I'd like to focus on are celosia, globe amaranth, lunaria, love-in-a mist, statice, strawflower, hydrangea, poppy pods, larkspur and ornamental grasses.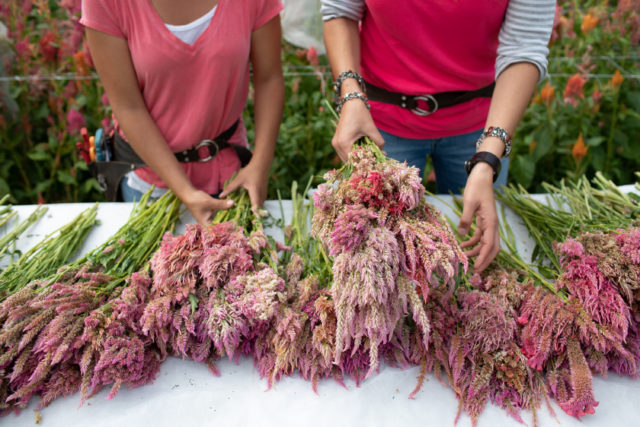 A few important things to keep in mind if you're planning to dry flowers this coming year:
Flowers for drying should be picked more open than you would for fresh cuts, but make sure they're not too ripe. I would suggest picking blooms when they are about three-quarters of the way open. If overly ripe, they will fall apart during the drying process.
After flowers are harvested, you'll want to remove all of the foliage and leaves on the stem because they will turn brown and funky when they dry. I skipped this step on about half of our dryables and I regretted it later because they looked dead and cruddy.
Be sure to hang your bunches upside down while they are drying because the flower heads will be fixed in whatever position they were in when they dried. Hanging them upside down will ensure straight, usable stems.
Handle dried flowers with care because they are quite fragile and can break easily. If you aren't going to use them right away, you can wrap them in tissue or kraft paper and store them away until needed.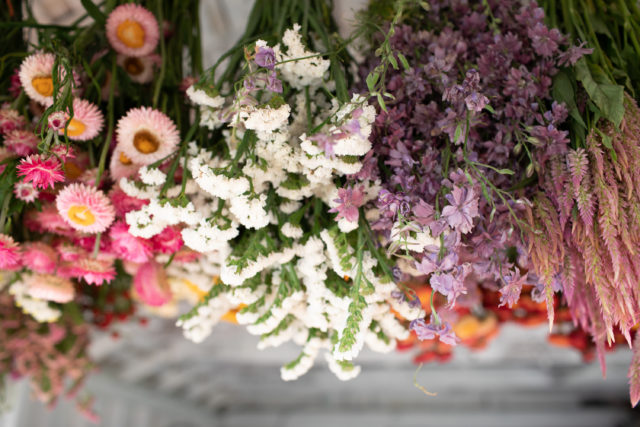 I'd love to hear what you think about dried flowers. Are you adding any to your cutting garden this season or do you think they are tacky and dated? If you're a dried flower fan, I'd love to know your favorite varieties for drying and any resources that you'd recommend for beginners.
If you submit a comment and it doesn't show up right away, sit tight, we have a spam filter that requires we approve most comments before they are published.
Lastly, if you feel like this information is helpful, I would love it if you would share it with your friends.