In season 2 of Growing Floret, we had the honor of sharing the inspiring story of beloved rosarian Anne Belovich and her incredible legacy. You can read a beautiful interview with Anne a few months before she passed away here. 
Many people have inquired about how Anne's roses are doing so I've invited Anne's daughter-in-law Teddie Mower to give us an update.  
Teddie, it has been such a pleasure getting to know you through Anne. As her daughter-in-law, you've had the great fortune of having a front-row seat to what a true powerhouse she was. What would you say is one of the most important things that you learned from Anne?
Oh, my goodness. There are so many things—and I say "are" in the present tense because I am still learning from her. I've been fortunate to have been surrounded by powerhouse women my entire life. What was very special about Anne was the level of intent behind her determination to live her life on her terms.  
Her life was not an easy one. She was a child of the Great Depression. She foraged with her mother and ran trap lines with her father so the family could eat. Her father didn't want to shoot the animals, so he made her do it. Anne remembered just how very hungry she was at that time and how her mother would sneak extra food to her because she was so thin.
She went out with her father on his fishing boat for long periods of time to help him make a living and keep her family in their home. Her intellect, the way she could read the ocean, and resourcefulness earned her the respect of the fishermen and the nickname "Albacore Anne."
Losing her first love, Lloyd Hollibaugh, to World War II also had a profound impact on her development of intention to thrive. He was "a very handsome, adventurous intellectual who believed in [her]." He encouraged her to pursue her interests. When Anne received the news that his plane crashed behind enemy lines, she was 19 and their son, Rick, was 2 weeks old.
We forget that women, especially widows with children, had few options at that time. Many were pressured into living with family or marrying a brother of the deceased. Widows were suspect due to their, shall we say, experience, something Anne found humiliating and condescending to women. She was determined to lead her own life, outside of the options society offered.
But it was much more than determination. Many people are determined but fail. Anne was intentional in reaching her goals. She explored, planned, researched, implemented, documented, and evaluated the process.
She anticipated what could go wrong and included alternatives that would keep her on track for the life she wanted to live. She was a realist and understood that priorities change, but she determined her priorities right up to the end. Not outside voices. And she did the work to get there.
Anne's focus on intentionality has been very helpful to me as I continue to go through so many transitions in my life, including the commitment to her legacy and roses. Remembering her words and actions has given me the confidence that I lost when I first began this endeavor.
There were so many expectations and I had zero background with roses. I felt I was letting everyone down. This past year has been an amazing learning experience with more to come. Anne would say that, the learning, is the most important part of reaching the goals I have set for myself.
Tell us more about yourself and your husband Rick. What has it been like to take on the project of caring for Anne's roses?
Rick is his mother's son. They are so alike sharing an interest in science and the natural world, a love of the ocean, and a DIY aptitude. I met Rick when I took his parasitology course as a graduate student. I became his TA (teaching assistant) the following semester and later we co-taught a couple of microbiology courses together. After we were married, Rick continued as a Clinical Professor at Indiana University until retirement, and I took a faculty position and ran the Center for Environmental Education at the University of Louisville.
Like Anne, Rick is a romantic. Our first date was weeding his garden. I found that the perfect strawberries he had been bringing to me were the result of careful rotation on terra cotta dishes which ensured uniform color and sweetness. All for me!  
We try to grow most of our own food, something that Anne really enjoyed when we moved out here. Rick built the small greenhouse and planted the orchard here in Washington in the late '90s when he came back from working in medical clinics in India and before he took his faculty position at Indiana University. He took scions from the trees out to the farm in Indiana where he grafted them and we brought back some Indiana scions and some of the citrus plants when we moved back here. We are just finishing a much larger second greenhouse that will house the citrus and other plants, including some special project plants. 
As Anne would say, "if you can't eat it, Rick isn't interested." The roses and flowers are my thing, and the fruit and veggies are Rick's, although we help each other. Rick has a much deeper knowledge of plant physiology and growing in the Pacific Northwest than I do. When it comes to rebuilding the structures, we complement each other with our skills.
While overwhelming at first, taking care of Anne's roses has become a delight. It's so exciting to get to know the individual roses over time—to see their rhythms through the seasons. I am still finding roses we didn't know were here, either because they weren't on Anne's maps or they had been drowned out by the wildness of competition over time.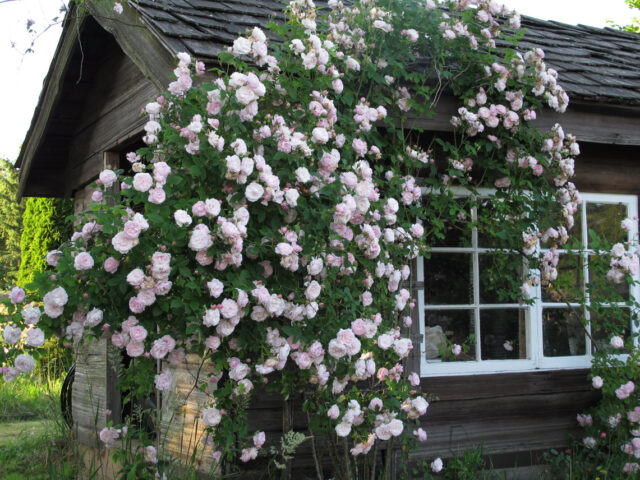 How is Anne's garden doing? Are there any workdays planned or other updates that people should know about?
The roses are doing wonderfully. There wasn't the dieback we had last year and most of the roses that I considered fragile are shooting up new canes. Anne's friends have been helpful in letting us know what roses she gave them from the collection and many have offered to start cuttings for the ones we may need. They have shared information and stories and are volunteering their time with clean up, pruning, and identifying varieties. 
The work that the Floret team did last year in preparation for Anne's Celebration of Life not only helped to prepare for the event but continues to make maintenance in that area so much easier.
This year's focus is on the Old Garden Roses (OGR) garden, where we will continue to untangle the Gallica thicket and recover the roses and pathways that gave it its woodland garden ambiance.
We will continue to restore the structures that Max made, many over thirty years old and in need of TLC. My hope is that we will have the pavilion in the formal garden completed by the fall. That might be a little unrealistic, but it's on the "get it done" list for 2023.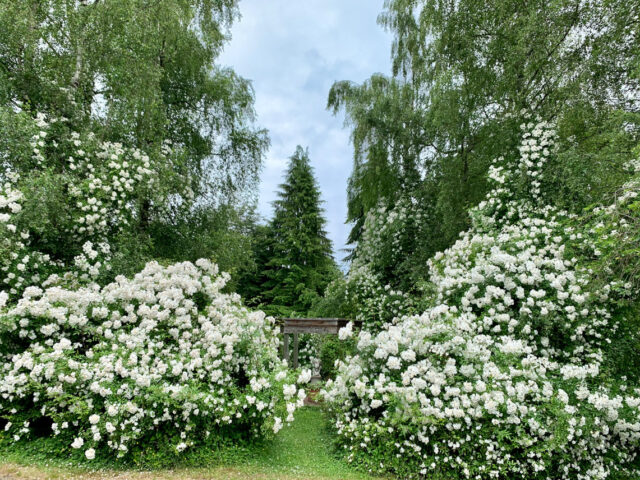 Members of Heritage Roses Northwest visited in early April to help prune roses and clean up the property, and there will be an IDing party in July and a rock painting event in August.
We will also open some of the property for viewing the 'Pleine De Grace' (pictured above) and 'Kiftsgate' (pictured below) when they bloom. RSVPs are needed for all events and there is a capacity limit.
For more information, visit annesgardens.com. 
Anne's place is one of the most magical gardens we've ever visited. It was unreal to see roses all the way up in tall evergreen trees! Since Anne's passing, have you added any new plants to the property? 
Yes, we have. Leonard Heller, who was a friend to Anne and a neighbor, had to downsize his magnificent Spinosissima (Rosa pimpinellifolia) collection and we are in the process of moving his favorites to this property.
In March, we moved the phenomenal 'Queen Mary' (hybrid spinossissima), 'Stanwell Perpetual' (Scots rose, most likely a seedling grown by Mr. James Lee in Hammersmith, England before 1839), and 'Holland Double White Altai' (a wild species of an unknown Dutch origin).
We moved several last year, including 'Prairie Magic' (pictured above), a gorgeous, intense salmon-colored rose that I'm looking forward to seeing again. It has that "ahhhh" factor when you see it and smells heavenly. It was never released officially as a cultivar so is quite rare. Leonard loves this one.
We also have his prized Rosa xanthina 'Allard' (bred by Gaston Allard of France before 1900). We are currently prepping the collection of Sericeas and Finnish roses for their move. The Sericea rose thorns (pictured above) are absolutely stunning regardless of the season. My first glimpse was in the middle of the winter and I was mesmerized. With the lacy green foliage and sweet 4-petaled white flowers, it is definitely a unique rose.
My guilty little pleasure though is my sweet peas. I have absolutely fallen head over heels for them. Our friend Rose Lee gave a presentation on them last year at the Soos Creek Botanical Gardens and I immediately planted the sweet pea seeds I brought out from Indiana. Rick collected the seeds at the end of the year and we planted them in February. They do well here and oh my goodness … the fragrance. Like the rambling and climbing roses, they give a color lift by scrambling up the vegetable garden fence.
One of the biggest highlights of 2022 was being able to bring our team to Anne's and spend the day helping to clean up the garden. If people would like to visit Anne's garden in the future will there be an opportunity for them to do so?
Having your team here was one of our highlights as well. That was an amazing day.
Right now, due to the restoration, we are only having the few events that I mentioned. We hope to be able to open the gardens by appointment in the future. It is what Anne wanted so we are committed to finding a way to do it. 
We are open to groups who are interested in having a volunteer day to support Anne's legacy or using the gardens as a demonstration garden to share gardening expertise.  
For those not in the Snohomish County, Washington area, please consider volunteering your time with a local heritage rose organization. These people work hard to preserve rare roses at cemeteries and public and private gardens, and your support would be appreciated.  
Anne often mentioned sharing flowers and knowledge. What advice do you think she would want to give all of us, in regard to how we can live our best lives? 
I remember Anne referring to her bouquets of roses as her husband Max's social capital. He was quite a character and loved people. Anne was more reserved and loved Max.
She would spend the morning collecting flowers to make lovely bouquets and send him out to distribute them to people celebrating their birthday or an anniversary or maybe to someone who just needed flowers.
He loved to see the joy in people's eyes and Anne loved to hear his stories about how it touched people's hearts.
One possible action item dear to my heart, because it helped Anne so much, is to make an elderly friend who loves to work in the garden and help them do it as long as they possibly can. Anne had friends who cared for her by stopping by and maintaining the roses around and close to the house, those she could see out the window. It brought her so much joy.
But when she found out I was going to be able to move out to Washington to help her, she purchased a garden kneeling platform so she could work in the garden with me. She was only able to use it twice, but those two times will be etched in my memory forever because they meant so much to her … and to me.
There are many beautiful gardens with special plants and stories that are falling into disrepair as a result of an aging owner. What a depressing way to be reminded of your limitations and mortality. Volunteer to help in the garden giving the owner an opportunity to share their expertise. Both lives will be richer for it.
Anne would say in order to live your best life you should add beauty to all you do and share it as widely as possible.
Teddie, thank you so much for this wonderful update. I can't wait to visit again someday soon. 
You can learn more about Anne on her website, where her family has begun publishing blog posts that she wrote before her passing. They have also set up a donation page if you'd like to help support the preservation of Anne's rambling rose collection. 
If Anne's story has moved you, please consider adding one of her books to your library. Proceeds from the sales will go towards the family's rose preservation efforts. 
Gallica Roses by Anne Belovich
Large-Flowered Climbing Roses by Anne Belovich
The Little Book of Alba Roses by Anne Belovich
Moss Roses by Anne Belovich and Harald Enders
Ramblers and Other Rose Species Hybrids by Anne Belovich
A Voyage of Determination by Anne Belovich
---
Please note: If your comment doesn't show up right away, sit tight; we have a spam filter that requires us to approve comments before they are published.
Floret only lists companies and products that we love, use, and recommend. All opinions expressed here are our own and Floret does not offer sponsored content or accept money for editorial reviews. If you buy something using the retail links in this post, Floret may receive a small commission. Thank you for your support!