I started growing flowers when our kids were still really small. To put that into perspective, Elora just graduated college and Jasper has already graduated from high school. So I have been growing flowers for a very long time. 
When the kids were little, Chris was working as a mechanic down in Seattle and commuting back and forth to work every day. During the week he was hardly home and I was by myself caring for two young children so I had a lot of time to think about what I wanted to be when I grew up. 
I tried out numerous small business ideas during those early years to see what would stick, including planting an heirloom cider orchard (I didn't take into account that it would be at least five years until my first viable harvest). I raised more than a hundred chickens in our backyard for a rainbow egg business, but the birds kept escaping from their coop, and I would get angry calls from our neighbors daily. 
I even tried my hand at growing miniature vegetables for local customers but quickly realized it takes a lot of baby zucchini to make $5. I attempted so many different ideas but none of them went anywhere. 
Along the way, I added flowers to my garden and started selling the extra blooms. Unlike all the other things I made or grew, flowers had the power to stir such deep emotion. Every time I delivered my homegrown blooms, complete strangers would open up and share the most beautiful stories with me. 
Almost every recipient had a flower memory that they could recall as if it were yesterday. It wasn't until I started sharing flowers, which I had grown myself, that I felt like I had finally found my calling. 
From that season forward, every waking minute was devoted to the garden. I was obsessed. But I knew very little about flower farming. 
I spent nearly every evening and weekend camped out in online chat rooms, having long question-and-answer sessions with flower growers across the country, and filled my days reading every gardening book my local library could order and trying to practice all the things I had read about in my garden. 
At that time, social media wasn't even a thing yet, and there was so little information available on the topic. I constantly referenced Lynn Byczynski's The Flower Farmer, Sarah Raven's The Cutting Garden, and Martha Stewart's Gardening: Month by Month, plus a few trade publications, but other than that, I just made it up as I went along.
I am all for being self-taught, but trying to build a business from scratch with so little to go on and no community was incredibly lonely and challenging. Because I was learning everything as I went along I made so many painful and expensive mistakes. 
When I think back to those early days I am still amazed that I didn't throw in the towel. I failed way more than I succeeded and for the first few years, I really thought about quitting every single day. 
Nothing came easy and every failure felt like proof that I was on the wrong path. Every time my faith wavered and I questioned what I was doing, Chris would always say to me, "The flowers are different. Just keep going." So I would get back up, dust myself off, and try it again.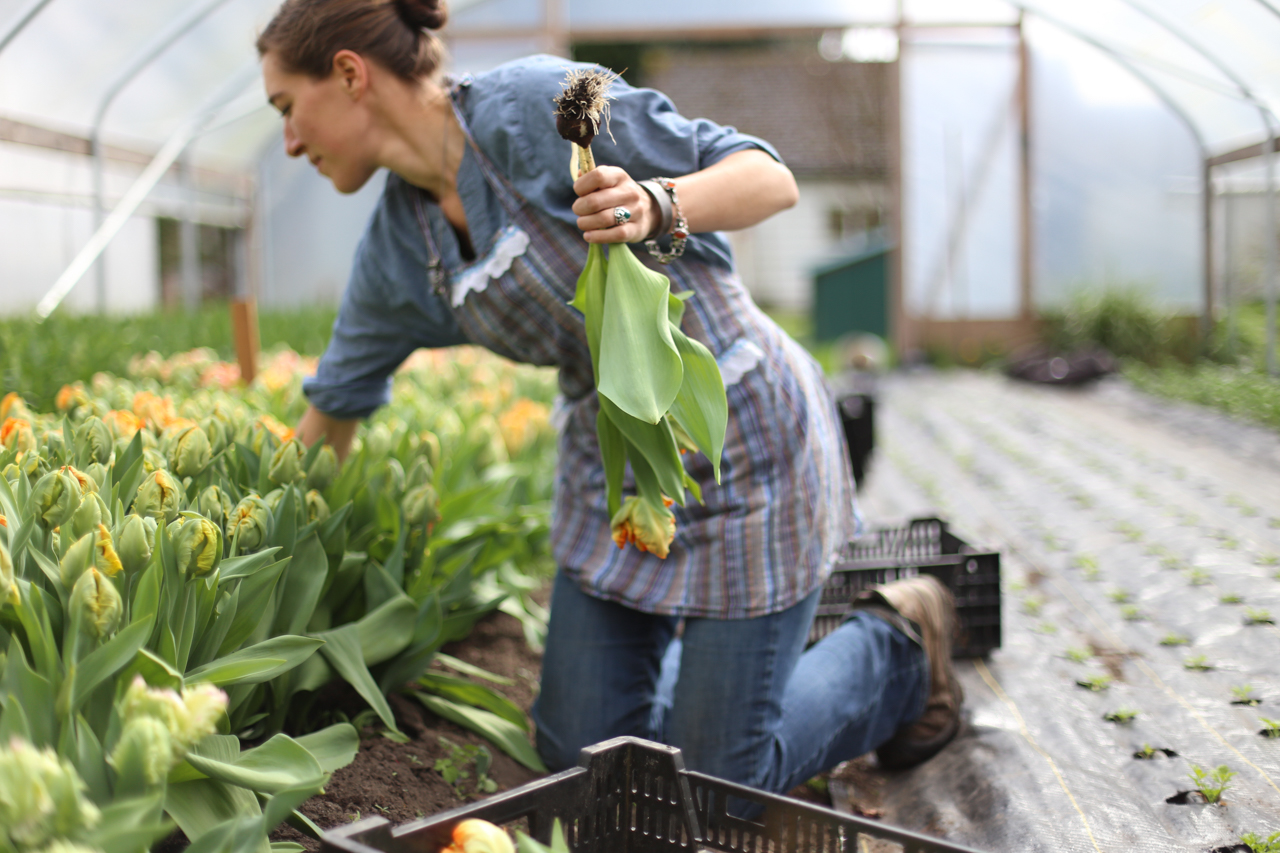 Even though I stumbled my way through the first few years, I still managed to somehow grow a little business in our backyard and eventually start making a small profit. Every penny that I made with my flowers went into paying off a mountain of debt that we incurred some years earlier. 
Because we were so determined to get out of debt and clean up the mess that we made, there was never any extra that I could invest in myself or my learning. 
I spent so many hours walking circles in our garage while making thousands of mixed bouquets dreaming of the day I could finally leave the farm and go learn from my flower heroes. Every time one of them would announce an upcoming class or workshop my heart would ache. 
I was working so hard and while I was making good progress on paying down our debt and getting better at growing and arranging flowers, I never felt like I was getting any closer to realizing the big dreams I had for myself. 
During that time I had started writing articles about my flower growing journey and had the opportunity to interview Ariella Chezar, the godmother of seasonal floral design, and we became penpals. She knew how badly I wanted to attend one of her workshops but I couldn't ever come close to affording it. 
I'll never forget the day that I received her email saying if I could get myself to her next workshop that I could attend for free. Up until that point my flower journey had been so incredibly difficult and nothing came easy. I had gotten so worn down by the grind that I was on the verge of quitting altogether. 
So when I got that offer, everything I believed to be true was challenged in the best possible way. At that moment, I decided that if I ever had anything of value to share with someone else who needed a leg up that I would pay it forward as many times as I possibly could. 
The workshop was beyond anything I could have possibly imagined and the experience completely altered the course of my life. I came back to the farm after that blissful week in California changed. 
Having someone who I admired so deeply believe in me helped me believe in myself. That act of generosity felt like getting permission to finally go after all of the dreams that I had put on hold for so long. 
I quickly got to work overhauling my little flower business and from there, things really took off. Within a few short years, I had the opportunity to write my first book and eventually welcome more than 500 budding and established growers and designers to learn with us on our tiny 2-acre farm. 
Over the next few years, our small family operation grew and we started a seed company, built an amazing little team, were fortunate enough to find our forever farm, wrote two more books, and transitioned our on-farm workshops online.
I can so easily trace each one of these blessings back to the moment I received that life-changing email. You never know just how much sharing with another person can completely change their life. 
I have tried my best to infuse Ariella's generous legacy into everything we do and our scholarship program is my very favorite way of paying it forward.
If you've been dreaming of filling your life with more flowers, but the Floret workshop is out of reach, I highly encourage you to take the time and apply for one of our scholarships.
As we get closer to the opening date for scholarship applications, you will be able to get all of the specific details about it here.
The application process is simple—it's just two short 250-word essay questions and a little bit of information about you. In the first essay, you'll be asked to briefly tell us about yourself and your flower business, organization, or future business idea. In the second essay, you'll tell us what interests you the most about the Floret Online Workshop and how it will help you accomplish your goals.
Hosting the Floret Scholarship program is always the highlight of my year and I can't wait to read everyone's applications!
To be notified when the application period opens, join the waitlist below.
---
Please note: If your comment doesn't show up right away, sit tight; we have a spam filter that requires us to approve comments before they are published.