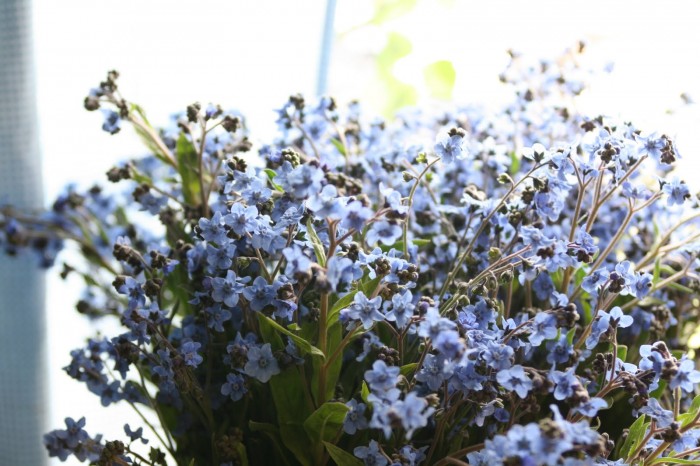 Cynoglossum amiable (or) Chinese Forget Me Not's are one of the most adorable, delicate, treasured spring flowers that we grow. They are very similar in appearance to the old fashioned Forget Me Not's you'll find growing in woodland spots of the garden but this particular type makes a far better cut flower crop for a number of reasons.
First, Chinese Forget Me Not's can be grown as an annual crop unlike the traditional biennial types which require a year or more to properly bloom.
Second, they have nice tall, sturdy stems that often reach 18″ or more. Perfect for bouquet work and solid bunches to the floral design trade.
Lastly they are extremely productive! As long as you keep on top of harvesting and don't let the flowers run to seed, they will bloom for up to 6 weeks. I've had good success extending the flowering window by sowing two plantings of seed, a month apart so when the first crop finishes, there is another just coming into bloom.
Seed is a little tricky because it needs to be super fresh. Even though the packet always says that the germination rate is 85%, I've never had anywhere near that level of success. For me it's more like 40-50%. So keep this in mind when ordering seed and get 2-3x as much as you'll want in the long run.
I sow 2-3 seeds per plug and grow them in either 128 or 200 cell trays. Seeds are lightly covered with soil, watered deeply and then set on the 68-70* heated table until sprouting.
There are two blue varieties on the market, 'Blue Showers' and 'Firmament'. For the tallest stem length you'll want to track down 'Blue Showers' for sure. There is also a darling pink variety called 'Mystic Pink' which has a much higher seed germination rate than the blues and its stems often reach a solid 2ft. I grow both in abundance.
It's ideal to get seeds going as early as possible because Chinese Forget Me Nots are a little slow to start and also thrive in cooler spring weather. I sowed ours last week and will follow with another round at Valentines. Seed for both colors can be found at Ivy Garth Seed and Plants. If you're a home garden,'Firmament' (the slightly shorter blue variety) can be found at Stokes.
I usually tuck our first crop into the hoop house and the second wave out into the field. Plants are spaced 9×9″ apart and are grown in pre burned landscape fabric to help keep the early spring weeds at bay.
As always, if you have any questions, be sure to leave them in the comment section below.
Happy planting!