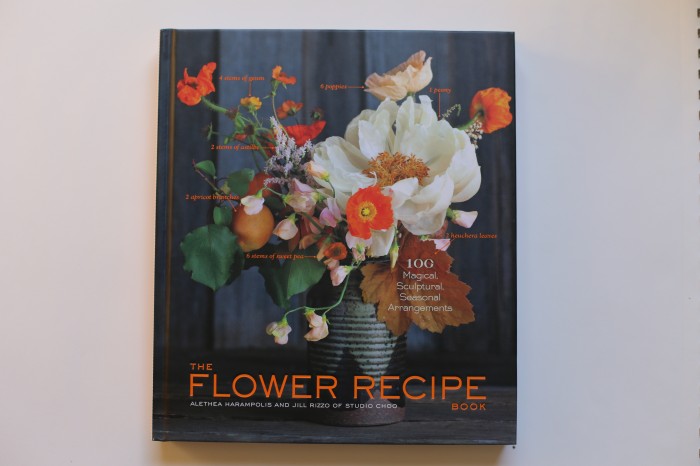 I have been a fan of the Small Stump & Studio Choo ladies for years after discovering their awesome flower column on Design Sponge. Their relaxed approach to flowers, their creative spirit and close friendship has been so very inspiring. When I got wind that they were writing a flower book, I knew it was going to be amazing!!!
If you're in the flower world, then you know there are very few GREAT flower books out there. Unless you have the opportunity to spend time with someone who knows their stuff, and can show you the ropes, then you're pretty much on your own to figure out the basic mechanics of arranging. Luckily for us, that isn't the case any longer!
The Flower Recipe Book is chocked full of over 100 step by step hot-to's for creating lose, natural, seasonally inspired bouquets. If you're just getting into flowers, this is a killer reference that will get you going in the right direction. If you've been at it awhile and need a dose of GORGEOUS inspiration, then this baby should be on your shelf. If you need a gift for sweet ole Mom on Sunday, this is definitely the ticket!
I'm now including it in my wedding consultation bag, since it features so many of the flowers we grow and highlights such gorgeous, unfussy bouquets that I know my brides will love!
Jill and Alethea will visiting Seattle this week on their book tour! The Seattle Wholesale Flower Grower's Co-op is hosting a flower demo and book signing from 8:30-10 a.m. of Friday, details HERE. Then Saturday the ladies head to West Elm from 10-12 for another class and signing, details HERE!
But here's the best part! I have 3 beautiful signed copies of the book to share!!! All you have to do is leave your name and favorite flower variety in the comment section to win. Cut off for the drawing in Saturday night, May 11th. The lucky recipients will be announced on Mother's Day!