I first met Felicia when she came out to our farm for one of our in-person workshops. She was already a very experienced farmer but was looking to expand the flower portion of her business and I remember how much wisdom and encouragement she offered students whenever she shared. 
Felicia is a powerhouse and such an inspiration to everyone who knows her. Over the years we've become good friends and always call each other whenever we're taking on a new project to compare notes, ask questions, and share advice. I have learned so much from her and I'm excited to share more about her story, her business, and her wonderful new book all about roses that will be coming out soon. 
I hope you enjoy this interview and be sure to read all the way to the bottom for a chance to win a signed copy of her book and some bare root roses! 
Erin: You're a third-generation farmer and your whole life has been connected to the land. Can you share a little bit more about your farming journey and how you came to roses?
My journey as a farmer has truly been a lifetime in the making and one that is a curvy road with many detours along the way. I was raised on a French prune farm in the Sacramento Valley of California. I spent my early years toddling behind my mother and grandparents around our family farm. Under their guidance during my childhood, I learned how to grow a number of production crops from dry beans, walnuts, rice, processing (canning) tomatoes, and other fruits and nuts we grew in our farm portfolio. 
My favorite memories of the farm are not ones in our production fields but those in our farm gardens caring for the roses and flowers my grandmother lovingly curated. I worked on the farm from as early as I can remember doing everything from hand-harvesting fruit to running a production line on our commercial prune dehydrator. 
I eventually left the farm, went off to college, and studied crop science and agricultural business, knowing I wanted a career in agriculture but not knowing exactly where I could fit in that world outside of my family's farm. 
During university, I worked in vineyards and floral greenhouses on the Central Coast of California and landed a multi-season research internship for the University of California Cooperative Extension with a regional Integrated Pest Management advisor. Through these work opportunities, I found my niche and passion—entomology. 
I was slated to attend graduate school to study "bugs" when my path took a turn. In the final semester as an undergrad, my mother was diagnosed with melanoma. It was aggressive and unrelenting. I wrapped up my last quarter of undergraduate studies, deferred enrollment to graduate school, and moved home to care for her full time. From diagnosis to her passing was a short four months. My life was turned upside down in what seemed like a blink of an eye. I never made it to graduate school to study entomology and who knows where my academic career would have taken me.
Fast forward, I spent the next 15 years in the vineyard and wine business eventually starting a winery with my husband, serving as the primary caregiver for my aging grandparents and manager of their farm. I was in and out of hospitals and doctor's offices, taking weekend trips to manage the farm and like a hamster on a wheel trying to keep it all together. 
Even on the busiest days, I treasured the time I spent during those last years with my grandparents. They passed away within a few years of each other. I was left emotionally and physically exhausted. At the first point in my adult life, I was able to get off the wheel and finally had a moment to think about what path I really wanted to take. I knew there was more out there for me. 
As the universe likely planned, I found out I was pregnant with my first child just before my bi-monthly trip to my grandparents' farm, my childhood home. The moment I arrived something was different about that trip, as I drove down the driveway for probably the millionth time in my life, I knew I wanted to move "home". I blame the pregnancy hormones for deciding to uproot my life and sell a successful winery. Everyone said I was crazy but it was the perfect decision for me. I was able to convince another family member to sell the farm to me. I just couldn't let it go. I moved back home and took over full-time operations of my own portfolio of farm properties. With a new baby in tow, I was back to driving a tractor and mowing weeds just like my childhood. I felt that connection to the land I had always been rooted in—my forever farm.
While prunes, rice, and nuts are the backbone of the farm, I knew the land was meant for more. Every moment of free time I had was spent rehabilitating the farm garden that had fallen into disrepair after my grandmother became no longer able to care for it. I'd deadhead the roses and wander around the lavender and citrus groves with my little guy in a playpen nearby. It was the place I could feel the spirit of my mom, grandmother, and grandfather. 
One day a business acquaintance of my husband's, a florist, came out to the farm. We chatted and he was enamored with the old garden roses. He said they were all the rage at the San Francisco Flower Mart and asked if I would sell some to him. Well, that was the idea spark I needed and the rest—as they say—is history. I started growing garden roses for cut flower production. Again, everyone said I was crazy to grow roses in a region that is not known for cut flower production. I'm glad I didn't listen to the naysayers and the old know-it-all farmers at the coffee shop. 
I now have a more than 100-acre farm I manage, including 3 acres of garden rose production, 3 acres in bare root and research production, and a nursery. It truly has been a curvy journey to get to where I am today, with way more twists and turns than anyone would want to hear in an interview (this is the abridged version of my long story), but I am finally at the place where I feel I was always meant to be growing roses, food, and flowers to share with the world.  
Erin: You don't just specialize in roses, you have an incredible operation. Can you tell Floret readers more about your business and all of the amazing things that you offer? 
I always joke that I've never met a plant I didn't like and want to share everything I know about them with anyone and everyone. I know that's where we are kindred spirits, Erin. The flower farming part of the business has three main components: a plant nursery, commercial cut flower and food production, and farm and flower education. 
My farm nursery specializes in garden rose production and sales, offering bare root and potted roses seasonally. Bare root roses are shipped all across the United States and our five-gallon potted rose collection is available exclusively for pick-up at our farm nursery. Our big rose sale is this coming Thursday, January 20. 
The garden roses in my collection are roses that are my tried-and-true tested varieties for cut flower production. I also have a research and breeding division to identify and bring new garden rose cultivars into commercial production. In 2021, the nursery started offering a special selection of companion plants to roses as well as pre-chilled tulip bulbs. We also offer a selection of rose and flower care products that are all of my favorite things, from fertilizers and gloves to clippers and compost. Every year we add more things to our nursery offerings and I am excited to introduce even more new items in the coming year. 
My commercial cut flower production also specializes in growing garden roses as well. I sell wholesale to the floral trade and retail to anyone and everyone that wants to enjoy fresh cut garden roses in their home. We ship all across the United States as well as pick-up at our farm nursery. We also offer specialty cut tulips, peonies, flowering branches, and other assorted cut flowers seasonally, as well.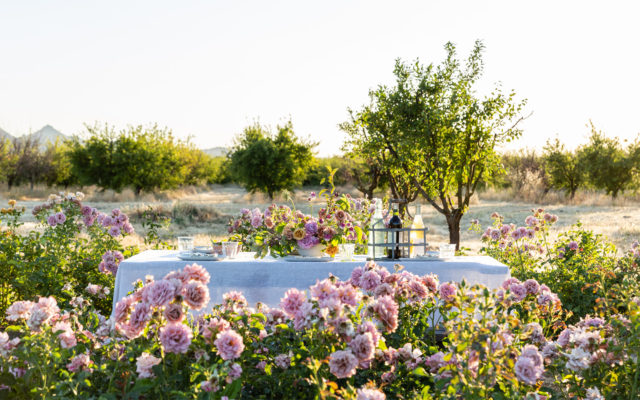 The education spoke of our farm services, The Menagerie Academy, is one that I am the most excited about. For the past 7 years, I've offered on-farm workshops a few times per year, inviting other farmers, gardeners, and floral enthusiasts to learn about a number of topics, from rose growing to floral design. When the pandemic started we had to cancel our 2020 workshops but there was still so much interest from people wanting to learn about how to grow garden roses as cut flowers. Our inboxes were flooded with questions as people were home and the interest in gardening exploded. I did what many people did while isolated, I pivoted and took my farm workshops and education digital.  
The Menagerie Academy is now both an online and in-person learning community. Through the Academy, I offer three different options to learn with me and my team.
 

An online monthly membership subscription service with three levels of service to fit any budget providing rose, flower, and farm business education through video lessons, weekly Q & A sessions with me, and downloadable educational resources, tools, and guides.

 

In-person workshops at the farm.

 1:1 consulting/coaching with me, either virtually or in person on the farm.
Expanding my educational offerings from a few on-farm workshops to an online community and an upcoming book on growing roses as cut flowers has truly been one of the bright spots of the last two years. Being able to connect with more people across the globe virtually to help them with everything from growing great roses, insect, and disease management to farm business development and planning has been an amazing experience.
Erin: Mastering any crop takes a tremendous amount of trial and error, especially when you're trying to figure out what varieties grow best in your specific climate and also what customers are looking for. I'd love to hear more about your process when it comes to roses for cutting and how you choose which varieties make it into your lineup.
I love research and this is truly the area where I feel the most at home. I dive in with two feet, notepads upon notepads, and spreadsheets upon spreadsheets. My process is a little bit different depending on the crop. I'll walk you through the process I go through to evaluate cut garden roses I receive from breeders. 
The first step is to identify roses that have colors that are desired by the floral design or garden trade. Even if a rose has the most amazing characteristics like disease resistance, vase life, stem length, etc… if it doesn't have a color or unique characteristic that is needed in the market it doesn't make my cut to move forward. I try not to fall in love with roses that won't sell. I move them over to my private collection so I can fawn over them there in hopes one day they will be popular. 

Step two is to then plant the rose in my trail field to evaluate. I usually plant a minimum of five plants to evaluate the first year. 

Step three, I run the plant through what I affectionately call "rose hell". No disease or pest control measures with minimal to no weed control. I evaluate the plants bi-weekly and take notes on their performance like disease resistance, insect damage, heat tolerance, bloom cycle timing, foliage color, and more. If it can make it through this it usually can make it through anything. 

Step four is harvest. I harvest cut roses and evaluate the average stem length, bloom size, petal count, number of cuttable stems per plant, fragrance, uniformity, post-harvest vase life, and post-harvest storage. 

Step five, I repeat this process throughout year one every bloom cycle. If a rose passes my gauntlet with flying colors, I will plant a larger quantity the second year – usually 20–40 plants and repeat the process again (this time with standard pest and disease control measures and cultural practices in place.) The second year I will give the cut stems to floral designers to try and get their feedback on the variety including how well it survives after different post-harvest shipping methods. 

Step six, If the rose checks all of the boxes and my customers love it too then it goes into a final trial year. I then plant 100–200 plants and repeat the process one more time. Then by year four, the rose goes into regular rotation in my cut flower production, and by year five, if it is a very desired and popular rose I will increase planting numbers in both my cut flower field and bare root rose production to meet the market demand.
I know five years sounds like a long time but since I grow garden roses in open field production, not in a controlled greenhouse environment, I am at the mercy of Mother Nature. One year the rose is subjected to flooding, the next drought, and weeks of wildfire smoke. I need to put it through the wringer to see how it performs in all matter of conditions over a period of years to truly see if it will stand the test of time for field-grown cut flower production year after year, regardless of the environmental conditions it endures. 
There are always exceptions to almost anything I do at the farm and research is one of them—predicting future trends and demand is the less scientific part of the evaluation process so occasionally I will fast track this process and skip a year or two if the rose is exceptional in its initial year and the demand for the variety/color is high.
Erin: I know readers are dying to know what some of your favorite varieties are by color. Would you share some of your must-haves with us? 
Blush
Evelyn
Beautiful pink to apricot petals adorn this hard-to-find lady. Evelyn is in a class all her own and a true classic from the David Austin collection of roses. Named for the iconic perfumers Crabtree & Evelyn, who used it in their range of rose perfumes. She thrives in warmer climates. A glorious choice as a cut flower or in a garden landscape.
Francis Meilland 
A cream rose hybrid tea named for an iconic rose breeder. Very fragrant with peach to blush tones that give way to soft white as it opens. It's a rose that checks all the boxes as a superb cut flower. 
Moonstone  
A classic hybrid tea with big, beautiful, blush blooms that give way to white petals when opened. Wonderful for cutting with strong straight stems and a soft mild fragrance.
Burgundy & Wine 
Munstead Wood 
A dark and dreamy David Austin rose, Munstead Wood is my go-to for burgundy cut roses. Plump round buds open to a burgundy stunner with velvet-like petals. One of my favorite producers for fall bridal bouquets. 
Darcey Bussell  
A robust grower, Darcey is a classic David Austin stunner. Beautiful burgundy to crimson ruffled petals have a strong old rose fragrance. A lovely rose for Fall and Winter arrangements.
Tess of the d'Urbervilles   
This rich velvet stunner is one of my favorite burgundy roses here on the farm. A perfect David Austin rose that pumps out blooms all year round. Long canes make this rose a wonderful climber and perfect rose for cutting nice long stems.
Crimson & Red  
Lava Flow
Rich, deep red, ruffled clusters adorn this compact bush. An eruption of color and a beautiful rose for red lovers. Petite clusters of blooms make this a perfect spray rose for cut flower lovers with exceptional vase life.
Rouge Royal 
This very large blooming rose is unique with its petal shapes. It opens to a bright, red raspberry color and sweet citrus fragrance.  
Sedona
Strong stems and continuous blooms throughout the season make Sedona a beautiful garden rose. A unique color that has shades of red fading to a burnt orange like a sunset. 
Deep Pink
Dee-Lish 
With a deep pink color that is perfect as a cut flower, Dee-Lish has excellent disease resistance and tall stems.
Grande Dame 
A glorious fragrance exudes from this bright hybrid tea rose with large, gorgeous blooms. While Grande Dame is a modern rose, it performs like an old-world classic. It's a perfect addition to your cutting garden with minimal thorns and nice long stems.  
James L. Austin 
A stunning deep pink rose that is sure to bring brightness to your garden. James L. Austin is a versatile shrub with an upright growth habit and a light to medium fragrance with hints of blackberry, raspberry, and cherry. 
Golden & Butter 
Charlotte 
A lovely yellow shade that will brighten any garden, this David Austin rose is a classic that performs well in both warm and cool climates. With cupped blossoms, Charlotte stays rather compact for an English rose. 
Golden Celebration  
A true-to-type David Austin, this vibrant yellow rose is a classic English garden rose. With large buds and a rather upright stance, it fills any garden like a shining star. 
Moonlight Romantica  
A vigorous bloomer, this Kordes bred rose is the perfect shade of buttery yellow. Very fragrant and disease resistant too. This rose hits all of the marks as a superb cut flower. 
Lavender & Purple 
Celestial Night 
Dark purple abounds with exceptional disease resistance and vigor. I'm totally crazy for this color! With 'Ebb Tide' and 'Grande Dame' as its parents, it has an exceptional pedigree.
Love Song
Ruffled lavender buds give way to soft gray petals when open. A bushy round plant with clusters of large blooms. 
Queen of Elegance
What happens when you take 'Koko Loco' and 'Life of the Party' and put them together? You get 'Queen of Elegance'. She has the most beautiful fading color like her mom Koko and is a rose fit for royalty. It's a new addition to the rose community with a unique color, making it a must-have addition to any rose collection. 
Light Pink
Elle
An exceptional rose that thrives in warmer climates. Elle is a beauty all her own. A soft pink blend with hints of orange and yellow as the weather changes with the season. Deep glossy green foliage makes this a top performer in humid climates. 
Princess Charlene de Monaco 
One of my all-time favorite roses! The ruffled Princess is a wonderful cut flower with an unforgettable fragrance and long straight stems. She is the epitome of style and grace in the garden and my top pick for a pink to blush cut flower. 
Queen of Sweden 
A David Austin rose with long straight stems that channel a classic hybrid tea. Petite cupped blossoms are the perfect fit as an accent in any bouquet. 
Multi & Taupe
Distant Drums
A beauty of an ombre rose, this is a favorite of floral designers and gardeners alike. Flushes prolifically throughout the season and is one of my all-time favorite roses. Everyone who meets this beauty falls in love.
Koko Loco 
She almost needs no introduction—a crazy rose that goes loco with shades of lavender to taupe while blooming. The darling of floral designers and trendsetters. 
Honey Dijon 
As the darling of floral designers for weddings and events, this rose almost needs no introduction. Honey Dijon's unique mustard color with pink-streaked tips puts it in a class all by itself. Its parents are two exceptional roses 'Stainless Steel' & 'Singing In The Rain'. One of the most popular cut garden roses here on the farm.
Peach & Copper
Carding Mill 
Beautiful pink to apricot petals adorn this David Austin garden rose. Carding Mill is a wonderful repeat bloomer and loves a warmer climate. From a deep coral in the cooler weather to a light peach in the warm summer sun, it's a glorious choice as a cut flower for your kitchen table. 
Crown Princess Margareta   
One of my favorite peach roses here at the farm. This David Austin stunner has beautiful rosette-shaped blooms and a pleasant fruity fragrance. With nice long canes, this rose can be grown as a climber or cut regularly for shape making a wonderful shrub. 
Mother of Pearl
A beautiful bloomer throughout the season. Pearl adds a simple elegance to any floral arrangement with petals that are almost iridescent. An exceptional performer in cooler climates and resistant to blackspot in humid locales.
White & Cream
Crocus Rose
A lovely light peach to cream shade, this David Austin rose is a classic with layers of petals. It steals our hearts with every glance. Beautiful rosette blooms open as this rose turns from soft yellow to peach and cream. It's a true chameleon and a must-have for any rose garden.
French Lace 
French Lace is my favorite cream rose grown here on the farm. Beautiful petite blooms that change from ivory to light apricot with the seasons in a perfect shade of porcelain. Everybody falls in love at first sight with this compact floribunda. 
Tranquillity 
An almost thornless rose with a bright cheery disposition. Its cupped-shaped blooms will flush from summer into fall with nice long stems and lush glossy-green foliage.
You have a new book coming out next month called Growing Wonder: A Flower Farmer's Guide to Growing Roses. What inspired you to write this book and can you tell us a little more about it? 
The pandemic made me step out of my comfort zone and do something I would never have imagined—write a book. In the middle of the full-blown lockdowns of 2020, the publisher contacted me asking for a meeting and pitched me the idea of writing a book about growing garden roses for cut flower production. I'll be honest, it took some convincing and a few more meetings to say yes. I, like the rest of the world, had two small kids now at home full-time while I was trying to navigate running a business amid lockdowns, making sure my family and employees stayed healthy, all while doing a 180-degree pivot in my business model when weddings and events were canceled. I honestly didn't know how or where I was going to squeeze in the time to write a book. Luckily they were very persuasive and I dove into the deep end of the writing pool headfirst.
The inspiration for the book came from all of the wonderful people I've met throughout my career in agriculture and more recently in my Menagerie Academy learning community who just want to learn to grow beautiful things. From the home gardener to the aspiring flower farmer I wanted to share all I could so they could make their world more filled with wonder and beauty. I approached the book with that ethos in mind and wanted to give sound advice to people whether they have 10 minutes a week to spend with their roses or 5 hours a day tending to them. 
Every chapter there are tips for my three "rose growing" archetypes: The Weekend Warrior, The Everyday Gardener, and The Aspiring Rosarian. So even the person who thinks they don't have a green thumb and zero time to spare but has always wanted to grow roses can find information to start growing their own roses as cut flowers. More experienced growers can science geek out with me with more advanced content learning how to use soil tension to guide their irrigation and improve their cultural practices to get those coveted cut flower blooms.
The book covers everything from how to select varieties, the best way to plant, basic insect and disease care, soil evaluation and irrigation methods, how to harvest for cut flower production, proper post-harvest care, my favorite tools of the trade, and more. It's everything I wish I knew when I started growing garden roses for commercial production. Thank goodness for editors or I may have ended up with War and Peace! I didn't realize how much I wanted to share until I started typing. 
My hope is that readers, wherever they are in their rose growing journey, will be able to gain the knowledge and confidence to grow their own beautiful garden roses to snip and share.
Erin: I know firsthand how important pre-orders are for the success of a book, especially for first-time authors. We want to help you get Growing Wonder into as many hands as possible. Can you share how readers can pre-order a copy of your new book? 
I will be offering signed copies from the very first print run through my website and these special copies will be available sometime in February. If you are eager to get your hands on one, pre-order from the Menagerie Shop here. 
Growing Wonder will also be available through all major booksellers later in the spring. Right now it's looking like late March. You can pre-order a copy from Amazon here. It's also available from Barnes & Noble and Target. 
To celebrate the upcoming release of Growing Wonder, Felicia has given us five deluxe rose goodie boxes to raffle off. Each box will contain a signed copy of her book and three of her favorite bare root roses!
This giveaway is open to residents in the U.S. only. To enter to win, please tell us your experience level (Weekend Warrior, Everyday Gardener, or Aspiring Rosarian) and what you're hoping to learn from Felicia's new book or your biggest area of struggle when it comes to growing roses. The five winners will be announced here on Wednesday, January 26. 
Update: A big congratulations to our winners Crystal, Lindsay, Bob Morris, Lynn and Romana Wahid!
Please note: If your comment doesn't show up right away, sit tight; we have a spam filter that requires we approve comments before they are published.
Floret only lists companies and products that we love, use, and recommend. All opinions expressed here are our own and Floret does not offer sponsored content or accept money for editorial reviews. If you buy something using the retail links in this post, Floret may receive a small commission. Thank you for your support!