When I was a little girl, I spent summers in the country and a lot of time with my great-grandparents. One of my jobs was to keep fresh flowers by my Grammy's bedside table. She had a number of beautiful bloomers growing in her garden, but the ones I remember most are the tangle of rainbow-colored sweet peas climbing up her carport posts.
When we bought our first house, the very first thing I planted was a huge tunnel of sweet peas right in the center of the garden. That spring, as the first flowers opened, their scent transported me back in time to the summers of my youth and the happy memories of picking flowers in Grammy's garden.
Over the years I have conducted numerous sweet pea trials, growing and testing close to a hundred different varieties, including both heirloom and hybrid types. While all have been beautiful, I do have favorites, and there are a handful I just can't live without.
This post lists my current favorites, including many new varieties we're offering for 2020, grouped by color.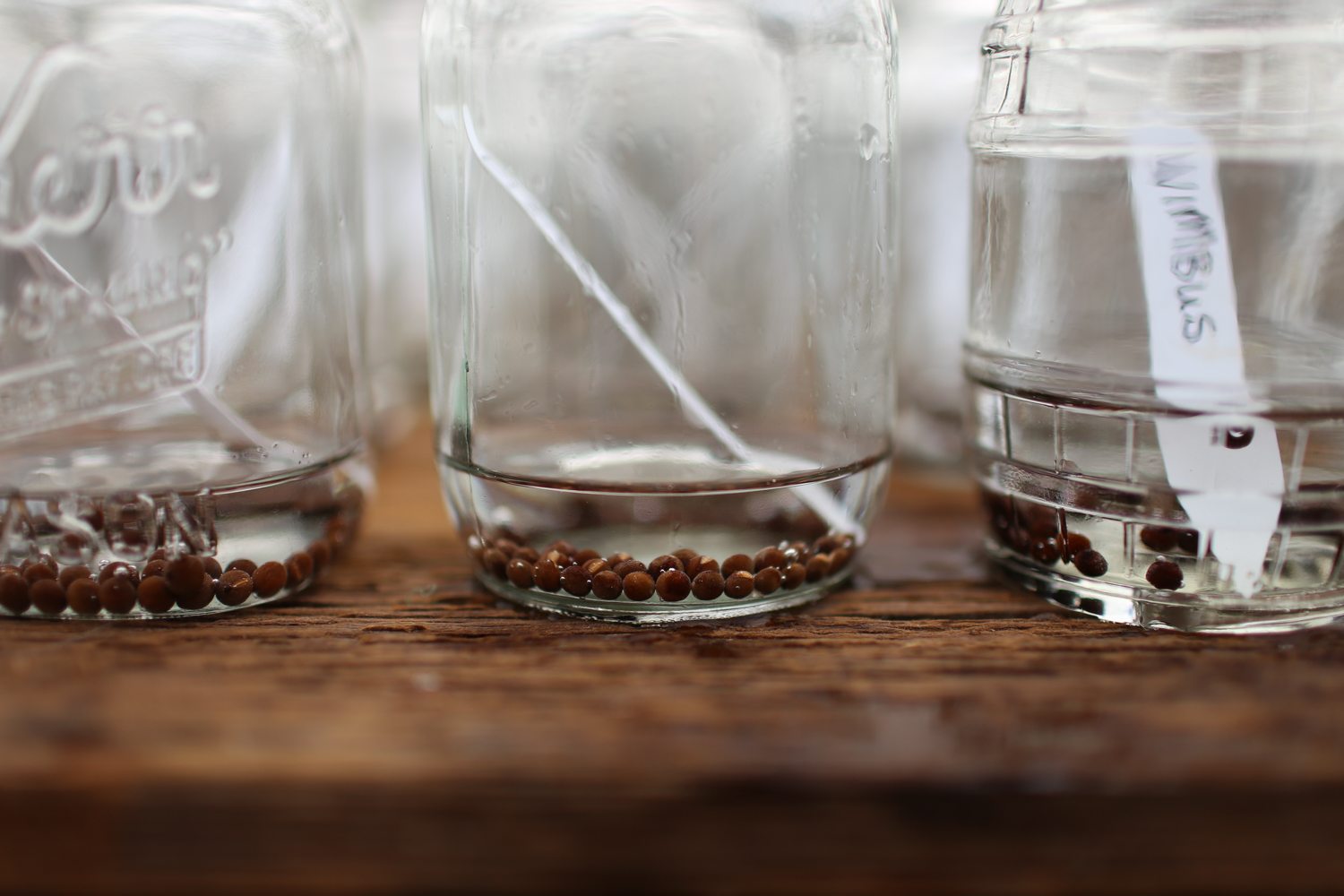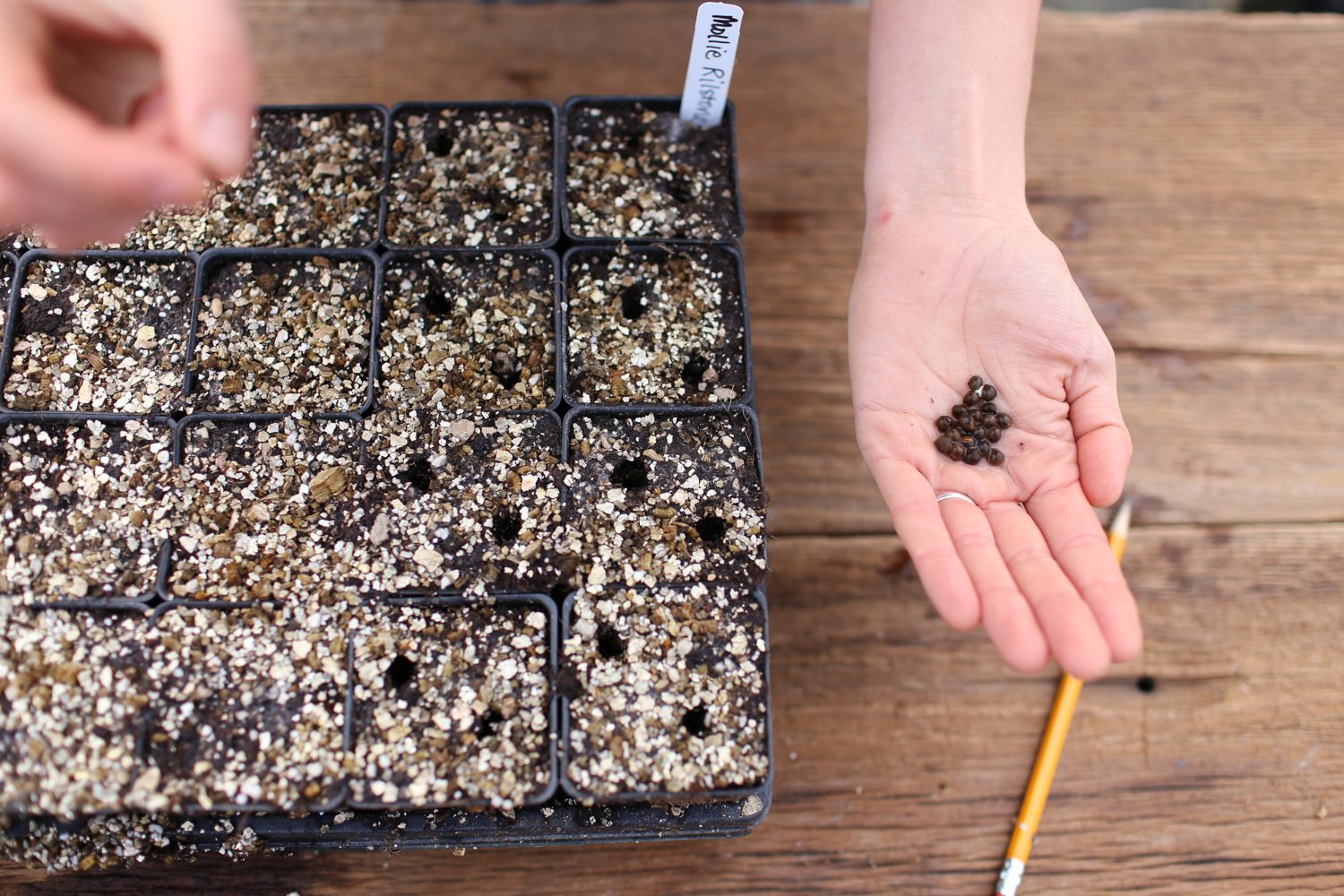 In warmer regions (zone 7 and above) where winter weather is relatively mild, sweet peas can be sown in fall. Everywhere else, sow in late winter/early spring.
Soak the seeds in water for 24 hours before sowing. This softens the seed coat and speeds up the sprouting process. For specific seed sowing information see our resource, How to Grow Sweet Peas.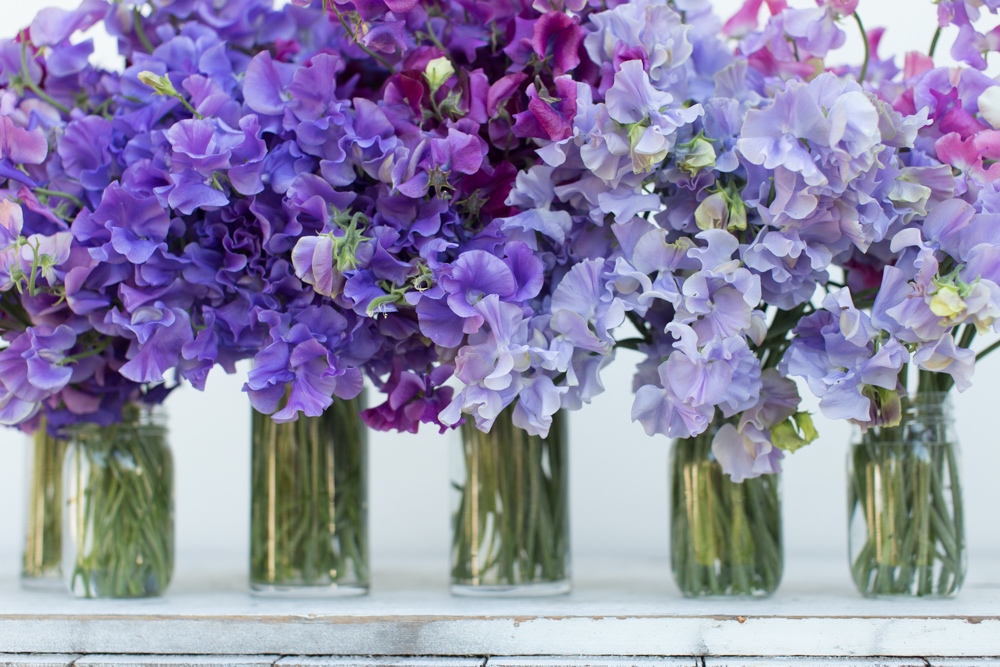 Once the vines begin producing flowers, keeping up with the harvest can be tricky. I comb the rows every other morning so I catch flowers at their prime.
For the longest vase life, pick stems that have at least 2 unopened flowers at the tip. While they can be picked when more open, their vase life won't be quite as long. Sweet peas are a short-lived cut flower, lasting at best 4 to 5 days in a vase. Adding sugar or flower preservative to the water makes a big difference and will add a few extra days.
Please note that unlike garden peas, sweet pea seeds are poisonous if ingested. Use caution around children and pets.
WHITE
One of the most fragrant whites we grow, 'Memorial Flight' (pictured above, left) boasts large, ruffled creamy-white flowers with a green undertone. Great for wedding work.
A reliable performer and one of the very best whites you can grow, 'White Frills' (above center) has thick, robust foliage and a strong growth habit. Large, clean white flowers are ruffled and especially fragrant. A true garden workhorse!
Winner of numerous awards for good reason, 'Jilly' (above right) is a lovely shade of soft cream and is one of the finest varieties available. Long, strong stems and a wonderful fragrance make it an excellent cut flower.

BLUSH PINK
'Anniversary' (pictured, above left) has romantic, fragrant white blooms softly edged with blush-pink on tall, strong stems.
'High Society' (above center) has a lovely feminine quality and is one of the most fragrant varieties we grow. Creamy flowers are edged in a warm candy-pink. Great for wedding work.
'Pearl Anniversary' (above right) features creamy white petals with cerise-pink streaking. Fantastic for wedding work. Unfortunately, this variety did not produce enough seed for 2020; it will be available for the 2021 growing season, and we're excited to offer it.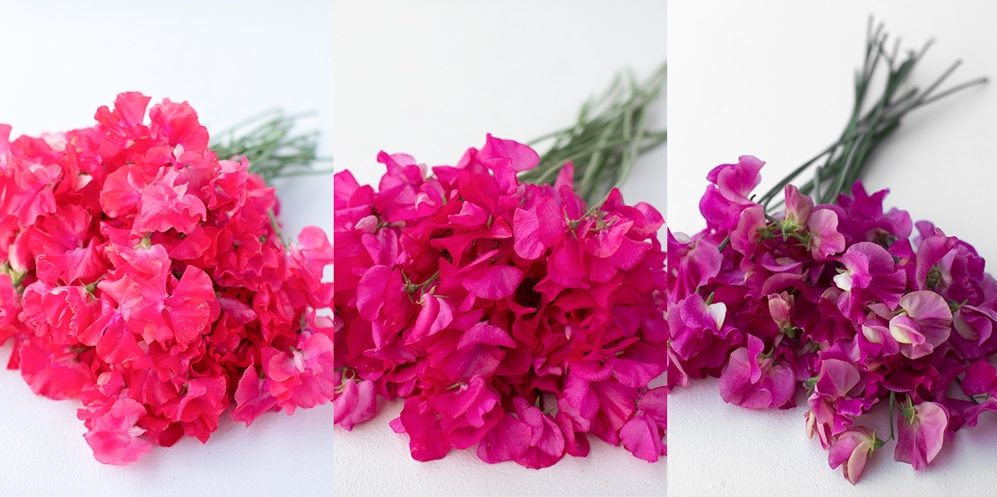 BRIGHT PINK
'Daily Mail' (pictured, above left) is a showstopper featuring large, bright cerise-pink blooms that ride atop long, strong stems. Great for cutting.
'Carlotta' (above center) is a beautiful, old-fashioned variety has stood the test of time. Its saturated carmine-pink blooms stand out in the garden and the vase. Long stems and a strong fragrance make it a real winner.
'Dynasty' (above right) is a reliable grower and an all-around wonderful cut flower, featuring vivid, hot pink blooms on long, strong stems. Paler top buds have a cream underside, giving it a multidimensional quality. A total winner!
PEACH/CHAMPAGNE
'Piggy Sue' (pictured above, left), a new favorite, has spectacular coloring and glows in the garden. Highly-scented, cream-colored petals are gently edged in blush, giving it a vintage, romantic feel.

A new favorite, 'Castlewellan' (above center) is a long-stemmed, sweetly scented beauty that boasts large, glowing peachy-pink blooms with creamy undertones. Its soft appearance makes it great for wedding design. A must-grow!
'Marjorie Carrier' (above right) boasts the most beautiful large, frilly salmon-pink blooms on long, strong stems. Its spectacular coloring and lovely scent make it a flower arranger's dream.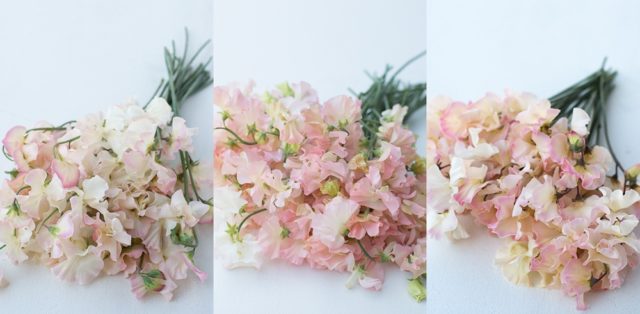 'Bix' (pictured above, left), a new variety bred by Dr. Keith Hammett, has vintage charm. Blooms are cream-colored, brushed with apricot-pink and are one of the earliest varieties to flower. Tall, abundant stems have an average of five blooms. A great option for wedding bouquets.
The large, creamy, ruffled blooms of 'Jill Walton' (above center) have the softest peachy-pink blush around the outer edge, giving them an ultra-feminine quality. One of our top five favorite varieties.
One of our very favorites on the farm, 'Mollie Rilstone' (above right) is a sure bet. Very fragrant, cream-colored blooms are edged with the softest apricot-pink. Flowers fade to a pure cream, giving this variety an antique, Victorian quality. Extremely popular for weddings.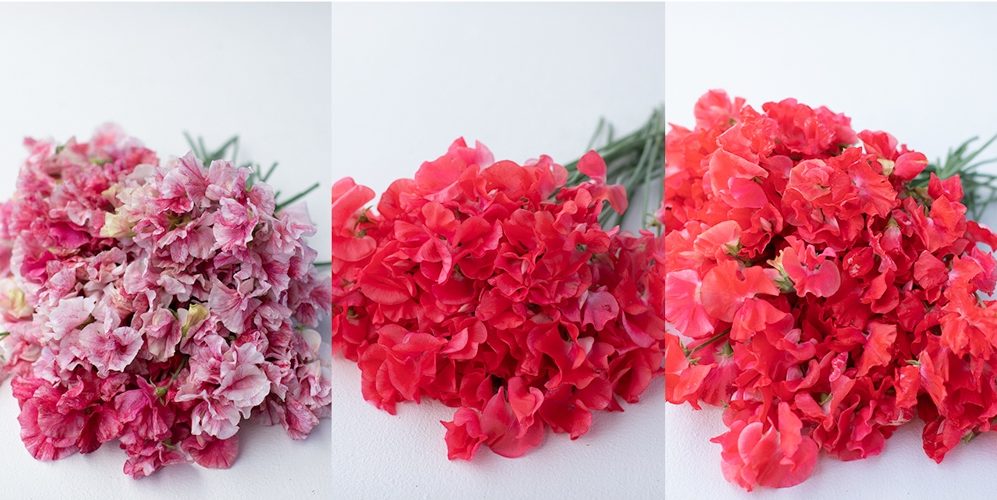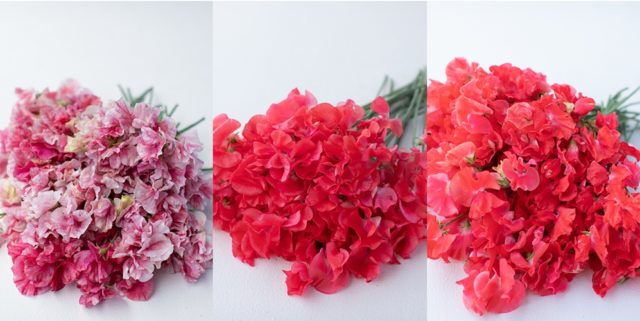 CORAL/ORANGE
'Geoff Hughes' (pictured above, left) is one of our all-time favorite varieties. This large-flowered sweet pea has cream blooms with with coral streaking. Abundant flowering and great for cutting.
'Edith Flanagan' (above center) is a stunning new variety raised by Andrew Beane. It boasts large coral blossoms on long, strong stems. Its fantastic scent and eye-catching coloring make it a real winner.
'Florencecourt' (above right) is a sweetly scented variety featuring large glowing coral flowers that fade to white in the center, giving them a multidimensional quality. A real winner!
'Happy Birthday' (pictured above, left) is an eye-catching variety featuring striking orange-red petals with a white throat. Flowers ride atop tall, strong stems, making it excellent for cutting.
'Raspberry Flake' (above center) is a fitting name for this attention-getting variety. Cream-colored flowers are painted with deep, almost metallic raspberry streaking. Flowers have varying levels of saturation, so no two are the same.
The cheerful blooms of 'Restormel' (above right) practically glow in the dark. Warm coral-red flowers almost look artificial and remind us of maraschino cherries. This fragrant variety is one of our all-time favorites. A must-grow!

PURPLE
'Enchante' (pictured above, left) is an amazing tricolor variety, a brilliant blend of cherry pink, white, and lavender bred by Dr. Keith Hammett. It's lovingly nicknamed the "unicorn sweet pea" at Floret. It is truly exquisite and ranks high on our must-grow list.
An all-time favorite, 'Erewhon' (above center) is a hauntingly beautiful reverse bicolor with dark lavender-blue and soft pink standard petals. Great for cutting, it boasts tall, strong stems. A must-grow!
'Blue Shift' (above right), bred by Dr. Keith Hammett, is an incredible bloomer that goes from mauve-pink to an iridescent blue-turquoise as it ages. It's like nothing else on the market.
We've trialed hundreds of varieties, and 'Nimbus' (pictured above, left) is still a top favorite of mine and the best flake variety available. Inky gray blooms are deeply streaked and rimmed with dark eggplant coloring. A real conversation starter with everyone who visits the farm. If you haven't grown this gem, you're in for a real treat!
White blooms striped with vivid lilac make 'Sir Jimmy Shand' (above center), a novelty variety, a new favorite. Tall stems, wonderful fragrance; makes an excellent cut flower.
'Richard & Judy' (above right), a long-stemmed, super-fragrant variety, is a must-grow if you love purple. Warm, grape-colored flowers are multidimensional and seem to glow in the garden. A standout variety in the sweet pea patch!

MAROON
'Suzy Z' (pictured above, left), a must-grow for the color alone, has a striking metallic gray base with deep maroon veining. Similar in appearance to the ever-popular 'Nimbus' but more chocolate-maroon in color.
'Chocolate Flake' (above center), bred by Dr. Keith Hammett, is a unique brown-red flaked variety that looks as if it has been dusted with cocoa powder.
Stunning in the garden, 'Windsor' (above right) is a richly hued beauty with warm, chocolatey maroon blooms that make a real statement. Flowers are quite fragrant and ride atop long, strong stems, making it a fantastic variety for cutting.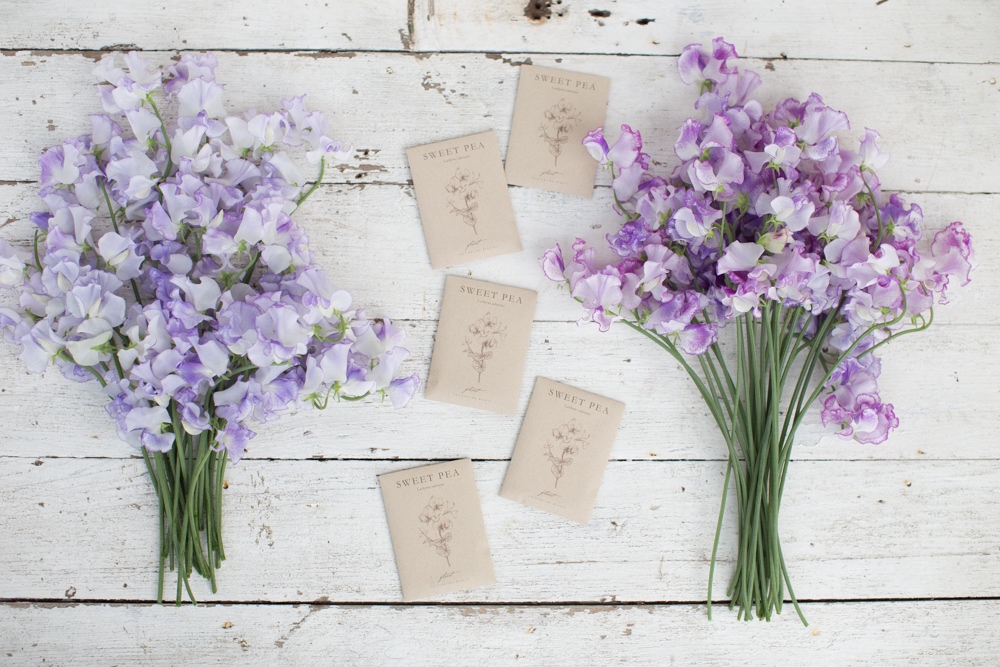 I would love to hear your experience with sweet peas. Do you grow them or plan to add them to your garden this coming season? If so, what are your favorite varieties?
Please note: If you submit a comment and it doesn't show up right away, sit tight; we have a spam filter that requires we approve most comments before they are published.
Lastly, if you find this information helpful, I would love it if you would share it with your friends.