One of the first flowers to bloom in abundance each spring, daffodils (narcissus) are a must-have for any flower lover. Here at Floret we grow dozens of beautiful varieties and each year we expand our treasured collection. This diverse flower group is rarely plagued by pests or disease, plus deer and other varmints usually steer clear of them. They come in a wide range of different shapes and sizes and many even have a sweet scent.  
Fall-planted bulbs produce hardy, easy to grow spring flowers that thrive in both sun or part shade. As an added bonus, bulbs multiply rapidly, and in just 2 to 3 years after planting, you can have double what you started with, making them reliable workhorses in the early spring garden.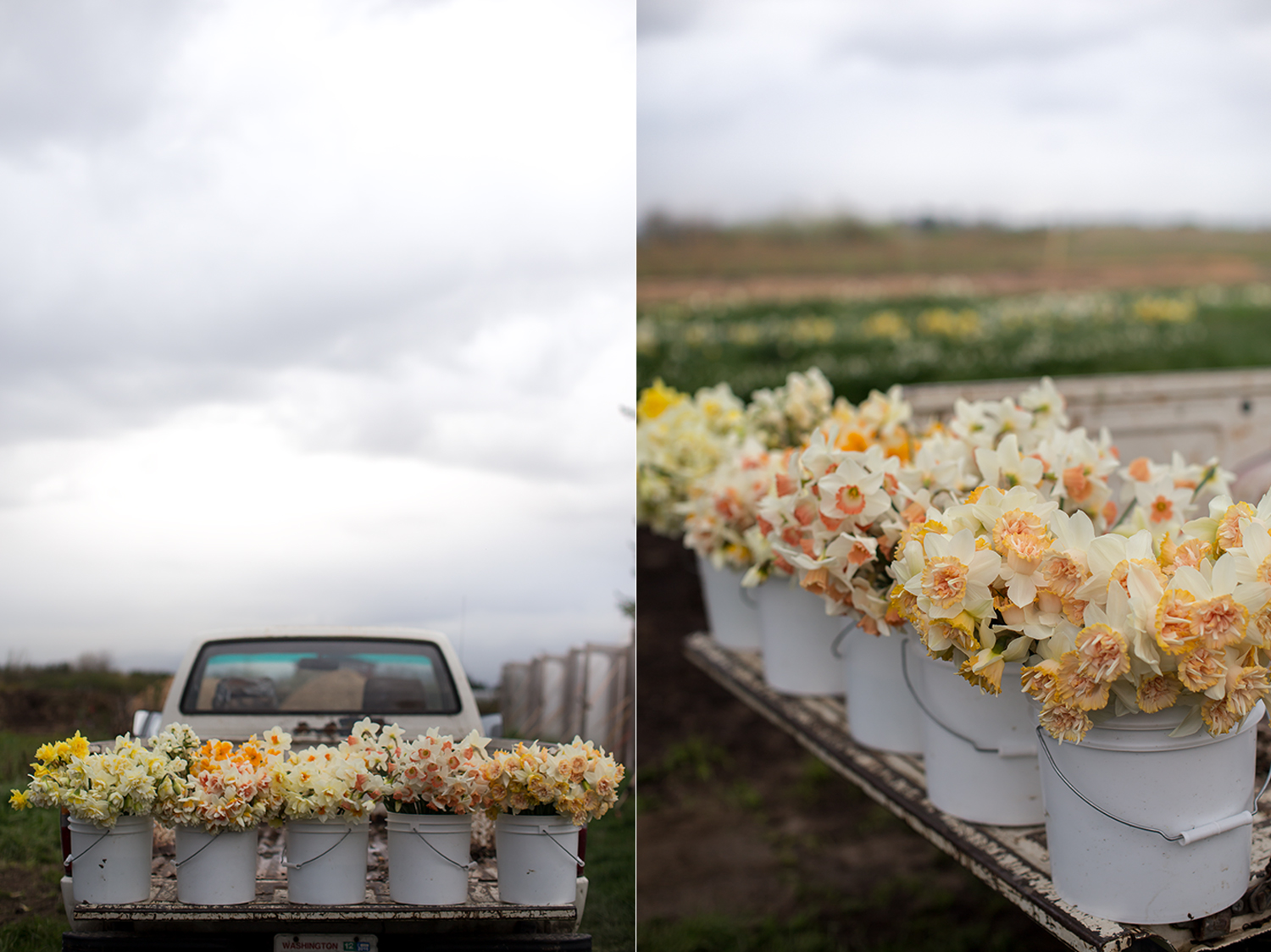 There are two different methods for growing these cheerful spring bloomers, depending on whether you simply want to add color to your spring landscape or harvest them in abundance as cut flowers. No matter how you plant them, be sure to pick a spot that gets at least partial sun and doesn't have standing water, since really wet soils will encourage bulbs to rot.
In the garden, narcissus make the most impact when planted en masse. For a dazzling display, I recommend ditching the bulb planter and instead planting clumps of at least 10-20 bulbs. Simply dig out a generous circle of soil, 6-8 inches deep, mix in a little bulb fertilizer, compost, and then plant your bulbs at a depth 3 to 4 times the bulb's height, and as far apart as they are wide.
Once your bulbs are securely in place, water deeply and then refill the hole with the soil you removed earlier. Add a few inches of well rotted compost on top to act as a mulch. Be sure to insert some type of stake so you remember where you planted them. If your intention is to grow narcissus solely for cutting then you can follow this same method but plant bulbs in long rows.
In the spring, harvest blooms that haven't fully opened. If picked when the buds are fully colored, but still slightly nodding (also known as the "goose neck" stage) a solid week of vase life can be expected. Wear gloves when harvesting narcissus as they ooze a slimy sap that can irritate your skin.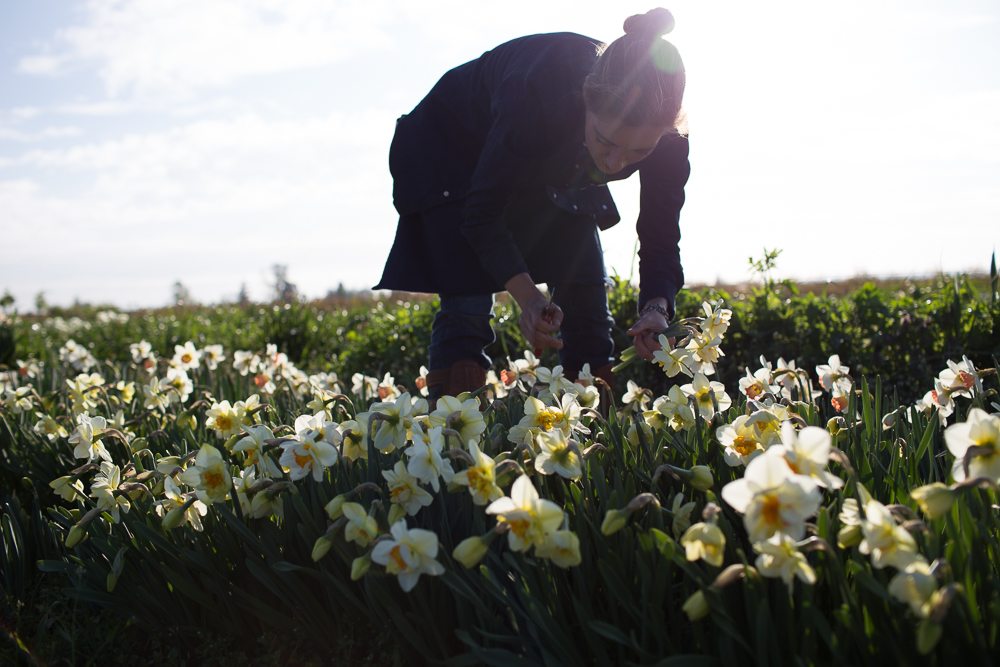 This slimy sap is also toxic to other flowers and will shorten their vase life significantly. To avoid affecting other blooms in an arrangement, you'll need to "condition" the narcissus first. To do this, place freshly cut stems into cool water, on their own, for at least 2 to 3 hours; during that time, the stem ends will callus over and the toxic sap will stop flowing. After that, don't recut the narcissus stems when adding them to arrangements because the sap will start leaking all over again.
Of course, you can create an arrangement solely of narcissus, either just one variety or several, and the sap won't be an issue.
Today I'm celebrating the much-anticipated release of Floret's all-new fall-planted bulb collections with a little giveaway (more on that in a minute). Available for the very first time TODAY in the Floret Shop are some super special bulb collections I created.  In these collections are some hard-to-find narcissus cultivars that I absolutely love and know you will too.
Here are a couple highlights of what you can find in the Floret Shop:   

Narcissus Fancy Collection:  This collection is a mix of five of our favorite mid-late season varieties.  These highly fragrant, super ruffled  spring beauties come in a lush range of colors that range from blush to  peach to cream.  They include:
'Flower Drift' – A highly fragrant double flower narcissus, this beauty has multiple layers of creamy white petals with sweet orange segmented centers.
'Petit Four' – Of all the daffodils we have seen and grown, none quite compare to the beauty and elegance of this 'Petit Four'. Its ivory pointed outer petals perfectly frame the double crown, which is filled with an exquisite mix of apricot, pink, buttercream, and peach frilled petals. Blooms are sweetly scented. If we could grow only one daffodil, this surely would be it.
'Pink Charm' – This is a stunning variety has ivory petals and a delicate peachy-pink throat. The loveliest of the pink types we grow, these flowers look as if they were stolen from a sixteenth-century Dutch Painting. They are romantic, classic, unique, and beautiful.
'Replete' – The super ruffled flowers of this fragrant variety always remind me of fancy ladies in petticoats. A showy blend of cream, peachy pink, and soft orange. One of the best on the market and a must grow for flower arranging.
'Sir Winston Churchill' – This variety has thick stems topped with dense white, multi-headed blooms that have a strong fragrance.
But perhaps the Collection I'm most giddy about is our Deluxe Collection.  Here is what you'll find in it:
Deluxe Narcissus Collection. This Collection includes all the cultivars in our Fancy Collection ('Flower Drift,' 'Petit Four,' 'Pink Charm' 'Replete,' and 'Sir Winston Churchill,') PLUS the following six:
'Fortissimo' – One of the most cheerful spring bloomers you can grow, this giant flowered gem has glowing golden petals that surround a vivid tangerine throat.
'Geranium' – The sweetly scented blooms of this heirloom spring treasure make it a must grow for flower arrangers and gardeners alike. Each stem is loaded with clusters of creamy white blooms that are accented by a glowing orange throat.
'Orangery' – Always one of the most attention getting varieties, this split-corona bloomer has a warm tangerine center with creamy outer petals.
'Tahiti' – The bright, bold double blooms of this variety evoke a distinct tropical feel. As one of the bigger narcissus blooms, these multi-petaled flowers are a pretty golden yellow with spirals of deep orange in the center segments.
'White Lion' – The large fragrant blooms of this magnificent variety are made up of multiple layers of buttercream and ivory petals. Each ruffled bloom sits atop a tall, strong stem.
'Yellow Cheerfulness' – One of the latest varieties to flower, this cheery bloomer has multiple buttercream blossoms that sit atop tall stems. They are highly scented and combine well with anything.
Over the years we have trialed dozens of different narcissus looking for varieties that have exceptional qualities: good weather resistance, fragrance, unique coloring, long vase life, and beautiful flower form. This collection consists of all our very favorites from every category, so you will be rewarded with 6 solid weeks of blooms from early spring onward. Many are highly fragrant and all make excellent cuts. If you want to fill your house with fresh flowers during the earliest months of spring, this collection is just the ticket.
I'm so excited to finally offer these hard-to-find flowers in the Floret Shop. To celebrate their debut, I thought I'd also do a little giveaway here on the blog.  Enter below for a chance to win a special Floret narcissus collection. Entries close on Sunday at 12 noon PST.  Note: because of export restrictions, this giveaway is only open to U.S. residents.   Good luck!
a Rafflecopter giveaway