Today is such an exciting day! I finally get to introduce you to one of the sweetest farming couples on the planet, Mandy and Steve O'Shea. They own 3 Porch Farm and Moonflower Designs near Athens, Georgia.
Hey guys, thank you so much for being here! Why don't you start off by sharing a little bit about your farm and property.
Well, we really lucked out when we found this place. Only 20 minutes away from the wonderful town of Athens Georgia, 3 Porch Farm is a 9 acre property with a small 100 year old house on the high point of a gently rolling topography that settles down into about 2 acres of woodland. In the woods just past the shiitake logs, there is a small rustic cottage nestled into a cozy spot at the headwaters of a small seasonal stream.

In between the house and the cottage is a bounty of botany, from rows upon rows of flowers to fruit trees and berry bushes, to a wide array of perennials and oddities. The owner before us worked at the local botanical gardens and much of the material that grows in the 2 acres around the house and barn is the same as what grows there. He literally turned a bare pasture into a well- planned and lushly vibrant oasis in about 13 years. We are the fortunate heirs to his vision and creativity.
To top it off, the farm backs up to a wonderful state park with an absolutely beautiful covered bridge. Of about 200 historical covered bridges in Georgia, Watson Mill Bridge is one of the last 20 remaining and is the longest in the state. Built by the freed son of a slave, there's a lot of interesting history to it.
The actual intensive growing here takes place on about 2-1/2 acres. The soil is dramatically variable from even one bed to the next and since we are the first to grow crops here, we have years of soil building ahead of us. We have rich clay in one spot and twenty feet away it's a bit sandy and loamy.
We are in zone 8a and the climate is tricky, seemingly due in part to climate change, but even in the absence of that discussion the high heat and humidity makes a perfect breeding ground for pathogenic pests, molds, mildews, blights…..everything that wants to eat your plants. It encourages us to stay vigilant in raising the healthiest plants possible with the greatest biodiversity to boost our farms natural immune system against nature's competitors.
Some of the infrastructural attributes that we are excited about with our farm is the fact that all of our production facilities (flower processing, walk-in coolers, propagation house, barn, certified kitchen, etc) are powered by solar electricity that we generate on the farm. In addition, we use the solar array as a shade structure for our farm vehicles which run on carbon neutral waste vegetable oil that we recycle from restaurants in Athens.
Steve has been working for years with renewable fuels, so that was a given, but we decided early on to take a chunk of our down payment for a farm and put it aside for a solar array. We knew if we didn't make the investment on the front end, that it'd be much harder to do down the line as all our funds would quickly be swallowed up by the needs of a farm.
What do you specialize in? Any new markets or exciting new ventures on the horizon?
We are currently selling our flowers and other farm delights at two farmer's markets…one in Athens and a new one in Atlanta. Because we are both a fruit and flower farm, the farmer's markets have really worked out for us. Now that we are heading to Atlanta weekly, we are eager to make connections with local designers in the area in order to get some of our flowers into their hands as well.
We are currently in the process of a major floral overhaul. We have recently rebranded our floral design studio, and are heading more into the wedding and event world as Moonflower. We feel we have a unique prospective when it comes to floral design and are eager to have that part of our farm evolve. While farmer's market bouquets are sweet and pretty, they do not satisfy the creative soul the way full design work does.
We prefer big flowering branches, unique pods and tendrils, roadside grasses and wild flowers…mixed in with our most beautiful farm flowers of course. We love showcasing the botanicals that each season brings about and helping to connect people to that specific season. Our philosophy is that no flowers are more beautiful than the ones blooming right now, locally and true to the season.
We have also had the great pleasure of working with one of the top restaurants in Georgia, Hugh Acheson's 5&10. We do monthly botanical installations and have the OK to go wild on all the many mantles of the historical southern building in which they reside. The restaurant has been a fun place to showcase our work as well as to learn and explore.
I'm always so curious to hear what crops other growers are in love with. Would you be willing to share your 5 favorites and why you love them?
Favorite crops? Good question! As much as I want to say a name of some flower, I am going to have to say my number one favorite crop is strawberries. Strawberries have been the back bone of our farm. We grow a lot of them!
By mixing our fresh strawberries with our honey, we created a fantastic 'value-added' product…HoneyPops. Our fruit freezies have been a huge hit at the market and we have met so many wonderful people and very happy kids because of them. And an added bonus, they store well!
Dahlias, of course, are going to have to tie with first place alongside strawberries (I can do that right?). Folks in Georgia are shocked to see the wide variety of dahlias we offer. Because of the heat, humidity, and insect pressure, many feel they cannot be grown this far south.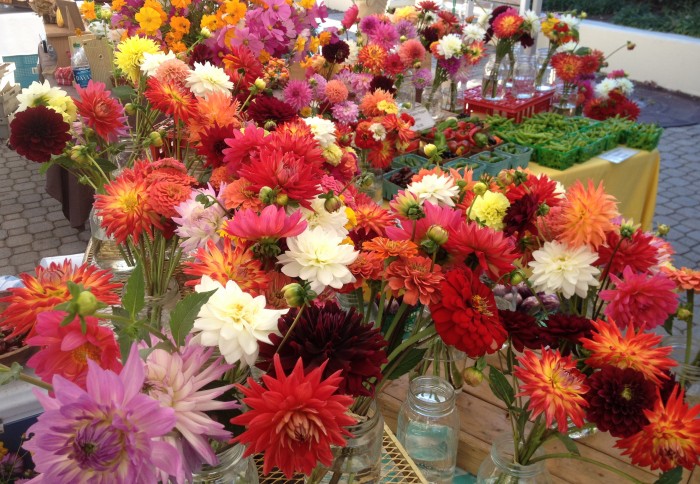 We LOVE to see the smiling faces each week in late summer and fall as customers turn the corner and see our booth filled with them. They are all so unique and shockingly beautiful! I always have to tell myself to speed up during harvest because I want to look at every single one of them…closely. This year we are tripling our planting and I could not be more thrilled.
Since we are entering into Spring right now and Winter has been so abnormally cold this year, the first blooming flowers tend to be my favorites (at the moment.) Hellebores, Daffodils, Anemones, and Ranunculus are blowing my mind right now, as are the flowering fruit trees like quince, plum, and peach.
I am eager to get these guys to market and spread the joy. I'm also looking forward to our first year of peony harvesting coming up soon!
Zinnias, oh zinnias. They are the workhorse of our summer garden. To be honest, when we first started growing I was not eager to grow a lot of Zinnias. They are very common here and at almost every market stand. I went light on them the first year and regretted it almost immediately. People LOVE them! So now, we give the people what they want…and are happy to do so.
Trying new varieties and various colors has really been fun. I especially like the button sized ones like Lillaput and the bee hive shaped ones too…not the giant flower that most growers like but they are just so cute and last forever in a vase.
A new crop that we are excited about this year is Tuberose. They are not the best design flower in my opinion, but their fragrance makes a statement all their own. We are extremely lucky to have had the opportunity to dig some gorgeous double petaled varieties from a sweet old man who was getting out of 'the game'. He had received 7 tubers in the mail many many years ago from his daughter in-law in India. As Tuberose do, they multiplied over the years and we dug the remainder of his crop for our field.
After a handshake and a wave, the old farmer sat on a bench and stared at his newly bare plot as we drove away, and just the idea of what his thoughts must be was a bit of a tear jerker for both of us. I am a pretty sentimental person so I hope to carry on his love and care for them here at our farm for years to come.
We were visiting Steve's family in CA at the time, so we got luggage from a thrift store and each stuffed 60 lbs of dirty tubers into our carry-on and new luggage. Arranging our dirty tuber luggage on the floor at the Delta check-in was pretty ridiculous and comedic, but we had fun and sometimes you have to work a little extra hard in unorthodox ways to create a little future beauty.
What advice do you have for folks dreaming of starting their own farm?
Steve was recently asked this question and after a few minutes of reflection, all this came immediately bubbling to the surface for him:
Five things to know before starting a farm:
1) Scale. Do you want to go high volume, with lots of hands and equipment and sell to supermarkets and wholesalers, or do you want to produce just enough that you can do it yourself and retail it all for the highest return per item?
2) Finances. It takes a lot more than seeds and water to get started on a farm. Like any business there is a significant overhead from day to day, but it is quite substantial at the outset.
Make sure you have done your research, so you can adequately account for all your upcoming expenses in as healthy and pre-planned way as possible, so you don't end up bankrupt before the end of the first year.
3) Lifestyle. Many people have an image of a peaceful and bucolic life on the farm, surrounded by butterflies and happily harvesting tomatoes. That does exist. The part that is often overlooked though is the 70-90 hour work week that constitutes lots of physical labor and persistence in the face of unforeseen challenges such as the ever-present reminder that nature and the weather do not bend to your will. Are you ready to commit fully to the lifestyle and to forego a more predictable schedule and the ability to have a full social life….or a social life at all? The rewards are there only if you are happy to work with your parnter/crew and to make the farm your world. If you need or want Saturday nights on the town, dinners with friends, time for hobbies, etc…, you may encounter challenges beyond the weather.
4) Market. Is there a market that can support your venture? If you want to grow organically at a retail scale, is there a farmer's market in your area that gets enough traffic to support your farm?
Do the locals value organics or will you be priced out by cheaper conventional foods that are trucked in from somewhere else? Is the organic competition already pretty stiff thereby driving prices below what you need to pay your costs? What are land prices in your area? Would you have to drive half an hour or 2 hours to sell your goods?
5) What do you enjoy doing/growing? Can you feasibly produce what you enjoy producing and make that your livelihood? Is it fruit? Is it flowers? If so, will they grow well in your area? Will you still love it when you have to do it all the time and your bills depend on it?
When it boils down to it….it's important to know yourself and your strengths and weaknesses as well as those of you partner/s. If you've got a pretty level headed understanding of yourself and what it takes to live this kind of lifestyle, and you are at peace with the whole process of diving in and gracefully accepting whatever comes your way as you move forward, then you may well be emotionally ready to start a farm. For us, it is perfectly and exactly where we want to be, and we find great happiness in doing this together.

To read more about Mandy and Steve's inspiring life, get your hands on their beautiful flowers and follow along for the ride, check out their many internet homes:
Websites: 3 Porch Farm
Facebook: 3 Porch Farm
Instagram: moonflower_design & 3porchfarm