Well, it's that time of year again. I'm sure you know what I'm talking about. Perhaps you're having a similar experience? The blur of the holidays is over and you're starting to feel a bit stir crazy being cooped up, with those massive stacks of seed catalogs sitting there tempting you.  I'll tell ya, those catalogs sure are tempting me! They're egging me on to try just a few more colors of godetia, just a couple more varieties of stock and butterfly snapdragons. Do you know how many beautiful butterfly snapdragon varieties there are? All 17 are just calling from the pages of the catalogs for me to put on another trial.  And don't even get me started on the bi-colors and novelty types. I get all fidgety and anxious just thinking about how many varieties I've never met.
But it is the sweet pea selection that gets me the most. EVERY. DANG. TIME.  I simply can't help myself when it comes to sweet peas (they were, after all, the gateway that got me hooked on flower farming).  I have a serious problem. Kind of an addiction. Or a disease. But, I can't think of a more wonderful, beautiful and fragrant problem to have than a hoophouse overflowing with sweet peas.

Over the years, this addiction has led me to grow, trial and test over 40 different sweet peas cultivars. During the trials, I look for characteristics such as: long stems, unique coloring, heat resistance, strong fragrance, consistent flower form, good vase life and most importantly a high stem count.  I'm pretty picky when it comes to the flowers I grow for the professional cut flower trade and sweet peas are no exception. Some of my all-time favorites are ones that are often difficult to find, at least here in the U.S.  I've gone to some pretty ridiculous lengths to get my hands on some of this coveted seed!
I've been flooded with inquiries from gardeners and farmer-florists who share this obsession and seek growing advice and referrals for seed sources.  I recently created a tutorial, "How to Grow Sweet Peas" in the RESOURCES section after years of research and testing and dreaming, I'm excited to announce that there is a small selection of sweet pea seeds for sale in the Floret Shop.
I carefully selected a handful of my all-time favorite sweet pea cultivars and then scoured the globe in search of highest quality seeds.  Many of the varieties I've chosen are hard to find or are not readily available to cut flower growers here in the U.S.  These new limited-edition collections come in gorgeous ombre shades of purple-blues and creames-coral.

The Stained Glass Collection comes shades of blue, purple, claret, burgundy, sapphire and eggplant and includes a sampling of each of the following cultivars:
Charlie's Angels
Bristol
Oban Bay
Our Harry
Nimbus
Dark Passion
Erewhon
Windsor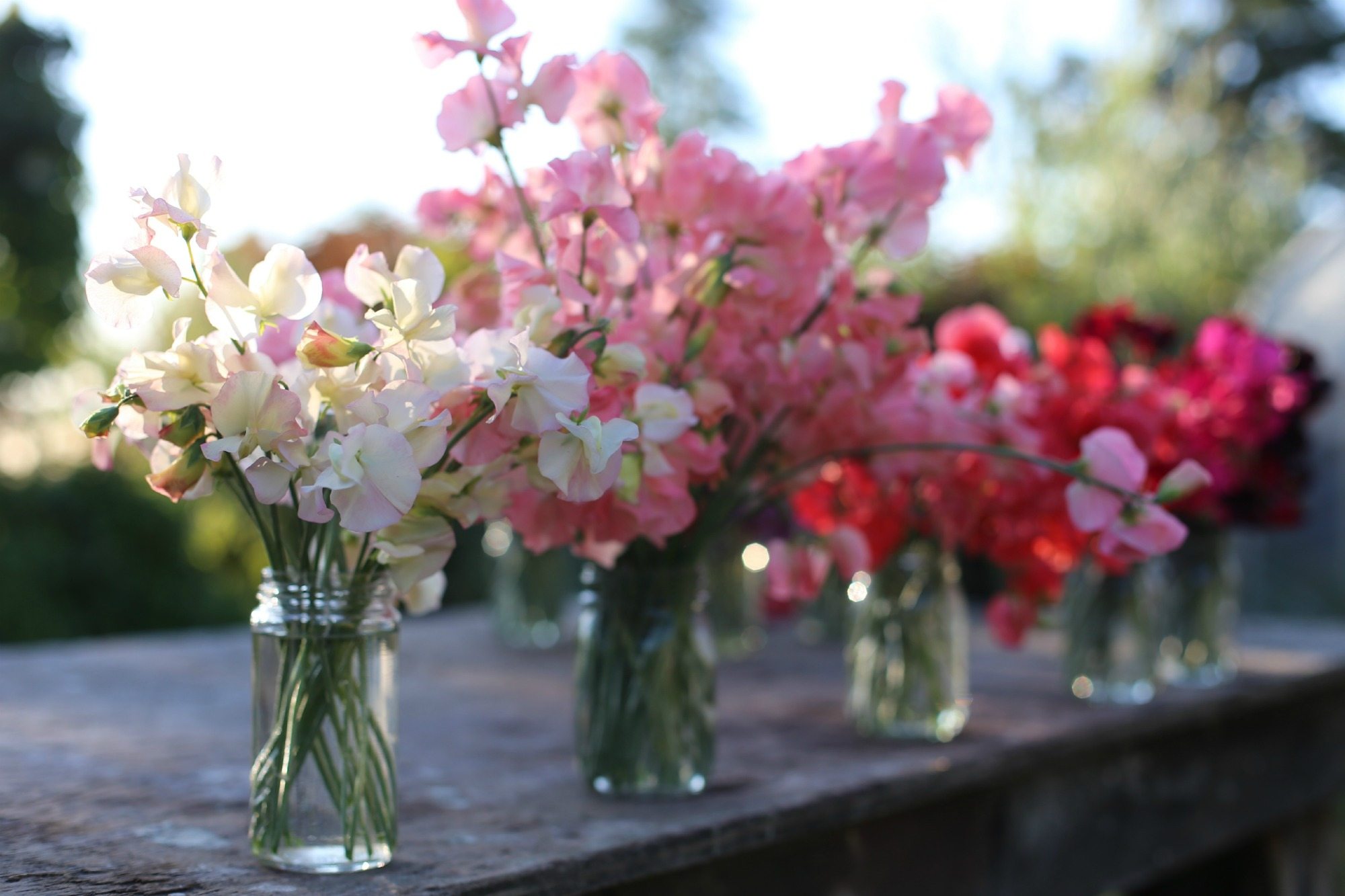 The Vintage Wedding Collection is comprised of my favorite sweet peas in shades of blush, cream, salmon, coral and watermelon and includes a sampling of each of the following cultivars:
Limelight
Mollie Rilstone
Jilly
Valerie Harrod
Lisbeth
Happy Birthday
Restormel
Nora Holman

Also in the shop, you'll find individually packaged Nimbus and Molly Rilstone seeds. These two varieties are the most unique and often requested varieties we grow.
To celebrate these new seed offerings, I thought we should do another little giveaway, one of each sweet pea selection in the shop, including: Stained Glass Collection, Vintage Wedding Collection, Nimbus and Mollie Rilstone.  Enter for your chance to win one of the seed collections by submitting a comment below.  In your comment, briefly share a memory or an experience with sweet peas.  (For example: Are you also obsessed with sweet peas? Will this be your first year growing sweet peas?  Was it one of your grandparent's favorite flowers, too?  How many types have you grown in season's past?)
UPDATE:  GIVEAWAY NOW CLOSED.
Thanks in advance for sharing!