For many local flower lovers, Valentine's Day can be frustrating. The mountains of generic red roses imported from faraway lands that flood stores this time of year are uninspired and toxic for the planet and the people that harvest them. Meanwhile, early February is a time when most small flower farmers are focusing on getting greenhouses and grow-lights set up for the season ahead. Few have flowers in bloom at this time of year.
But thanks in part to the increased awareness and interest in seasonal blooms, consumers have a number of creative ways to get their flower fix or otherwise show their love of local flowers…even in February.
The Floret Team and I put together a few seasonally-inspired Valentine's Day gift ideas for the flower lover in your life:
Bouquet Subscriptions
A bouquet subscription is a great way to support local flower farms and shower someone you love with locally-grown blooms all season long. Similar to a community supported agriculture (CSA) share that veggie farmers have used successfully for years, a flower subscription or bouquet CSA involves making an upfront investment in a flower farm's harvest for the season. As a subscriber, you receive a weekly, biweekly or monthly bouquet from a local flower farm during the growing season. Most bouquet subscriptions are available for pick-up, but some flower farms even offer delivery. Subscription rates and dates vary by region, but most run June through September. To find flower farms or floral designers in your region who specialize in seasonal flowers and offer bouquet subscriptions, be sure to check out Floret's Farmer-Florist Collective  (viewable on a desktop computer) or the Association of Specialty Cut Flower Growers.
Flower-Inspired Books
I was thrilled to have the Floret book, Cut Flower Garden, highlighted in this year's New York Times' Valentines Day Gift Guide. What a thrill to have the book featured alongside so many other amazing gifts.
I also just learned that a German language edition of my book will be available online  and in bookstores in Germany, Switzerland and Austria starting February 19! 
Other inspiring flower-focused titles that make great gifts include:
In Full Flower: Inspired Designs by Floral's New Creatives by Gemma and Andrew Ingalls
The Flower Workshop by Ariella Chezar.  You can  read my review here
Flora Forager: A Seasonal Journal Collected from Nature by Bridget Beth Collins
Flower House Detroit by photographer Heather Saunders that features the floral art installation by the same name
In Bloom: Creating and Living with Flowers by Ngoc Minh Ngo
Read a roundup of recent titles here.
The next big crop of new flower books will be coming out later this spring. A few soon-to-be-released titles that have caught my eye include:
Martha's Flowers: A Practical Guide to Growing, Gathering, and Enjoying. Featuring tips honed over a lifetime of gardening, Martha's newest title looks like it will be another instant classic.
How to Window Box by Chantal Aida Gordon and Ryan Benoit. The duo behind the award-winning blog, The Horticult, now have a new book out on creating outdoor–and indoor– window boxes in colorful, fun and inventive ways.
Color Me Floral: Stunning Monochromatic Arrangements for Every Season by Kiana Underwood, the super talented designer behind the Tulipina brand has a new book coming out soon that looks stunning.
Vegetables Love Flowers: Companion Planting for Beauty and Bounty by Lisa Mason Ziegler, author of the popular Cool Flowers book, looks like a practical and indispensable garden guide.
While not a flower book, the upcoming book Craft the Rainbow by the talented blogger Brittany Watson Jepsen of The House That Lars Built is sure to inspire. What started as an Instagram hashtag has grown into a new book full of colorful rainbow-inspired projects for the home.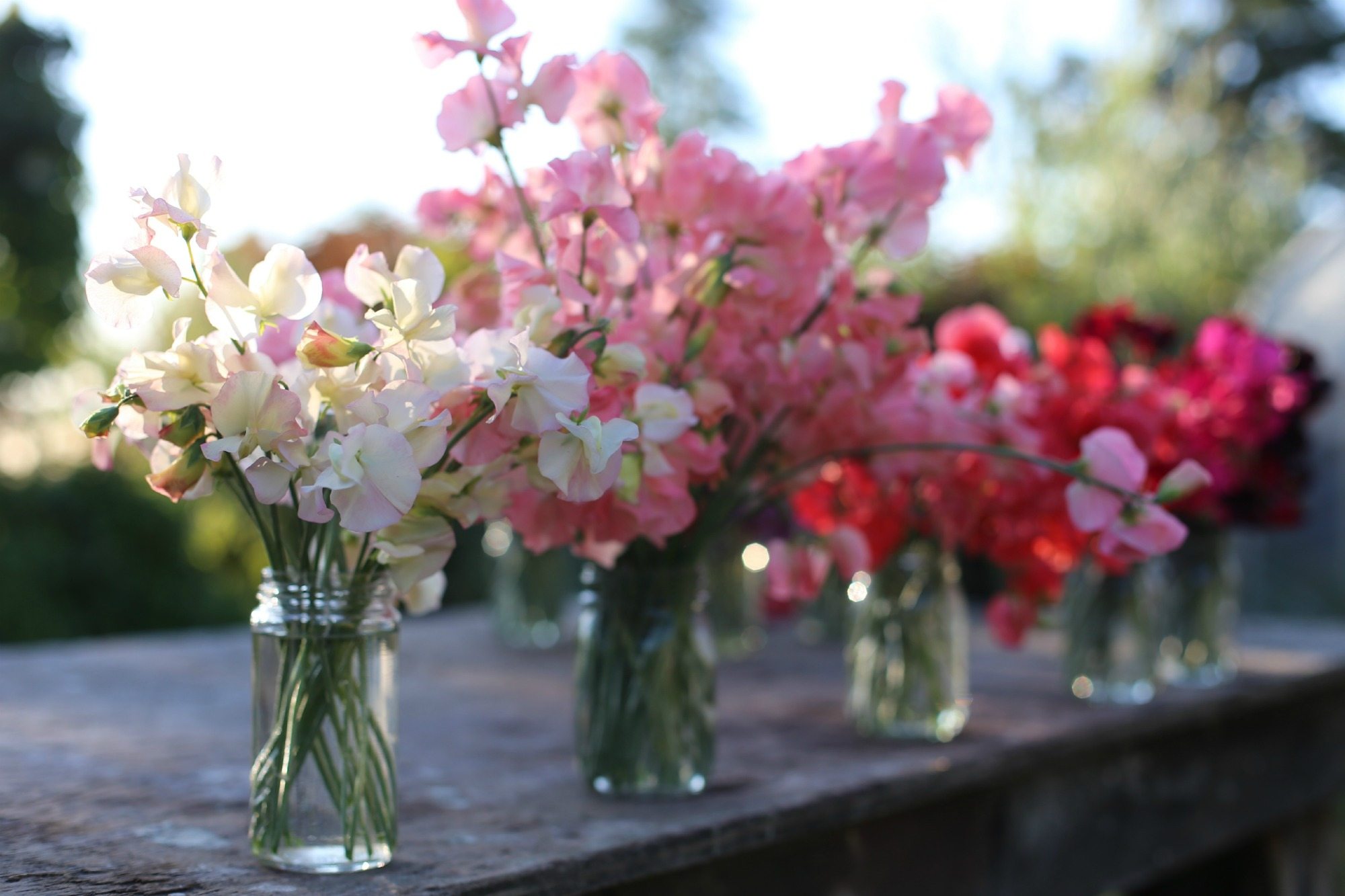 Sweet Pea Seed Collections for your Sweetheart 
Seed packets combine beautifully with other gifts or tuck easily into a card. The promise of future flowers are sure to warm any flower lover's heart.
In honor of Valentine's Day we're offering a limited number of special sweet pea seed collections.
Jelly Bean Collection
Victorian Wedding Collection
Pretty in Pink Collection
Each collection includes five varieties and enough seed to plant a 15-20 foot long double row of sweet peas in your garden. Featuring subtle ombre shades of color, each collection was designed to look beautiful in both the garden and the vase and comes in a beautiful reusable metal tin. Quantities are limited, so be sure to snag some for your sweetheart.
Or consider some other seed-inspired gift ideas.  For example, you can create a sweet-themed gift package by pairing some fair trade chocolate with a packet of Chocolate Lace Flower seeds or Phlox 'Cherry Caramel' seeds.  Another fun combination might be to pair Larkspur 'Earl Grey' seeds with a box of specialty tea with the same name.
Artisan -Made Stoneware   
Any flower lover will love to show off their seasonal blooms in a beautiful hand made stoneware crock or vase from the talented artists at Farmhouse Pottery. Perfect for the kitchen counter or dining room table these custom vases were designed specifically for flower arranging using garden grown flowers and lend themselves to lush, loose, organic arrangements. Each hand thrown piece was created using old world techniques, by our friends Zoe and James Zillian in their studio in Woodstock Vermont.
USA-Grown Bouquets
Finally, another great way to get a flower fix in February is through a Grown in the USA bouquet from Farmgirl Flowers. Based in San Francisco, Farmgirl Flowers sources seasonal flowers, wraps them in reclaimed burlap and delivers them throughout the Bay Area (sometimes via bicycle or scooter) and now ships nationwide. I sent myself flowers for my birthday last year and was blown away by the quality and the impeccable care that went into the bouquet I received. Their dedication to supporting domestic growers and sustainable sourcing of flowers is inspiring both as a creative entrepreneur and as a woman in business.
With so many creative and beautiful options, there's no need to resort to boring red roses. Instead, shower your sweetheart (or yourself) with a gift that shows your love of seasonal flowers.