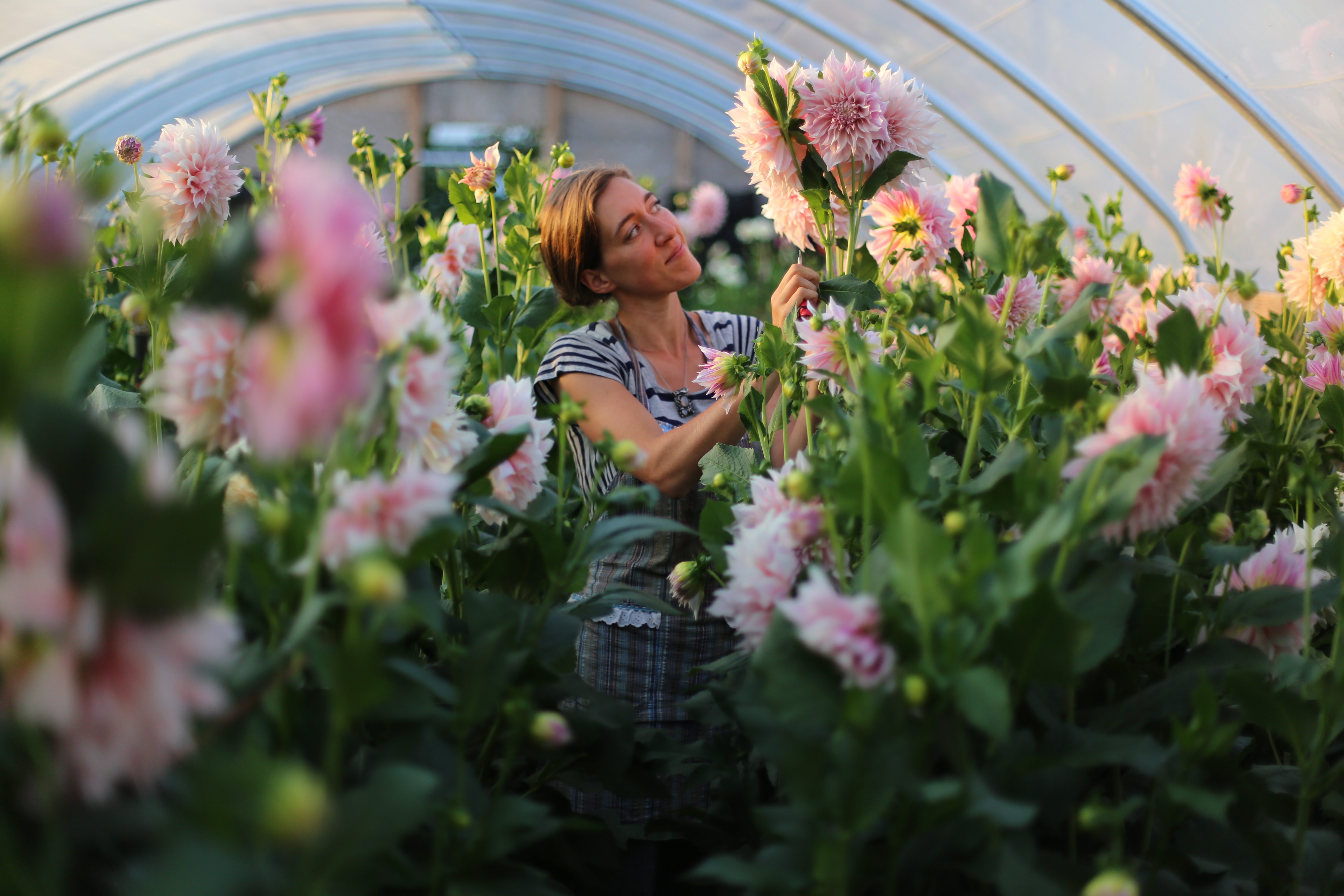 Welcome to day two of our "Five Days of Giveaways" party to celebrate the launch of our brand new online Shop.
A big congratulations to yesterday's winner of the Farmer-Florist Toolkit  was Amber from Delta, B.C. who shared: "Besides the impossible: an early release of your upcoming book, an easy way to ship tubers and bulbs to British Columbia… On the list for me is your earlier book: Fresh from the Field Wedding Flowers as I will be helping my sister-in-law for her Orcas Island wedding this August. On my giving list: a box set of Alan Titchmarch's garden tours in England for my mum. Happy Holidays to everyone at Floret!"
To continue the celebration, I'm giving away another great gift from the shop. This time it's a Café au Lait Dahlia Collection!
The Café au Lait Dahlia doesn't really need much of an introduction but if you don't already know her personally, then you're in for a treat. This ultra-romantic blush beauty is highly prized and coveted by floral designers and gardeners worldwide. You've likely seen them splashed across wedding Pinterest boards for the past few seasons now. The Cafe is a frequent star in photo shoots and a regular guest in high end design magazines. Virtually every late summer and early fall bridal bouquet that leaves our studio includes at least one of these exquisite blooms.

If you've ever tried to track down tubers for this particular variety then you know how tricky they can be to find! I'm so excited to announce that there is now a limited quantity of Café au Lait Dahlia Collections available in the Floret Shop.
If you'd like to add them to your garden next season, be sure to get your order in soon because I have a feeling our small stockpile will be gone in a flash! Tubers will ship out in the spring once the chance of frost is over (late April-early May). If you plan to give them as a gift this holiday season, we have a gorgeous printable gift certificate that you can personalize and share with your loved one.

To enter to win a Café au Lait Dahlia Collection, simply leave a comment below and share what new flower varieties you hope to grow in the coming year.
*Please note, this giveaway is open to U.S. residents only. (So sorry international friends —they can only be shipped domestically.)
The winner will be announced here tomorrow along with our next exciting giveaway. Good luck!