Even though the start of wedding season is still a few months away, wedding planning is in high gear for floral designers and newly engaged couples. While flower farmers plan for four distinct seasons, many floral designers observe just two: wedding season and wedding planning season. This is the time of year when Instagram feeds and Pinterest boards are flooded with ideas and inspiration for incorporating flowers into life's biggest celebrations.
Will blush pink continue to dominate color palettes?  What new hues will see in centerpieces? Will bouquets be big and bold, or simple and elegant?  Will we see any new floral statement pieces gracing the aisles this wedding season?  While trends vary slightly from region to region, here are some of the hottest styles we see on the horizon:
FLOWERS
Fresh from the garden, seasonal flowers. For brides, there is nothing quite like clutching a bouquet filled with fresh, fragrant flowers grown with love and harvested by hand by a local farmer or designer with whom they have a personal connection. Thankfully, this trend is becoming more and more common, as awareness and interest in local, seasonal flowers continues to grow, especially among studio florists and style- and eco-conscious couples. A recent Slow Flowers survey and Industry Insights Report also confirmed the uptick in consumers' and designers' use of U.S.-grown and locally-grown flowers.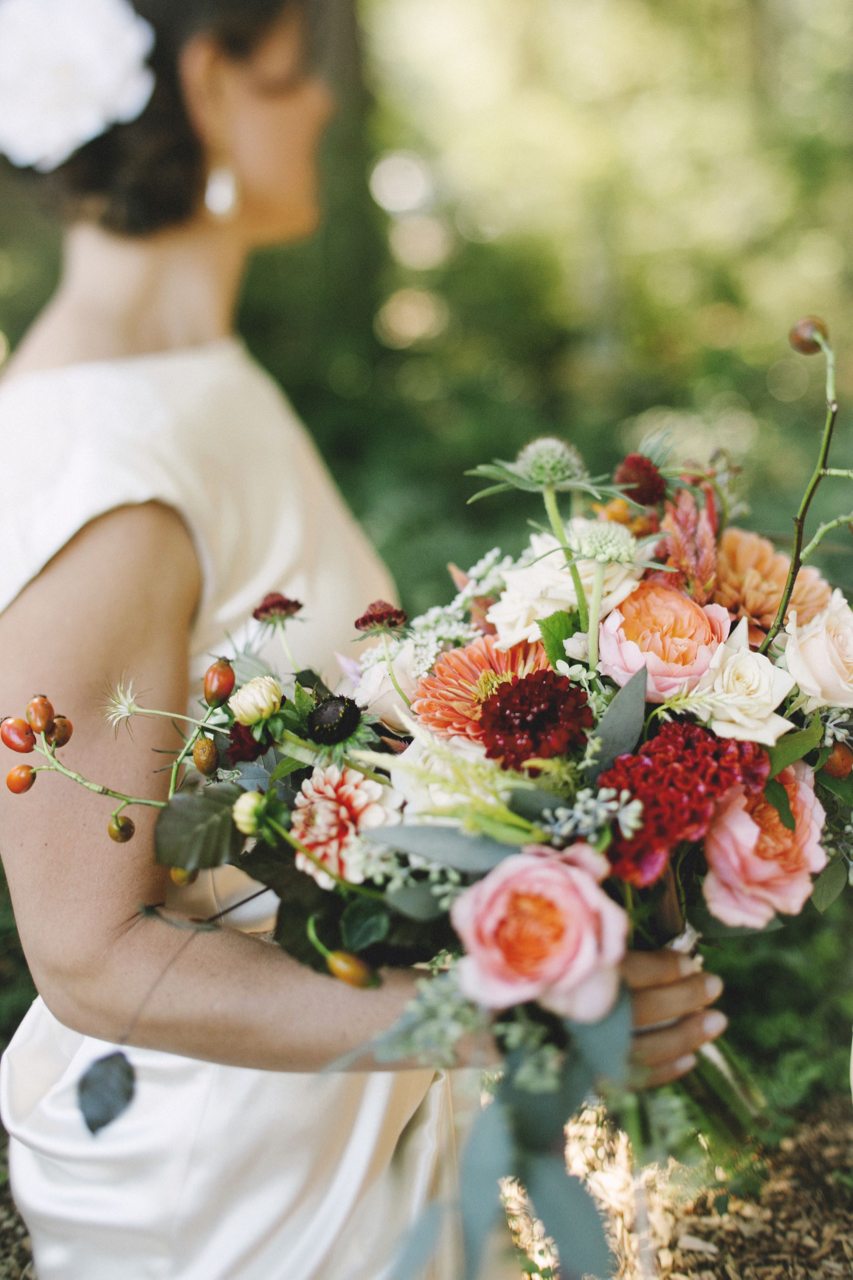 Dahlias, dahlias, dahlias. If the extremely high demand for Floret dahlias is any indication, we'll be seeing dahlias dominate late summer and fall wedding designs. 'Café au lait' is still the queen, but other big beauties such as 'Labyrinth' and 'Peaches N' Cream' are increasingly being sought out by discerning designers.
Old-fashioned flowers as "new" favorites. The thought of using common zinnias, carnations or mums for wedding flowers used to make some floral designers and style-conscious brides shutter. But heirloom varieties and new flower cultivars with uncommon forms and colors have turned heads and helped to change minds and attitudes. Heirloom chrysanthemums, frilly scented heirloom carnations, and ruffly scabiosa-flowered zinnias have become in fashion. Farmer-florists across the country are fighting to get their hands on limited seed and plant stock to meet the increased interest and demand.
Flowers by special request. Armed with beautiful images curated from Pinterest and Instagram, brides increasingly are asking for specific and sometimes more obscure flowers for their bouquets. Perennial favorites include: garden roses and peonies, but more recent requests include ranunculus, dahlias, lisianthus, chocolate queen Anne's lace, seeded eucalyptus and dusty miller. These specific requests can be a challenge—and an opportunity—to explain the seasonal nature and availability of certain flowers.
COLORS
Muted, muddy & moody hues. This year, we'll see more subdued and muted monochromatic bouquets and far fewer multicolored bouquets in bright or contrasting colors. Shades such as dusty rose, milky coffee, champagne, buttercream, apricot and moonstone will challenge floral designers and flower farmers to source blooms in these complex colors.
Another glass of red wine, please.  Whether you prefer cabernet, merlot or pinot noir, these delicious deep wine tones pair beautifully with a variety of color palettes, from bold jewel tones to soft blush pinks as well as many of the muddier hues mentioned above.  An outgrowth of the popular 2015 Pantone color of the year, Marsala, look for lots of dahlias, chocolate Queen Anne's lace and other seasonal flowers in these more saturated hues to continue to appear in late summer and fall weddings this year.
Gray on gray. Considered the "new neutral" within the home décor world for the past few years, gray has become a staple in floral design as well. Gray pairs well with most colors and is often combined with perennial popular blush pink. Gray will continue to hold court as a popular accent color, but could move towards center stage alongside crisp white. Look for bouquets with dusty miller, seeded eucalyptus, succulents, olive branches and other gray foliage to fill your Instagram feeds this year.
Greenery as a theme. Pantone's 2017 color of the year, Greenery, will be reflected in weddings, but in subtle, and less literal and overtly obvious ways. We predict we'll see less focus of this specific hue of green, and more of the concept of using nontraditional greenery and foliage as a more prominent focal point in wedding decor. Greenery can be incorporated in creative ways, such as garlands of foliage stretching down the middle of Kings tables, sprigs of greens adorning place settings, greenery wreaths, chair decor and foliage backdrops for ceremony sites or photo booths.
STYLE
Wild, 'gathered from the garden' bouquet shapes. Traditional tight, round balls of blooms are a trend of the distant past. Stylish brides are opting for large, lush, loose bouquets with more organic forms that tend to be bigger and wider than years past. The continued popularity of boho and gypset-inspired wedding décor also support this this organic aesthetic and design style.
Luxe ribbons & unique finishing touches. A bouquet just isn't a bouquet without a ribbon finish. Brides are looking for ways to make their bouquet more meaningful or stand out in a special way by requesting unique elements such as antique lace, a charm or cameo of a loved one, vintage handkerchiefs and multiple layers of long, ultra-luxe hand-died silk ribbon streamers.
Stylish floral wearables. Subtle, delicate floral hair accessories, have virtually replaced the big, bold floral crowns from years past. We'll see more half halos, pretty floral hair "combs" and simple sprigs of foliage woven artfully into hairstyles this year. Another big trend will be elegant cuff wrist corsages that look and feel more like jewelry. These bangle-type bracelets will hopefully permanently replace the often reviled elastic wristlets popular at high school proms. Keep an eye out for other creative interpretations of traditional floral wearables on mothers, grandmothers and other wedding party attendants.  For the guys, this will mean mixing moreinteresting textural elements, including pods, berries & grasses alongside traditional focal flowers.
Bold and beautiful arches, chuppahs & hanging installations. More couples are choosing to say "I do" framed by foliage and flowers. Last year, we said foliage-focused backdrops would take center stage. They did. But so did arches & chuppahs. Look for a continuation of this trend for ceremony site décor. For reception site décor, we're seeing lots of delicate foliage wreaths, floral chandeliers and other creative floral installations hung above head tables.
Less rustic and more modern décor aesthetic. We're witnessing an evolution in wedding décor that is greatly simplified, with clean lines and a more contemporary feel. This is part of an overall movement away from country chic (think: less barnwood and burlap) and more toward an urban, industrial look (more gunmetal, mercury glass and galvanized steel).
A mix of high and low. Rather than a sea of carbon copy centerpieces, more couples are opting to mix and match their table décor. This entails alternating elevated bouquets, with long, low centerpieces, sprawling low profile compotes, or clusters of small bottles of single blooms. By choosing just a few larger statement pieces, the mix of elevated and low designs provide vertical interest without busting the budget.
Sweet treats: cake flowers.  The trend away from oversized wedding cakes and more toward sweets tables has allowed for more opportunities to creatively incorporate flowers into cake designs and table decor. Look for live flowers serving as cake toppers and more flowers and foliage used to style cakes, donut and dessert tables.  Sounds good to us!
What wedding floral trends are you seeing in your area?  Please share your thoughts and reactions in the comments below.