Every year between Christmas and New Year's, there is a wonderful stretch of quiet time when the rest of the world is caught up celebrating the holidays. In our house we keep things really simple and instead use this stretch of time for rest and reflection. I love this time of year because I finally have the opportunity to slow down and tuck away to reflect on the past season and plan out the year ahead.
2019 was one of the most intense, enlightening, overwhelming, and challenging years to date. Of all the years we've been in business, I started this year with the least amount of clarity about what I was intending to create, and the entire time I felt like I was running to catch up with myself and all the projects we'd committed to.
Really at no point in the past year did I feel as if I had a real handle on things. And while the experience was quite discouraging, as I look back, it's an incredible reminder about how important it is to be intentional with my choices and what I choose to pour my energy into.
Every decision brings with it a different set of responsibilities and pressures, and even though 2019 was incredibly difficult, I learned so much about myself.
Before I dig into planning the year to come, I take some time to reflect on all that has happened during the previous year, since it can be so easy to just want to look ahead.
I thought it might be helpful to share some of the highs and lows of 2019 in hopes that it might inspire you to take stock of your own past year even if things didn't go the way you planned.
January is always our busiest month here on the farm as we launch our full line of Floret seeds. Last year, we had high hopes that our shipping department would finally be moved out of the garage and set up in the barn at the new farm, but a series of issues with our construction permit prevented the move in time for the seed launch.
We crammed 16 people into a makeshift space, which topped out at 700 square feet. Despite the less-than-ideal conditions, our wonderful team kept such great attitudes, and we managed to ship out nearly 16,000 packages of goodies in just a few short weeks to gardeners all over the world.
We were all running on adrenaline, imagining all of the excited people opening their mailboxes and the promise of so much beauty headed out into the world.
We spent the better part of winter packing and shipping out orders, and as the weather started to warm our trial field of bulbs exploded into bloom. Every day it wasn't raining, we were out crawling around in the daffodil patch taking notes, measurements, and photographs of all the early spring treasures.
On drizzly days we were bundled up in the studio documenting each bulb variety. Jill and I excitedly wrote descriptions while Chris captured the flowers with the camera. After such a long dark winter, we were all so grateful to have flowers again.
After the weather warmed up we turned our attention back to the fields at the new farm. The red outlined section is our original 2-acre farm and the white outlined section is the new 24-acre property. This photo doesn't quite include all of the new land but gives you an idea of just how much land we're working with. When we bought the property two years ago, it was a very neglected conventional berry farm and the soil was in pretty rough shape.
We have been working closely with the soil lab, testing and amending the ground trying to repair all the damage that was done. In the spring we tilled in the winter cover crop and added tons of compost and manure, along with many truckloads of limestone flour and other natural amendments that were recommended by the lab.
While all of this soil work was happening out in the field we were also setting up a massive underground irrigation system so that we could run water out to all of the corners of the farm. We laid miles of electrical wires and pipe, and while the project was incredibly daunting to me, I have never seen Chris so excited about a farm project. After years of dragging hoses all summer long and never being able to leave because someone has to stay on top of the watering, we can now water individual sections of the field on a timer system. It has totally changed our lives!
Near the end of spring we got back to the galleys for A Year in Flowers, which is essentially a large mock-up of the book. Though the text was in great shape, I wasn't happy with the first round of page designs, so we went back to the drawing board and reworked the majority of the book to give it a more lively, abundant, and organic feel.
It was a massive undertaking and came with a lot of tension since the project was on a compressed timeline to begin with in order to make a Valentine's Day 2020 debut. While the process was brutal for everyone involved, I am so glad we took the time to get it right.
I can't wait for you to hold it in your hands. This book was a true labor of love.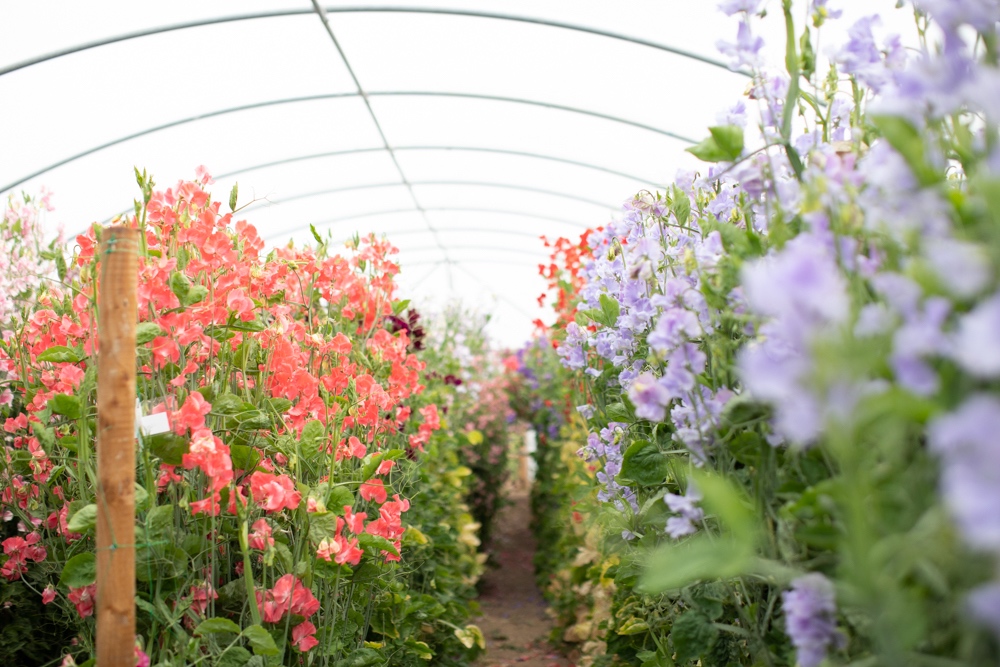 Days after we turned in the last photos and edits for A Year in Flowers, Chris and I hopped on a plane and headed to England for two glorious weeks. I have dreamed of visiting this magical country for as long as I can remember, and it was even more amazing than I had imagined. In addition to visiting all the famous gardens, we also had the opportunity to finally meet so many of my floral heroes.
I still haven't fully absorbed everything we did and saw, but in the near future I am going to write an entire post about our journey and everything I learned. If you ever have the chance to go, take it; it's so worth the effort.
Within days of returning home we dove head-first into interviewing dozens of candidates for some very important positions on the farm. The process was incredibly eye-opening; what we thought we wanted and who we ultimately hired for were two very different things. While skills and experience are incredibly valuable, we ultimately found that heart and passion were equally important qualities for our team. We were incredibly lucky to find the most amazing people who possess both!
But as an extremely introverted person, I've found the continued growth of our team overwhelming. I am used to working alone or with just one or two people, and sitting at the head of a long conference table leading a team meeting has been way outside of my comfort zone.
While this new normal has had its challenges, building a team of such caring, thoughtful, and talented people has been so inspiring.
After pitching the idea of writing a dahlia-focused book in late 2018, we designed and planted a massive dahlia field of more than 700 varieties in rainbow order for the project. Organizing and cataloging all of the varieties was an incredible undertaking, and we didn't realize how much we had actually taken on until we were in the thick of it.
Toward the end of summer, the dahlia fields came into bloom, and we worked around the clock to document, harvest, and photograph hundreds of varieties for the dahlia book.
We seriously underestimated just how complicated it would be to cover so much technical information in a beautiful and down-to-earth way. It was one of the most challenging creative projects to date.
On top of writing and shooting an entire book in a few short months, we were also knee-deep in our seed breeding projects and new seed variety selection. The daylight hours during the week were spent documenting all of the new additions to our seed line, and then I spent every weekend working on breeding projects. It was a thrilling and completely exhausting summer.
While I was sad to see the flowers go when the first frost arrived, I was so relieved to finally get some sleep. Note to self: Don't work on two books in one calendar year!
In early October we shifted gears and turned our attention back to the shop for our annual fall bulb launch. Thankfully the barn was finally finished just in time. The response to the bulb launch was amazing, and we spent the better part of two weeks shipping out thousands of boxes of spring-flowering bulbs to excited gardeners all over the country.
Planting bulbs in the autumn is one of my favorite annual tasks because it's the ultimate gift to your future self. We tucked a staggering amount of bulbs into our trial plot, and I cannot wait to see all of the new treasures next spring.
In early November we opened up registration for the Floret Online Workshop. This season marks our third year of running our 6-week flower farming course online. It has been such a thrill to watch so many budding and established flower farmers pick up the torch and help change the flower industry for the better.
Our team has poured so much time, love, and intention into both the program and the students' experience, and I'm so excited about going through the course together in January. It gives me so much hope for the future for both the local flower movement and the planet.
December has brought a bit slower pace as all of our big creative projects have finally come to a close. The dahlia book manuscript and photos have been turned in, and nearly all of the seed packets have been filled and are ready for our January launch. All of the new varieties for 2020 have been uploaded to our website, and our amazing team is off for the holidays getting some much-needed rest. I can't think of a time in the last few years that the farm has been so quiet.
I've got a huge stack of magazines that I've been squirreling away for months to create my vision board, and a fresh batch of notebooks and new pens. I'm taking full advantage of this quiet time to get as clear as possible before mapping out the year to come.
We have spent the last 10 years working so incredibly hard to build and grow Floret, and I cannot believe all that we have accomplished. What started as a tiny cutting garden in my backyard has grown far beyond my wildest dreams, and I'm still trying to catch up with all that has happened.
But as I'm looking ahead to the future, I'm trying to figure out how to navigate the next chapter as intentionally as possible while staying true to myself. I don't know exactly what that looks like, but I'm so excited for what the future holds.
I'd love to hear how your year went and what you're looking forward to creating in 2020.