I first connected with Milli Proust on Instagram years ago and we've stayed in touch ever since. I always look forward to her beautifully written posts and especially her weekly 'Windowsill Wednesday' series where she highlights a seasonal arrangement featuring flowers from her darling cutting garden. 
Milli's first book, From Seed to Bloom: A Year of Growing and Designing with Seasonal Flowers will be released here in the States on June 21. I was so excited when she sent me an advanced copy to review! I invited Milli to share more about her book, her approach to seasonal floral design, and what she's up to next. 
Congratulations on your gorgeous book From Seed to Bloom: A Year of Growing and Designing with Seasonal Flowers! It's such a celebration of the joy you've found in growing something from seed. The easy way you break down design techniques and the seasonal floral arrangements you share are so inspiring. This is the first book you've written and it's packed full of practical information—what called you to bring it into the world?
Thank you, Erin! I've loved every minute of working on it. It came from a place of becoming increasingly fascinated by the relationship between the land and the grower—there's something incredibly intimate about that relationship, and a lot of the books I have voraciously read and loved on cut flowers, floristry, and growing were missing some of that intimacy. Every bit of land is so different, from the soil type, the climate, where the wind comes from, and where the sun touches it, that there's never going to be a perfect textbook to follow when it comes to gardening. This journey of learning the land has felt much more personal than anything else I've done, and much more nuanced too—much like getting to know and understand a new friendship. 
I've not been growing flowers for very long (this is only my sixth year growing commercially) and embracing that I wanted to write in a way that made the practical elements as accessible and easy to understand as possible. I wanted to bring a book into existence that not only was practical, useful, and encouraging if you're just starting out growing flowers, but celebratory of the personal too—a book that motivates the forming and strengthening of a relationship between a garden and a gardener.
In the book, you encourage people to ask themselves a simple question at the start of each season: "why am I growing flowers?" Can you speak a little more about why you've found that important to think about when planning your garden for the year?
This is one of the best (of many) pieces of wisdom I've been given by you. In your workshop, part of the first module really tucks into the why question, and I've found it's been a useful and grounding question that I return to again and again. When it comes to growing, there are so many different combinations of flowers to try, so many colours to choose from, and the timings of a whole season to think about. It can easily become overwhelming before you've even begun. If you're growing for pleasure, the things you choose, how and when you sow, will differ greatly from if you're growing for market. And again, growing for market might require different ingredients than if you're growing for weddings and events. If you have a strong sense of why you're growing flowers and what for, the planning stages of gardening suddenly become a much easier and more simplified place to navigate.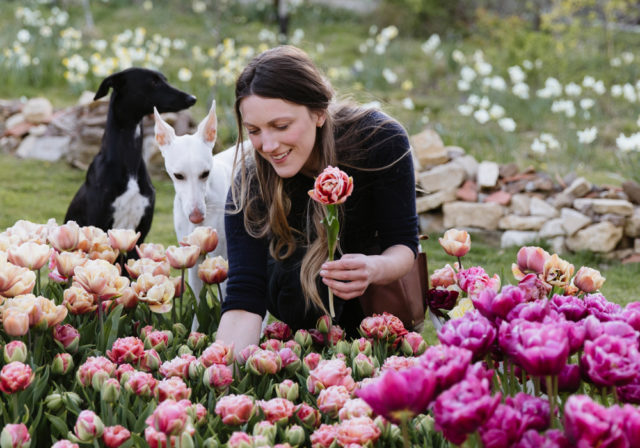 From Seed to Bloom includes such a wealth of information on growing on a scale between what you call "big gardening and small farming." When you lived in London, I know you used to grow solely in window boxes and containers on balconies. Do you have any advice for those that don't have a traditional garden space but still want to grow their own cut flowers?
Grow something that you completely love would be the first thing I think of for advice. Growing in containers is much more difficult in many ways than growing in the ground. The containers require much more of your care to keep them hydrated and fed, so tending to a plant you feel real affection for or affinity with will help make the process feel less like a chore and more like a joy. But having said that, if you want to use the flowers in your floral design work, it's worth growing things that are generous, like cosmos or sweet peas, or are hard to source at market. 
Violas and pansies are container classics, very easy to grow, and there are some varieties, proved by your trial in 2019, that work brilliantly as cut flowers. If you don't have access to a traditional garden space, try planting a layered succession of spring bulbs in a big pot with violas or pansies planted at the top. Keep picking the pansies and violas to encourage more flowers, and once the bulbs start getting underway, they'll force the stem lengths on the violas and pansies up. By the time the last bulbs are in flowers, your pansies and violas will have beautifully long, workable stems, the likes of which are impossible to purchase at the market.
A central theme throughout the book is slowing down to notice the subtle changes in the natural world around us. With a floral design business, a seed shop, a new book, and your job as an actor, how do you prioritize that way of thinking, and how does growing and arranging with seasonal flowers play into that philosophy?
Slowing down isn't necessarily about doing less, I think it's more about noticing and savouring more. I'm sure we've all experienced those moments when time feels fast or slow—and sometimes it's hard to put a finger on why. I find when I pause for a moment and intentionally make note of the shifts and changes that time brings, it's easier for me to comprehend what and how long time is. If I've not marked time in any way, I think back to the last big occasion and all the blurred, busy, in-between time can feel like it went in a flash. By noticing, celebrating, and giving occasion to the small things—the changes in the light, the lengthening and shortening of the days, the new shoots pushing up, the first warmth in the air, the fruit setting, or the first leaf falling—when I look back on my time, it's full of these little, savoured moments that can help it to feel more expansive. 
From Seed to Bloom includes so many stunning seasonal arrangements. I especially enjoy your sill projects. You use a lot of unusual and foraged material for the supporting, textural, and filler elements. Can you share a few of your favorite unexpected floral ingredients to work with?
It feels lucky to be living in such a seasonal climate where the landscape offers up new, interesting things throughout the year. Growing up and living in a city, a lot of my connection to the natural world was through cracks in the pavements, local parks, or along railway lines, and I still get a kick out of the plants that are heedless and grow where and how they like across the seasons. Over the years, I've ended up inviting many of them to grow in my garden (it's wise to check it's not an invasive species before doing this), from the campions and cow parsley that come to the ditches in spring, to the abundance of wild grasses in summer, the fruit and hips in autumn, to the catkins of winter, there's always something beautiful that might not necessarily be overtly showy, but instead will have an interesting form or texture that's firmly rooted in our landscapes to take inspiration from. 
I love your note on creativity when discussing floral elements and style in the book. You say, "There is no right or wrong way to be creative, and each and every one of us is capable of creativity." What advice would you offer to someone who's just starting to create arrangements with the flowers they've grown and might be feeling overwhelmed? 
Simplifying is always a good idea. If I'm feeling the overwhelm that can often face us when starting a creative project, I find it freeing to set myself limitations. For example, I might limit the colour palette, using only one colour in different hues and tones, or I might limit myself to just three ingredients. By setting limitations you're also limiting the number of creative decisions to be made. When there are too many problems for us to solve creatively, the overwhelm can come in really quickly. 
Another way to simplify when working just for practice or play and without a brief, is to use your time to explore just one thing. I might give myself one problem to solve, which might be, "How can I work with the form of these branches to make them the most dynamic?" or "How do I make these little, blue muscari the stars of an arrangement?" It's another form of limitation but can allow lots of fun, free curiosity and creativity to happen.
We both had grandmothers that fostered our own love of flowers. Can you tell us a little bit more about how the time you spent with her ultimately led you to the path you're on now?
My grandmother GJ taught me so much about plants, not in any formal way, but in the way in which she loved and respected them. When she named the plants we passed in the garden and on walks in the wild, she would introduce them as if they were old friends. She loved all the gardens she tended throughout her life, and my memories of her at her happiest are when she was in them. The palpable joy that she felt when she was among the plants she cared for, showed me the power flowers can have to enhance a life. I count myself lucky to have witnessed that from an early age. I think we have all borne witness, at one point or another, to the ability flowers have to make a moment better, or soften the blow of life's hardest times. 
Working with the land never seemed like a job prospect or an option when I was growing up in the city, but with GJ still tending her garden at the grand age of 92, and having watched her over the years, her back bent and working, she had made growing plants seem like a do-able, knowable thing. So when the time came and I moved out of the city with no education in horticulture, it didn't feel like such a far-fetched change to become a grower. GJ came to live with me during the first lockdown of Covid and she was the one who encouraged me to send out the flowers in the field, the ones that had been destined for weddings and events, to whoever wanted them or needed them. She knew that people needed hope at that time, and she knew hope can be found in flowers. She saved my business in that moment and I'll be forever grateful to her for it. We lost her last year. I miss her every day, but I know I'm drawing on so much of the wisdom and love she passed down—and for that, I'm hopelessly lucky to have had her as my grandmother.
Your 'Windowsill Wednesday' series on Instagram gained some notoriety last year and is such a fun and beautiful way to document and showcase your seasonal arrangements. What led you to start that and why do you think people have connected with it? 
Yes, the series made it into a magazine last year! I still can't believe that! It's a project I've been doing every week for five years now, and I was surprised even early on when people seemed to enjoy it and connect with it. When I started growing flowers, I wasn't confident in designing with them at all. I had been going to the flower market in London for years and had interned at a florist shop, but had always held a feeling of being a bit of a floral intruder wherever I went. My skills were just simple bud vases when I started 'Windowsill Wednesday'—low-key pairings and combinations of a few stems. The flowers I grew behaved so differently from the imported market flowers I was used to. They had so much more life in them and you could feel the magic left in the stems from being touched by the weather—some with gorgeous curves where they had longed for more sun, or beautiful, mottled petals from being out in the rain. I just wanted to learn and understand them as an ingredient better and I knew that to do that I would need to practise. So I set myself on this project and vowed to show up to practise it at least once a week. 
Each week bought so many beautiful new flushes of flowers to work with that I was itching to create with it all and the project was easy to commit to. Here's a little bit of life coming round in a circle—the very first 'Windowsill Wednesday' I did was with 'Earl Grey' larkspur I grew from Floret seeds! That is the flower that sparked the project—so thank you for being a part of it! By the end of the first summer season of 'Windowsill Wednesday', I'd been entrusted to do my very first wedding by a friend because of the series, and buoyed on by that vote of confidence, I carried on with the project through winter. I had initially thought I wouldn't be able to manage to find ingredients every week in winter, but that limitation asked me to look more closely at what was on the plot, and that in turn has totally influenced the way I look for ingredients and plan my season to this day. 
The other part of 'Windowsill Wednesday' is the words. I started putting words with the flowers early on, little observations about the weather, and the changes in the landscape. I love words—I had been writing plays and short stories all the way through drama school, but when I left I had written and put on a not very good play. And after it was done I hit a long writer's block, I was so nervous about picking up a pen again, and didn't trust anything I put to paper. Once I started making the windowsills, the words joyfully started coming back, and it felt like a huge relief. It still surprises me that people connect with the project, but it makes me so happy! Perhaps the connection is something to do with what we talked about earlier, in the marking of time and savouring of the little moments. It's sort of like a weekly news bulletin about the subtle seasonal shifts, an antidote to the more difficult and challenging news we are usually bombarded with.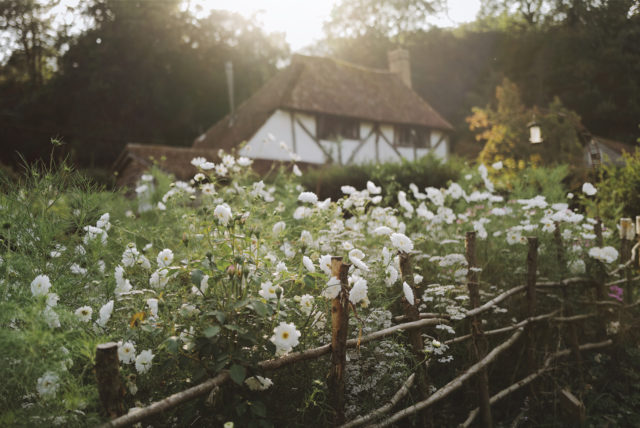 What else are you working on this year? Do you have any new projects coming up that you'd like to share?
The formidable Sarah Raven has invited me to do the flowers at her press days this year, which for me, is a dream job. I'm so excited to work with the ingredients grown at Perch Hill—a garden I have long admired and taken inspiration from. There's also something big in the pipeline—I'm about to become a mother. I feel very, very lucky. It's something I've wanted for a long time. I don't know yet how it will change the course of what I do and how I do it, but I'm already having to function on a different level that I've found challenging. I've downsized the number of weddings and events I've said yes to this year, I have a brilliant team of freelancers who will be at the ready to help with the ones I will be doing, and I'm stocking up my little online shop with the most useful tools and design mechanics, things that I love that won't perish in the same way as the flowers, which helps me feel like I'm able to slow down a little. It feels a little nerve-wracking to be downsizing and pivoting again as an already small business, especially when it's still in its infancy, but I want to be able to honour this time of change and turn my focus back to growth when it feels right. I'm sure I'll grow and gain a lot from this experience too, and as I've said before—I find the best creative solutions come out of limitations, so I'm excited to see where this next bit of the journey takes me.
Thank you so much, Milli, for taking the time to share about your new book (and your exciting news!) with Floret readers. I can't wait for the release of your book here in the states and it will be so fun to see this next chapter of your life unfold. 
To celebrate the release of Milli's new book, From Seed to Bloom: A Year of Growing and Designing with Seasonal Flowers, we're giving away five copies. In the book, Milli encourages us to slow down to notice the subtle changes in the natural world. For a chance to win, simply post a comment below telling us about a beautiful thing you've noticed recently. Winners will be announced on June 28.
UPDATE: A big congratulations to our winners: Robin Lamb, Marila, Annie, Erin J. and Jenny Negrey
Learn more and connect with Milli:
Please note: If your comment doesn't show up right away, sit tight; we have a spam filter that requires we approve comments before they are published.
Floret only lists companies and products that we love, use, and recommend. All opinions expressed here are our own and Floret does not offer sponsored content or accept money for editorial reviews. If you buy something using the retail links in this post, Floret may receive a small commission. Thank you for your support!