I am thrilled to have the opportunity to talk with my longtime flower friend Amy Merrick around the release of her inspiring new book, On Flowers. Back in 2013, Amy and I teamed up and taught the very first flower arranging workshop we ever hosted here on the farm. Seeing Amy take our farm grown flowers and elevate them in such a thoughtful and reverent way was a life changing experience for me. Amy approaches floral design with an artist's lens, taking ordinary blooms and helping us to see them in a completely unique way. Her new book feels like an intimate look into the pages of her scrapbook, tracing her love of flowers through her career as a florist in New York and beyond, as she travels the world.  
In this interview, Amy takes us along on the journey of creating her book, including the unique design process, and shares with us her favorite travel memories. I hope you enjoy the conversation as much as I did.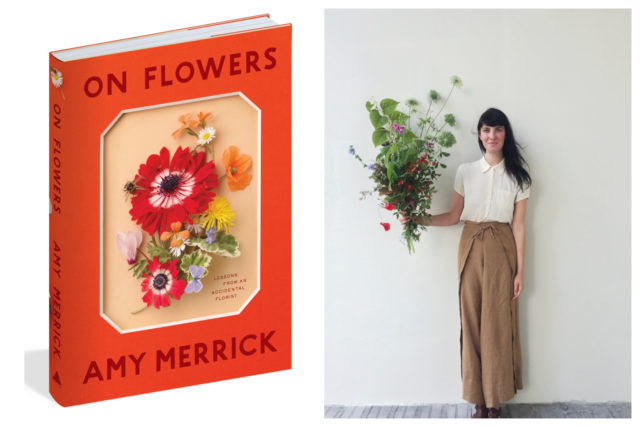 Erin: Amy, thanks so much for taking time to share your story with Floret readers. For those not familiar with your work, can you share an overview of your story, as well as an overview of your new book, On Flowers?
Amy: I started my career as a florist in New York, working on large weddings and photo shoots. Eventually I closed my design studio to travel and explore flowers on many levels: as a farmer selling bouquets at the market, then moving to Japan to study ikebana and teach flower arranging. The book loosely follows that trajectory, and ended up like a scrapbook of floral adventures and ideas. 
Erin: You mention in the preface that On Flowers was meant to be a book about arranging flowers, but it grew into something more. Can you describe the process of creating the book and the meandering path that it took; where it started verses where it ended up? 
Amy: If I would have written the book several years ago, I'm sure it would have been a more straightforward flower book based on the seasons. That was the original concept when I started talking to Artisan four years ago. But in the intervening years, I started to travel and experience flowers from all these different angles, as a florist, as a flower farmer, as a gardener, in the country and the city, from the US to Japan to England.  I really wanted the book to celebrate all the different ways to love and live with flowers, not only how to put them in a vase.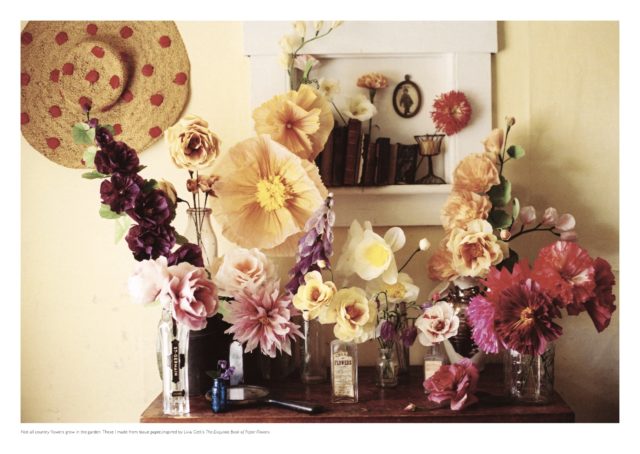 Erin: How did your travels inspire the book writing process? 
Amy: Traveling in search of flowers is a thread that runs throughout the book, and it was such an adventure to shoot the photos and write on the road. Honestly, it made the whole process much more spontaneous and unpredictable, especially to not have all my vases at hand. But it also made me look at my environment in a more universal way. Much of the book is shot in Japan but you probably couldn't tell that from the images. It was a good reminder that much of the natural world repeats itself and you can feel at home anywhere.
Erin: What did you discover about yourself during the process of writing this book?
Amy: So many things! They say that you don't learn about yourself and then decide to write a book; you write a book in order to learn about yourself. The main thing I learned, though, is that I love writing books! The process of making books combines so many things I'm interested in: crafting words, taking photos, telling stories, and bringing all of it together into one beautiful object. 
Erin: The design of the book is incredibly unique, and feels like a peek into your journal pages. Did you have a lot of control over the design process?
Amy: I wanted the book to feel like this delightful collection of surprises, where you wouldn't quite know what was coming next, a bit like a classic 1950s flower arranging manual but also a scrapbook of inspiration and ideas. I went to London for nine months to finish writing and also work with the designer Giulia Garben to make the book together. Her background is primarily in magazines, so she brought a fresh eye to the project and she was willing to go over the tiniest of details with me, side by side. I typed much of the text on an Olivetti typewriter, which we then scanned in, and the title fonts I found in an old 1920s book, which she turned into a font for us to use. I wanted the book to feel timeless but also fresh, something that anyone could pick up and relate to. 
Erin: What have been your favorite travel highlights and what's on your travel bucket list?
Amy: Japan during cherry blossom season will always be my ultimate travel inspiration, and a lot of those trips are reflected in the book! English gardens in the spring are also divine, and I love the geranium festivals in southern Spain. Going to the pyramids in Egypt was a peak life experience, too. As for a bucket list travel, I dream of seeing wild proteas in South Africa, marigold garlands in India and the perfume rose harvest in Bulgaria. Also, I long to take the train across Europe to Russia and through to China. 
Erin: What are you currently working on/ dreaming of/ excited about (in life and work)?
Amy: Next year is the year I officially move to London, which is beyond thrilling. If you love flowers, gardens and old houses, England is the place to be! I'll keep writing about these things, and hopefully bring more books into the world. Now that I'm a retired florist and don't do events, writing is filling that void and I couldn't be happier. 
Since I've spent the past few years traveling, the thing I'm looking forward to the most is making a garden and nesting into a home of my own. That will be my biggest adventure to date.  
Erin: Thank you so much, Amy, for being here with us today and congratulations on the release of your gorgeous book. 
Learn more about Amy Merrick by following the links below and be sure to keep an eye on my Instagram for a special giveaway of Amy's book this week. 
Book: On Flowers: Lessons from an Accidental Florist
Instagram: @amy_merrick
Excerpted from On Flowers by Amy Merrick (Artisan Books). Copyright © 2019. Photographs by Amy Merrick.