I first met Christine Chitnis when she reached out and offered to tell Floret's story for a piece in Country Living magazine. We immediately hit it off and stayed in touch over the years. When it came time to promote A Year in Flowers, I reached out to Christine to see if she'd be willing to help with press and publicity. Fortunately, the timing was right for her, and Christine joined Team Floret this past summer.
In this interview, Christine takes us along on the journey of creating her newly released book, Patterns of India, shares with us her family's connection to that beautiful country, and lets us in on her favorite travel memories. I hope you enjoy the conversation as much as I did.
Erin: Christine, thanks so much for taking time to share your story with Floret readers. For those not familiar with your work, can you share your story, as well as an overview of your new book?
Christine: Thank you so much for having me! I am a writer and photographer, and I also happen to work as the Publicity Manager here at Floret. We met over 5 years ago when I covered Floret for Country Living, back when I was freelancing. I joined the Floret team officially this past year, and although I don't grow flowers, they are my absolute favorite thing to photograph, and they bring immense amounts of joy into my life. Flowers have a unique ability to transport you back in time to a specific memory, while also bringing your senses into the present moment with their beauty and fragrance. They connect us to nature and to each other. So much of my work is about making connections.
Patterns of India highlights the colors of Rajasthan, the Indian state known for its royalty and opulence. The region provides endless inspiration in the form of architecture, surface design, artistry, and textiles. With over 200 vibrant images, the book takes readers on a journey through the dominant colors of the region —sandstone, marigold, rose, ivory, and royal blue—and the stories they tell by focusing on famous landmarks, as well as the simple beauty of daily life. Flowers are such a big part of the story, as they play a prominent role in daily life. The flower markets of Jaipur and Udaipur are awash with marigolds and roses, sold by the pound or as garlands. Some of my favorite images in the book were taken at dawn, right when the Jaipur flower market was opening. Colorful silk saris are used to bundle the blooms, which makes for a vibrant visual experience.
My travels through India have been deeply influenced by my husband Vijay's familial connection to the country. Our family enjoys sightseeing during our travels, visiting palaces, forts, and museums, but we spend the majority of our time experiencing everyday life in markets, temples, and friends' homes. This intimate perspective is what I hope to reflect in this collection. I want the book to represent both a traveler's experience but also something deeper and more intimate.
Erin: Can you tell us a bit about your personal connection to India and what you learned during the writing of your book?
Christine: I first traveled to India over a decade ago with Vijay. We were newlyweds, and at the time I didn't grasp the enormity of the trip and all that it would come to mean for our relationship. That trip revealed to me the complexity of my husband's relationship to India, the country of his parents' birth. It also marked the beginning of my personal journey with the region of Rajasthan and the lasting impact it would have on my photography. As we continue to travel to India, now with our children in tow, I've come to understand that these trips are important for exploring our family's identity, history, and culture, and the ways in which we interact with our world.
In a broader sense, I learned—and here I'm going to quote Dr. Vandana Bhandari, who wrote in the foreword to my book: "While every color is imbued with meaning, it is often within the details of the pattern that the full story comes to light."
Through the research and writing of Patterns of India, I learned how color and pattern have a symbiotic relationship, and together through art, architecture, textiles, dress, and surface design, they bring to life the history and culture of the region. This is something I will take with me as I continue to grow as a photographer. The beauty is often in the details—in the quiet moments—and if anything, this project really reinforced that idea.
Erin: What did you discover about yourself during the process of writing the book?
Christine: I discovered that I am constantly searching for beauty near and far. Life can be hard, and the news is often dire these days. I believe in the power of photography to remind us of life's beauty. In my work as a photographer, I am drawn to color, vibrancy, emotion, and pattern, and I am forever chasing the golden light. I want my images to capture the emotions of a moment in time.
I also realized that I enjoy doing a deep dive into a complex topic and breaking it down in a way that makes it approachable. I hope this book serves as an entry point for those wanting to learn about the architecture, art, textiles, and daily life of Rajasthan, but in a format that doesn't feel too heavy or academic.
Erin: What have been your favorite travel highlights, and what's on your travel bucket list?
Christine: Traveling to India with my children is hands-down the most incredible experience I've had as a traveler to date. We've been twice, once when my sons were 2 and 4, and again when they were 6 and 8. We're trying to summon the courage to take all three kids to India, one of whom happens to be a very feisty toddler—Meera.
It's funny because I've forgotten all the hard parts of the trip—the 15-hour plane ride, the crushing jet lag, the case of Delhi belly that I came down with—and all I remember are the moments of pure beauty and joy. I'll never forget celebrating Holi, the "festival of color," in Mumbai with our friends. The boys ran around with squirt guns and buckets filled with dyed water, and we were all throwing powdered color everywhere. It was pure and total joy.
In contrast, I also distinctly remember arriving in Varanasi with our sons, taking a boat to our hotel, and passing by the ghats where bodies were being cremated. The fires burn 24 hours a day, and gliding by the shore in the dark of night with only the light of the fires to guide us was an unforgettable experience. The topics that we tend to shy away from here in the States—death, the afterlife—they are brought right to the surface and laid bare in India. It was powerful to experience that with our children.
As far as my travel bucket list, I am really excited to explore South India, specifically Tamil Nadu and Kerala. India is so diverse, and the North and South are very different in terms of language, culture, food, and climate. We've spent all our time in the North, and I am excited to journey South.
I'm also being pulled to Portugal. I've been immersing myself in the history of their tilework and use of patterns through books and travel guides. I'd like to make that trip happen soon. My kids are huge soccer players, so I think I could entice them by promising a stop in Madrid or Barcelona to take in a few matches!
I've recently started experimenting with natural dyeing. As a knitter and sewer I am fascinated with the idea of dyeing my own materials, so I would like to explore more of the natural dyeing techniques of Central America.
Erin: What are you currently working on, dreaming of, excited about in your life and work?
Christine: I have to admit that despite the long hours and stress, I love the work involved with launching books. I like thinking creatively about engaging audiences and the press to rally behind a book project. So I'm very excited to take that energy into the Floret dahlia book launch. Even in this digital age, there is nothing quite like the experience of holding a beautiful book in your hands. That feeling will never grow old!
Speaking of which, I've recently completed my next book proposal, but that is top-secret for now. I can tell you that it involves pattern, color, and travel.
This summer, in addition to my vegetable garden, I'm planting a dye garden. I'm starting simply with marigolds, dyer's coreopsis, and madder. I'm excited to experiment and play with the colors of nature. I also want to expand my foraging knowledge. I made the most incredible dye last year from sumac. I'm hooked!
Despite all of my work goals, the thing I am most excited about is the coming of spring and summer, and the chance to spend time with my kids. They are at the best ages: Vijay is 9, Vik is 7, and Meera is 2. They are so full of life, creativity, and joy. I want to savor every moment with them, and I can't wait for our first summer dip in the lake. I look forward to spending those precious small moments with them. We all seem to come alive in the warmer months. Winter is a time for working hard and hibernating at home. Come spring, we blossom!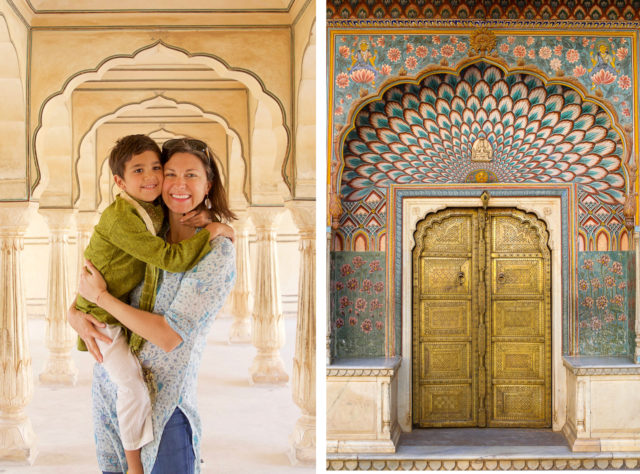 Erin: Thank you so much, Christine, for being here with us today, and congratulations on the release of your gorgeous book.
I'm so excited to give away 3 copies of Christine's stunning new book, Patterns of India. For a chance to win, simply post a comment below. In your comment, please share a travel destination that you're excited about. Winners will be announced on Friday, March 13th. 
UPDATE: Thank you to everyone who entered. The winners are Lori Nelson, Brooke Nine and Amy Watson.
Please note: If your comment doesn't show up right away, sit tight; we have a spam filter that requires we approve comments before they are published.
Learn more and connect with Christine Chitnis.
Book: Patterns of India
Instagram: @christine.chitnis
Website: christinechitnis.com