It's been such a thrill to hear from so many people who have recently found us and are interested in filling their lives with more flowers.
I thought it would be helpful to tell you a little more about Floret and show you all the resources we've created to help you grow the garden of your dreams.
Our Story
In 2001 my husband Chris and I moved to the Skagit Valley, about an hour north of Seattle, to pursue a slower, simpler lifestyle where we could raise our children surrounded by nature.
Little did I know that the small backyard cutting garden I planted so many years ago would eventually turn into a thriving teaching farm and full-fledged seed company. You can read the full story here.
Free Mini Courses & the Floret Online Workshop
Throughout the year, we offer Floret Mini Courses, which are free video tutorials that demonstrate the techniques we use to grow and harvest flowers on a small scale. These video classes are free, but registration is required. To see what's coming up and to join in, please click here.
Every fall we open up registration for the Floret Online Workshop. This 6-week intensive online learning program is focused on growing cut flowers on a small scale. The Floret Online Workshop is offered just once per year and covers everything I've learned about growing great flowers and building a successful flower business on just 2 tiny acres. Here's where you can join the waitlist for the workshop.
To learn more about our free mini courses and the Floret Online Workshop, make sure to sign up for our newsletter.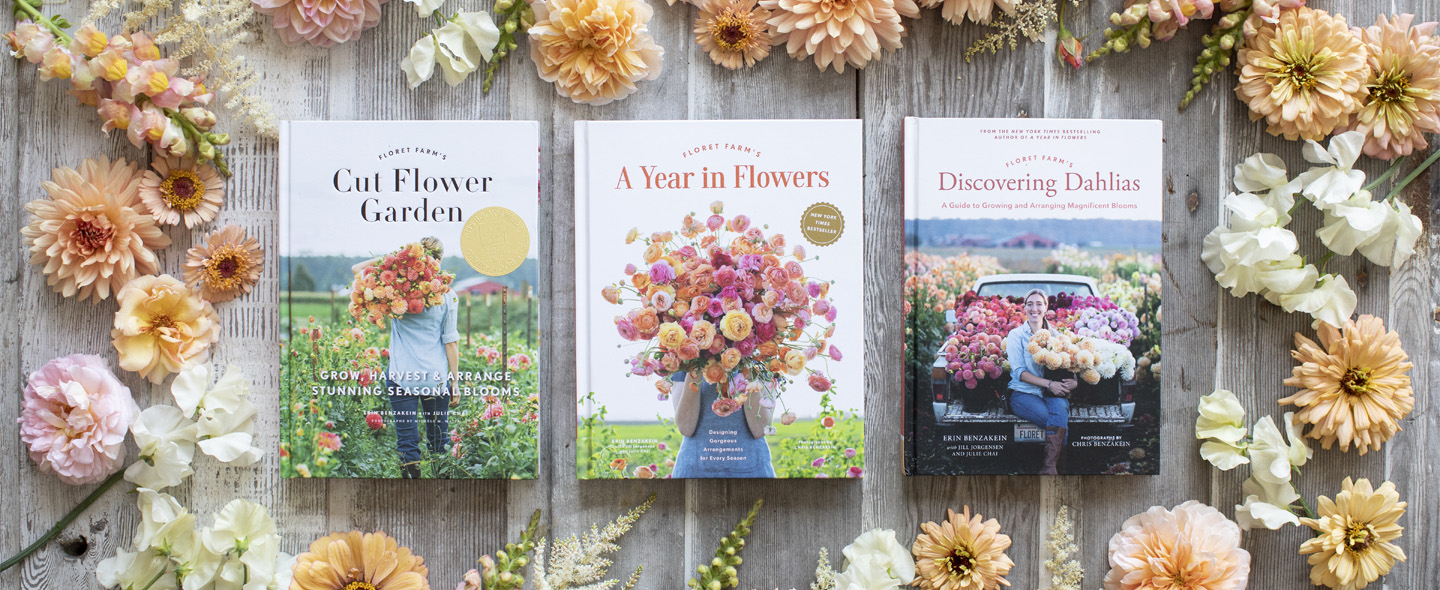 Floret Books
In 2017 I wrote my first book, Floret Farm's Cut Flower Garden. In it, you'll find easy-to-follow steps for planting, cultivating, and harvesting more than 175 varieties of flowers.
In 2020 my second book, Floret Farm's A Year in Flowers, was released. This book picks up where Cut Flower Garden left off and teaches you everything you need to start making your own incredible arrangements, whether you're harvesting flowers from the backyard or sourcing ingredients at the local market. A Year in Flowers even made the New York Times Bestseller list!
In March 2021, my third book, Floret Farm's Discovering Dahlias, was released into the world. This book, brimming with gorgeous photos taken by my husband, Chris, will teach you everything you need to know about growing and arranging with this beloved cut flower. The book also features a Variety Finder showcasing 360 of my very favorite dahlia varieties grouped by color.
Floret Resources
If you're new to growing cut flowers, be sure to check out our resource library. Over the years, we've created dozens of photo-filled how-to posts that cover everything from soil preparation, to seed starting, growing plants using landscape fabric, variety selection, harvesting and vase life tricks for hundreds of varieties, and so much more. Some of our most popular resource posts include:
How to Start Flowers from Seed
Floret Blog
I've been documenting everything I've learned over the past 15 years on the Floret Blog. In the early days of Floret, I challenged myself to write a blog post every day for a year in hopes of becoming a better writer so I could one day write a book.
The blog takes you behind the scenes here on the farm and is filled with hundreds of helpful posts about what I've learned growing flowers and growing a small farm-based business.
Here are some of the most popular posts to check out:
Six Important Questions to Answer Before You Get Started Growing Flowers
How to Grow More Flowers than You Ever Thought Possible
Heat-loving Flowers and Foliage
Floret Seeds
Cut Flower Garden featured some of the most stunning cut flower varieties I've ever grown, many of which were only available to professional growers at the time. I wanted readers to be able to grow the same flowers they saw in the book, so I decided to develop our own line of Floret Seeds.
In our online shop, we now offer more than 200 hard-to-find flower varieties sourced from the finest seed breeders in the world, as well as varieties grown and bred right here on the farm. We also sell signed books, gifts, and specialty tools and supplies.
We offer limited quantities of our products at specific times of the year, and they always sell out fast. Be sure to check out our availability schedule to learn when our products go on sale and mark your calendars so you snag your favorites.
Farmer-Florist Collective
Though we no longer sell cut flowers, part of Floret's mission is to connect growers with people who want to buy local blooms. Our online directory, Floret's Farmer-Florist Collective, can help you find flowers quickly and easily, both in your area and where your loved ones live.
The Collective is inclusive and accessible on a global level. With more than 2,200 members, it's the largest local flower directory in the world—and it's free to use and join.
The flower farms, florists, and farmer-florists listed in the directory are all part of the global seasonal flower movement. Every member of the Collective has pledged to highlight local, seasonal flowers and to use sustainable growing and business practices whenever possible.
Documentary Television Series
In 2019, we began the journey of filming a documentary series about our farm for the Magnolia Network. You can read more about the Emmy-nominated project here.
For all the details about the series, including how to tune in, be sure to visit our show page.