FLORET DAHLIA GUIDE
A list of our favorite dahlia suppliers along with other resources to help you grow and learn even more about these incredible flowers
Watch the pages of Discovering Dahlias come to life. The Floret Dahlia Guide includes two videos and two printable download dahlia resources not included in the book.
Discover the top sources for high quality dahlia tubers in your region. This list of Erin's favorite domestic and international suppliers includes some great local growers who offer hard-to-find varieties.
Enjoy a tour of Floret's rainbow dahlia field. Erin will take you on a behind the scenes tour of the Floret dahlia field where you'll learn more about these incredible cut flowers, plus some of her favorite varieties.
Learn how to prevent dahlias from wilting and maximize vase life. Erin will show you step-by-step how to cut and care for fresh dahlias so you can enjoy your blooms even longer.
Plan your perfect dahlia patch with Floret's printable planning cards. Each card includes a color photo with essential information including the variety name, color, type, and bloom size.
FLORET DAHLIA GUIDE
Complete the form below to receive our list of favorite suppliers and other dahlia resources
Upon receipt of your submission, we'll send you an email with your bonus materials.
Floret Online Workshop Waitlist
Registration for the next Floret Online Workshop will open in the fall of 2021.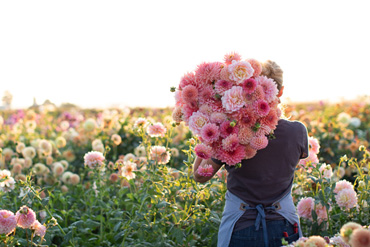 Sign up to be notified when enrollment for the Floret Online Workshop opens.
Join Us
Join the Floret newsletter and stay in the loop on all the exciting happenings here on the farm
Close