MEET FLORET STUDENTS
ON TINY URBAN LOTS, IN SUBURBAN BACKYARDS & ON RURAL FARM FIELDS ACROSS THE GLOBE, FLORET STUDENTS ARE GROWING FLOWERS & CULTIVATING BEAUTY IN THEIR COMMUNITIES
United by a love for seasonal blooms, students from different climates, cultures, and countries have learned Floret's time-tested techniques for growing an abundance of cut flowers on a small scale. Participants include avid gardeners scaling up their flower production, florists growing more of their own blooms, farmers diversifying their crops, retirees and professionals pursuing encore careers, artists and creatives expanding their crafts, dreamers starting their own flower business, and countless others simply seeking to bring more joy and beauty into their life with flowers.  
SMALL PLOT: BIG IMPACT
INSPIRING STORIES, PROFILES & ADVICE FROM FLOWER GROWERS AROUND THE WORLD
In small plots and backyard gardens around the globe, entrepreneurial women are growing seasonal blooms and selling them in creative ways in their local communities. In Floret's revised and expanded e-book, you'll meet flower growers from climates as varied as Texas, Maine, Switzerland, and beyond. Learn more about their personal flower journeys, discover their top flower crops, see how they sell their blooms and more in this beautiful collection of profiles and essays.
GROWERS SHARE THEIR STORIES
A PEEK INSIDE THE PAGES OF SMALL PLOT: BIG IMPACT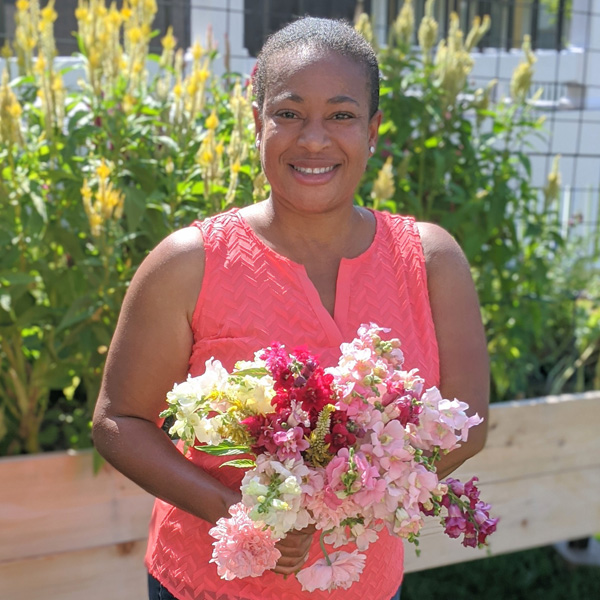 Denise Kelly first started creating bouquets for her parents' parties when she was in high school. Fast forward to 2012, and Denise launched her own event planning and design company, All RelEvents. As her design style evolved, she found it increasingly difficult to find the specialty flowers she wanted to include in her bouquets. So she decided to grow her own. Her first season was largely trial and error, with limited success. After enrolling in the Floret Online Workshop, Denise focused on maximizing the number of flowers she could grow in large, elevated planters in her yard while she searched for a slightly larger plot of land to lease.
"The workshop has impacted me tremendously by allowing me to grow my own flowers that can support my designs. Being able to include flowers from my own plot has brought down my costs. As we grow more, we will be able to rely less on imported flowers from wholesalers. But the biggest impact has been gaining the confidence to do this at a scale that I choose. I don't have to have 5+ acres to grow flowers on to actually impact my business."
"My journey is a testament to the fact that you don't need much at all—be it a few containers, one or two standard raised beds, a well-curated collection of seeds, and a little courage with how you plant your space. Anyone can have a cut flower garden with enough to share with the right tools, mindset, and approach. I won't pretend that growing in Central Florida's climate isn't a challenge, but it can be done and done successfully. The Floret Workshop allowed my dreams to take shape and become reality in two different urban settings. At its core, the Floret Workshop gave my long-time passion a purpose."
2022 FLORET ONLINE WORKSHOP
Missed out on this year's workshop? Sign up for our waitlist and be the first to know when our next registration period opens.
Floret Online Workshop Waitlist
Registration for the next Floret Online Workshop will open in the fall of 2021.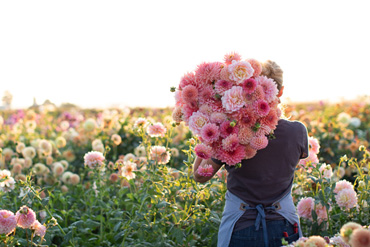 Sign up to be notified when enrollment for the Floret Online Workshop opens.
Join Us
Join the Floret newsletter and stay in the loop on all the exciting happenings here on the farm
Close