Over the years, we've grown thousands of varieties of flowers from seed. Everything from tried-and-true cut flowers like zinnias to herbs, vines, vegetables, and bedding plants. I am always on the hunt for varieties that make great cut flowers and interesting bouquet ingredients.
While some of the varieties, like bush beans, are on my favorites list, they wouldn't be as well-received as other, more familiar ingredients, like a new color of cosmos or celosia. The trial field is a real testing ground for new varieties and new ideas, and each potential addition is weighed against a pretty strict set of criteria. And only if it passes with flying colors is it added to our list of offerings.
In 2019 we poured a lot of energy into rounding out our seed line and expanding our most popular plant categories, and into introducing some new plant groups, like biennials, that aren't as well-known but deserve a spot in every serious flower lover's garden.
This year I'm so excited to be adding 100 new varieties to our Floret line of seeds, including some never-before-seen varieties bred right here on the farm.
New varieties: The role of the local grower
We've been growing cut flowers professionally for more than a decade and have been regularly disappointed by how few new varieties make it into the market that gardeners, flower farmers, and floral designers actually want.
What's driving this situation is that most large breeding houses are focusing their efforts on varieties that can be grown on a massive commercial scale and hold up well in transit—meaning they can be shipped long distances out of water to wholesalers who then sell the flowers and foliage to grocery stores, designers, and florists.
After many years of sharing our trial results, ideas, and suggestions with many of the largest cut flower breeders in the world, it has become clear that the small, local growers don't make up a large enough percentage of the market to inform and influence what breeders are focusing on.
So we have decided to take matters into our own hands and have been quietly working behind the scenes here at the farm trying to create new varieties that possess all of the key qualities that make an excellent cut flower. We have decided to concentrate our efforts on breeding varieties that thrive in a wide range of climates and are especially heat-tolerant, are easy to grow and productive, that don't ship well, and that have the subtle coloring and unique forms that growers and designers are looking for.
My hope is that all of these qualities give local growers an advantage, since the varieties we're working on are not well-suited to mass production and long-distance shipping. The only way for floral designers to get their hands on these treasures is to either grow their own or buy them from a local farm.
We have intentionally been focusing our efforts on three main groups of plants: dahlias, zinnias, and celosias. The farm-bred varieties that we're offering are technically still works in progress, meaning there will be some variation of flower size and/or color, but the majority of the plants that come from each packet of seed will resemble the pictures and descriptions shown here.
I debated whether or not to release these varieties, since they aren't perfect yet, but after many lively discussions with our team, we all agreed that they were too beautiful not to share—and getting input from gardeners around the world would be enormously helpful.
In the vegetable world, it is common practice for breeders to release varieties they are working on before they are perfect and then take the input from their customers and apply it to the next year's crop, which ultimately helps shape the direction a new variety takes. I have long dreamed of having gardeners and growers get a say in the matter, since they know best.
Please keep in mind that if you order seeds from our breeding program there will be some variation, and you might even discover a new never-before-seen treasure within the mix. I'm thrilled to have your help and input on this exciting new endeavor!
Zinnias
We are offering two new zinnia varieties that were bred here on the farm. The first is Zinnia 'Golden Hour' (pictured above). This beautiful variety produces flowers that are a mix of warm buff, honey, and soft apricot blooms.
This introduction started from two single plants we discovered in our fields. Over the years we've collected the seeds and selected out the palest antique melon shades.
Zinnia 'Unicorn Mix' (pictured above) has been an ongoing labor of love and includes an almost iridescent mix of medium-sized, mostly double blooms in an enchanting range of vivid sherbet tones including raspberry, tangerine, magenta, lemon, apricot, dusty lilac, and blush, with striking lavender centers.
We've never seen anything like these in all of our years growing zinnias. This next season we will be working on teasing out all the most beautiful colors from the mix with the hope of offering them as individual varieties in the near future.
Celosias
We have three exciting new celosia mixes that I think you'll love. The first is Celosia 'Pink Champagne' (pictured above). This special mix includes a wide range of shapes and sizes including fans, brains, and plumes in shades of champagne, peach, and buttercream, and will churn out buckets of velvety flower heads for the better part of summer. A must-grow for wedding work!
Celosia 'Coral Reef' (pictured above) is filled with the most unique coral-like blooms in shades of orange, salmon, peach, and raspberry that look like they belong in the sea. Towering plants with a branching habit produce a continuous supply of large flowers.
Celosia 'Fruit Punch' (pictured above) includes fan-shaped blooms in shades of magenta, rose, salmon, and apricot. The colors of the flowers in this mix look like sun-bleached velvet and have an antique quality. The plants have a branching habit and produce a steady stream of medium-sized flowers over a long period of time.
Dahlias
While dahlias are most often grown from tubers, you can also grow them from seed quite easily. The difference is that tuber-grown varieties are an exact clone of the mother plant, whereas seed-grown varieties are a random mix of shapes, sizes, and colors—no two plants will produce the same type of flowers.
I'm thrilled to share Dahlia 'Bee's Choice Mix' (pictured above), which was lovingly collected from our dahlia field. Flowers in this mix will be mostly open-centered types that will attract lots of pollinators. If you discover a variety in the mix that you love, you can save the tubers and plant them out the following year.
Biennials
Biennials are one of the most commonly overlooked groups of plants for the cutting garden, but if you can master their tricky growing cycle, you will be generously rewarded with blooms in late spring and early summer. This wonderful group of plants fills the wide gap between the last of the tulips and the first of the hardy annuals in the garden. If you want to learn more about this hardworking group of plants, be sure to read our in-depth post about biennials.
We've added six of my all-time favorite biennial foxgloves, including 'Alba' (pictured above), 'Apricot Beauty' (pictured above, top photo), 'Cafe Cream', 'Excelsior', and D. obscura 'Sunset'. If you have the space in your garden, these beauties are a must-grow.
Be sure to check out Sweet Rocket 'Pale Lavender' and Sweet William 'Super Duplex Mix'. Both varieties are extremely productive and easy to grow, and produce a bumper crop of long-lasting fragrant flowers.
Sweet peas
For decades Lompac, California, was the largest producing area of sweet pea seed in the world because of its perfect microclimate. Many of the world's most renowned sweet pea breeders and specialty seed companies relied on growers in this region to produce their varieties in volume for the gardening market. But over time many of the seed growers in Lompoc retired, and the few companies that specialized in sweet pea seed production changed ownership or closed for good. These factors, along with record droughts in New Zealand and England, have put sweet pea seed production in serious jeopardy.
Over the last five years we have been building up a seed bank of all of the very best sweet pea varieties for cutting to ensure that these treasures are safe, in case the situation worsens before it gets better. We have also been trying our hand at sweet pea seed growing here on our farm, in addition to partnering with Denise Pranger at Essential Blooms in Port Townsend, Washington, to help build up coveted stock. Our two farms are committed to bringing sweet pea seed production back to the United States, and I'm thrilled that we've been able to add 35 new varieties, of 56 unique varieties in total. We'll be sharing our favorites grouped by color very soon.
Ornamental pumpkins and squash
Every year as summer fades and the garden starts to fall apart, I'm so grateful that I carved out space to grow pumpkins, ornamental squash, and gourds. While these autumn gems don't seem super-exciting when you're dreaming about the season ahead, you will thank yourself for planting them come October and November, when all the flowers in the garden have faded.
This year we trailed close to 50 varieties and added 12 spectacular new offerings to our line of ornamental squash in an amazing array of muted colors, including buff, peach, milk chocolate, ivory, and a haunting blue-green. The varieties that we offer are anything but average.
Heat-loving flowers
One of the most common emails we get is: "I live in a hot climate. What varieties will thrive in my area?" This year we devoted a huge section of our trial field to easy-to-grow, heat-loving varieties and have added some wonderful new additions to many of our most popular flower types.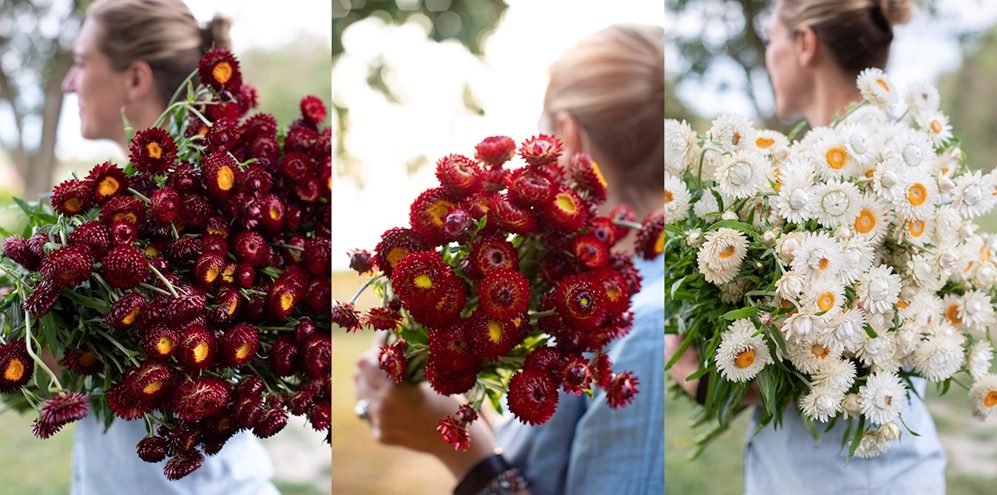 We added three new colors of strawflowers: 'Copper Red' (pictured center), 'Scarlet' (pictured left), and 'Vintage White' (pictured right). All three produce a bumper crop of long stems loaded with eye-catching flowers that are wonderful fresh or dried.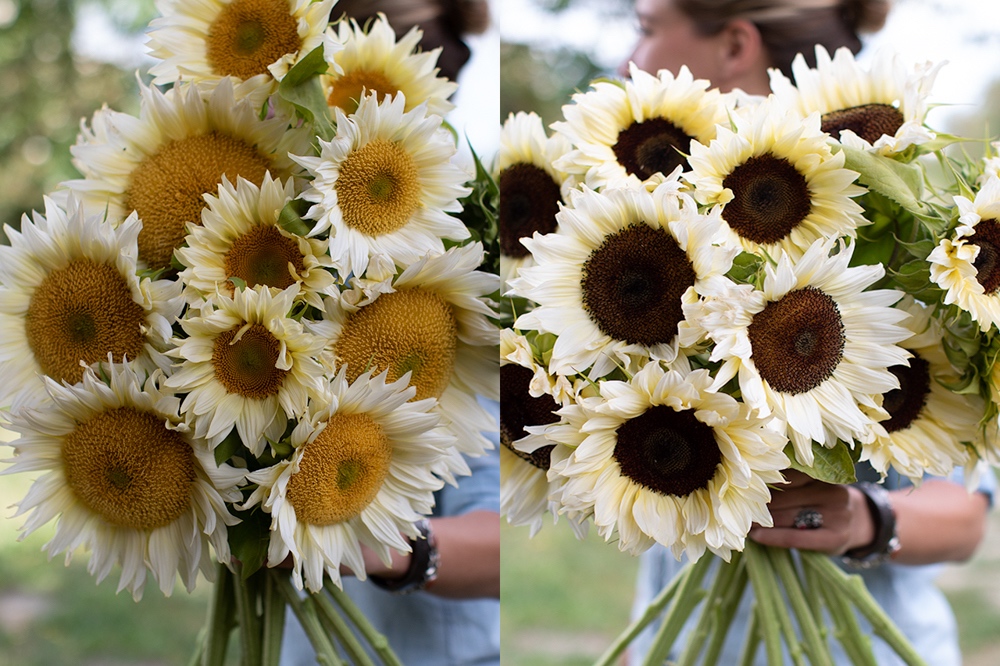 Sunflowers are one of the most popular and beloved cut flowers, for good reason, and we've added two exciting new ivory-petaled varieties: 'Pro Cut White Lite' (pictured left), which has honey-mustard-colored centers, and 'Pro Cut White Nite' (pictured right), which has rich chocolatey-brown centers. These new varieties have a beautiful antique quality, and I can't wait for you to grow them.
We expanded our range of zinnias and added seven beautiful colors of the 'Benary's Giant' series (pictured above), including Bright Pink, Carmine, Coral, Deep Red, Lilac, Lime, and Orange. These large-flowered varieties have a very high percentage of double flowers and produce long, strong stems with good disease resistance.
Another exciting addition is Zinnia 'Oklahoma Ivory' (pictured above), which had been discontinued but, to the delight of countless growers and designers, was brought back by Frank Morton at Wild Garden Seed here in the Pacific Northwest. We are so pleased to offer this variety, treasured for its versatile creamy ivory color and pretty double blooms.
After receiving many requests for straight colors of Globe Amaranth, we added three new pastel shades (pictured above), including Pink (which is actually a soft blush), Rose, and White. These heat-loving flowers produce a bumper crop of cloverlike blossoms that make a sweet addition to bouquets and arrangements. Flowers can also be easily dried for later use.
While most marigolds are grown as bedding plants, there are some wonderful long-stemmed varieties that are excellent for cutting. This year we've added adorable new varieties that are perfect for mixed bouquets. Each plant produces 15 to 20 branching stems that are loaded with dozens of penny-sized glowing blooms.
'Tangerine Gem' is smothered in warm tangerine flowers with darker orange centers, and 'Starfire Mix' (pictured above) comes in shades of red, orange, and gold with multiple variations and bicolors. These are among my personal favorite new additions to our 2020 offerings, and I hope you'll consider giving them a try.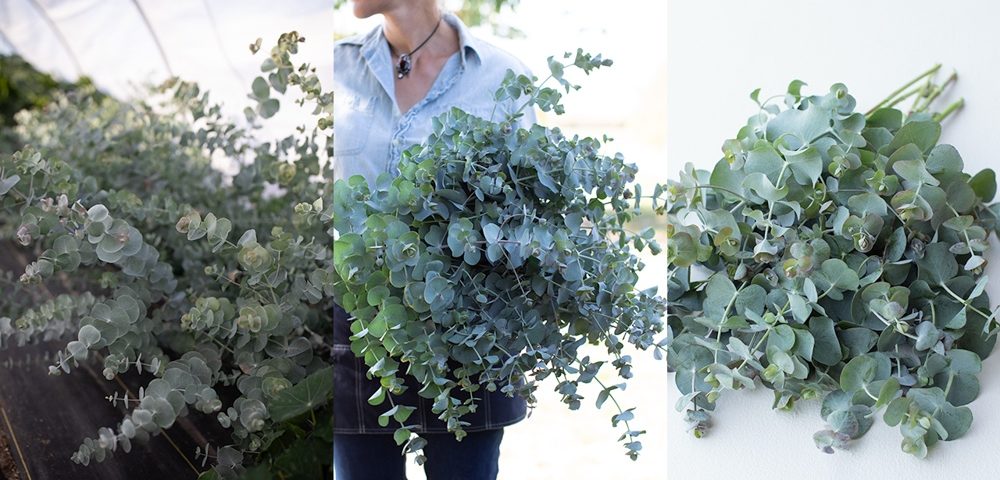 Foliages & fillers
One of the most common mistakes I see growers make is that they don't plant enough foliage and fillers in the garden. My general rule is to plant half the field in foliage and the other half in flowers. There's nothing worse than having a bumper crop of flowers and then having nothing to mix them with when making arrangements.
This year we've added a dozen new foliage and filler plants, including Figwort, Euphorbia, and Jewels of Opar, but the most exciting addition is our new collection of specialty Eucalyptus. We have five stunning new varieties, and while the seeds are slow to germinate (up to 45 days), they will produce a bumper crop of wilt-resistant fragrant foliage that can be harvested in late summer and early autumn, and used either fresh or dried. In warmer climates (Zone 7 and above) plants can be overwintered in the garden. But in areas with cold winters, plants should be potted up and brought indoors. They can be stored along with your scented geraniums and dahlia tubers.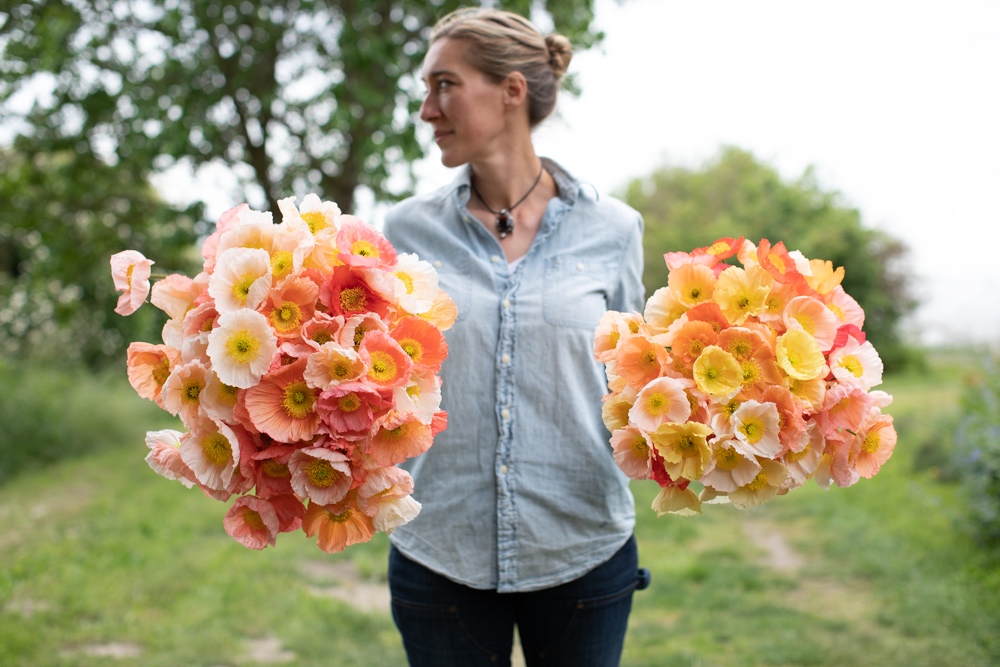 Hardy Annuals
Iceland Poppies are one of the most exquisite cut flowers I've ever grown. Their tissue paper-like blooms add an alluring addition to mixed arrangements. Their beauty, combined with their citrusy scent and abundant flowering habit—stretching from early spring through midsummer—make them a highly prized cutting garden addition. This year we're so excited to add 'Pastel Meadows' to the mix (pictured right). This magical blend of gold, peach, watermelon, blush, and white is breathtaking. Flowers in this mix are shorter and smaller than the giant 'Sherbet Mix' (pictured left), but they produce much more abundantly over a longer period of time.
Snapdragons are one of the most productive early bloomers in the cutting garden. Their sweet citrusy scent and cut-and-come-again nature make them a must-grow. We've added three beautiful new varieties to our offerings this year: 'Chantilly Light Pink' (pictured above, right), 'Chantilly Light Salmon' (pictured above, left) and 'Madame Butterfly Pink'. Their delicate ruffled blooms resemble upturned petticoats and look beautiful displayed en masse and mixed with other ingredients in mixed bouquets.
I am always on the hunt for beautiful additions for bouquets, especially when it comes to wedding work. Hands down, Silene 'Blushing Lanterns' (pictured above), is one of the most productive, useful varieties to come out of our trial patch in the last five years. If planted early, it will bloom steadily from early summer all the way through the first autumn frost. The tall, wispy gray-green stems are covered in miniature pale green balloon-like pods veined with blush. They are a highly romantic and feminine addition to arrangements and a must-grow for wedding work.
I could go on forever about all of the new additions for 2020, but I'm going to stop myself here and let you peruse the New for 2020 section in our shop so you can see all of the amazing new varieties for yourself.
The full line of Floret seeds will be available on January 6th starting at 9AM PST, but you can start putting together your wishlist now. This nifty feature on our site lets you build out your order ahead of time so on launch day you can check out within minutes of the shop opening so you don't miss out on any of the varieties you have your heart set on.