To show my gratitude to the many loyal customers, flower friends and fans who have helped to make this one of the most abundant and beautiful years ever for our little flower farm, I'm giving away gifts from some of my favorite brands and Instagram feeds. Read more below and enter to win over Instagram. 
Day 1: Deluxe Farm Package from Five Marys 
Five Marys is one of my all time favorite Instagram feeds (@fivemarysfarms) to follow and one of the most brilliant small farm "brands" I've ever seen. Through a beautiful blend of photographs and stories, Mary Heffernan shares her family's farm and ranch life in Northern California, just below the Oregon border. Oprah magazine featured this amazing family in this month's issue!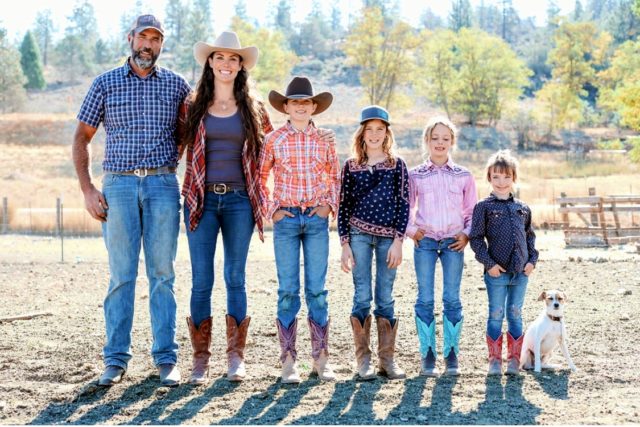 Mary and her husband and 4 daughters have 500 cattle, 600 sheep, 180 hogs and lots of chickens as well as 8 horses and 4 ranch dogs and sell their pastured pork, beef and chicken and other farm-produced products direct-to-consumer.
Each month we get a box of Five Marys goodies and my family has enjoyed hundreds of amazing meals over the past few years thanks to these ranchers (Five Marys ships anywhere in the U.S. including Hawaii and Alaska). I can't say enough good things about the quality, taste, packaging and customer service which often includes handwritten notes in each box.
But most of all, I love learning more about the family and farm that produces such abundance. In addition to raising animals they also host ranch retreats, recently opened a restaurant, and Mary is working on her second book. Read more about Mary in my recent interview with her.
I'm giving away a deluxe box of Five Marys goodies which includes premium dry-aged steaks including Five Marys' famous Tomahawk Rib Eye, Porterhouse, NY Strip Steaks as well as Sirloin Steaks, Ground Beef, Thick-Cut Pork Chops, Pork Sausage, Beef Shanks, Leg of Lamb and Five Marys Uncured Bacon in their insulated market bag. The box also includes Golden and Spun Honey, M5 Sea Salt & Spice Rub, Tallow Balm, the Five Marys cookbook and Maisie's Cuts of a Cow and Parts of a Pig print too. The package is valued at over $550!
Day 2: Bogs Footwear
For years I've been wearing Bogs waterproof boots around the farm. Keeping dry is essential, especially in our part of  Washington where it stays cool and wet for ⅔ of the year. I've been singing the praises of these versatile boots and now the entire farm crew wears Bogs. Over on Instagram, we're partnering with Bogs to give away a pairs of Bogs boots to five lucky winners. 
Day 3: Not Without Salt Deluxe Gift Set 
Ashley Rodriguez is the super talented Seattle-based chef, author and entrepreneur behind my favorite food blog, Not Without Salt. Ashley also served as the guest chef for several of our on-farm floral design workshops over the years, where she dished up artful and delicious farm-fresh fare for attendees.
Ashley's beautiful new book, Let's Stay In: More than 120 Recipes to Nourish the People You Love, is all about sharing meaningful and memorable family meals together at home and this lovely book a must-have addition to your cookbook collection.
In addition to authoring amazing cookbooks, Ashley also hosts food-focused workshops and events and also sells specialty salts and cookie mixes. And what makes Ashley's creations even better: a portion of every purchase on her online shop and in her Seattle store supports First Aid Arts, a nonprofit whose mission is to equip trauma care providers with arts-based tools and training in order to better support survivors of abuse, violence and disaster.
Over on Instagram, I'll be giving away a deluxe gift set of Ashley's creations including:
Day 4: Handmade soap from Saipua
If you're in any way connected to the flower scene then you most definitely know of Sarah Ryhanen and Saipua (
read my previous interview with her here
). Her work has inspired an entire generation of floral designers and has helped elevate the art of natural floral design and seasonal flowers. Sarah left Instagram earlier this year and while her presence has been missed by many, I'm happy to report that she is back to blogging over on the
Saipua Journal
. You're in for a real treat! Sarah is such a talented writer and photographer. In addition to producing some of the most beautiful flower arrangements in the world, Saipua is also famous for handmade soap. On Instagram, I'll be giving away 3 treasured bars from my yearly supply. Her soap is equivalent to gold bars at my house – I don't even let the kids use it!
Day 5:  The Pottery Gardener + Floret Seed Collection 
I've always been an avid collector of all types flower and gardening books and I recently added a few new titles to my library. One new book that caught my eye was: The Pottery Gardener by Arthur Parkinson. Filled with beautiful photos of brilliantly designed gardens, adorable chickens and inspiring container gardening, it's a must add to your gardening library. If you have limited growing space or are interested in creating unique color and texture combinations for containers, you'll want to check out this new book.
Day 6: Flower Color Guide + Floret Pruners
The other new title on my shelf that is making some waves in the floral design world is Flower Color Guide by Darroch and Michael Putnam, the talented NYC-based artists and designers, also known as the "Putnam Boys." Simple in design, this much-anticipated encyclopedia of cut flower colors is sure to be a well-thumbed reference book for floral designers for many, many years to come.
I'll be giving away all these goodies over on Instagram this week so be sure to tune in each day for a chance to win. Winners will be announced over the weekend. Thanks for following along!