Mother's Day is just around the corner and if you're looking for a flower themed gift for that special lady in your life here are my suggestions.
First off, who doesn't love fresh flowers?
Flowers from your garden:  Nothing tops a vase full of freshly picked blooms from your garden. Even though I'm surrounded by flowers all day, I still love it when my kids pick and arrange flowers just for me.  Thankfully my mom feels the same way.  I try to bring her buckets of blooms every time we visit, but always create an extra special bouquet for her for Mother's Day.
Seasonal flowers from local farms or designers:  If more than a few miles separate you from your mom consider connecting with a local flower farm or floral designer in your region who specializes in seasonal flowers. Find local flowers via Floret's Farmer-Florist Collective.  Other places to look for seasonal flowers include Slow Flowers or the ASCFG membership directory.
Flower Share/Bouquet CSA: A bouquet subscription is a great way to shower your mom with love not just on Mother's Day, but all summer long.  Similar to a vegetable or produce CSA (community supported agriculture) a flower share program provides a weekly mixed bouquet or straight bunch of seasonal blooms.  Subscription rates and dates vary by region, but most run June through September and can be found offered by many of the flower farms listed in the directories above.
Seasonal flowers online:  Connecticut-based Muddy Feet Flower Farm now offers locally grown, seasonal bouquets through the well loved White Flower Farm's mail order catalog  just in time for Mother's Day.  I first met  Kristin Burrello, the farmer-florist behind Muddy Feet Flower Farm at the Seasonal Bouquet Project workshop back in 2013 and adore her family's story.
"I have known about White Flower Farm since I was a child because my mother ordered plants for her garden through their catalog every year," Kristin shared with me.  
"They recognized that their cut-flower program didn't match the branding of their exclusive garden offerings, and wanted to offer their customers bouquets that emulate just picked garden bouquets. Also, they are aware of the growing trend for sustainably grown local flowers, and are interested in supporting regional flower farms."  
Single bouquets can be ordered through the White Flower Farm catalog starting May 1, and a 6-week Bouquet Series is offered July 5-August 9.  
Another great online option is Farmgirl Flowers. Based in San Francisco, Farmgirl Flowers sources seasonal flowers, wraps them in reclaimed burlap and hand delivers them throughout the Bay Area (sometimes even via bicycle or scooter) and now ships nationwide. I sent myself flowers for my birthday this year and was blown away by the quality and the impeccable care that went into the bouquet I received. Their dedication to supporting sustainable sourcing of flowers is inspiring both as a creative entrepreneur and as a woman in business.
Signed and personalized copies of Cut Flower Garden:  I was thrilled to have the book listed in HGTV's list of 7 New Design and Garden Books to Give for Mother's Day AND  Sunset magazine's list of  20 Chic Mother's Day Gifts.  And now through May 10th you can order personally dedicated copies of Cut Flower Garden purchased through the Floret Shop. And to sweeten the deal, we will tuck in 5 packets of my favorite, easy to grow seeds, valued at $20, for her garden. To request a special Mother's Day dedication or other personal message, simply include your recipients name & instructions in the "order notes" section during checkout. Order your personalized copy here.  Quantities are limited.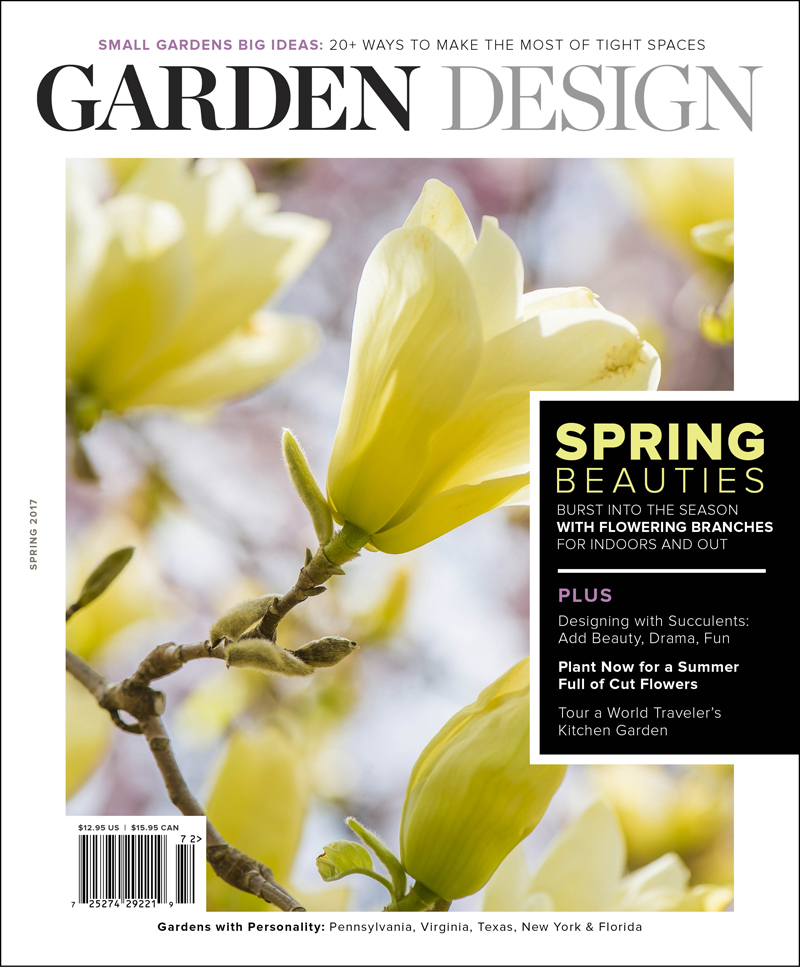 Subscription to Garden Design: With a gift subscription to this beautiful magazine, Mom will enjoy all the beauty each season has to offer (see a sneak peek of the article which features Floret here  or watch this beautiful two-minute video).  What I love about Garden Design magazine is that there are zero advertisements and each of the 148 pages are chock-full of stunning photography, inspiring articles and fantastic writing.  Subscribe to Garden Design using this link and get a free set of notecards.
I hope one of these ideas will inspire your gift giving this Mother's Day.