I'm so excited to dig into garden planning today. If you missed yesterday's post, be sure to hop back and read all about the planning kit we created, as we'll be using this resource for the rest of the planning series.
You can download and print the kit for FREE when you preorder the Floret book (at any time, from any source worldwide).
And if you haven't done so already, make sure you've answered these Six Important Questions. Write the answers down because you'll need them to shape your plan over the coming days.
Alright, it's time to dig in. The key to successful planning is balancing three key areas – your dreams, your limitations, and your needs.
First, it's important to let yourself dream and scheme until your heart feels like it's going to explode – in a good way! Let all of your ideas and wishes come out onto the paper. Don't hold back, just let it flow. No editing here.
Next, on a separate piece of paper, you need to get clear on what limitations you are facing at this point in your life, including time, land, money, help, kids, etc. When I started growing I had zero money, two small children and no help. But as the kids grew, so did my garden and the things I was able to grow. Naming your limitations isn't meant to stop you from going for your dreams, but knowing what they are is vital. Otherwise you're likely to bite off more than you can actually manage and will end up suffering rather than celebrating.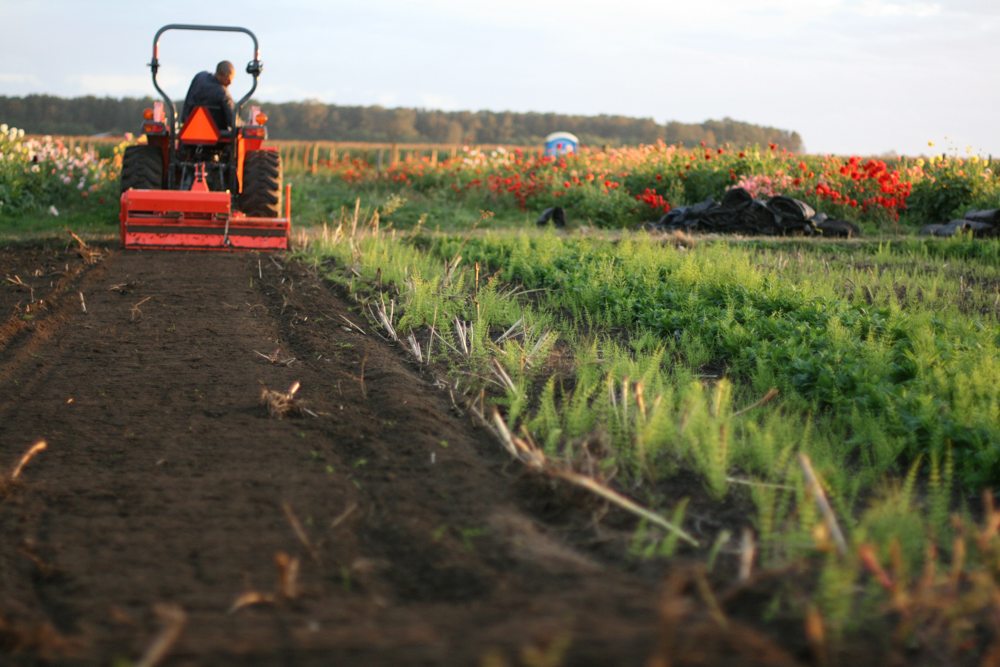 Finally, figure out what your needs are. For example, we grew flowers for grocery store accounts for many years. Our biggest customer, Whole Foods, wanted roughly 400-500 mixed bouquets per week along with an equal number of growers bunches (easy to grow annuals) and as many dahlias as we could muster.
At the time, I really, really wanted to focus on fancy flowers like garden roses and peonies. But I didn't have the money to invest in expensive planting stock, or the precious field space to give up to a crop that produced for only a short window of time. On top of that, they wanted flowers as fast as I could produce them, so waiting 2-3 years for the first harvest was out of the question.
So instead, I focused my efforts on growing loads of fast flowering annual varieties that thrived in my climate, produced abundantly, and we're very cheap to grow from seed. A small investment of money on the front end (compost, fertilizer, water, and seed) and a lot of hard work gave me exactly what needed to fill their orders and grow my little business.
But to satisfy my longing for "fancy flowers", every year I added a few roses, peonies, shrubs, vines and other goodies that I could use in my wedding and design work. I still got my fix without breaking the bank and cutting into prime real-estate in the field. As the business became more successful over time, I was eventually able to add all of the things I had longed for in the early years.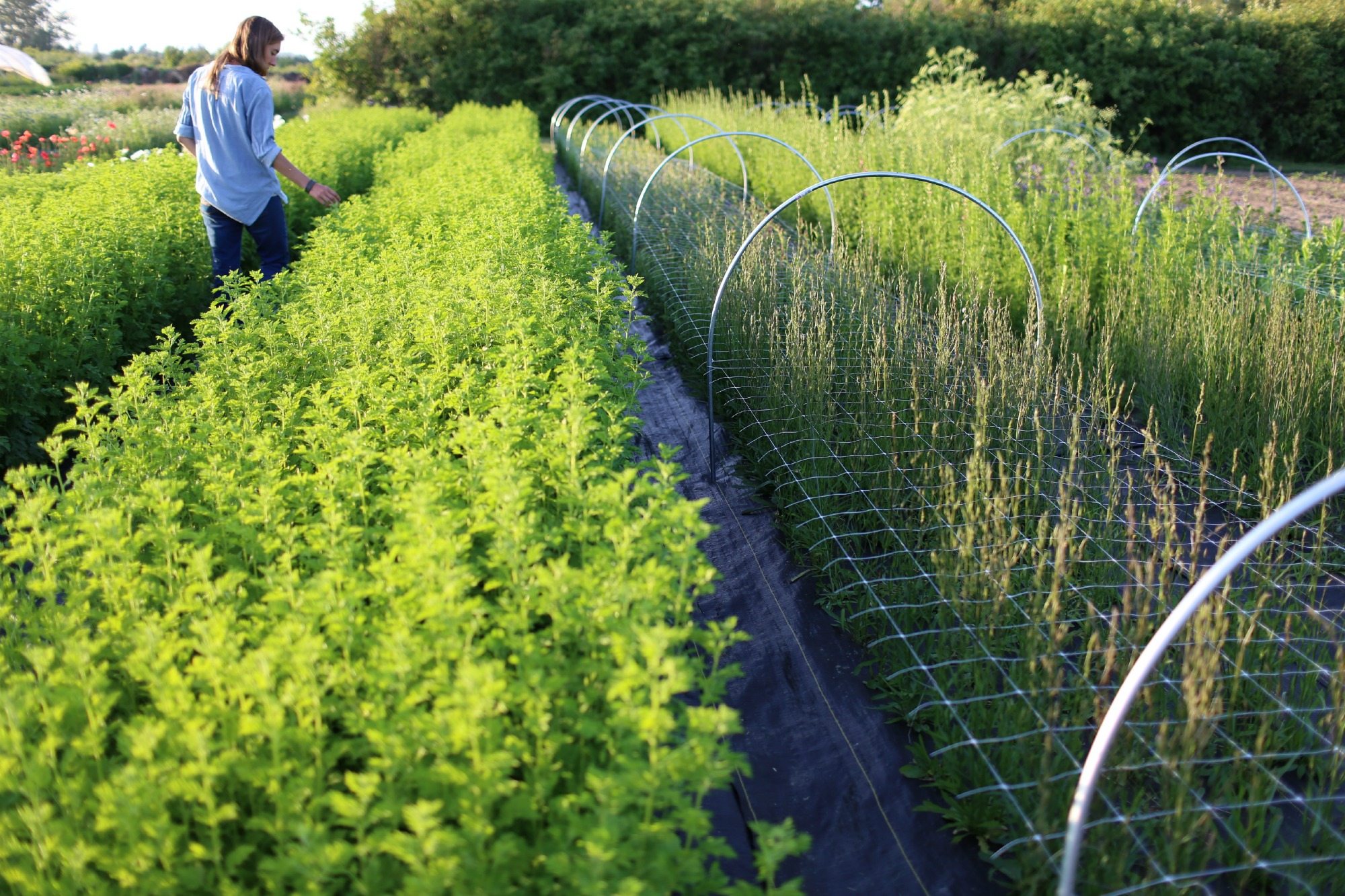 Maybe you're a floral designer who doesn't have a reliable wholesaler in your area and you have a big backyard. I would suggest stocking your garden with lots of foliage plants that can serve as the base of your arrangements and then grow the hard to get varieties with unique coloring, or things that don't ship well, like sweet peas, dinnerplate dahlias, and designer zinnias.
Or say you want to have fresh flowers for the house all summer long, plus enough to take to church and occasionally send home with friends, but you only have a few flower beds and you work full time. I'd recommend starting with some hard working, easy to grow workhorse varieties like zinnias or dahlias to tuck into your existing landscape and cut from all summer long.
After you've written out your dreams, your biggest limitations, and your needs it's time to really dig in and make your wish list for the season to come.
I generally have a running list of new varieties that I want to try which I add to throughout the season. Every time I visit a friend's farm, or a nursery, or a public garden, the list inevitably grows. And once seed catalogs start flooding in, it quickly gets out of control.
To organize my thoughts, I land all potential varieties onto a fresh Cutting Garden Wish List. This is a place I let myself go crazy, and add EVERYTHING that looks remotely interesting, plus all of the tried and true workhorses that we rely on. I generally sort by types to make things a little easier later on. For example, I have a page just for roses, one for chrysanthemums, a few pages for dahlias, a few more for sweet peas, and then a big ole list of seeds. I note the variety name, how many I want, the source, the price and any extra notes. This is probably my favorite part of the entire planning process because I just let myself dream as big as I can without any limitations.
Once I have the lists all written out I review my needs for the upcoming season. Last year, I was focusing on varieties that had unique colors, delicate shapes and some special trait that lent itself to flower arranging. Each year, the focus of the garden and what I need from it seem to change.
With my needs in mind, I then go through and star the varieties that have made the final cut. While I want every garden rose in the David Austin catalog, in reality I just need to find a few new sherbet toned varieties to round out the rose patch. And even though I think I need every single heirloom chrysanthemum in the King's Mums catalog, it's the incurve and spider types that will actually round out my fall bouquet. The process of weighing needs with wants is often tricky, and takes some time, but it is important to narrow your focus – I know, easier said than done.
The next step is to figure out exactly how much space you have to work with. You can use the Garden Planning Worksheet in the kit to do this or simply jot down notes on a piece of paper. I evaluate all of my current and potential garden sites by noting soil type, amount of sun, and the space dimensions. I pay special attention to how much full sun each area receives, if there is any standing water, existing root systems, unusual terrain or other site restrictions.
Then I get out a long measuring tape and measure the perimeter to determine the total square footage for each spot. All of this information will inform how I can lay out the garden and how many plants will fit in its spot. You might be in an area that's covered deep in snow, but even some rough measurements will suffice for this part of the process.
Take some time to think about the season ahead and what you want and need from your garden. It may seem daunting right now but planning pays off in spades in the long run. Next in the series we'll put pen to paper and start drawing out the garden of your dreams!
If you're looking for some great new plant sources, here are a few of my favorites: David Austin Roses, Heirloom Roses, King's Mums, Johnny's Selected Seeds, Renee's Garden Seeds, Arrowhead Dahlias, Uprising Seeds and Adelman Peonies.