The hot, dry summer continues here in the normally temperate Skagit Valley.  During these dog days of summer, spring feels like a lifetime ago, and next spring feels even further off.  While it would be easy to coast through the rest of the summer, soaking in all the beauty, I know I need to be thinking and planning ahead for spring now.
That means making sure I have all the seeds on hand that I'll need to sow this fall to ensure a full flush of blooms during mid-late spring. These flowers are an essential bridge between early-spring bulbs like narcissus, tulips and anemones and late-spring staples like peonies and field grown sweet peas.
In warmer growing zones (USDA zone 5 and up) fall-sown hardy annuals are a great way to get a jump start on spring flowers, but that's only if you remember to order your seeds and plant them on time! Trust me, I've goofed this up more times than I'd like to admit. Hopefully this post will help you avoid making the same mistake.
Most of these varieties can be direct sown into prepared beds in your garden which means you don't have to fuss with filling seed trays and babying seedlings in a greenhouse for months before transplanting them outside.  By getting your seed ordered now and then sowing them during the months of September and October (depending on your climate), these cold-tolerant plants will have time to get established and build a strong root system before the cold sets in.
Here's my go-to list of fall-sown favorites:
Ammi:  Ammi visagna 'Green Mist,'  Ammi majus 'Casablanca' and Ammi majus 'Graceland' have been huge producers for us and are the backbone of our early season bouquets. If you love the look of Queen Anne's Lace, you'll love the lacy flower heads, great vase life and clean green/white color provided by these flowers.
I direct seed them into the garden and then build a low caterpillar type tunnel over them before winter arrives. This added layer of protection from the elements is all they need to winter over and be flowering in abundance by late May.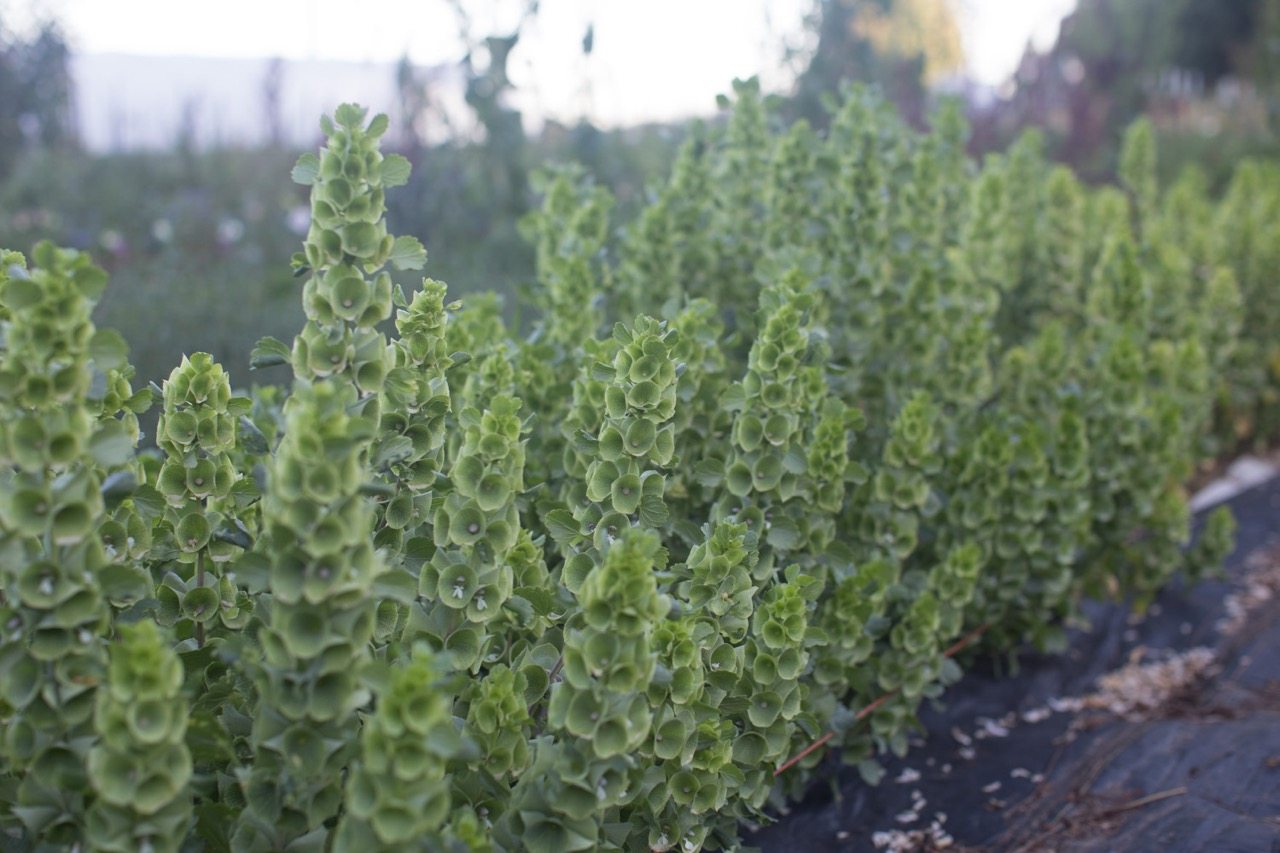 Bells of Ireland: With giant green spires ringed with cone-shaped flowers, Bells of Ireland add drama and fragrance to bouquets.  Bells like cool weather and can be tough to transplant, so direct sowing is a great way to ensure these flowers get off to a good start.
Bupleurum: Late spring market bouquets would be impossible to create without this fantastic filler.  The airy flower heads and the limey, citrusy hues of Bupleurum combine beautifully with almost everything.  These guys are finicky to start indoors, direct seeding in the fall is a great way to ensure you have plentiful fillers to pick come springtime.
Centaurea:  Commonly called bachelor's buttons or cornflower, these cottage garden classics are most often seen in their distinctive bright blue hue, but if you venture beyond the typical garden center seed racks, you will find that they come in a wide range of colors from pastel pinks and lavender to deeper magenta and merlot-colored blooms like 'Black Gem'. They are a pain to pick but since they are so easy to grow, I always tuck a few rows in during the fall for early spring bouquets.
Larkspur: One of the easiest spring flowers to grow from seed, larkspur provides tall spikes of color that look stunning in the field and the vase.  Great in early season mixed bouquets, these versatile flowers can also be dried for later use. My all time favorite variety is the smoky purple 'Earl Grey'.  I also custom blended a mix of dark indigo, periwinkle, a frosty blue and white bicolor and pure white as part of Floret Seeds' Summer Sky Larkspur Mix. 
Nigella: Love-in-a-mist has a complex–alien like–bloom that adds incredible texture to bouquets.  When left on the plant, the flower forms a beautiful pod that is also great in design work.  Two of my favorites are 'Delft Blue' (pictured above) and 'African Bride.'  The Floret Shop now features my custom Starry Nights Mix of  'Delft Blue,' 'Midnight' and 'African Bride' which produce lavender dusted, royal blue and white blooms, all with spidery black centers.
Iceland Poppies: To get a jump on spring, I always start these poppies from seed in early September and tuck them into the hoophouse by late October. They can also be tucked into a low caterpillar type tunnel and you can find plans to make one HERE. This approach gives me armloads of the delicate, silk like flowers from late March-early May. Some of my favorites are Sherbet Mix and Champagne Bubbles White.
Sweet Peas: Over the years I tested out numerous ways to grow the very best sweet peas I can. After much trial and error I've found that fall sown plants outperform spring ones by almost double.
I start seed in October/November and then overwinter the plants in my minimally heated greenhouse until it's safe to transplant them out into the hoop houses (Feb.) and the field (mid March). If you live in a cold climate, or don't have any heated greenhouse space then you'll want to stick with late winter sowing.
Note: for gardens in far northern areas with extreme temperatures,  you will likely need to wait until late winter/early spring to direct sow the flowers listed.
Additional tips:  When direct sowing seeds in the fall, be sure to choose a site in your garden that will receive full sun.  Prepare the bed by amending it with compost or manure. Then rake it smooth so that your seeder doesn't get hung up on any clumps or debris.
For most varieties, I sow 4 rows per bed, spaced 9-12 inches apart with my old EarthWay Seeder from Johnny's. Chris and I will then string twine between posts anchored at either end of the beds to help guide us and keep our rows semi-straight, which also helps with weeding.
I have limited quantities of some of these specialty seeds in the Floret Shop.   Other great sources for seeds here in the U.S. are Johnny's Selected Seeds and Renee's Garden Seeds.  For U.K. readers, you might check Sarah Raven.
Even though it feels really strange to be thinking about spring right now, I promise it'll be worth it. By taking a few minutes now to plan ahead and get some seeds ordered, you'll be able to tuck a patch of early flowering workhorses into the garden this fall.