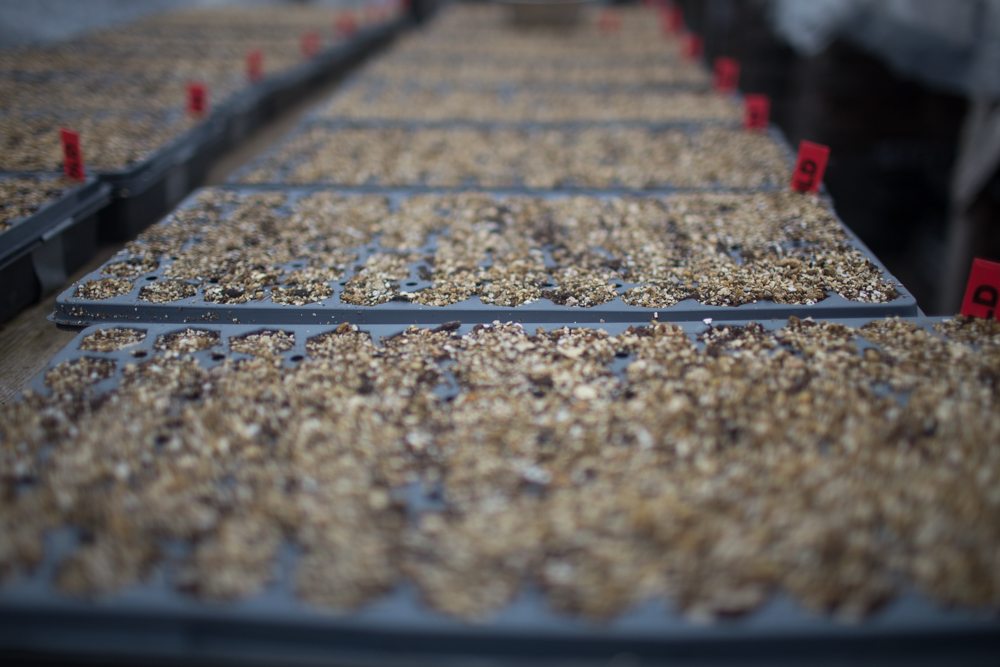 It's beginning. Yep. You know what I'm talking about, right?
In garages and greenhouses, in dens and on dining room tables…  It's starting to happen.  It's that time of year again, the annual rite of passage when gardeners stir from their winter slumber.  The morning sun peeks across the horizon a little earlier.  Mailboxes fill with seeds orders. Gardeners get antsy and start itching to dig in the dirt again. All these signs signal the official start of seed starting season!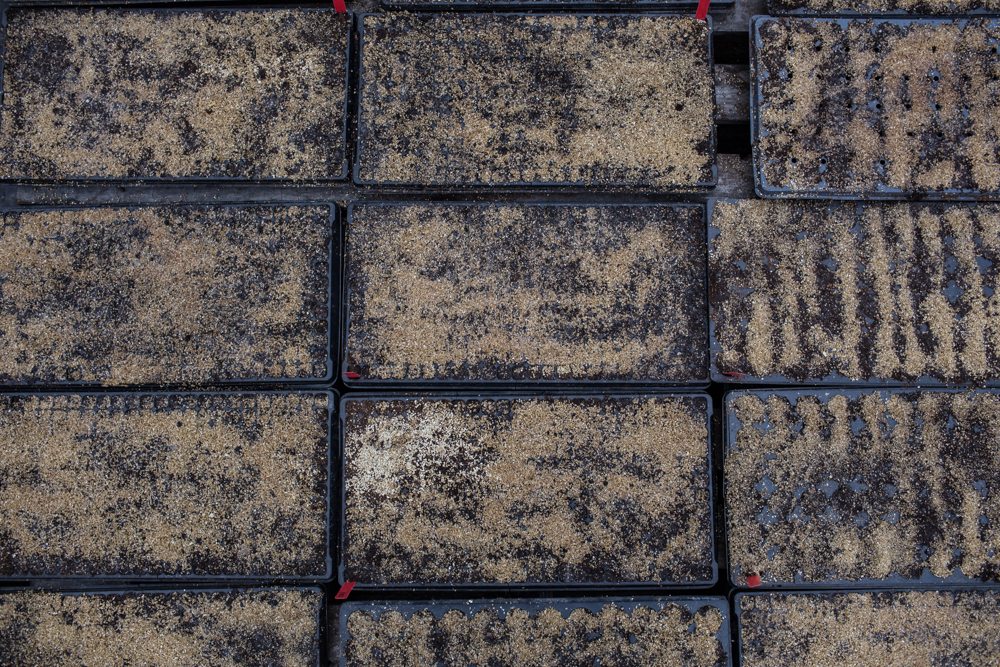 While the prospect of planting in the open field is still a ways of for many parts of the country, one easy way to get a flower fix is to start some flowers from seed.  Seeds allow you to get an early start to the growing season and enable you to have access to hundreds of specialty varieties that you won't find at your local garden center.  Plus, it's the most inexpensive way to fill up your cutting garden, fast, with beautiful blooms.
Growing your own flowers from seed is a rewarding way to grow a bountiful cutting garden.  Those little packets are full of so much untapped potential just waiting to burst with life with a little help from you.
Starting your own seeds can be intimidating to new gardeners, but it really doesn't have to be. One of my goals here on the blog is to provide you with information and inspiration to help you grow great flowers and hopefully dispel the notion that growing great flowers is only possible for professionals. That couldn't be farther from the truth. You can have amazing success, even if you've never grown anything before!
So in addition to some of the tips I'm including with this post, I want to make sure you know about a couple other sources of info here on the Floret site:
-In the Floret Resources section, I have created a little Starting Seeds 101 tutorial and photo essay (be sure to click the arrows to advance the images) with some of the basics.
-In the Floret Shop, I've included sowing and growing instructions for dozens of my favorite flowers.  I also include a handy little seed starting card with each and every seed order we send out.
For you newbies out there I thought I'd share a few lessons I learned the hard way, during the early years of Floret. Making mistakes isn't exactly the most fun way to learn.
There's nothing I hate more than seeing trays of beautiful little baby flowers go south before my eyes because I overwatered.  Or underwatered.  Or got excited about transplanting and didn't properly harden them off.  Seriously, I've found some pretty lame ways to waste expensive seed and lots of silly ways to kill baby plants over the years.  I hope I might save you from making at least a few of these same mistakes.  So here's little list of some Do's and Don't when it comes to seed starting.  This list of quick tips is meant to complement the other resources I've already created, plus capture some of my greatest hits of seed misses.
DO invest in basic supplies.  Unless you've got serious cash to burn, you don't need to spend a fortune on fancy equipment, all the latest gardening gadgets, a monster tractor, or even a greenhouse for that matter. If you are just getting started, a few simple supplies are all you need to get you growing.  Lots of gardeners (and more flower farmers than you'd probably expect) use a basement worktable as their seed starting workspace and grow their flowers under simple shop grow lights on a homemade rack.  For seed starting, you'll need some seed trays (or soil blockers) and clear plastic domes, some good seed starting mix, and tags.  If you can swing it, investing in a heat mat or two and some fluorescent shop lights will help tremendously. If you don't have a local source for these basics, visit Johnny's Selected Seeds website.
DO tamp down the soil into your containers or cell packs. Then pack it down a teeny bit more. By pressing down on the soil, you not only eliminate air pockets that little rootlets don't like, but you also make it so much easier to remove your baby plants once they are ready to transplant.   I remember mangling a whole mess of baby snapdragons because I had been sloppy about filling the flats with the soil. When it came time to transplant, instead of popping the plants out with a nice solid chunk of soil attached, the soil separated from the roots and I ended up with a crumbly mess and traumatized plants.  

DON'T forget to moisten the seed starting mix prior to adding your seeds.  If you add your seeds to dry potting mix and then try to overhead water, there's a pretty good chance you'll send your seeds floating to the corners of the container. If they are really tiny like Iceland poppies or snapdragons, you'll probably wash them away and have to start over.
DON'T start your seeds too early.  In the rush to get growing, it is easy to fall into the trap of starting all your seeds all at once. If you read the seed packets or catalog descriptions, you'll note that it is recommended to start some slow-growing flowers earlier (10-12 weeks before your last frost) than others (4-6 weeks).  If your frost-free date isn't until mid-May, for example, you'll want to start your foxglove now, but hold off on fast-growing, heat loving zinnias until later.  One year I totally jumped the gun (which I am prone to do) and planted zinnias way too soon and I had plants busting out of their pots, becoming root bound because they had no where to go. They were ready to be transplanted outside, but the spring frosts hadn't yet passed.
DO use bottom heat to get your seeds started.  It really is remarkable how much faster and how much better seeds germinate with a little heat at their feet. Propagation mats work great for smaller scale production. We're in need of a big upgrade to special heat cable covered tables, because we start so many flats of seedlings every spring, but they mats have served us well for a very long time.
DO water your plants from the bottom when possible. Standard seed starting sets contain three pieces: a humidity dome, a cell pack layer with drainage holes, and a tray that serves as a liner for the cell packs. By nesting your cell packs (or whatever container you choose to use) in the waterproof tray, you can then add water to the tray which allows the soil to essentially siphon or wick up the water.  This keeps water off of your leaves, helps prevent problems with fungus and disease, plus it focuses water where it is needed most, at the root level.
DON'T underestimate the amount of light tiny plants need to grow. If you use fluorescent shop lights, be sure to adjust them so that they are no more than three inches above the tops of your plants.  When I was a newbie, this was not intuitive to me. At all. As a result, I grew lots of gangly, leggy plants because they weren't getting enough light. The bulbs were simply way too far away from the foliage canopy. Once  I realized my mistake, I adjusted the lights and poof, my plants grew so much better. Nice and straight with strong stems.
DO harden off your plants before you transplant them.  I am embarrassed to tell you how many plants I fried because I didn't do this key step.  In my excitement to transplant the starts into the field, I didn't give them any chance to acclimate to their new outside environment.  Think about it: you nurture and shelter and baby the plant in a cozy, warm, temperature-controlled environment for weeks, or months. You can't just throw them in the cold ground without even a minute to get used to full sunlight, wind and temperature swings in the open garden.  You have to ease them into it for a stress-free experience.
DON'T beat yourself up if you make mistakes.  Unless you are super lucky or already have a seriously magical natural green thumb, you're probably going to make a few mistakes your first time time starting seeds. $#!+ happens.  It's ok.  You're sure to make far fewer mistakes than I did during the early days, but just know that goof ups are inevitable.
Tomorrow, I'll share some suggestions of some great flowers you can start early indoors. Happy seeds starting season!
*One final little note– if you found this post or other information in our special February "Blog Blizzard" helpful, I hope you'll take a few seconds to vote for us.  Floret is one of 10 finalists for Better Homes and Gardens' Blogger Awards.   From now through March 7,  anyone can vote for their favorite blogs in each of four different categories.
The contest allows you to vote once per day.  I'd be honored to have your vote!